By Mel Taylor, Omnico
COVID-19 is perhaps the greatest crisis the attraction sector has ever faced, with global industry body IAAPA estimating a fall in income of $23bn in the US alone since the start of the pandemic.
To find out how this has affected visitor confidence, Omnico surveyed over 4,000 US and UK consumers to understand their concerns and worked with fellow attraction industry experts to determine the steps venues can take to alleviate them.
This research revealed 8 in 10 consumers are reluctant to visit attractions in 2021. Furthermore, due to virus concerns, one in three won't be visiting attractions at all.
That being said, Omnico's latest report, 5 steps to rebuild footfall and drive loyalty in 2021, outlines growth opportunities for attractions that shift the focus from visitor volumes to improving engagement and loyalty, with the help of the right technology.
Boost visitor safety with capacity management post-COVID
It's no secret that people are more safety-conscious than ever and this transpires in the way consumers are now determining which attractions to visit — or whether to visit at all.
According to Omnico's research, safety is the top priority for 59% of consumers. The vast majority are (92%) are researching safety measures before booking or visiting, and 62% are choosing to go elsewhere if these aren't up to scratch.
But what precautions would visitors appreciate, and how can operators enforce them? The data shows that nearly half of consumers want to see capped visitor numbers, while 40% would feel more comfortable with staggered entry times — affording visitors a less crowded experience.
Implementing these kinds of measures is a matter of operational efficiency. Firstly, for attractions that require ticket entry, adopting a centralized system is fundamental. Only with a single, clear view of ticket sales made through their own websites, resellers, or at the venue gates, can operators manage daily visitor occupancy, offer timed tickets, and ensure footfall doesn't exceed certain limits.
Attractions can also leverage discounts and offers to encourage people to book for quieter times. Meanwhile, venues like casinos, where tickets aren't necessary, can offer time-slot bookings to the same end.
Contactless for the win
Last year many businesses learnt that measures designed to allay virus-related difficulties often unlock longer-term benefits too. Take contactless technology, for instance. Omnico's data shows more than half (56%) of consumers consider contactless entry — such as smart tickets or turnstiles – a must-have for attractions this year. In fact, 1 in 4 are vowing only to visit venues that offer contactless experiences.
This is not a surprise, as reducing person-to-person contact is a key way to boost visitor safety post-COVID. But there's more: tools like self-scan and self-service kiosks are gaining popularity. Just under half (49% and 46%) of visitors are now demanding them, while 51% expect attractions to provide mobile apps to reduce the need for things like picking up maps or menus or unnecessary interaction with staff.
Of course, operators would do well to implement these, but not just to make visitors feel safe. Think about it: if staff aren't tied up serving customers at every touchpoint, they're free to add value elsewhere. For instance, they can be assisting those in need of traditional service.
Plus, giving customers the power to autonomously access, order, and pay for what they want, whenever they want it means multiplying spending opportunities and driving revenue.
Recovering with guest loyalty
When Omnico spoke to operators at the end of 2020, unsurprisingly, 89% said visitor numbers had considerably reduced since the outbreak. The same number expect footfall to be negatively impacted in 2021, too. Of course, working with fewer visitors makes it harder for attractions to boost revenue post-COVID, but not impossible.
The key is driving loyalty — getting guests returning and making the most of every visit. But how?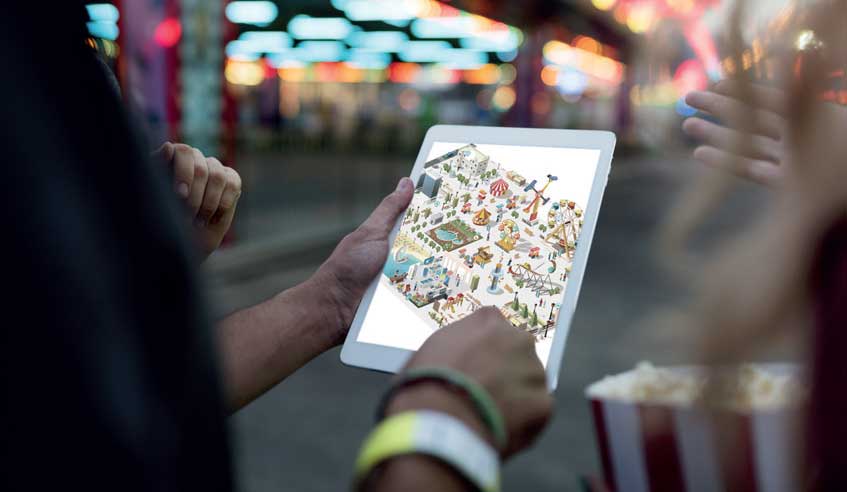 Rewarding customers in 2021 requires two things: technology and personalization. Nearly 35% of consumers now deem loyalty apps a must-have. So, if technology is the 'how' of rewards, personalization is the 'what'.
Generic promotions and incentives are a thing of the past, and the research corroborates this. 86% of respondents said bespoke offers would make them more likely to visit again. In addition, a quarter admitted they would spend more on merchandise and refreshments as a result.
Behind tailored interactions, there's always data — and collecting it shouldn't be an issue for attractions operators.
There are many touchpoints at theme parks, resorts, or casinos: from rides and slot machines to eateries, bars, and retail. Each can gather valuable information on customer preferences. This enables operators to create bespoke rewards, capture guests' attention, and entice them back.
VIP access, please
With the need to reduce crowds, boost visitor safety, and make every visit worthwhile, it's no surprise that today's consumers favour exclusive experiences post-COVID. Omnico found 27% of attraction-goers would feel more comfortable visiting if VIP packages were available – allowing them a safe space to retreat from other visitors. Around 1 in 5 (18%) would happily pay more for such a benefit.
The ability to skip a queue, or queue virtually while enjoying a meal, certainly avoids tedious waits. But it also makes the experience much safer and more memorable – helping operators impress increasingly demanding customers.
Tech-powered experiences rule
The running thread throughout the trends that Omnico has uncovered is, undoubtedly, the need for technology.
More than half (56%) of consumers think technology solutions that make attractions safer during and beyond the pandemic are vital. Reassuringly, 54% of the business owners Omnico spoke to also said they have already invested (or are planning to invest) in tech to boost visitor confidence post-COVID.
2021 will certainly be another difficult year, but attractions can seek useful allies as they prepare for recovery. By leveraging customer insights and implementing savvy technology solutions, they can enhance safety and minimize friction. Plus, they can provide personalized, meaningful experiences for their guests when gates finally reopen.