The current impact of the COVID-19 pandemic is huge. Much of the western world is in a state of lockdown with theme parks, museums and more closing their doors. But will we also see a lasting impact on the attractions industry due to coronavirus?
By Lance Hart from Screamscape
As someone with an essential day job, I've been getting a look at the current state of the world from both sides of the curtain. The current expectation is that it could be mid to late May before we begin to return to normal. I believe the world ahead may be very different than the one we left behind. The impact of coronavirus on the attractions industry, and the world in general, could be seen for a long time.
The driver of this change is likely to be the new expectations people have upon the world. Mix this with a good bit of repressed fear and anxiety from our combined experience in quarantine-land, and I think people are going to expect, perhaps even demand, some major changes made to the world.
This will translate into new habits and prefered ways in which to enjoy their favourite forms of themed entertainment.
The lasting impact of coronavirus on the attractions industry
For example, I would not be surprised if we see a rise in sales of home theatre equipment. After being forced to consume movies at home via digital and streaming services for a couple of months, I can see a world where people may choose to update their home theatre experience.
Add in improved audio, a new 4K or 8K screen and maybe new comfy seating with your own snacks may be the preferable choice. Rather than paying the high price of tickets to sit close to strangers in a crowded movie theatre.
Unfortunately for live performance arts, like concerts or large production theatre shows, similar sentiments may also result in a drop to their box office numbers.
More nature-oriented attractions may see a rise in business in the near future as people try to get away from crowded urban locations. It is easy to see how those who have been trapped in a house for two months may be ready to visit the great outdoors once again.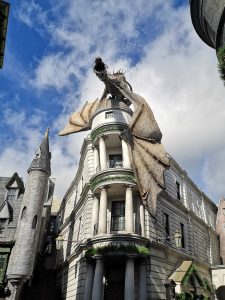 This is where theme parks may have an advantage over other attraction options in the future. Theme parks have always provided a fantastic opportunity for guests to escape to another world for the day.
Guests will be ready to get away from a world obsessed with the threat of the coronavirus and spend a few hours in A Galaxy Far Far Away or in the Wizarding World of Harry Potter.
All this, however, is on the condition that guests are made to feel safe during their visit.
More safety regulations
Keeping guests safe is always something that was at the forefront of the theme park experience. All while providing wild thrills and fantastic voyages to new worlds. One long-lasting impact of coronavirus on the attractions industry is likely to be an increased focus on guest safety.
Theme parks have been quick to adapt when necessary to make guests feel safe from new threats. In a post 9/11 world, most theme parks soon added in security bag checks and even metal detectors outside the gates.
In a post-COVID-19 world, guests are going to want to feel safe again. So, we should expect some sweeping changes will be made to the experience going forward.
The impact of coronavirus on the Chinese attractions industry
Currently, we mainly have China to use as an example of what the way forward might be, as they reopen their attractions once again. From this experience, we can see that China has been very diligent about using hand-held temperature scanners on all guests before they enter the attractions.
Guests in China must also show a green health screening code on a government-sanctioned app used on mobile devices. This proves that they have been in good health for some time before their visit and have not been scanned as entering into any other locations where an infection took place.
Once guests pass these screenings they are allowed to enter. However, they must also wear face masks during their entire day in the parks, other than when eating.
Even then, certain kinds of attractions are not in operation, with many indoor or theatre-based attractions being closed. Many rides are running at limited capacity due to pauses to wipe down the cars after each cycle, with some only seating guests in every other row to allow for more social distancing.
Restaurants have also cut back the number of seats available by spacing the tables further apart. Queues also use new floor markings to spread guest groups away from each other.
Safety measures in the US
How will this translate to our theme park experience when US parks reopen?  I can see mandatory temperature checks going into effect for sure. Even Disney's Bob Iger made similar comments in an interview last week.
A government-sanctioned health app may be more problematic in privacy-oriented western cultures. Especially in the USA. It would go against today's HIPAA based privacy protocol used in the medical world.
Masks have always been frowned on in the US. However, mandatory mask use is starting to be requested to enter certain locations, or to use public transportation in some regions. So, we may see masks used in theme parks tool, going forward.
In fact, mask and glove use may very well become a standard piece of equipment for theme park employees. This would be for their own protection and safety. After all, it isn't just the guests who still need to feel safe. Attractions will still be expected to provide safe working conditions for their staff as well.
Travel considerations
When looking at the long-term impact of coronavirus on the attractions industry, travel needs to be taken into consideration too. Visiting some theme parks may be more problematic than others. Regional parks could have an advantage over destination parks. This is because most guests arrive by personal vehicle, and do not have to rely on air travel to get there.
Magic Kingdom at Walt Disney World may have some issues when they reopen. The park itself is separated from the parking by a lake. Most resort guests arrive by bus, monorail ride or ferry boat.
Guests are typically packed in as tight as they can be. In a world where guest groups are asked to stand 6 feet apart, this method simply will not do.
This is where feelings of anxiety may come into play, as returning to normal may not be good enough anymore. I spoke briefly with Deborah Harris, a therapist and co-owner at Healing & Hope Counseling Center who agreed with the sentiment.
"This will impact our "normal" and that we have to consider what parts of our old normal are worth rushing back too. I think many of us are reconsidering that now. Working with my clients virtually the last three weeks I have seen people respond in various ways to the pandemic and quarantine depending on how it has impacted their lives."
The need for personal space
One possible coronavirus impact on the attractions industry is a fear of crowds and germs.
Harris predicts "an increased diagnosis of OCD where people are more afraid of germs. I can see how that may impact people going to parks, sharing and touching the equipment that so many others already have. More people may experience intrusive thoughts about germs or contamination due to COVID-19 and, in turn, compulsively wash their hands to reduce the anxiety created by these scary thoughts."
I do think there will be an increased need for personal space once again. People are not going to want to stand for hours in a crowded queue. Not if a virtual queue system can be put to use on to keep queue time to a minimum.
Mobile food ordering may also be preferred. This allows guests to order and pay via an app, and just pick it up when it is ready. In fact, this option isn't too different from how many people are getting take-out food in the real world today.
In the end, the true question may not be about which changes we see put into action, but more about which may become the new normal going forward for years to come.