by Robin Reardon, Walt Disney Imagineering
At Walt Disney Imagineering Paris, embracing technology to transport guests into the new worlds we create is key to keeping the magic alive for theme parks.
When Disneyland Paris opened its doors in 1992, it was the first of its kind in Europe. It remains today as Disney's brand beacon in this region. It's home to princes and princesses, heroes and villains, Jedis and soon the Avengers, too. A day with Disney is about escaping the everyday and sharing magical moments with the people you love.
In the 30 years since, the world has changed in ways even the best Disney Imagineer couldn't have foreseen. Storytelling is an integral part of human nature and the experiences we create. We are using technology to tell our stories better and also to tell better stories.
New layers of Disney storytelling
Beyond any single ride or attraction, the role of theme parks now is to keep finding new ways to make best-loved characters and awe-inspiring worlds a reality, with guests at the centre.
So, we are always looking for new, innovative ways to unlock new layers of Disney storytelling for our guests. It's a welcome challenge that drives every engineer and designer forward: our raison d'être.
I'll always remember after working on the opening of Star Wars: Galaxy's Edge at the Disneyland Resort, I visited as a guest with a friend and her seven-year-old son. Seeing him totally immersed in the story that was evolving throughout the land, told through the characters and cast who populated the world was priceless. And it was so much more than going on attractions: it was about being in the story.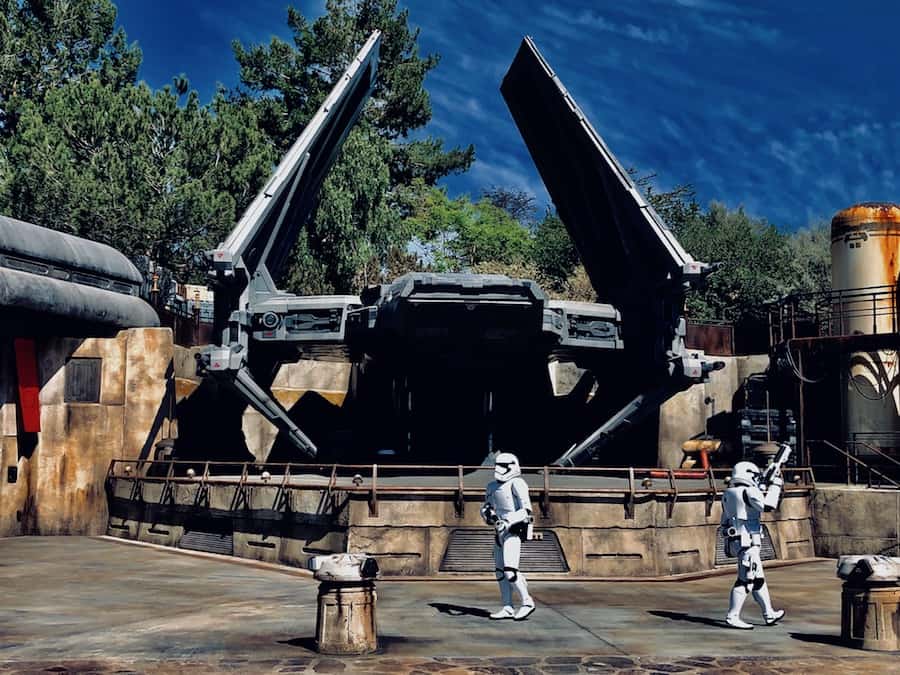 Today, the power of technology to shape and enhance the real enables new ways to connect with and inspire guests. Walt Disney Imagineering Paris is implementing the latest technology and digital capabilities to not just meet, but also exceed guest expectations.
Avengers Campus at Disneyland Paris
In Avengers Campus, this means we must inspire recruits to train with the Avengers and their allies to become the next generation of Super Heroes.
The opening of Avengers Campus is a proud moment for us. The land represents the best of Imagineering and pushes the boundaries of technology and innovation. It includes several firsts for Disneyland Paris.
When developing Avengers Campus, Imagineers leveraged core philosophies as the key themes of the land —power, sharing, diversity and teamwork. And just like the Avengers, Imagineers assembled a wide breadth of talent and expertise to create something inspiring. Using tools, technology and techniques that bring extraordinary characters and experiences to life, we will put recruits right in the middle of the action.
Innovative tech aids storytelling at Disney
For the new attraction, Spider-Man W.E.B. Adventure, Imagineers implemented innovative technology that allows recruits to sling webs just like Spider-Man, so that they can experience what it's like to have superpowers. Recruits team up with Spidey to shoot virtual webs from their wrists using natural motions. There is no need for any wearable technology, other than 3D glasses.
The system that powers our Spider-Man W.E.B. Adventure is highly sophisticated. It involves machine learning that continuously refines our gesture recognition algorithm, so web-slinging is accurate and done in real-time with interactive scenes in the attraction. Recruits also can customize their experience with additional powers using WEB Tech accessories — another first for Disneyland Paris.
The integration of story and technology is a hallmark of Imagineering. One of my favorite examples in Avengers Campus is Tony Stark's Artificial Intelligence, F.R.I.D.A.Y. She performs a central role in operating the Campus.
F.R.I.D.A.Y. is the first virtual character taking center stage at Disneyland Paris; she has been "uploaded" onto the façade of Avengers Assemble: Flight Force thanks to an innovative, integrated lighting and sound system relying on parametric 3D modeling. This is a first for Disney Parks. It is also a rare example of this system at that scale across the entertainment industry worldwide.
New York in Paris
Avengers Campus is just one aspect of a multi-year expansion plan in Walt Disney Studios Park, with about €2 billion currently being invested in both products and experiences. Every detail, every technological choice needs to add to the story, and more importantly, keep guests IN the story.
And this goes beyond the Parks. Disney Village and the Disneyland Hotel are undergoing a transformation as well. We are reimagining Disney Village in a phased approach. The result will be a new, fresh environment for dining and shopping for our guests. The Disneyland Hotel will be transformed into the realm of Disney princes and princesses, with rooms inspired by old and new stories, from "Cinderella" and "Sleeping Beauty" to "Tangled" and "Frozen."
An upgrade in technology also complements the elegant décor, from online check-in to in-room connectivity. Our goal is to transform the way our guests interact with our hotels and truly provide something for everyone.
Disney's Hotel New York – The Art of Marvel is a perfect example. The theme of a New York art gallery celebrating Marvel artwork creates a sleek, high-end hotel experience for every level of Marvel fan.
Meanwhile, as a New Yorker, my favorite spot is the Skyline Bar with its spectacular view from a New York City skyscraper. Imagineers collaborated with Marvel partners to deliver more than 1.2 million frames of 4K resolution imagery. These are shown on the nine 86-inch monitors to create a seamless day-to-night view. It makes me feel like I am back in New York – but this New York includes the Avengers!
Storytelling puts guests at the heart of every Disney experience
The success of Disneyland Paris over the past 30 years has unquestionably been driven by our continued mission to put guests at the heart of every experience – from the thrilling 3D voyage within Star Tours: The Adventures Continue to training alongside Iron Man at the upcoming Avengers Campus.
When you bring together amazing, immersive spaces, the characters and stories that only Disney can share with our guests, and cutting-edge technology and innovation – the possibilities are practically endless.
A lot has changed since 1992. But one thing that will remain with us for the next thirty years and beyond is the commitment to putting our guests at the heart of every experience, innovation and new idea. That's how we continue to make Disney magic a reality.