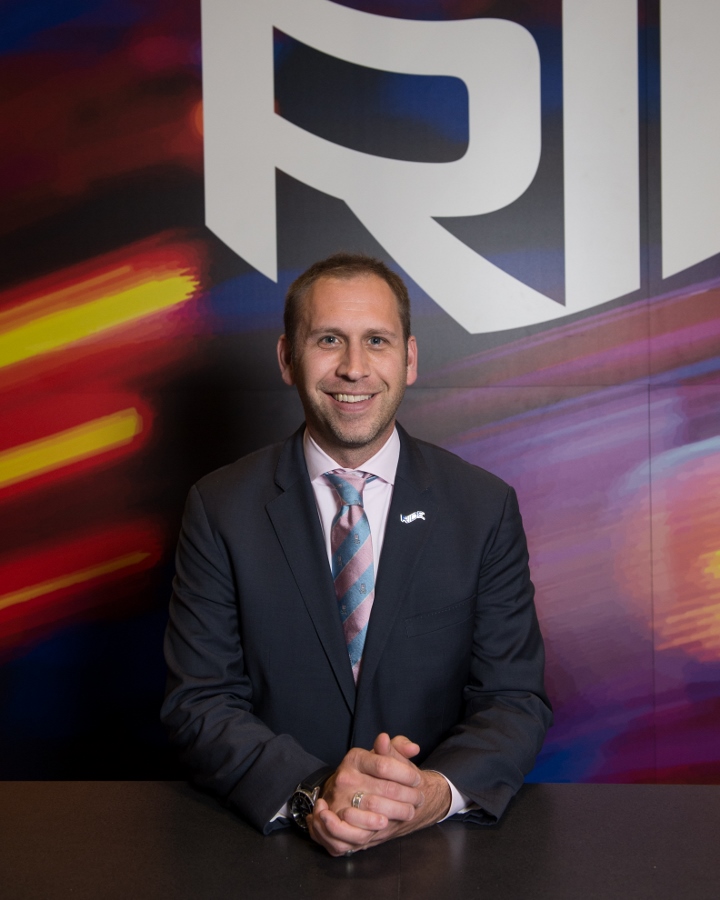 Author: Adam Sandy Chief Business Development Officer, Ride Entertainment
Many of us with kids say "having kids changes everything." That was true for me, also. All of a sudden, the amenities that did not mean much, like a diaper changing area and nursing room, were very much appreciated.
Thankfully, as I travelled, I came across parks like Storyland in New Hampshire and Knoebels in Pennsylvania, that had facilities designed with young children in mind. Diaper changing and private nursing areas are important. While they are becoming easier to find, they are still not as plentiful as they should be. I promise you that a dad who has to balance a baby on a trash can to change his child's diaper, or a mother who is relegated to a bathroom or bothered when she breastfeeds in public, is not in the mood to extend their stay at your property.
Are you engaging the younger set?
Taking a step back, parks also need to ask themselves, are they engaging the younger set? One often overlooked area is signage. A lot of parks create their signage at the right height for someone 1.5-1.8 metres (5 to 6 ft) tall. But they miss the opportunities and do not speak to their smaller customers.
Eric Dziedzic, the General Manager at Storyland in New Hampshire, goes even further. "I actually get on my hands and knees, " he laughed. "Our core demographic is families with kids 2-12., We need to make sure that our attractions are easily accessible to everyone in the family."
For those of you that may not know Eric, he is built like an American football linebacker. The idea of him looking up from his knees to get a child's line of sight is funny. It is also telling about how one needs to approach projects like this.
Eric mentioned that they even reduced the height of a recent purchase, a panning for gold experience, because the sluices would have been too high for the younger end of their demographic.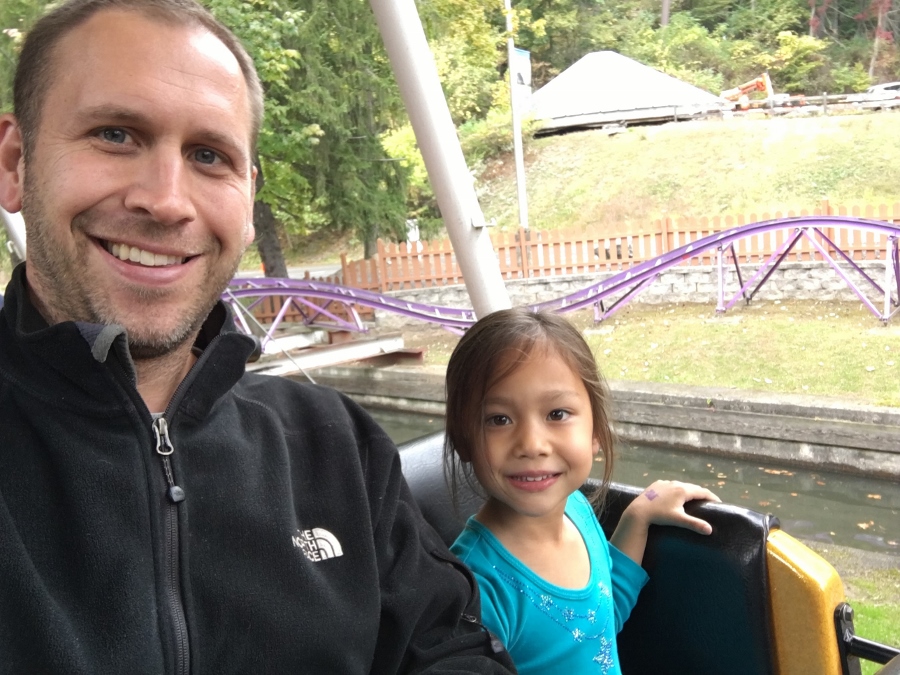 (Above: Sandy with his eldest daughter at Knoebels.)
Kids Pick Up on Different Visual Clues
Working on the supplier side of the industry instead of the park side, this was something I was cognisant of, but never fully appreciated, until I began walking parks with my children.
As soon as my oldest could enjoy the park without a stroller, I noticed that she picked up on different visual cues than I did. Signage stacked vertically up to 1.8 meter (6 feet) tall caught her eye more than signs only placed at 1.8 metres. That's because those are only viewable by adults. In quick serve food outlets, those that had upgraded to digital monitors with moving pictures caught her attention more than the 1970's-style fast food placards. Items like this are critical. Children have a lot of decision making power. Both in terms of which parks a family visits but also what they do when the family is on-property.
Good, old-fashioned playground equipment is one of the other most affordable additions you can add for children (and exhausted parents). Whether it is off-the-shelf or heavily-themed, this is a great place for mom and dad to cool their heels (and often enjoy some F&B) while the children play.
Places for play and rest
You can see this at Silver Dollar City (top) in Branson, Missouri. The park has children's activities scattered throughout the property. These include Treetop Trail, a net climb activity, the FireHouse Play Place, a soft play activity, and the FireHouse Splash Yard, a wet deck. They all have one purpose, to offer a place for children to get their energy out while parents can engage or rest. In a park like Silver Dollar City where three generations are often visiting together, these opportunities to re-group outside of a ride queue or a show are extremely import.
My children have taught me a lot. But what they continue to allow me to discover about an industry I love is some truly invaluable information. Plus, when part of my job is spending a day at amusement park with my children, I will never complain.
Main image: Silver Dollar City image kind courtesy Silver Dollar City.
Save
Save
Save
Save
Save
Save
Save
Save
Save
Save
Save