A successful theme park is a "World on the move". A vibrant, living entity, guests visit to feel alive and be part of the action. However, the importance of kinetics in theme park design is often overlooked.
By Eddie Sotto, President of SottoStudios/LA.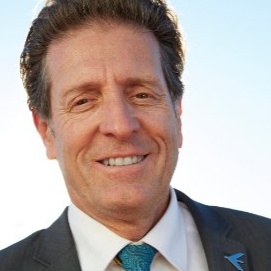 I was pouring over one of those old Disney guidebooks they used to sell for a buck or two in the sixties. Then I ran across the above picture and just stopped.
It is of Disneyland's "new" Tomorrowland. This was a dynamic addition to the park, and a sequel that easily outdid it's lean predecessor. It opened in 1967, at the height of the Space Age. It was billed as a "world on the move" and to this 9 year old it was the future. The clean white organic shapes felt like Eero Saarinen's TWA Terminal meets Paul Williams LAX theme building, but with rides. How do you beat that? In the picture above the spinning rocket triggered a myriad of warm summer memories from that optimistic era.
Tomorrowland – layers of movement
Why was I so in love with this image? There are lots of stunning park images. It must have been the action, the youthful energy captured there that was so "Tomorrowland". More than that, it reminded me of a fundamental, how kinetics pay a huge role in theme park design.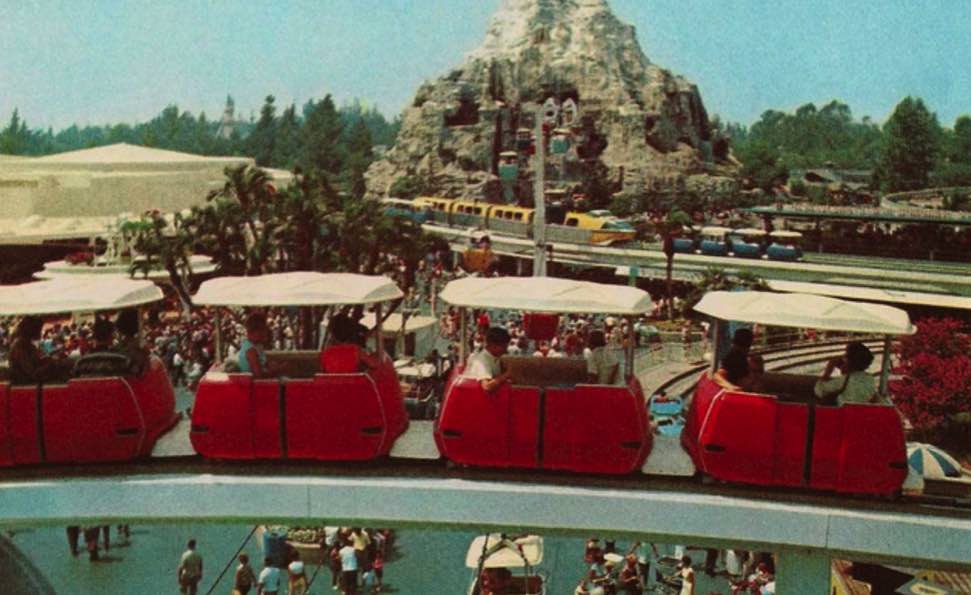 Looking back at the 1967 Tomorrowland, you have layers of movement and action, all at different speeds and filled with people watching other people. Some overhead on the Skyway, watching others careening in Bobsleds, still more on a ribbon of concrete in a metallic monorail. And at a slower tempo, the more picturesque Pez colored Peoplemover trains. Not to mention the 8 Submarines crawling through the lagoon below. All of this woven through a fettuccini freeway of miniature cars with a spinning rocket towering overhead!
Even the architecture was kinetic. The Carousel Theater was a building that literally rotated so it was on the move too and you were making progress. The future was really exciting because YOU were literally on the move wherever you went. Even the rock n' roll stage at the Tomorrowland Terrace moved up out of the ground to begin each set.
This weaving of people and experiences over and around each other may also have been economically driven says Sam Gennawey, Theme park planning expert. He credits designer Marvin Davis who planned much of the park after art directing countless films. Marvin believed in building a single immersive environment. He then layered it with various unique experiences, maximizing the land use and
building energy. Disneyland's early Frontierland had mining trains, pack mules, stagecoaches and Conestoga wagons. They were all plying the same painted desert on interlocking trails and bridges. However, each attraction was a unique and fun experience in of itself.
The Busy River
Walt Disney instinctively knew this. As if Frontierland did not have enough, he did the same thing on water by adding more watercraft into the nearby "Rivers of America." Once he saw Rafts, Keel Boats, A Steamship, Canoes and a tall ship all competing for the same narrow channel, he smiled and said, "Now THAT'S a busy river!" Walt loved the action regardless of period.
Even Fantasyland has a zoetrope all it's own. This is a 72 horse Carousel that provides a kinetic heartbeat as it's centerpiece, while Dumbo soars beyond. Strategically placed, the blur of a thousand lights spinning is visible through the tiny portal of the Sleeping Beauty Castle, just to draw us in. Each village facade teases the action of vehicles coming and going from Never Never Land, Pleasure Island, and other exotic realms of fantasy. The Casey Jr. Circus Train weaves through Storybookland, over the Canal Boat Ride.
Kinetics under Glass?
In the early planning stages of the often inclement Disneyland Paris, management wanted to glaze over the Main Street with a glass canopy similar to what was done in Tokyo Disneyland. We fought this and eventually won as the roof prohibited Main Street from having it's heartbeat. This was the clip-clop of the horse drawn street cars and the putt-putt pace of the Fire Engine, Limousine and Omnibus. Those vehicles set the tempo of that victorian town transitioning from the past. It would be a ghost town without them.
Working with senior Imagineer Tony Baxter on the Indiana Jones Adventure, we were able to meet budget. We did this by deciding to build one spectacular interior temple and let the guests explore that single space in different ways. They even see other guests in peril, adding to the fun.
Today kinetics are sometimes overlooked in the planning stages. Attractions are seen as "boxes" on a plan and the area development is merely the landscaping that leads you to them. Almost two different worlds. It's great to reflect on the successes of layering kinetic elements and moving attractions that in of themselves do not make for the main reason you go, but are a big part of the reason you go back. We go to parks to feel alive, share and watch others as well, knowing we are part of the action. Here's to worlds on the move, there's a great big beautiful tomorrow!