By Eddie Sotto
From time to time someone in an introduction will overstate my role as a former Disney Imagineer, saying "Eddie designed Indiana Jones, or Space Mountain, or Disneyland Paris" etc. As if one person could singlehandedly do it all. I'd applaud too, if only it were true. 
At that point, I gently remind them that Imagineering, by its very nature is a collaborative process. One of imagination, art, design, planning and engineering, involving many diverse skills. No one does it all. Many talents glacially form a project and to that end, each contribution supports a vision.
At the top, the producer or lead designer is the keeper of the idea. That person is more of a chef, constantly "tasting" the project, adding dashes of those critical ingredients from each talent, until the flavours simmer into a cohesive aroma. Such is the focus on one very special "secret spice".
Walt Disney knew just when to add a dash of Mary Blair.
Mary Blair's role at Disneyland
The "World of Tomorrow" at Disneyland was always problematic for Walt Disney, a land added to appease sponsors at the last minute. And "the future", on opening day, felt like it was thrown together. It was. Why can't we leave "tomorrow" alone? It will get here eventually. Why do we have to keep dragging it where it lies waiting for us into today?
Like a nagging debt, Disney felt that his "Tomorrowland" too quickly became dated. So, it needed to have a clear vision, something tangible, yet further out. The ambitious new version of 1967 would be the demonstration of his urban vision of a community of tomorrow. Monorails and Peoplemovers demonstrated how we would get around, a Carousel of Progress, complete with a master plan model of something called Progress City, showing where we would eventually live.
All of this came together in a plaster and steel vision of the future in the shadow of a Saturn V Rocket (fueled by Coca Cola.) 
The centrepiece counterpoint to all the gleaming spires and silver space suits, were the Franciscan tile murals of Mary Blair, celebrating the happy spirit of children around the world.
What? No Space colonization? No cool hardware streaking across the galaxy? Exactly. Walt saw the need for humanity. Who does the future belong to? The future is children, and Mary's naive style reminds us that the humility and optimistic spirit of children are the keys to a better future.
This was truly a great creative casting decision, reassuring guests as they enter "the world of tomorrow" that it will be driven by childlike optimism and in an inclusive way. In a way, the "small world" message had been co-opted.
Diversity in design
It's been said that "Art without industry is stupidity, but industry without art is brutality."
Mary Blair had been providing inspiration for Disney animated films, and even the unifying facade and many settings for "It's a Small World." It was the biggest stylistic statement in the park to date, and a hit with guests.
Walt undoubtedly saw the fun and sincere emotion found in her work and used it as a counterpoint to the harder-edged nature of Rocket Jets, Submarines and "Atomobiles."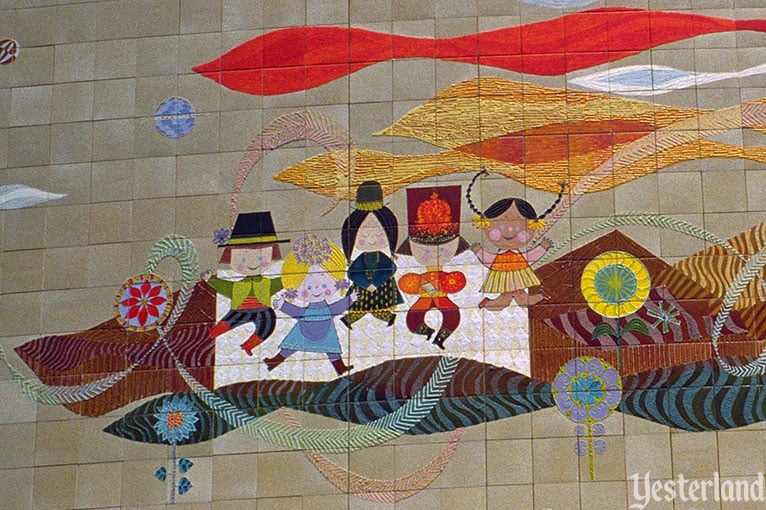 So what is the point? Diversity in experiential design is important. Not just in who is doing it, but how the content supports the big idea emotionally. The mix of styles and skills reassure us.
I'd say that using Mary's look in a "World of Tomorrow" is an inspired choice, not a typical one, even in 1967. Walt knew what his idea needed emotionally, and Mary Blair brought the human spirit to the future.
These murals are gone now, as Tomorrowland has moved on. However, Blair's magnum opus work still exists today in the Contemporary Hotel at Walt Disney World as the Grand Canyon mural. Again, bringing fun, art and a smile to the future.
Did Walt design Tomorrowland? No, but he directed diverse talent to make his future tangible and most importantly fun. Thank you, Walt, thank you Mary, and everyone who made Tomorrowland 1967 a great success.