With a small list of parks in Europe and the US now finally posting their own reopening dates for 2020, let's take a closer look at some of the new procedures that guests may have to endure when visiting any reopening theme parks and attractions.
By Lance Hart from Screamscape
Temperature and health checks
All guests arriving at the Shanghai Disneyland Resort property are walked through a makeshift enclosure. Here, thermo-sensitive cameras are in place to scan everyone. These point out anyone with a body temperature above normal, indicating a possible infection.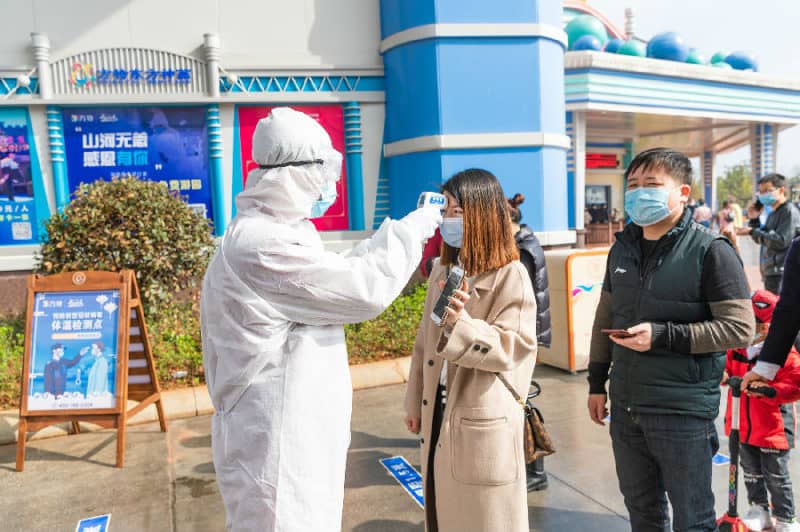 Pros – The technology is available and easy to put in place, and effective at spotting problems.
Cons – Not everyone infected by COVID-19 will have a fever. Therefore, many who are asymptomatic and contagious will still be able to enter the park.
Bottom line – This probably won't stop all of those infected from entering a venue. However, by restricting both employees and guests who do have a fever from entering, it will reduce the possibility of infection by a good margin.
Mandatory face masks at reopening theme parks
All guests and cast members are required to wear face masks during their visit to Shanghai Disney.  Masks are already common in most Asian regions. But there is some stigma in western cultures around wearing them. Therefore, there has been resistance to mandatory use in some areas.
Pros – If everyone is wearing a mask, it can only help the situation. If you are infected and asymptomatic, it will likely help prevent you from spraying the virus on those around you. It is spread via droplets from your mouth and nose.
Cons – Aside from medical grade masks (ie: N95), the typical face coverings that people are wearing do not stop the coronavirus. Wearing a mask while walking and shopping is fine. But guests still have to remove them to eat or drink.
Keeping masks on your face while riding roller coasters and other high-speed attractions may also be very difficult. If not futile. Wearing a face mask on a water ride where you will get wet will also cause problems. Guests will not be able to breathe comfortably through wet masks.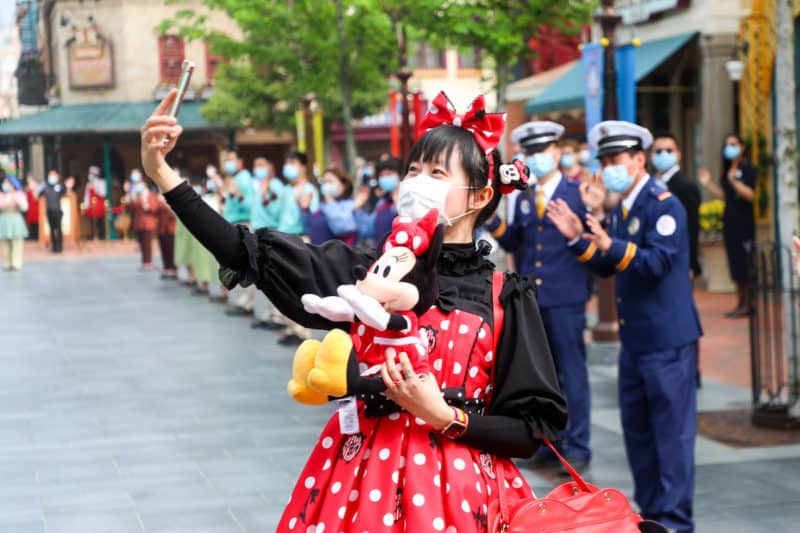 Bottom line – There are positives to wearing masks while visiting a theme park. However, guests may have to frequently remove masks for a time and then put them back on.
Plus, if you're visiting a water park or an attraction where you expect to get wet often, there is no reasonable way to have a mask on at all. So maybe parks should allow masks, but possibly not require them.
Ride vehicle sterilisation after every cycle
Some reopening theme parks have announced that guests should expect long load times on attractions. This will allow staff to clean and sanitise the vehicle and seats after each ride cycle. In order to offer a clean car for guests on every ride.
Pros – Sounds good on paper, however…
Cons – While good in principle, the actual practice may suffer. Ride ops will be in a hurry to wipe down the vehicle in the fastest time possible to load the next group of guests waiting. If vehicles are not being completely cleaned between each ride as intended, is the practice worth pursuing?
Bottom line – Perhaps it may be more feasible to squirt hand sanitiser in guests' hands as they board the vehicle. Parks could also pause operations at timed intervals throughout the day. This will allow them to perform a complete clean, rather than pursuing what may end up being a half-hearted measure.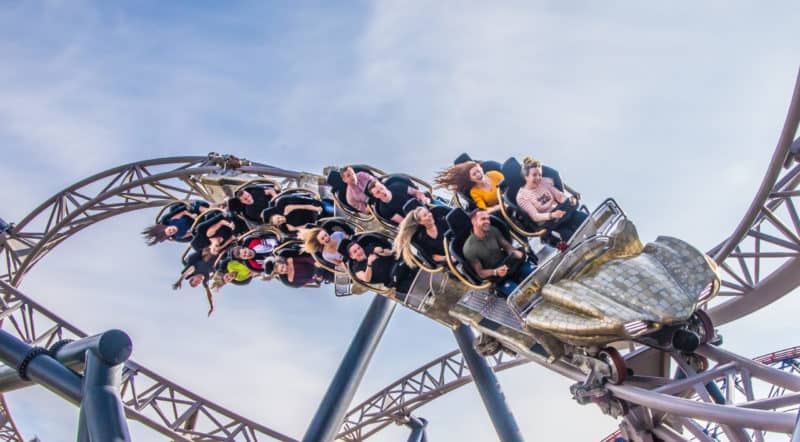 The employees who are wiping down the vehicles are putting themselves at risk every time they touch a car. So they will also be trying to limit their own exposure to things that guests have touched.
Reduced capacity in ride vehicles and attractions
The capacity of each ride vehicle may be reduced by 50 per cent. Guests could be asked to sit in every other row. Or leave empty seats in between their groups. Attractions could even stagger seating so that every rider sits alone, even if they are part of a group.
Pros – Social distancing has proven to be effective. This is really the best way to enforce that concept on a ride or attraction.
Cons – Longer lines and in some cases, riders may have to be seated alone.
Bottom line – This makes sense. Although it's not likely to win any fans, if we are reopening theme parks sooner than later, it is something that should be done for a time. Until we get a better grip on stopping the spread of the virus.
Social distancing in queues
Just as we see in our 'new normal' daily lives, we are asked to put space between ourselves and those in front and behind us while travelling through the queue for an attraction.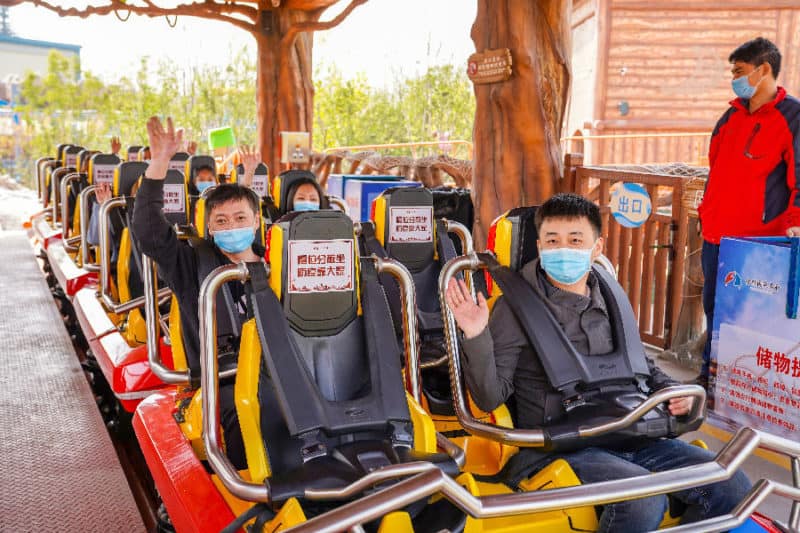 Pros – Much like creating space between riders on a roller coaster, it's good to give everyone extra personal space in queues. Another advantage is that no one really liked being crowded tightly together in a line in the first place. So, the added space is welcome.
Cons – The extra space has to come from somewhere. This means that lines will appear to be longer than they actually are. While parks are limiting their overall attendance caps, this will work for a time. But as attendance levels are allowed to rise, the existing queue space may not be long enough.
Bottom line – A good idea, but it should also be combined with a free virtual queue system as well. This would make wait times more manageable, and limit the amount of time anyone has to stand in any queue.
Reopening theme parks with mandatory reservations
Going hand-in-hand with park capacity limits, most reopening theme parks may put an online reservation system in effect that will be required to gain entry into the park.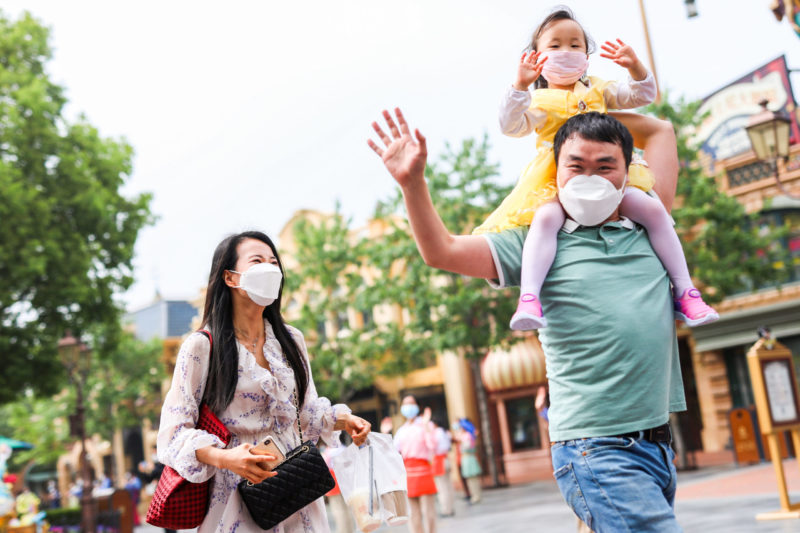 Pros – The most effective way to limit park attendance. It will also prevent guest frustration from driving down to the park only to find out it's full for the day.
Cons – Frustration is likely to come from day guests as well as passholders who will feel entitled to visit as much as they want.
Bottom line – Careful programming and a system of rules must be put in place. This is to prevent the various reservation systems from being abused or hacked to fill the reservation list with false placeholders.
Cancellations should be allowed. But some kind of penalty should also be enforced if anyone is caught abusing the system.