An interesting evolution may be starting to take place within our theme parks. Could attractions be shifting away from using 3D projection technology?
A few of the bigger parks have started to do so. For example, Universal Studios Hollywood has now removed 3D technology from two of their major attractions. This occurred in the past couple of years in favour of crisper and glasses-free 2D projection imagery.
By Lance Hart, Screamscape
When the Wizarding World of Harry Potter opened in April 2016 in Hollywood, the featured Harry Potter and the Forbidden Journey attraction used 3D projection technology. This was unlike the original version of the ride that opened in Orlando in 2010. This attempt to enhance the attraction for Hollywood seems to come with some blowback from the guests. There were complaints of motion sickness from some, and a general dislike of the 3D "upgrade" from others. Then, by December of the same year the 3D footage had been dropped in favour of the standard 2D footage.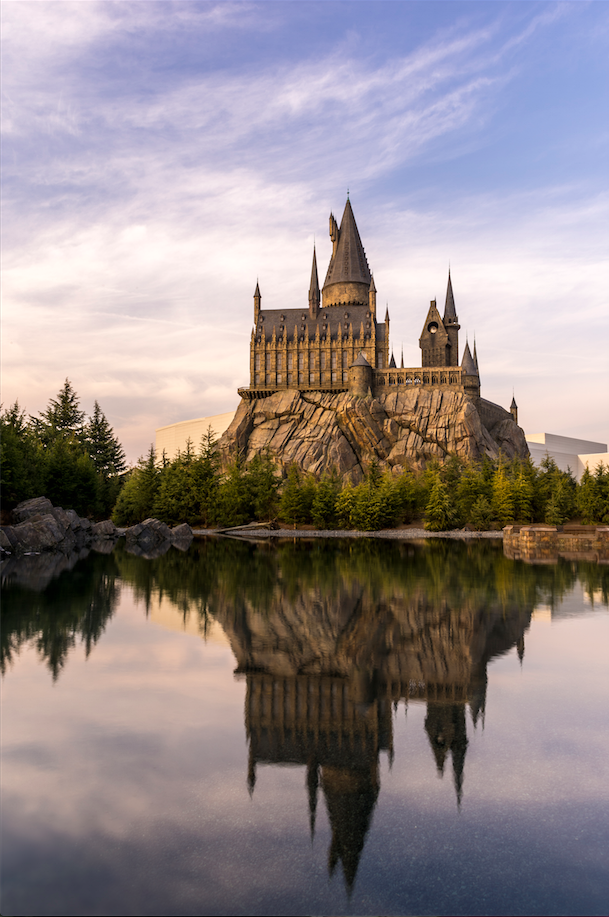 By March 2017, the park issued a press release that they had upgraded all the projection systems to 4K 120 FPS as well. A similar evolution also happened to the same attraction at Universal Studios Japan which opened in 2014. The park converted the attraction to 3D in 2015, only to drop it for 4K 120 FPS projection technology in 2018. The original version of the ride in Orlando started in 2D. And while it was once rumoured to have a 3D upgrade planned, they apparently quickly changed their minds.
Replacing 3D with 2D
Now one ride isn't a trend. However, earlier in May 2019, Universal Studios Hollywood announced the removal of the 3D technology from their Despicable Me: Minion Mayhem attraction which had opened in 2014. I discreetly quizzed some sources in the know at Universal's Orlando property. They also indicated that they had heard a similar change from 3D to 2D is expected to take place on Orlando's Despicable Me: Minion Mayhem attraction sometime later this year.
Universal Studios Florida also had an interesting development with their Fast & Furious – Supercharged attraction that opened in 2018. The original version of the attraction opened in Universal Studios Hollywood's Backlot Tour in 2015 and used 3D glasses. However, when building the custom stand-alone version of the attraction for Orlando, Universal Creative opted not to use 3D at all.
By comparison, both of these attractions were preceded by the creation of King Kong 360 3-D. It opened in Hollywood with 3D, and was followed by an evolved version of the concept in Orlando. Skull Island: Reign of Kong welcomed guests in 2016 and kept the use of 3D glasses. However, the attraction also features several additional 3D projected scenes that furthered the need for them.
To include 3D technology or not?
At this point I have to wonder. Is there a current trend to either remove 3D technology on attractions where perhaps it just isn't needed, or just opt out of using it while creating new and updated versions of attractions? This quiet evolution does not appear to be just restricted to Universal Creative. In fact, some testing appears to also be going on with Walt Disney Imagineering (WDI) as well.
Guests who visited the Walt Disney Studios Paris theme park earlier this month were in for a surprise. The park's Ratatouille themed 3D dark ride attraction was unexpectedly converted from 3D to 2D footage for about a week, only to convert back to 3D like nothing ever happened. Why the Ratatouille attraction? Rumour has it this was a test by WDI who are currently building a copy of the attraction. This will open in Florida's Epcot theme park sometime in the next 18 months, which is now expected to use high-end 2D projection technology instead of 3D.
Looking to the future of theme park 3D technology
The mouse house is also finishing up work on the first Mickey & Minnie's Runaway Railway attraction in Florida. It will debut at Disney's Hollywood Studios in 2020 (recently pushed back from a previous 2019 opening date). One of the highlights for promoting this new attraction was the mention of it being the first 2.5D attraction. This was somewhat explained as featuring almost 3D level projection technology, but without the need for the riders to wear any kind of special glasses. (A copy of this same attraction was also just announced to be opening at Disneyland in 2022.)
So what does this say about the future of 3D projection technology? Looking back, perhaps the most successful implementation of 3D technology was inside theme parks where it helped to add extra visual effects to various attractions.
Similarly, 3D technology enhanced the use of what has often been called "4D" effects. This was where various real-world enhancements are added to further 3D visual effects. They include leg ticklers, water spray and scent machines. Theme park guests seemed to be enthralled with the idea of 3D and 4D attractions for years before now, so why the pushback now?
Influence from the movie theatre industry
Perhaps the movie theatre industry could be to blame for that. For instance, by 2010 every movie studio was trying to push out their blockbusters into 3D capable theatres. This did not matter if the film was shot for 3D or not. This then allowed them to add a healthy extra surcharge on the ticket prices for the enhancement.
Over the past couple years however, the 3D fad has died off. This was supported by reports from Variety that while 3D box-office revenue hit an all time high of $2.2 billion just from 3D films in 2010, that same number has nose-dived to $1.3 billion by 2017, and is apparently still falling.
Theatre-goers have learned that the extra price they were paying for 3D did not always result in an improved viewing experience. This would also explain that while there are some films still being released in 3D, the current king of movie theatre technology is not 3D, but rather the Dolby Atmos theatres that feature top of the line visual and audio enhancements. Even at home, with the continued rise of the "home theatre" concept, the previous push to sell technology buyers on 3D BluRay players and flat screens with 3D glasses has vanished in favour of 4K Ultra HD and the rise of new 8K UHD sets.
I do think 3D will always have a home at your local theme park. However, I do find it interesting that its use in the development of new attractions may be ebbing away.