Theme parks and attractions around the world revealed some stunning new developments this last week.  These include themed lands, a themed hotel and a revamped parade. Animals, both ficitional and extinct, figured prominently.
By Lance Hart, Screamscape
1) Shanghai Disneyland adding Zootopia themed land
In a bit of a surprise announcement, Shanghai Disney Resort announced that they would be adding a new land onto the Shanghai Disneyland theme park themed to the animated film, Zootopia. The new land will be a first for Shanghai Disney, as this will result in the very first Zootopia themed attraction of any kind at any Disney park in the world.
The location also calls into the spotlight the fact that Zootopia was a huge hit in China; where it holds the record of being the highest-grossing animated film of all time. There were no other solid details about what to expect from the land; except that it seems that it may just be home to a single large-scale attraction.
2) Universal Orlando – Jurassic Park coaster layout leaked
The local news in Orlando leaked out an image they obtained last week; showing off the layout of a rumoured new roller coaster planned for Universal's Islands of Adventure theme park. The location of the coaster within the park also locks in the theme of the ride, as it is clearly located within the park's "Jurassic Park" themed area.
The news of the leaked coaster also comes at a time when many new construction walls were suddenly appearing within the Jurassic Park area. This would likely mean the attraction could open sometime between 2020 and 2021. Universal has chosen to remain silent about it thus far.
3) Meow Wolf announces new Washington D.C. location
The stunning Meow Wolf attraction concept that started in New Mexico has been making waves. New locations have been announced to Las Vegas in 2019 and Colorado in 2020; as well as an upcoming dark ride project at the Elitch Gardens amusement park in Colorado set to open in 2019.
Now the group has confirmed yet another new location will be in the works; this time in America's capital, Washington DC. This location is said to be in a 75,000 sqft three-story structure in Fort Totten, and will offer a unique and interactive experience with a unique plot when it opens in 2022.
4) New Flying Theater opens in San Francisco
A new compact flying theater attraction called "The Flyer – San Francisco" has opened in the city at Pier 39. The attraction was created by Triotech in partnership with W. A. Alter, Inc. 
5) Tivoli Gardens – 2019 renovations & attractions
Tivoli Gardens will invest about €13.5 million for the 2019 season as part of a ride renovation program. I'm told several of the park's oldest rides are set to be replaced. This will include a new generation of Bumper Cars, and the park's Odin Express (powered Mack family coaster) will be replaced by a new Mack powered family coaster called "Mælkevejen", which translates to "Milky Way". Tivoli Gardens is also adding a Zierer Force Zero called Karavanen which will replace the existing Camel Trail coaster. Furthermore, the park's Fatamorgana tower ride will be a bit more thrilling in 2019 as a new "tilting" action is being added.
6) Legoland Florida adding a pirate themed hotel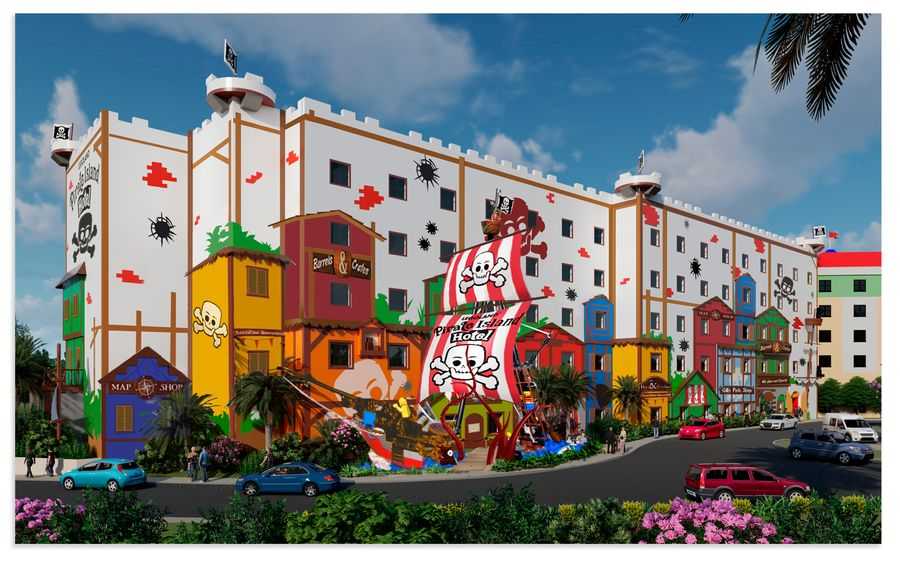 The new hotel project previously announced for Legoland Florida has now been confirmed to be opening in 2020 as the Pirate Island Hotel. Much like the first Legoland Hotel, the Pirate Island Hotel will feature LEGO Pirate themed rooms; including pirate ship themed bunk beds for kids in select rooms. 
7) Universal Singapore opens new night parade
Universal Studios Singapore launched a new evening parade at the park this month called "Hollywood Dreams Light-Up Parade". From what I'm told, it features virtually all of the floats from the park's 2011 Hollywood Dreams daytime parade, but now updated with new nighttime lighting, effects and a brand new soundtrack.
8) M

é

ga Parc reopens in Quebec City
Quebec City has unveiled their new "Mega Parc" amusement park. The facility had undergone a dramatic facelift and complete renovation over the past year and a half as part of a $52 million upgrade. The park has adopted a sort of steampunk style theme to many of the attractions, such as their spokeless ferris wheel.
9) Legoland Malaysia Resort opening Sea Life aquarium
Merlin will open a new attraction at the Legoland Malaysia Resort in April 2019 with the introduction of Sea Life Malaysia. The new marine life aquarium will take up a 2,123 square-metre two-story building and features more than 25 different display tanks. 
10) Six Flags Great Adventure to expand Hurricane Harbor Waterpark
Six Flags Great Adventure has announced a huge expansion for their Six Flags Hurricane Harbor waterpark. Calypso Springs is set to open in 2019. It will be the largest expansion of the waterpark since it opened in 2000. The highlight of the Calypso Springs area will be a 100,000 gallon zero-depth entry pool with a geyser that will erupt from the middle. The pool will also be surrounded by a new lounge deck area along with a new dining location. Calypso Springs will be located between the "Taak It Eez Ee Creek" lazy river and Tornado waterslide.