The Aquaventure waterparks are a highlight of each of the three Atlantis resorts operated by Kerzner International. And the latest, at Atlantis Sanya in Haitang Bay, is arguably the greatest. Blooloop profiles the first year-round, internationally branded waterpark in China.
"It really is the world's number one waterpark," says Alan Mahony, vice-president of Aquaventure at Atlantis Sanya.
The Australian born executive clearly gets the marketing schtick. Yet after 22 years in Asia, during which time he has helped launched some of the biggest waterparks not just in the region but also around the world, he's well qualified to make such a judgement.
His previous credits include Sunway Lagoon in Malaysia, Ramayana Water Park in Thailand, and both the Happy Magic Watercube in Beijing and China's Chimelong Water Park. The latter is the consistently the world's busiest waterpark.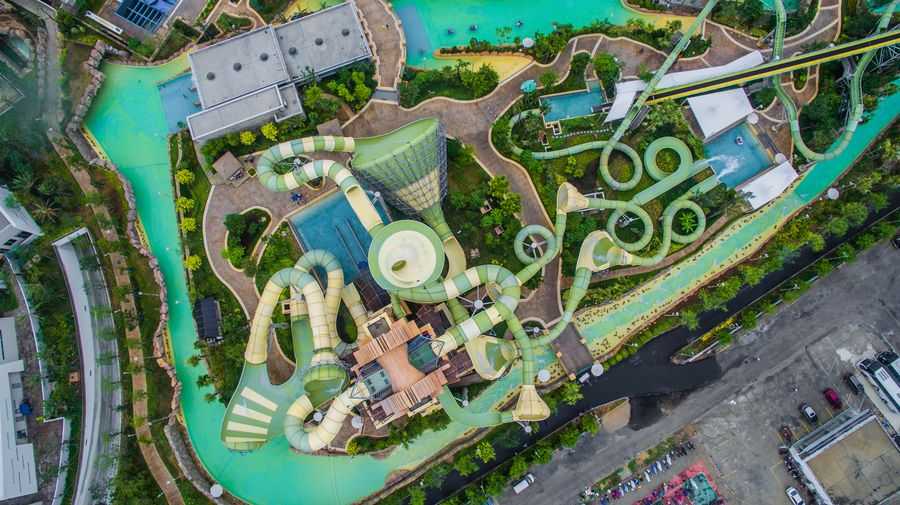 Theming and storytelling
So what makes Aquaventure at Atlantis Sanya so special? "There's a couple of reasons," says Mahony. "The theming and the storytelling. The way everything right down to the slide towers is fully themed makes its a unique experience compared to any other waterpark. And I've seen a lot!"
Though he only joined the project in January, long after the ride mix had been agreed with ProSlide, the park's VP is pleased with what he has inherited. "It's a very attractive mix, a real variation for all ages," he says. "We have the group rides, the family rides, the double tube rides. We have a huge play area and kids pool. And the Rapids River and RocketBlast are really quite special."
Discovering Atlantis
Officially opened on April 28, Atlantis Sanya is a RMB 11 billon ($1.65bn) project where "water meets wonder". Its location at Haitang Bay on China's Hainan island province places it at the southern tip of a thriving, and still growing, tourist market. Some call it the 'Hawaii of China'. Owned by Fosun International, the new offering is managed by Kerzner International, the luxury resort developer behind the original Atlantis Paradise Island in the Bahamas and Atlantis The Palm in Dubai.
Towering over Atlantis Sanya is a showpiece 1,314 room hotel, standing 226 metres (741 feet) tall. The 540,000 square metre (133 acres) resort features 21 restaurants, bars and lounges. In addition to Aquaventure, the entertainment offer includes The Lost Chambers aquarium, Dive Discovery and Dolphin Cay encounter. Before it even opened, Atlantis number three had bagged multiple awards, ranging from Most Anticipated Resort in China from World Traveler to China's Best Employer in the Golden Horse Awards.
A family-friendly formula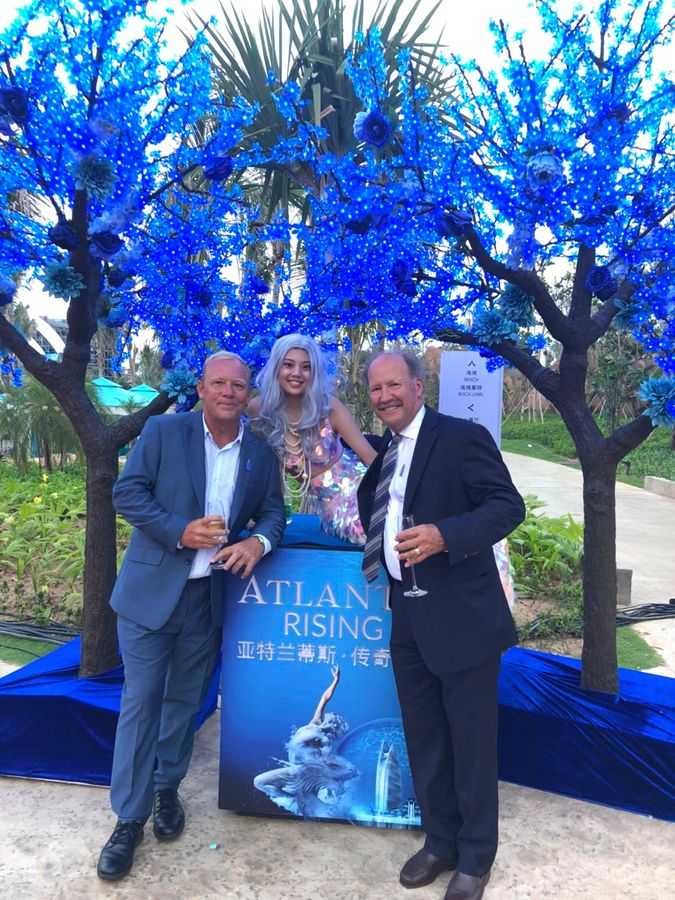 When Kerzner opened the second Atlantis on Dubai's The Palm Jumeirah island in 2008, local laws and sensibilities meant it could not integrate gambling into the mix, as the firm had previously in the Bahamas. Yet the strength of the offering, including Aquaventure and Lost Chambers, was such that it didn't really matter.
Atlantis Sanya repeats the same wholesome, family-friendly formula. No casino here folks. Were one permitted, however, one suspects it would be a massive hit given the Chinese thirst for gambling in Macau. Reports earlier this year suggested the government is now be considering legalising gambling in the province.
Aquaventure is the star
Whereas the hotels at the other two Atlantis resorts are modelled on architecture from the mythical lost city, Atlantis Sanya features more futuristic looking accommodation. "This is the next generation Atlantis," says Mahony. "The hotel is designed like a drop of water falling from the sky, and when it hits the land it splashes out and forms the waterpark."
Despite the hotel's assertive appearance and flashy finish, it is Aquaventure that is the surely the resort's star offering. Open to both hotel residents and day visitors, it features 35 experiences including 15 custom-designed slides and attractions by ProSlide.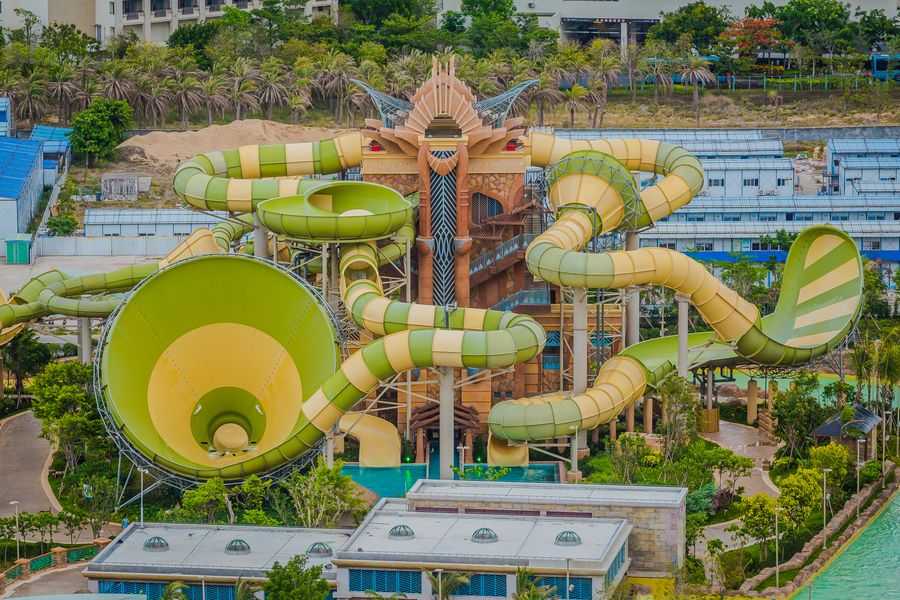 Aquaduct at Aquaventure
The 200,000 sq m waterpark was built to a masterplan from US firm RAD Architecture, which previously partnered with Kerzner on Atlantis in the Bahamas. Falcon's Treehouse provided thematic and interior design to both Aquaventure and the Lost Chambers. Theming was carried out on site by a local vendor. Scenic touches include two dramatic Atlantean Towers, also different to other Atlantis resorts, through to the tunnels and rock formations that populate the Rapids River.
Guests can experience a shark encounter both on Aquaduct and Leap of Faith. The latter is an eight-storey tall speed slide with a 83m (270ft) drop. It plunges riders down a steep flume at an angle of 63 degrees and through the underwater Shark Lagoon.
Aquaduct, a 107m long (350ft) pipeline ride, offers a more sedate experience. Sat in 2-person tubes, guests float slowly through a transparent tunnel that passes through the heart of the shark habitat. It's already proving to be Aquaventure's most popular attraction.
Havin' a Blast!
For Mahony, and many of his guests too, a highlight of the park is China's first RocketBlast installation by ProSlide. Similar waterslide coasters can be seen at Siam Park in Tenerife and Six Flags Fiesta Texas in the United States. Water jet propulsion technology propels the 3-seater boats through 225 metres (740 feet) of steep hills, thrilling drops and quick turns.
"The uphills are actually bigger than the downhills," says Mahony, "you really do get blasted up those hills. The amount of water that comes up behind your head is just incredible. I'm a surfer, and I can tell you that the feeling almost matches the thrill of surfing."
He's a big fan of the Rapids River, or torrent river, too. "It's 2km long and starts at the end of the beach area. You go up on a conveyor, and then the water is pumped to the top. So the river in fact acts of gravity, just like a real natural rapids river. Some areas are like a lazy river, but other areas have rocks and rapids that you ride through. There's six different rapids sections; it's very unique."
The river, together with the wave pool, was designed by HAS of Texas. Both these and Stingray, a flowboarding experience, feature wave generation equipment by Murphy's Waves. The park's team worked together with Zebec to develop special tubes with seats in them that make it easier and safer for smaller children to ride the river.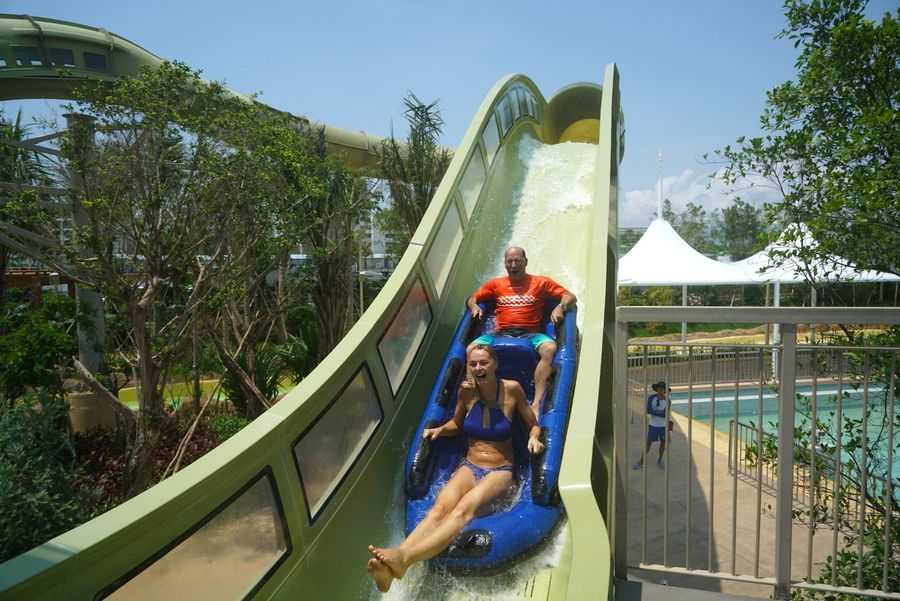 Aquaventure's slides and attractions
The waterslides at Aquaventure are spread across five complexes. Tornado Spin combines ProSlide's popular Tornado 60 funnel slide with a BehemothBowl 40 to create a hybrid ride path full of zero gravity moments and hang time. Another hybrid is Asia's first Tornado 24/TornadoWave 60 combo.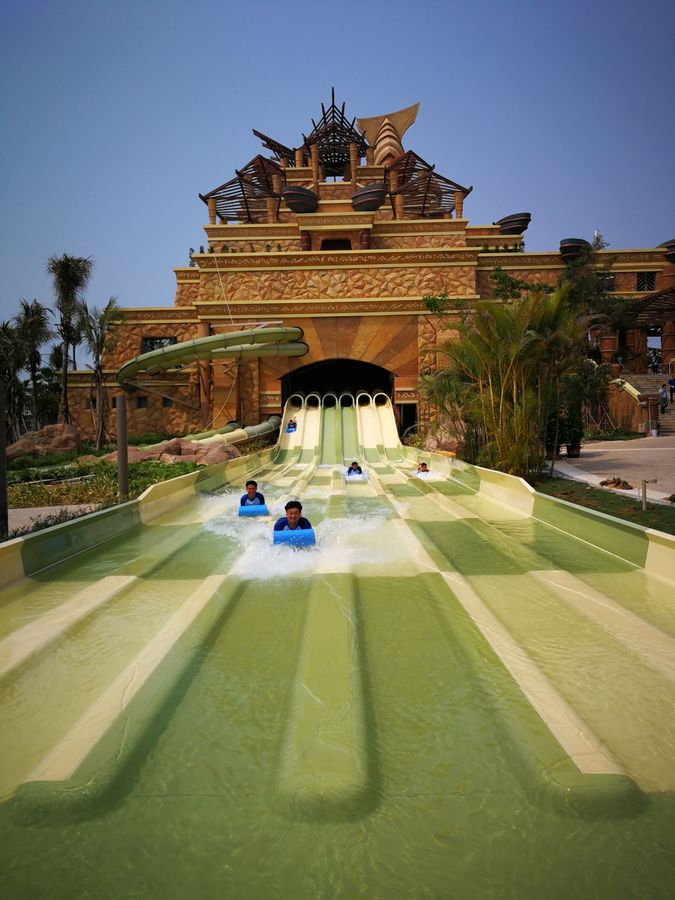 In addition to Leap of Faith, thrill seekers are sure to gravitate towards the two SuperLoop slides. Each is over 100m (356ft/341ft) in length, they begin with a dramatic drop through the trapdoor of a SkyBox capsule. Other slides include a 6-lane OctopusRacer mat ride, featuring a 13m (43ft) drop.
Pitched at Aquaventure's smaller visitors, the sprawling Splashers play complex comes complete with under-the-sea theming and is much more colourful than the rest of the park's offerings. Almost a mini waterpark in itself, the custom RideHouse structure features nine slides, a 4-lane mat racer, plus countless interactive water features.
Kids can slide through schools of fish, past mermaid columns and under octopus tentacles while a 1,000-gallon seashell tipping bucket launches a cascade of water over the guests below. A separate area houses a further five children's attractions, including various racer slides, a KidzBowl and a mini river.
Safety and maintenance of the slides and attractions across the park is monitored using a digital Mobaro Park system.
Lots of sea life to see
There are opportunities to engage with sea life both at Aquaventure and elsewhere at Atlantis Sanya. Visitors can, for example, feed and interact with thousands of cownose rays. They can put on a special helmet and safely explore the waterpark's Shark Lagoon, and dive or snorkel with sharks and reef fish in The Lost Chambers' Ambassador Lagoon.
At Dolphin Cay, a state-of-the-art education centre and interaction habitat, they can meet, play and swim with the graceful and charismatic mammals. Sea Lion Point offers similar interactions with such creatures, and there's also a Beluga Encounter at The Lost Chambers.
The lost city of Atlantis theme is exploited to the full at The Lost Chambers. Over 86,000 marine animals from 28 different species swim amongst the forgotten civilisation's shipwrecks and ruins. Sharks, stingrays, arapaimas, lobsters and the tiniest of seahorses are just some of the creatures guests will come face-to-fin with in this underwater world. Glass tunnels provide an even more immersive experience.
Over at the Ambassador Lagoon, a 16.5m wide (55ft) window allows visitors to marvel at the mysterious underwater world. The 13,500 gallon seawater habitat is China's largest open air aquarium.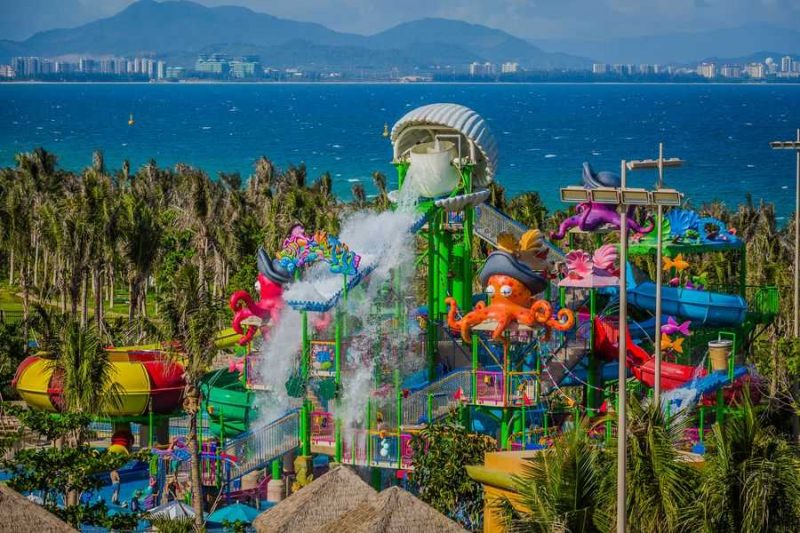 Hainan Island, the tourist offer
Haitang Bay is the fastest developing coastline on Hainan island. The surrounding Sanya region already attracts more than 16 million annual tourists, who come to experience its tropical rainforests, Buddhist temples and white sand beaches.
"People from China go to Hainan in the winter to get away from the cold and enjoy the sun," says Mahony. "We are finding that people who come here on a week's holiday will stay with us at Atlantis for two to three days to experience the waterpark, then move on to another place on the island."
Earlier this year, Village Roadshow opened China's first Wet 'n' Wild waterpark. Located in Haikou, on the other side of Hainan (closer to the mainland), it was developed together with local partners the Mission Hills Group and Guangxi Investment. There's also the local Sanya Dream Water Park. However, its offer is very different to Aquaventure, which caters to a different, higher spending customer.
Aquaventure attendance
ProSlide president and CEO Rick Hunter goes so far as to say "Atlantis Sanya is the ultimate vacation destination in the region. They deliver so many incredible guest experiences in one park experience."
Access to Aquaventure and The Lost Chambers is offered to all Atlantis guests throughout their stay as part of their accommodation package. There has been a growth in the number of walk up visitors recently, in tandem with a marketing campaign focusing more heavily on the waterpark. Initially, the goal was to sell the resort itself. By next year, Mahony expects a 50:50 split between resort guests and walk ups. In keeping with the guest profile of Atlantis Sanya, many of the existing visitors are families.
The annual attendance target for Aquaventure is 1.4 million. Not enough to rival Chimelong Water Park's numbers. However, it's a figure that could secure it a top 10 international waterpark ranking and possible number two in Asia.
What places Aquaventure in a strong position compared to other waterparks in China is its 12 months/365 days a year operation. This makes it the first park in the country to open year-round.
Bucking the national waterpark trend
"We are happy with the park's performance since opening; the resort is successful," says Mahony. "I think we are going to learn a lot this winter. There are not many waterparks in tourist destinations in China. Most of the market is city based, and those parks perform better in summer. This could be the reverse. The [October] National Day holiday has shown us that there is real potential for this place."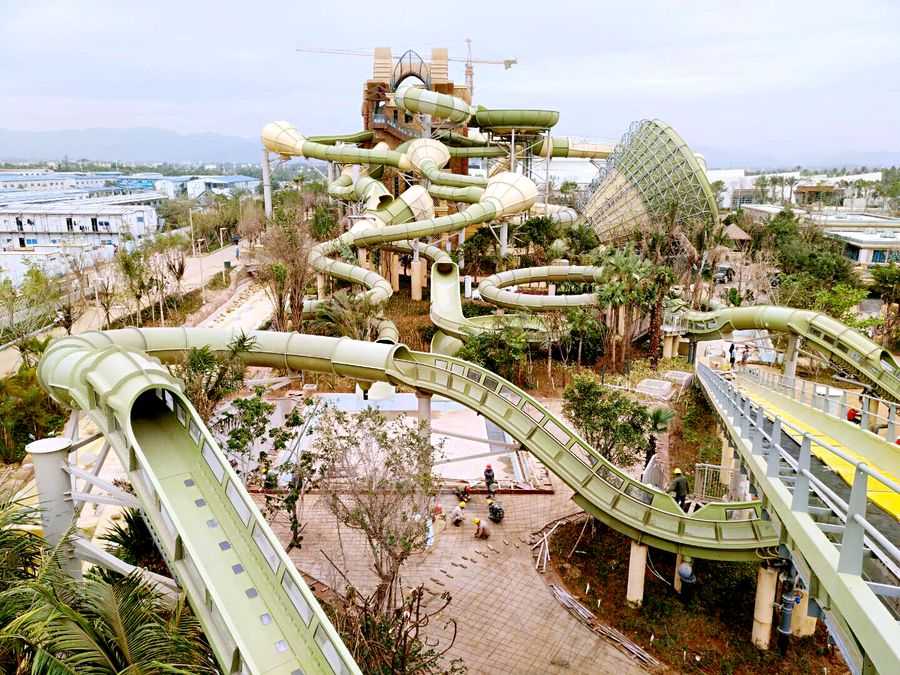 The Aquaventure VP adds that the waterpark is "very important for the Asian market. When Chimelong entered the market in 2007, it really took thing to a new level. What Atlantis is doing is taking it to the next step. We are not just concentrating on the waterslides; we are providing an immersive, interactive themed experience. You've seen Disney and Universal come into Asia, but we're really the first internationally branded waterpark in the region."
Hainan Island – China's next theme park hotspot?
The operators of Wet 'n' Wild Haikou may disagree with Mahony's statement above. But no matter, the trend is clear. As Hainan's tourist market develops, the visitor profile is becoming a little more international. As a result, Atlantis won't be the last global attraction brand to put down roots on the island.
In September, agreements were signed with 26 different companies. This could result in, amongst other projects, a Legoland park developed with Merlin Entertainments. There might also be a "musical and entertainment industrial park" in partnership with Viacom. Many international hotel brands already have properties in the province.
In addition, Chinese developers including R&F Properties, Zhonghong Co, Wanda and the Haichang Group are reported to have plans for parks and entertainment projects of their own on Hainan. This includes a marine park from Haichang.
Alan Mahony's skill is in building waterparks and, more often than not, getting them off to a soaring start. Whether the in demand industry expert will be there to witness Aquaventure expand in coming years remains to be seen. (His current contract is for three years). Nevertheless, there is room on site to add more attractions.
One thing is for sure. There seems little risk of Hainan suffering the fate of the mythical Atlantis any time soon.
Images courtesy ProSlide. Additional video clips by Alan Mahony.