It has a waterpark featuring the Caribbean's largest wave pool and the tallest waterslide in North America.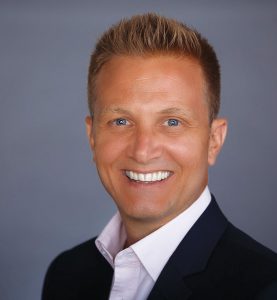 The private island is for the exclusive use of Royal Caribbean guests. It can be reached by one of the global cruise line's ships. In addition to the Thrill Waterpark, Perfect Day at CocoCay offers a range of sporting, adventurous or relaxing activities. This includes a 1,600-foot-long zip-line course. Guests also have the chance to float above the island in a tethered helium balloon.
Blooloop spoke to Chris Perry, who joined Royal Caribbean in April as its new Vice President of Operations – Private Destinations. In this role, he oversees hospitality and managerial operations. He also provides input on the design and best practices for the cruise line's private destinations, including Perfect Day at CocoCay.
Perry talked about the new island destination and the plans for the company's continued expansion. He also offered his insights into the trends shaping the industry.
A lifetime in attractions
Perry joins Royal Caribbean from Icon Global Partners Limited. Here, he served as CEO for the amusement operational consulting and management firm. His role was focused on developing and managing amusement facilities in emerging economies.
However, Perry's career in the attractions industry began much earlier. His father ran aquatic facilities, and Perry would accompany him to pools from the age of five. As soon as he could work legally, Perry did. He cleaned, checked passes and made sure no-one brought glass into the facility.
"This led to other positions within that park," says Perry. "For example, taking tickets at the front entrance, working with food and beverage, and helping with maintenance. Until I was finally old enough to become a lifeguard."
He worked his way to a point where he was responsible for all the lifeguards in the facilities
"This was in summers when I was in high school, and then early parts of college. This eventually led to a meeting with a lifeguard program that needed auditors. So, for six years I worked for an aquatic safety risk management company called Ellis and Associates. I travelled through the US auditing lifeguards and testing the skills of the aquatic staff to make sure they were able to handle emergencies.
A background in health and safety
When he graduated, he spent his final semester abroad in Sydney, where he did his student teaching. Perry initially deferred making a decision about his career. "I called it 'running away from life for a little bit'."
See also: WhiteWater celebrates multiple wins at the World Waterpark Association show 2019
In his case, this involved working as a snorkelling instructor for Club Med in South Mexico. He says:
"When I came back, I continued to work as an auditor, before being offered my first full-time position in Saint Louis, Missouri. I took over a facility where there had been a catastrophe."
The incident in question was a near-drowning.
"They recognised that they didn't have strong procedures in place," says Perry. "So they hired me to set up their safety system and lifeguarding program. I did that for a couple of years; got the team on track, and created a culture of safety at the facility."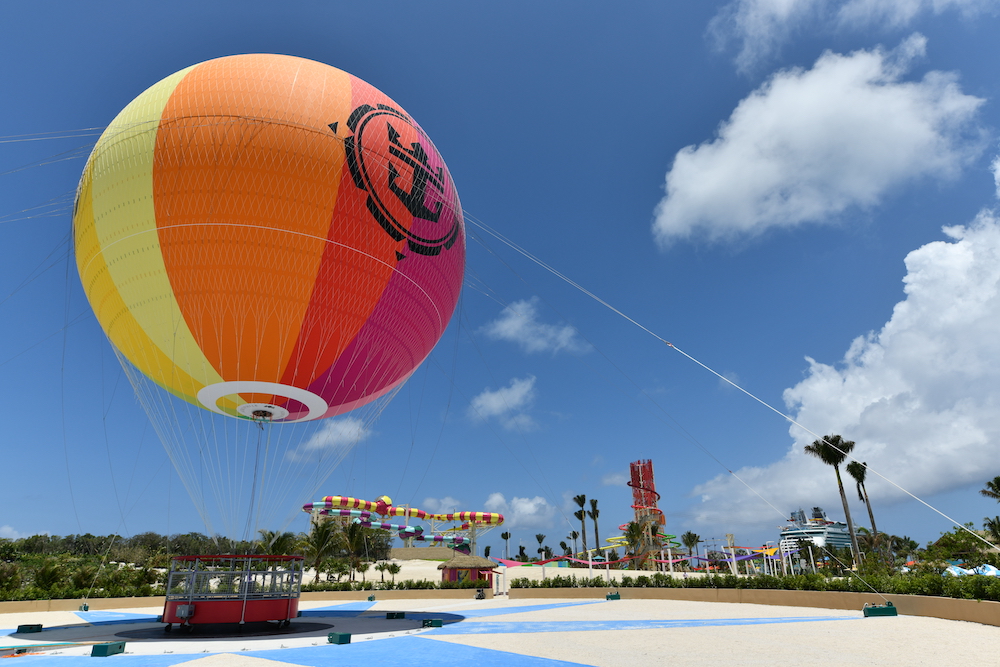 At this point, another water park with similar issues approached him.
"I was asked if I would mind turning a lifeguard team around and opening a waterpark. It turned out to be Dubai-based Jumeirah Group's Wild Wadi Waterpark. That was in 1998. I knew nothing about Dubai, so I travelled out with the expectation that it was going to be for a year, maybe two."
In fact, he remained there for seventeen years, for eleven of which he was at the helm.
"There was always something else happening. They were opening up hotels, we were adding facilities at the water park that created more responsibilities. When the owners decided to expand Wild Wadi as a brand, they sent me to business school in London to do my MBA."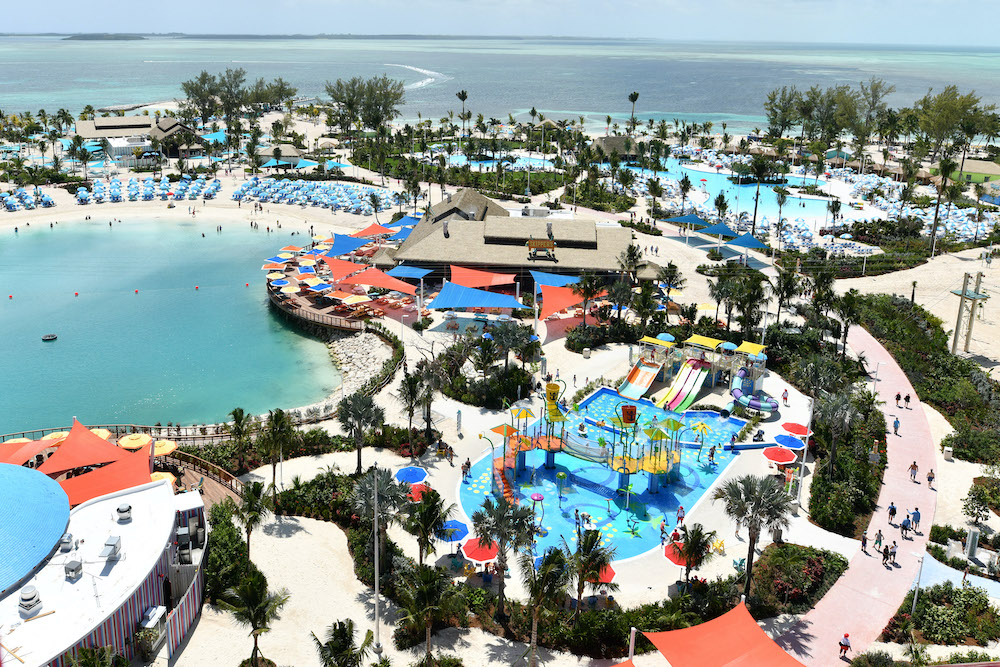 However, after the financial crisis hit, it became clear that expanding the brand was no longer a priority.
"I loved Dubai and I loved Wild Wadi," says Perry. "It had been great for me and my family, but it was time for me to move on if I wanted to continue to grow in my own career."
Under Perry's leadership, Wild Wadi was the first waterpark to achieve International Standards Organization (ISO) certification and Green Globe certification. It also received many quality, training and safety awards within the amusement industry.
Next, he joined WhiteWater, as CEO of a venture in Bangkok.
"After three years in Bangkok, there was an opportunity with Royal Caribbean to join their team, and here I am: I joined in late April."
Chris Perry and Royal Caribbean
"This is a big change, of course, in numerous ways," says Perry. "One, it's a cruise ship business. Also, moving countries has been a big change for my kids. It's a whole new culture because they've never lived in the US. Lots of change has happened at once, but it's all very positive."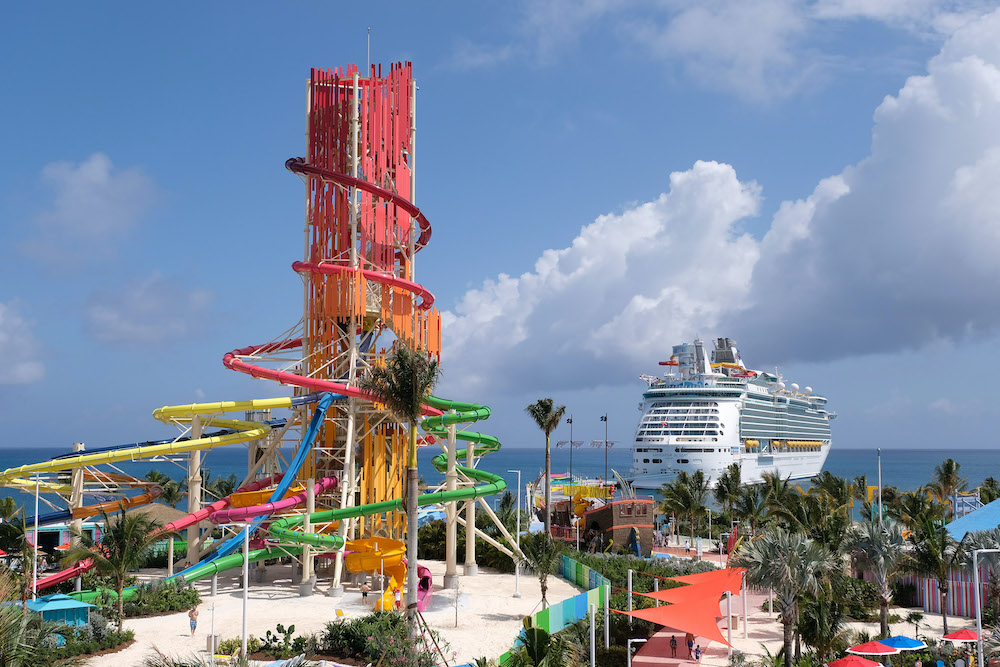 Explaining the company's strategy for private destinations such as the $250 million Perfect Day at CocoCay, Perry says:
"Royal Caribbean has had private destinations in its portfolio since 1986. So, it has a long history with bringing cruise ship passengers to the island for an exclusive island experience. The only way you can access these destinations are via our cruise ships.
"When guests are boarding the ship I think there's a sense of comfort and familiarity. They know that it will be our Royal Caribbean team members and crew taking care of guests while they're on the island."
Perry handles the operation of the private destinations.
"Our teams are on the ground, supported by the teams that come off the ship. Additionally, as we have announced, there is interest around developing further destinations besides Perfect Day at CocoCay.
"If that happens, we would be involved from an operational perspective. It's important to ensure the destinations that we are creating work well for the guests. We are constantly innovating and constantly learning. This means we are developing the best possible experience for our guests."
"Perfect Day at CocoCay is the one that we have redeveloped," says Perry. "It is a great experience that we really look to as offering something for everybody. The tag line that we use is that it promises to 'Chill and Thrill.'"
Perfect Day at CocoCay is, Perry says, a destination that can make everybody happy. It caters to family members of all ages – grandparents, parents, children, great-grandparents.
"As far as thrills are concerned, we've got a fantastic waterpark with the tallest slide in North America. There are 13 further slides, a fantastic wave pool and an adventure pool at the water park. It's ideal for people who have a bit of an adrenaline vein running through them.
"The other side of Coco Cay is the 'chill' side. There are still exciting activities like jet skis, parasailing, kayaking and snorkelling. But if you just want to sit on the beach all day, or lie in a hammock and read a book, or rent a cabana with ocean views, you can do that.
"We also have fantastic food and beverage outlets on the island that are incorporated into the packet that you've already paid for. There are bars dotted about the island so you can have a cocktail on a whim. Pictures and videos really don't do it justice.
"I have the great fortune to travel to the island quite frequently. And I have to remind myself all the time that even though this is work, I need to stop and look up and take some deep breaths and soak it in. It's a special place."
"The water is crystal clear. It's blue as far as the eye can see, people are smiling and having a fantastic time. You've got water all around you, and I think it does something to your soul while you're there."
Cruising with Royal Caribbean
Royal Caribbean's cruise ships are, Perry says, some of the most innovative in the world.
"Innovation is synonymous with who we are and what we do as a brand. We are always pushing the envelope to create the next 'latest and greatest'. Again, while you're on a cruise ship if you want to sit and read a book, you can find a place to do that. If you just want to be in the pool with your kids, you can do that, too.
"Or, if you're into something more adrenaline-fuelled, you can test your skills on a Flowrider, surfing a stationary wave. We have cruise ships with bumper cars and escape rooms. We have the iFLY Indoor Skydiving experience. And we have aqua-theatre for people who maybe don't want to go on the zip line, but want to sit and watch a Broadway-type show.
"Just as on the island, we have activities to appeal to all the different age groups and thrill levels.
Royal Caribbean offers adventure
In terms of attractions, Royal Caribbean had the 'chill' side covered.
"We had the beach and the ocean; there are great cabanas. On the thrill side, though, it's a bit more of a science. We want to be the best that we can possibly be for our guests, both from an experience and from a safety standpoint.
"So we went to the largest and best manufacturer and supplier of attractions in the world, WhiteWater."
"We also used an aquatic designer, Martin Aquatic Design & Engineering. They are familiar with the region and have worked previously with WhiteWater. Other suppliers included Safari Thatch and Vortex. Vortex's range of Elevations climbable aquatic play structures is featured in the Perfect Day waterpark.
"We really like to look at it as a team, rather than as separate manufacturers and supplier. Everybody's working together, listening and collaborating. We benefit from the pooled experience of these different companies and of our brand. And we are able to push the envelope, by putting a dream team of people together to create this."
The future of Perfect Day at CocoCay
"Our guests sit at the centre of our decisions, and will guide what we do in the future," says Perry. "With existing destinations, we listen to their comments and make the adaptations and changes they suggest. Sometimes immediately; sometimes in the longer term.
"We have many plans for development that have not been announced yet and are still under wraps. There are also some improvements and enhancements.
"One thing already on the table is Coco Beach Club. This is an exclusive guest experience with an extra layer where people will be able to pay for an elevated lunch experience. There will be different levels of cabanas to rent, including those with overwater vistas. These are at the top end of any resort cabanas in the world."
These cabanas will each feature its own slide into the ocean, an overwater hammock, a shower and a dedicated attendant.
"I don't think it's an exaggeration to say that they will be spectacular. There's an additional beach that's being developed, too. So, we will be able to offer more beach experiences up and down Coco Cay."
Experiences to suit everyone on Coco Cay
"Again, it's not about packing people in," says Perry. "But it is about being able to give all guests the experiences that suit their needs exactly. If somebody wants to be in an environment that has a great lively ambience, we've got an oasis lagoon pool in a particular area that meets that need.
"The south beach will be an area where people will be able to spread out a little bit more."
"Those elements are on the table right now and will be opening at the end of the year. There will, of course, be further adaptations and changes for CocoCay in the light of what our guests are looking forward to or wanting in the future. And there will be some that they don't realise they want, but we know they'll love."
Branching out to other destinations
While there have not, as yet, been any formal announcements, there are plans to build other destinations. Perry says:
"We are excited about the opportunities that are out there, the destinations that our ships travel to, the guests that we have. There are ways we can provide some pretty special experiences for them in some of those destinations."
The merging of attractions and cruises
Perry's experience means he is ideally placed to comment on trends in the industry. Particularly how the attractions and cruise industries are merging. He says:
"The very first water park, Wet and Wild, opened in Orlando, Florida in 1977. Back then, waterparks were standalone, built typically in areas for communities. This would be the place that you went to instead of your local pool."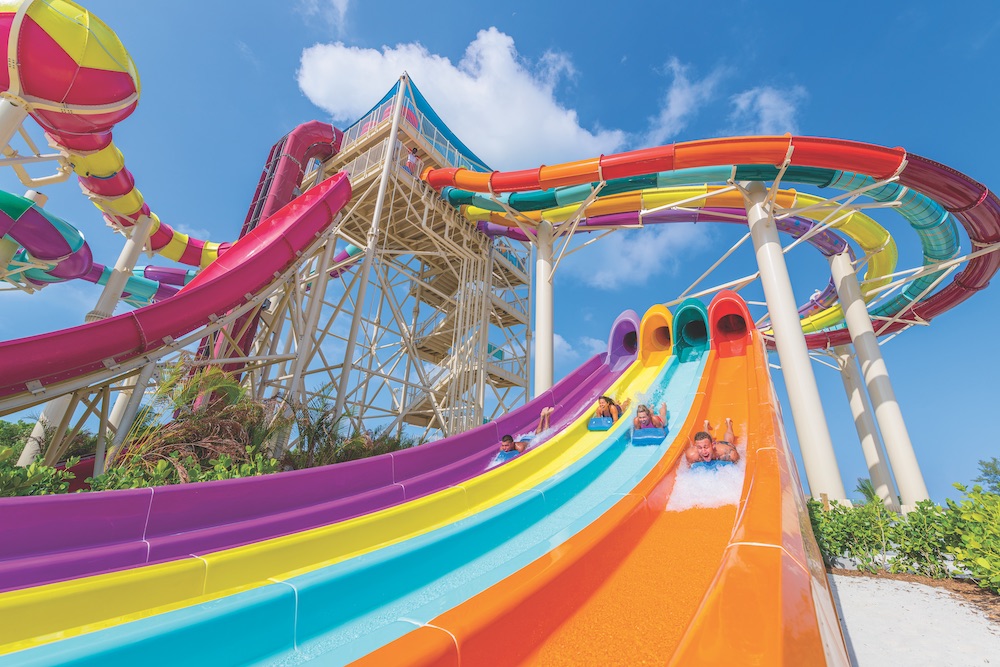 "Waterparks usually consist of a wave pool, a river, and some slides. Over time, those things have become taller, bigger, faster, longer. That is where the ride manufacturers have been pushing the envelope.
"You then started to see multi-person rides; gravity slides, funnel and drop rides. These pieces started to be put together in fusion slides."
"It then got to a point where people started to recognise the draw of waterparks," says Perry. Hotels began to incorporate them. They saw that their average daily rate and occupancy increased when they offered more for people to do on-site.
"With Great Wolf Lodge, for example, the entire model is built around the waterpark. Guests can only use it if they're staying in the property. This is great for family weekend visits, but also offers something different for people who are coming on business."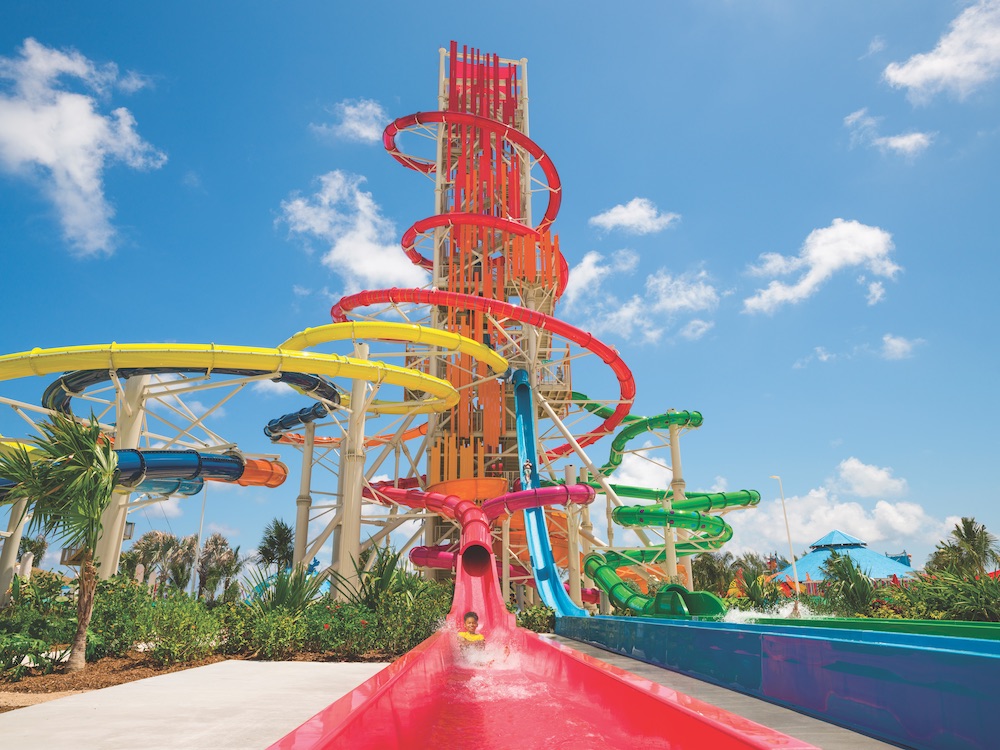 "This whole model of the waterpark plus a hotel aspect is now starting to be incorporated by cruise ships.
"Firstly, they put a waterpark or a major attraction on board to add to the entertainment on the ships. Now, with the destinations, like Perfect Day at CocoCay, there is an opportunity to offer something that appeals to a wide range of people.
"So, instead of taking people to a location and sending them away to do all these fun things, why not bring them to a place where we remain in control of the service and activities?
"That is where I think things have moved to, and I think Royal Caribbean is in the forefront"
All images kind courtesy of Royal Caribbean International.