Hatten Land, a developer based in Malaysia, is set to build the country's largest water park at a cost of RM200mil (S$67mil).
The water park will be built in partnership with resort operator Samsung C&T Corporation and Polin Waterparks, a leading designer and installer of water slides.
The water park will be called Splash World @ Harbour City. The park is set to be completed by the end of 2019, in time for a 2020 opening.
It will be built on the fourteenth floor in between two 30-storey towers. It is part of the developer's flagship Harbour City project. The development will be shaped like a large ship.
Hatten Land said it will be one of the region's largest water parks with up to 5,200 visitors a day, Straits Times reports.
The development will feature more than one kilometre of water slides. It will also feature a man-made river and more than 50 attractions. This includes 11 extreme slides, a Sky Beach, and a dedicated children's water play park. In the evenings, a "Cosmic Waters" light show will light up the park the park. There will also be a water circus, trapeze stunts and other entertainment in a special amphitheatre.
Hatten Land will develop the project. Samsung C&T of South Korea will be operation adviser and consultant.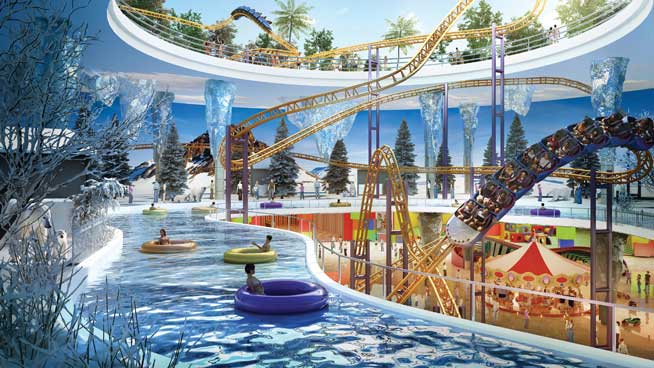 Turkey-based company Polin Waterparks will design and manufacture the water slides.
Harbour City is set to contain an indoor and outdoor theme park. It will contain an oceanic themed mall with over 800 retail stores. It will also contain three hotels.
Earlier in the year, the state of Johor in Malaysia announced its intention to build three major theme parks worth nearly RM8bn ($2bn) in the near future.
Images Courtesy: Hatten Land
https://www.straitstimes.com/business/companies-markets/hatten-land-unveils-plans-for-its-rm200m-water-theme-park-at-its-harbour