Relaunched last year as The LFC Stadium Tour, Liverpool Football Club's tourist offer at Anfield has become a top-rated experience on TripAdvisor. And as with many places in this famously friendly British city, it's the local people that really make the experience.
The reimagined LFC Stadium Tour, created in conjunction with multimedia provider Imagineear, is offered as a partly self-guided experience. But thanks to the engaging audio content, you'll never walk alone. The script was written by renowned Merseyside playwrights Dave Kirby and Nicky Allt, who together co-wrote the play Brick Up The Mersey Tunnels.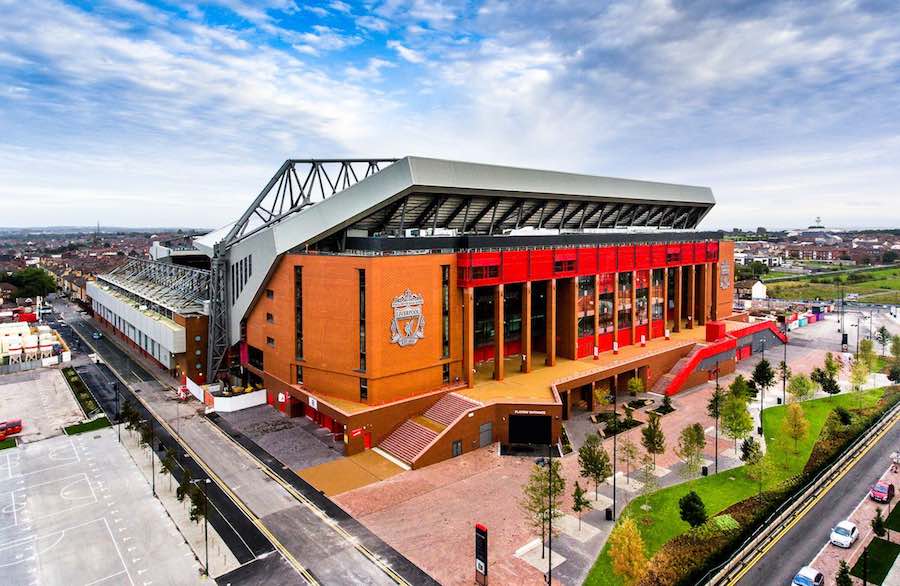 "The new handsets and self-guided tour content has allowed us to open up the Anfield stadium tours to more people than ever," says Tom Cassidy, Head of Tourism at Liverpool Football Club. "It also allows us to offer a fuller and dedicated experience to our foreign speaking visitors."
Feedback has been extremely positive, with over 90% of visitors rating the experience as good to excellent.
"We have also moved up to number one in things to do in Liverpool on TripAdvisor," says Cassidy. "We see this as a great starting point and plan to broaden the experience in the coming months to be a 'best in class' attraction."
Tom's time at Anfield
Tom Cassidy has been at Liverpool FC for 14 years, and in his current role for nine. He joined initially to look after match day events at Anfield, after previous jobs elsewhere in finance and sales.
"I made a decent success of match days, and then the club created a new role for me. It started off as commercial tourism manager, and then just evolved. A lot of my successes were with fan related products and experiences. Over a good few years it feels like we have achieved a lot. Both in terms of what we have done as a department, and in the way the club has moved on as well."
The tourism strategy, Cassidy says, has been crafted to align with the core values of the football club.
"The strategy has been developed to bring the fans closer to the club. We listened to the key stakeholders in the city and to a lot of our peers in the travel industry and listened to our customers. We listened to the people who hadn't come to Anfield as a destination, we found out why, and we learned what we needed to do."
A new chapter at Anfield
The stadium's redevelopment in 2016 was an opportunity for a completely fresh start.
"There has been a lot of snagging," says Cassidy. "It was open for matches but it wasn't quite finished until the following April. That allowed us to draw a line in the sand in relation to what we had done previously. Working hand-in-hand with Imagineear, we have taken a very different approach to what we deliver on the tour."
Just because visitors are given a multimedia handset to guide them, it doesn't mean they don't enjoy any human contact on the new LFC Stadium Tour.
Technology and people
Cassidy highlights what has always been one of the tour's unique selling points: "Our staff. The Liverpool welcome, the humour, the passion. What we didn't want to do was take that away. We want to complement it. We're working towards the point where customers, when they come on a tour, will have 60% of their experience provided by the technology. Not just the handsets, but other technologies as well; really bringing the football story together. The rest of it will be our personable tour guides. They are very much at the forefront of what we are doing."
The staff are the stars, not the technology, says Cassidy. "We have tried not to be too… gimmicky. We want the technology to be part of the storytelling. It's about getting the balance right between the two. We have been planning this three years, maybe more. But, as always, you learn more in the first week of trading than in the year leading up to it."
International offering from a top team
The technology has enabled the LFC Stadium Tour to be delivered in nine different languages, plus British sign language.
"Liverpool has a multinational fan base and visitor base, so we felt it was important to recognise that," says Cassidy.
The club's Head of Tourism is full of praise for the team working to make the new tour a success. "We had Imagineear, working from both a creative and a technical perspective. The playwrights, Dave Kirby and Nicky Allt, are both Liverpool fans who really knew the fabric of the club. Then there was our team, plus a local production company. We commissioned a lot of new pieces which people will only see on the stadium tour."
Benchmarking the experience
Cassidy himself put a great deal of time into background research before embarking on the project. "We commissioned a strategy in 2016," he says. "Within that we also did some benchmarking of what we thought were some of the best visitor attractions out there, plus other similar stadia."
Those facilities included the Guinness Storehouse in Dublin, the Nou Camp stadium in Barcelona and Arsenal FC's stadium, the Emirates. Cassidy also looked at The O2 in London. The one time Millennium Dome is now a performance venue, but outside of that it has evolved into being a destination in its own right.
"We had a lot of time for people who were working with us," says Cassidy. "And we listened to customer feedback as well, so that what we deliver isn't the result of a lightbulb moment, it it is measured. We believe that we have made the right changes. But we are always listening to feedback, so as we go forward we will continue to make great changes."
That feedback for the LFC Stadium Tour comes via a number of channels. There's TripAdvisor, of course, but also websites like Viator and GetYourGuide. Everybody who books on the tour also gets a questionnaire, to which the club reacts.
Making the tour repeatable
"When the redeveloped stadium opened up fully, we could have been lazy," says Cassidy. "We could have just relied on people coming to see the stadium. We could have done things just as we had always done them. But we feel it's very important to give people a reason to come back. That is why we have taken this approach to our storytelling."
The reimagined LFC Stadium Tour also includes admission to the Liverpool FC Story museum (pictured above). It is only one of a range of tourism products and experiences now offered by Liverpool FC.
"We do lots of things with our former players," says Cassidy. "There's Experience days, where you can interact with our Legends, then go on the tour and dine overlooking the pitch. We also do one, The Ultimate Anfield Experience, where you can go and train with two of our former players at the club's academy. We package that into a real nice day."
Destination Anfield
Revitalisation is ongoing. Cassidy lists some of the recent changes at Anfield: "We are opening up a retail store which is six times bigger than the previous one. There is a really nice restaurant and sports café on site, and plans very soon for lots of regeneration on the high street. We have space for a hotel to be built, and are all working towards what we are calling Destination Anfield. Rather than popping in for an hour to do the tour or see the museum, people will want to come for the day. It still is very much a work in progress."
The award-winning LFC Stadium Tour
The LFC Stadium Tour was also shortlisted for Best Large Visitor Attraction and Best Newcomer at the Liverpool City Region Tourism Awards back in May.
Cassidy reveals that such recognition was one of the goals outlined in the football club's tourism strategy. "To be shortlisted so soon is great," he says. "There are a lot of good attractions in a very vibrant Liverpool at the moment."
Like Liverpool FC in the Champions League final, Cassidy and his team returned home empty-handed, losing out to Liverpool Cathedral and RIBA North respecitively. Yet Imagineear's work on the LFC Stadium Tour picked up a bronze in this year's Sports Business Awards. Can Jürgen Klopp and the boys better that next season?