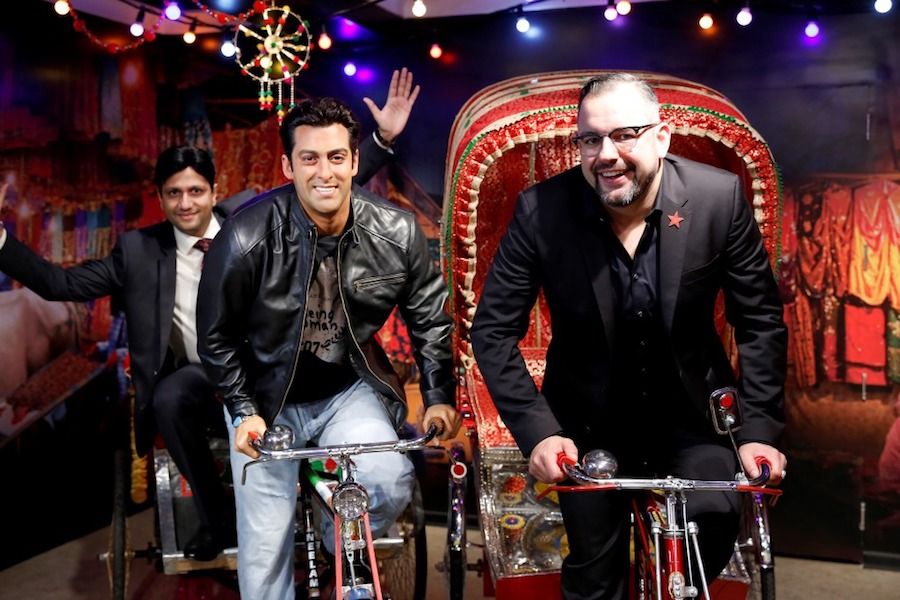 After helping create both the Legoland Discovery Centre and Little Big City concepts for Merlin Entertainments, Marcel Kloos (above right) recently oversaw the introduction of a tried-and-tested 'Midway' brand to an all new market – India. Here he tells Blooloop about his career with the attractions giant and the launch of Madame Tussauds Delhi.
An exciting time
I was born and bred in Hamburg. Fourteen years ago, I was looking for a job to get some money while I studied. Weekdays I was studying International Tourism Management, but then every weekend I worked as an actor in the Hamburg Dungeon. That gave me a very good foundation and understanding of the business.
I finished my studies in 2007 and was invited to move over to Legoland Discovery Centre (LDC), which Merlin was just opening in Berlin. I was the performance supervisor, in charge of all the entertainment and guest interaction. It was an exciting time because it was the first attraction of its kind, an indoor Lego concept. We learned a lot. And I was lucky to go on secondment with some of the next LDC openings in Chicago and Manchester.
Becoming a Midway GM
Eventually I realised I was always consulting the general manager, instead of doing the job myself. So when my former boss moved on to take over at Madame Tussauds Berlin, I applied to become general manager (GM) of Legoland Discovery Centre Berlin. I did this for three years, before becoming the opening GM of the Berlin Dungeon. After one-and-a-half years, I took over responsibility for Merlin's Berlin cluster, running four Midway attractions including Sea Life.
At some point I thought I need to gain some more experience in the outside world. There was one thing on my bucket list I had always wanted to do – work on a cruise ship. As Merlin did not own any cruise ships, I left the company for a while. In my time away, I worked for the German cruise line AIDA as entertainments manager.
After a while, I got a call from a former Merlin colleague. They told me there was a vacancy for a director of new openings for Europe and emerging markets. That's the role I have had since November 2015.
Launching the Legoland Discovery Centre and Little Big City concepts
Launching a new Midway concept is super exciting. Especially the first day of operation when our visitors leaving with a simile on their face. That tells you that the theoretical concept works in real life.
We launched an LDC at Potsdamer Platz in 2007. We have tested things and changed things. What's nice though is that, more than 20 LDCs later, the core things are still there. At the heart of the attraction you still have the Lego building opportunities in our Build and Test Centre. They all also have the Miniland local representation, the 4D cinema and the rides.
Ten years after opening the first Berlin LDC, we got to do it all again with Little Big City (LBC). The attraction really does provide a unique way of seeing the history of the city. It's told with captivating vistas combined with special effects and interactives.
There is strong connection from local people to the product. Kids in particular love it and take away the best bits of Berlin's history. However, it has actually opened up another interesting market for us. We are seeing elderly groups coming in on top of the target groups we were expecting. For them, it is quite emotional because they are taking their granddaughters and grandsons and explaining the history of the city and what they experienced.
LBC Berlin was the first in the world, so there are naturally a few small tweaks still to be made. Yet overall we, and most importantly the visitors, are really enjoying the experience. We can´t wait for the second LBC opening its doors later this year in Beijing. Although I'm not involved in the day-to-day on this project, I´m constantly sharing best practice with the team in Asia.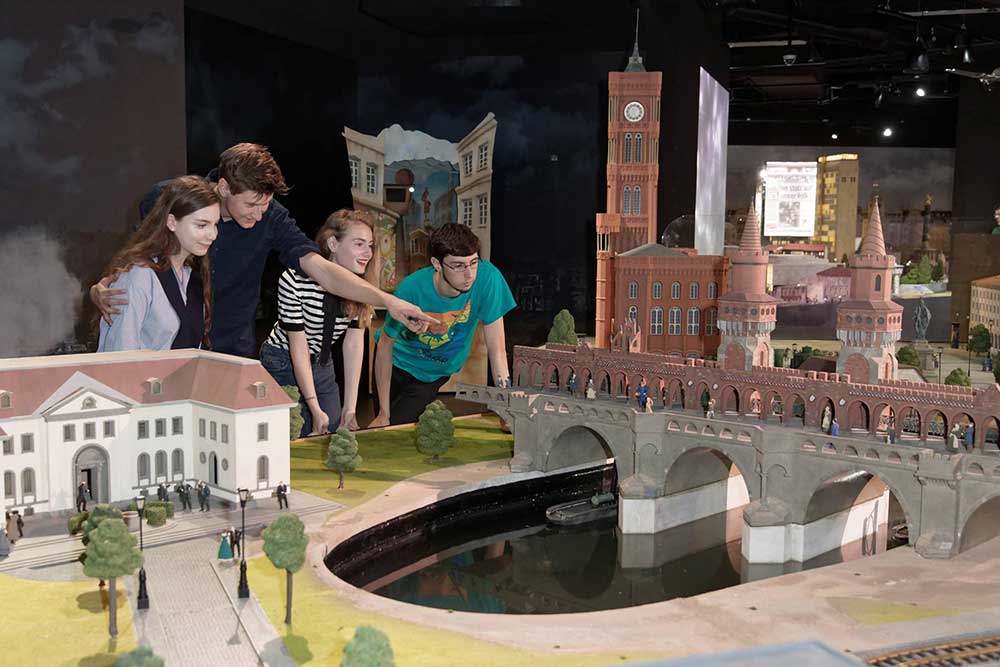 Madame Tussauds' brand recognition in India
When you go into a new market, you are always curious what the consumer thinks about your product. But with Madame Tussauds Delhi, we were already sure that Indians liked the brand. Ever since we launched Amitabh Bachchan as the first Bollywood figure in Madame Tussauds London back in 2000, we have seen an increase in interest in Madame Tussauds in the Indian market. So much so that the London, New York, Singapore, Hong Kong and Bangkok attractions all have Bollywood experiences within their sites.
In Delhi, 60% of the figures are Indian. The attraction opened in December and is comparable in size to Madame Tussauds Istanbul, or Madame Tussauds Berlin when it started. We are talking about 50 figures at the moment, but we will be ready to announce our next figures soon.
Journalists often ask what makes this different to other Madame Tussauds. The answer is, this is a completely different shaped attraction. While we are delivering the same unique experience like other Madame Tussauds, we are doing it with a very strong Indian touch.
Finding the right location
In Indian cities like Delhi, there are either these super modern buildings, which generally are located a bit further out, or colonial style buildings from back in the day. Madame Tussauds is inside the famed Regal Cinema at Connaught Place, a colonial building at a giant traffic roundabout. It is an old building, so we strengthened it to make it suitable for a visitor attraction with a high footfall. It is quite an unusual setting, but the attraction really benefits from it. If we had launched this brand into a very modern shopping centre, we couldn't really tell an Indian story or get that local flavour.
With all our Midway locations, we aim to look for high impact areas with a strong local and tourist footfall. We looked across India, but once the location in Delhi came up, there was no doubt it was the right place. Connaught Place is one of the major shopping and tourism hubs of the city. It's comparable with locations like the Brandenburg Gate or Times Square in New York.
Local Indian team makes it tick
In entering this new market, we gave ourselves enough time to realise the attraction. India is perceived as being very bureaucratic, but we didn't have any huge problems. The engagement we had when the figure was made of Prime Minister Modi really helped in gaining awareness of us as a Western brand establishing an attraction in India. All of the officials were really supportive in making it happen.
Our whole attraction management team is local and I think that's the difference. If an Indian manager talks to an Indian official, then they understand the local regulation much better than I do. And we found some really talented artists for our studio team. The figures are all created in London and then shipped into the country, but obviously we have a local team to maintain them.
Selfie heaven
We have some really outstanding, dynamic figures in the attraction. There is a figure of Milkha Singh, an Indian runner, and it looks like he has just started to sprint. With the actor Ranbir Kapoor, we created an iconic dance move from one of his biggest movies. I've heard some great guest feedback. Somebody said this is "selfie heaven", which I like. Interacting with celebrity is such a big thing in India and we have lots of props so guests can dress up and enrich each scene.
A personal highlight for me was meeting Asha Bhosle, an older singer. I went out to meet her for a side by side with her figure. When she saw it for the first time, she was so touched she grabbed my arm to hold me.
Local competition and Merlin's Indian ambition
Obviously, there are other local attractions in Delhi. Kidzania is already there, but that is a completely different target group, so I wouldn't say it's competition. The many cinemas located throughout the city are actually where many people are spending their leisure time. Whenever there is a new Bollywood film release, which is often, you see huge lines outside all of the cinemas.
The Indian market is huge. Delhi is a certainly a city ripe for further development. However, we have only been open for a few months at Connaught Place so it's too early to talk about any potential cluster development. Having a permanent attraction in the heart of the capital makes perfect sense for the evolution of the Madame Tussauds brand and the overall Merlin story. It may have taken us a bit of time, however as the saying goes it's "better late than never".
Marcel Kloos was in conversation with Owen Ralph. All images courtesy Merlin Entertainments.