Leading experience designer, Holovis, has used a host of immersive technologies to create the super scary, multisensory Wicker Man ride at Alton Towers.
The company designed and delivered all elements of the much-anticipated Wicker Man experience. Guests are thrust into the heart of the terrifying story even before they set foot on the park's first wooden coaster.
Holovis worked with Merlin Magic Making (MMM) on the project, using its visualisation techniques to bring the plans to life. The whole site and experience was modelled in RideView, the company's proprietary visualisation suite which takes place in a CAVE. This provides an immersive preview of the experience using 3D projection mapping. Every member of the team, from designers to engineers and stakeholders, have the luxury of exploring the scenes in 1:1 scale and in realtime.
Wicker Man marketing tool used augmented reality (AR)
To enable Alton Towers to market the attraction effectively, Holovis used Augmented Reality (AR) to track a model of the coaster and show its operation and flow of guests.
For the immersive media experience itself, Holovis and MMM conceptualised and scripted the preshow. They also produced the media and delivered the complex AV elements throughout the attraction, including the projection mapping. The process began on-site at the Holovis Demonstration Campus. Here, scenes were filmed and vocals captured in the Green Screen and Audio Studio with full post production and mixing.
Then came the complicated business of integrating these elements with complex AV, digital, show and media set ups across the attraction. To do this, the Holovis media team worked alongside the company's attraction engineers.
Visitors are immersed in the story the moment they join the queue line. Surround audio and immersive media continue throughout the preshow, station loading zone, enclosed sections, exit and within the Wicker Man structure. Holovis also programmed all the SFX including pyrotechnics and synchronised everything throughout the experience.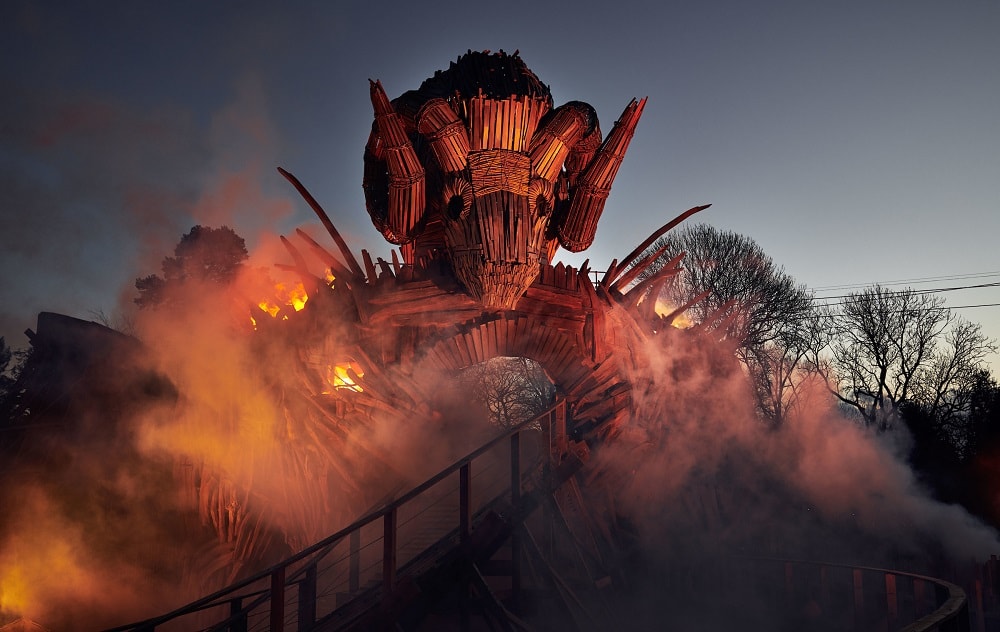 "This has been a phenomenal project for Holovis and a great example of the company's turnkey capability, with our artists, software developers and engineering teams all working together to deliver this spectacular experience," adds Cliff. "We hope guests will enjoy the ride as much as we do,"