Everyone loves a good story; it's hardwired inside our DNA. Stories are fundamental to the human experience, and good ones have the power to resonate with us at an emotional level. That's why companies looking to make authentic connections with consumers must build a brand story in meaningful ways.
By the Electrosonic Technology Design Team
Think of the most recognisable brands on the market, for example, Apple, Tesla or Coca-Cola. They haven't achieved stratospheric levels of success and unshakeable allegiance by simply selling customers a product. Instead, they craft their superior offerings around the narrative of a premium computing experience, a vision of future transportation, and even a bottle of happiness.
It doesn't matter the offering. You could be a corporation selling the next must-have gizmo, a museum presenting an important exhibit, or a stadium hosting a can't-miss event. The best way to effectively communicate your message is through an impactful story. One that makes audiences feel something they'll never forget. And brands can accomplish their storytelling goals through the effective and strategic use of technology.
Technology brings brand stories to life 
The latest technology can tell the most compelling stories. Just consider the first three phases of the Marvel Cinematic Universe. For over ten years, audiences watched a serialized tale play out across 23 films. The studio and its storytellers melded excellent writing, memorable performances, and skilful direction with cutting-edge special effects, ever higher resolution formats, and unrivalled sound quality. Finally, the end result was a generation-defining set of films that culminated in a history-making box office haul.
Companies should similarly leverage available advanced technology when presenting their brand story. However, it's important to remember the story comes first; the technology exists to support it. Marvel hasn't enjoyed a string of seemingly endless success by merely filling the screen with eye-popping graphics. Rather, the studio and its artists used special effects and other AV technologies to drive compelling and emotional narratives of heroism, justice, redemption, and sacrifice.
If you want your brand story to carve out a special place in someone's memory, your unique content must likewise be well-developed and poignant. It must also be delivered using technology your audience will enjoy.
Creating remarkable experiences with technology
Fortunately, we live in an age where unfathomable technology—practically the stuff of science fiction—actually exists. With the amount of boundary-pushing tech available, you're bound to find something that perfectly aligns with your unique narrative. One proven method of leaving lasting impressions is by creating immersive experiences that transport visitors from the natural world to one of your own making.
Refinements in display technology have enabled the production of incredibly thin, curved, and custom shaped LED and OLED screens. Creatives can use these to construct digital environments bursting with a galaxy of vibrant pixels. Holograms were once the domain of Star Wars, but not only do they now exist, they can also be used to stage virtual concerts so real they nearly fool the eye.
Touchscreen displays aren't just for your mobile devices; museums, aquariums, and event showcases are also using the technology to make exhibits more engaging with interactive screens. And if you've ever seen mesmerizing video projected onto the side of large buildings, then you've experienced the wonder of projection mapping.
Building a brand story with immersive environments
Then there's extended reality (XR) and all its cohorts, including virtual reality (VR), augmented reality (AR), and mixed-reality (MR). XR is an umbrella term that encompasses immersive environments that generate human-machine interactions through computer technology and/or wearables.
With virtual reality, there is no creative limit to your storytelling. The technology allows you to insert an audience member directly into the narrative you imagine. Augmented reality may not deliver the same level of total immersion that VR provides. However, brands can use it to enhance engagement by injecting a little virtual reality into the real world. This is usually done via mobile devices.
If VR teleports the user into a virtual world and AR transports some VR into the real world, then mixed reality merges the two. It can create an environment where physical and digital objects co-exist and interact.
Whatever your brand story, there is a wealth of awesome technologies that you can utilize. These will creatively deliver your message in a way that leaves your customers awestruck. These 'WOW' moments are made every day by imaginative visionaries. Electrosonic has played a part in many of their creations.
Electrosonic – your experienced technology partner
You develop the narrative; we'll take care of the rest. At Electrosonic, Pro AV technology is our heritage. We count over 50 years of experience partnering with brands across diverse disciplines. This includes theme parks, shopping centres and stadiums, as well as corporate complexes.
Our portfolio spans the globe, and we take pride in a track record of high-profile attractions. Customers choose us for our proven ability to execute even the most ambitious visions to perfection. In short, your project is in good hands with our experts.
If you're preparing to tell your brand story, then we recommend you engage with our AV consultants and designers at the beginning stages. This will ensure frictionless project completion at the most affordable cost. By delaying, you could inadvertently make decisions that add expense to your project. Not to mention jeopardising the quality of your audiovisual experience. It's never too early to reach out to us.
We work closely with designers, architects and main contractors to finish projects even under the tightest of deadlines. When London-based financial institution Barclays sought to accentuate their reception area with giant high-resolution LED displays, they contacted us to complete the job quickly. We were able to deliver uncompromising results in a matter of weeks. We also worked only at night to avoid disrupting normal business operations.
Telling impactful stories through the use of audiovisual technology
When you possess a deep portfolio of projects, it's hard to select which ones to highlight. We're fortunate to have such a "problem."  And we managed to curate a list that demonstrates our ability to tell an impactful brand story through the use of exceptional audiovisual technology.
Battle of Bannockburn Visitor Centre, Stirling, Scotland
To mark the 700th anniversary of the Battle of Bannockburn, the National Trust for Scotland and design firm Bright White collaborated with us to produce an award-winning attraction that tells the story of the 1314 clash. Through the use of a sophisticated projection system, visitors find themselves immersed in a realistic 3D re-creation of the crucial battle in the Scottish Wars of Independence.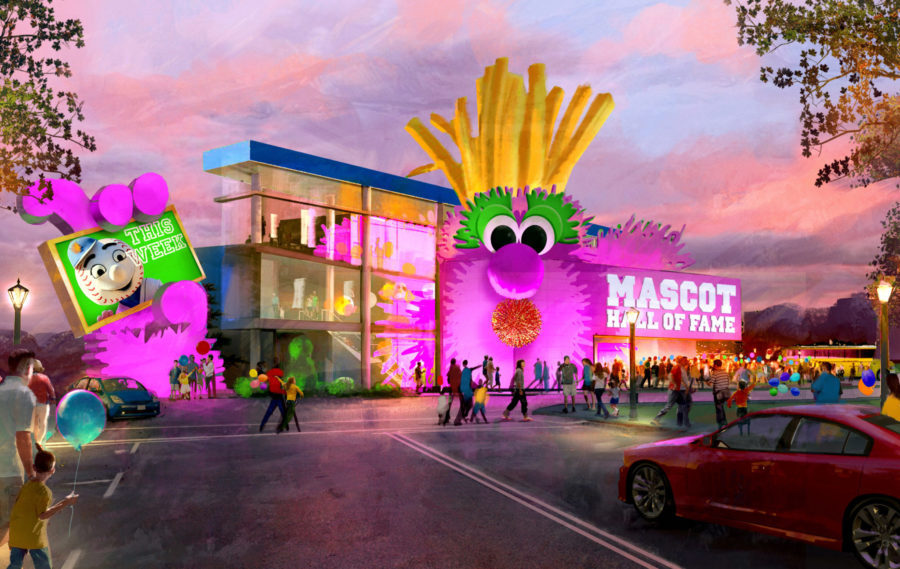 Mascot Hall of Fame, Whiting, Indiana
An entire museum dedicated solely to mascots is a fun and novel concept, but to really wow visitors, the museum combined its mascot-themed exhibits with interactive activities that feature educational content based around science, technology, engineering, the arts and mathematics. The result is a one-of-a-kind multimedia experience fit for the whole family.
MGM Cotai 'Spectacle', Macau, China
Living up to its name, 'Spectacle' at the MGM Cotai Casino and Resort utilizes 25 LED screens of different shapes and levels to immerse guests in a multi-sensory experience. The enormous video canvas displays works from world-renowned artists and showcases the beauty and natural wonders of the Orient.
LAX Airport, Los Angeles, California
A record 87.5 million commuters passed through LAX airport in 2018. Those that traversed the Tom Bradley International Terminal were treated to an exceptional traveller experience thanks to an Integrated Environmental Media System that we designed.
An enormous Welcome Wall meets passengers and displays greetings. Similarly, the Bon Voyage Wall sends departing travellers off with images that represent LA's diversity and energy. And for those waiting to catch their flight, a 72' high Time Tower keeps them company. It features both entertaining and informational content. 
110 High Street Lobby, Boston, Massachusetts
LaSalle Investment Management enhanced its office tower at 110 High Street in Boston's Financial District with a dynamic new lobby. The space features a first-of-its-kind 100-foot digital Boston Media Band Experience. This reacts to traffic in the lobby in a variety of fun and interactive ways. The media band extends the experience of the building into the street, while simultaneously bringing the energy of the city into the tower.
Tell your story with Electrosonic
Since our origin, we've pioneered Pro AV solutions that have become the industry standard. We're not just at the forefront of cutting-edge technologies—we're innovating them to thrill, educate, and inspire. Clients turn to us for undertakings of all scales—from the largest museum in the world, the Sheikh Abdullah Al Salem Cultural Centre (SAASCC) in Kuwait City, to more intimate venues like the National Holocaust Centre and Museum in Nottinghamshire, UK.
So, it doesn't matter what the discipline or the ambition of your project is. If you've got a brand story, we've also got the technology to help you tell it. Dive deeper into our portfolio here.