Halloween 2019 is fast approaching, and with its bright orange hues and luminous jack-o'-lanterns, Disney and Universal theme parks are getting in the spirit. Whether you're heading to Halloween Horror Nights or the Oogie Boogie Bash, we've got you covered (in blood).
There's a lot going on for Halloween 2019. This year, Disneyland Resort will be putting on the new Oogie Boogie Bash. Here, guests will see various Disney Villains in action, from Sleeping Beauty's Maleficent to 101 Dalmatians' Cruella de Vil.
At Walt Disney World, fans of Hocus Pocus will see the Sanderson Sisters in action. Jack Skellington and the Headless Horseman will also be making appearances.
their halloween 𝕞𝕪 𝕙𝕒𝕝𝕝𝕠𝕨𝕖𝕖𝕟 pic.twitter.com/JNAJPh0auQ

— Halloween Horror Nights (@HorrorNightsORL) August 16, 2019
However, if you're up for some real scares for Halloween 2019, you'll probably want to check out Universal Studios Florida and Hollywood's Halloween Horror Nights.
Gone are the days of costumed actors chasing guests around in the dark. Universal has constructed another bunch of highly-themed haunted houses. These are perfect for fans of Stranger Things, Ghostbusters, Jordan Peele and Rob Zombie.
Halloween 2019 happenings at Disneyland Resort
Halloween is taking place at both Disney California Adventure and Disneyland from September 6 to October 31.
At Disneyland, the Haunted Mansion will get its annual holiday overlay. As well as this, the Pumpkin Festival and giant Mickey Mouse jack-o'-lantern will be back.
There will also be costumed characters and a Halloween Screams nighttime spectacular, hosted by Jack Skellington.
Over the road at Disney California Adventure, a giant statue of the Headless Horseman holding his jack-o'-lantern will look down on guests. Guardians of the Galaxy – Mission: BREAKOUT! is also becoming Monsters After Dark.
Mickey jack-o'-lantern meets the Headless Horseman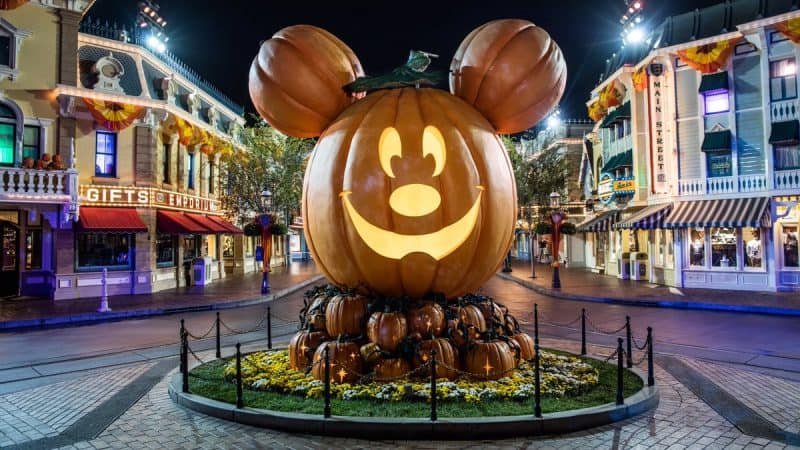 A Haul-O-Ween makeover at Cars Land will include the Luigi's Honkin' Haul-O-Ween and Mater's Graveyard JamBOOree events.
There will also be seasonal experiences inspired by the spirit of Día de los Muertos. Plaza de la Familia and A Musical Celebration of Coco will take place at Disney California Adventure. In addition, there will be a colourful Day of the Dead tribute in Frontierland at Disneyland.
As always, there will also be a separate ticket event. This year the new 'Oogie Boogie Bash – A Disney Halloween Party' is replacing 'Mickey's Halloween Party'. It will run from September 17 for select nights at Disney California Adventure.
Highlights of the event include the new 'World of Color' show 'Villainous!', as well as 'Villains Grove' – a Disney Villain-inspired walk-through experience.
Disney Villains take centre stage at Villains Grove
Also heading to the new Halloween party are the 'Redwood Creek Challenge Trail', immersive treat trails, the 'Frightfully Fun Parade', 'Mickey's Trick and Treat' show, and 'DescenDANCE'.
Welcome the witching hour at Walt Disney World
Mickey's Not-So-Scary Halloween Party is, of course, returning this year – but for a record 36 nights between August 16 and November 1.
This year, the event is holding a new fireworks show, 'Disney's Not So Spooky Spectacular', hosted by Jack Skellington and featuring state-of-the-art projection effects, lasers, light and fireworks.
'Mickey's Boo-To-You Halloween Parade' will be fronted by the Headless Horseman, while the Cadaver Dans Barbershop Quartet will be at the park.
Jack Skellington plays host at Not So Spooky Spectacular
'Mickey's Boo-To-You Halloween Parade' will be fronted by the Headless Horseman, while the Cadaver Dans Barbershop Quartet will be at the park.
Space Mountain will be getting the fall treatment with a Halloween-inspired soundtrack, and there will be a new Monsters Inc event.
For fans of the Sanderson Sisters, there will be a 'Hocus Pocus Villain Spelltacular', with Winifred, Mary and Sarah conjuring and casting a spell on guests.
Hocus Pocus and kid-friendly Halloween fun at Disney
What else? Well, there's 'Cruella's Halloween Hide-A-Way', a reservation-only Cruella de Vil-themed dining event at Tony's Town Square Restaurant.
And at 'Disney's Not So Spooky Spectacular Dessert Party' guests can enjoy desserts with views of the event from a reserved standing area.
Haunted houses and IPs take over Universal Orlando
Halloween Horror Nights is at Universal Studios Florida from September 6 through November 2, and visitors will get to 'enjoy' ten haunted houses, five scare zones and live entertainment.
Scare zones will feature bloodthirsty zombies and maniacal hillbillies, while haunted houses will draw on the likes of Stranger Things and Rob Zombie's House of 1000 Corpses.
Haunted houses at Universal Studios Florida
Graveyard Games takes guests to a haunted cemetery filled with tombstones where angry spirits have been awakened from their graves.
Yeti: Terror of the Yukon is an isolated logging camp in a remote and uninhabitable part of Canada that's uninhabitable… mostly.
Depths of Fear will transport HHN guests to a deep-sea mining company that has been infested by the parasitic 'mouthbrooders', who cover humans in acidic flesh-eating eggs, driving them insane.
Universal Studios Florida goes big on Haunted Houses
Nightingales: Blood Pit features nightingales, a race of creatures in ancient Rome. Guests must escape a gladiator arena as nightingales feed on the dead.
Stranger Things is returning with a new haunted house in Hawkins, Indiana, where guests will meet the Demodogs, and get a look at Hopper's cabin and the Starcourt Mall.
Jordan Peele's Us will include the Wilson family's beach house, Santa Cruz Pier, and Fun House. Guests will also travel through the tunnels beneath America, where they'll meet 'The Tethered'.
Universal Monsters is a new haunted house featuring the iconic characters Dracula, the Wolfman, Frankenstein's monster, the Mummy, and the Creature from the Black Lagoon.
Ghostbusters – Another new haunted house, guests will experience the original 1984 film, the streets of New York, Slimer, Gozer the Gozerian, and Stay-Puft Marshmallow Man.
Rob Zombie's House of 1000 Corpses – Meet the Firefly family and watch as 'The Legend of Doctor Satan' comes to life. Yep, you will get a look at Fish Boy, the latest addition to Captain Spaulding's Museum of Monsters and Madmen.
Killer Klowns from Outer Space – Returning for Halloween 2019 are the Killer Klowns, featuring the baby Klowns, Boco and Klownzilla, as well as the Klowns' spaceship and the cotton candy cocoon storage room where they keep their victims.
Halloween 2019 scare zones at Universal Studios Florida
Zombieland: Double Tap – Guests will experience the world of Zombieland on the streets of New York as they attempt to escape the undead.
Rob Zombie Hellbilly Deluxe – Featuring the heavy metal music of Rob Zombie. This scare zone also boasts otherworldly beings, brutal maniacs and menacing machines on the streets of San Fransisco.
Anarch-cade – Visitors will enter a sinister 80s-inspired arcade on Avenue of the Stars. They only get one life, and they've got to escape a bunch of 'neon slashers' with chainsaws.
Vikings Undead – Vikings in horn helmets rise from the grave and take over Central Park on a gory warpath. Guests become victims of the reanimated corpses.
Vanity Ball – Take to the streets of Hollywood and discover that beauty is pain. Here, artists turn participants into horrific living works of art.
A new nighttime lagoon show called 'Halloween Marathon of Mayhem' is also debuting at Universal Studios Florida's Halloween Horror Nights.
The lagoon will transform on select nights from September 6 to November 2. It features giant water screens showing iconic horror scenes with more than 100 fountains. There will also be special effects, electro music, and lasers.
Visitors will experience a new take on Stranger Things, Ghostbusters, Universal Monsters and Killer Klowns from Outer Space, as the whole lot invade the Universal Studios Lagoon.
Harrowing holidays at Universal Studios Hollywood
Universal Studios Hollywood will also boast 10 mazes for Halloween 2019. This includes those based on Stranger Things, Jordan Peele's Us, Ghostbusters, Killer Klowns from Outer Space, as well as Rob Zombie's House of 1000 Corpses. See above for more information on these, and check out the five remaining haunted houses below.
Haunted houses at Universal Studios Hollywood
Frankenstein meets the Wolfman – Two iconic Universal Monsters feature in this live experience. The pair fight it out in a cemetery. Our money's on the Wolfman.
Creepshow – Experience the classic comic book with The Creep playing host. He leads guests through tales of terror inspired by the 1982 horror anthology as well as the upcoming Shudder series from Greg Nicotero.
The Curse of Pandora's Box – Set in the underworld ruled by Hades. Here guests will meet some of the most horrific monsters from Greek mythology.
Holidayz in Hell – As the name suggests, this 'festive' experience will take guests through a bunch of psychotic seasonal celebrations. Here they will encounter an all-year-round nightmare.
The Walking Dead – This is set in the post-apocalyptic world of AMC's The Walking Dead. Guests will dodge walkers and follow in the footsteps of human survivors, who never last long.
Scare zones at Universal Studios Hollywood for Halloween 2019
Fallen Angelz – Explore crypts brimming with ghosts, escape from angry skeletons on Main Street, and meet the Angel of Death. Fun.
Spirits & Demons of the East – Artefacts from the Far East arrive in New York, but they aren't alone. What's more, they can appear in any form – even that of an innocent child.
Christmas in Hell – Christmas trees cover French Street as guests take in twisted versions of holiday traditions. This features a giant nutcracker, the Winter Witch and also Jack Frost.
┏┓
┃┃╱╲ In
┃╱╱╲╲ this
╱╱╭╮╲╲ house
▔▏┗┛▕▔ we
╱▔▔▔▔▔▔▔▔▔▔╲
scare the 💩 out of you
╱╱┏┳┓╭╮┏┳┓ ╲╲
▔▏┗┻┛┃┃┗┻┛▕▔

— Halloween Horror Nights (@HorrorNightsORL) August 29, 2019
ToXXXic Tunnel – To experience the mazes on Universal's Metro Lots, guests will have to venture through the tunnel. Here, they'll meet members of a demonic custom car club. Come again?
All Hallow's Evil – This scare zone features more fall holidays. For example, Hop-tu-Naa, All Saints' Day, All Souls' Day, Dia de Muertos, and Samhain.
Oh yeah. We heard your screams from the Upside Down @GatenM123. pic.twitter.com/QKvWeiJtxR

— Halloween Horror Nights (@HorrorNightsORL) August 23, 2019
Enjoy Halloween 2019. We'll see you next year…if you make it out alive.
Images: Disney/Universal