Squint/Opera, the creative studio, has recently completed a significant exhibition project in the North West of England, at a scientific institution managed by the University of Manchester.
Recounting the story of Bernard Lovell and his pioneering astronomy work, the First Light Pavilion exhibition is home to an immersive and interactive digital experience at Jodrell Bank Observatory. Designed by Casson Mann, the exhibition is found within a grass-topped dome that mirrors the structure of the Lovell Telescope, alongside a bespoke planetarium. The two spaces explore the captivating story of Jodrell Bank and its impact on history, science, and culture.
The brief for Sprint/Opera was to combine and reflect two contrasting aspects: the experiments undertaken to discover the wonders of the universe, and the tools responsible for some of modern astronomy's finest achievements.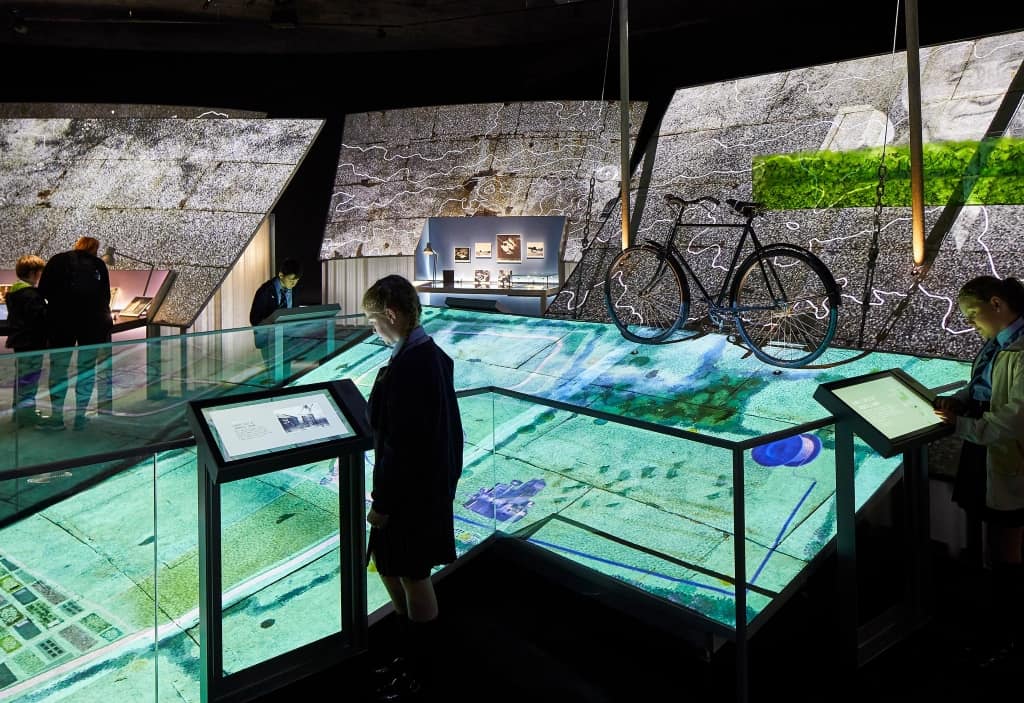 Squint/Opera project director, Vadim Charles says: "It was so fascinating to work on subject matter related to astrophysics. As a team, we have learned so much about the wonders and mysteries of space, but the story of Jodrell Bank is above all a real celebration of human achievements and discoveries and we were really interested in that contrast and the cultural aspect of the story."
A dome of discovery
Working closely with Jodrell Bank and Casson Mann, Squint/Opera cultivated a dynamic storytelling experience using interactive and immersive digital media. The firm utilised the custom-built planetarium space as well as the original fabric of the telescope itself.
When visitors enter the exhibition space, they are absorbed by visually compelling projections of the universe sky, incorporating optical and radar images, and showcasing key astronomical findings. Visitors can also trigger bespoke content onto the main projection screens by uncovering hidden 'easter eggs' scattered throughout the digital interactives.
Squint/Opera faced the challenge of coordinating the technological orchestration with seventeen projectors, creating a show with an evolving content sequence. By taking advantage of extensive archives and scientific data, Squint/Opera was also able to create custom-made graphics, films, animations, and digital interactives, especially for Jodrell Bank.
A range of exhibits has been designed to engage guests. For instance, visitors can take real-time control of a Lovell Telescope replica, using physical handles connected to a digital model. A film, Pioneering Science, features bespoke commissioned interviews with foremost astronomers and physicists, exploring astronomy and the vital role Jodrell Bank continues to play.
Connecting the story
Charles says that one of the biggest challenges for Squint/Opera was deciding how to reflect the multi-faceted Jodrell Bank story by linking the AV exhibits together: "As the immersive backdrop of space plays on a loop higher in the room, visitors can constantly change its appearance by using the interactive exhibits underneath it.
"Each exhibit can basically send individual images or films on the larger projections so we had to think carefully about that orchestration and make sure the show could work visually at all times."
Director of Jodrell Bank Centre for Engagement Teresa Anderson adds: "It is a project that has involved an incredible team of creative, skilled, and committed people, all of whom have put their hearts into it.
"The result is something really special and unique – there is nothing like it anywhere in the world – and it will stand at Jodrell Bank for generations to come, offering people of all ages a chance to be inspired by our place in the Universe."
Squint/Opera has also worked with exhibition designer Casson Mann on other projects including the Holocaust Galleries at London's Imperial War Museum.
Photos: Jodrell Bank / Hufton Crow