On 15 April, Gateway Ticketing Systems held a webinar as part of its Webinar Wednesdays series, addressing reopening strategies and transitioning to a capacity managed attraction.
By Greg Banecker, Gateway Ticketing Systems
The premise, as demonstrated by what we're seeing in Asia and parts of Europe right now, is that capacity management isn't just for your special event anymore. It's for your entire attraction. When we reopen in a post-COVID world, only a certain number of guests can enter your attraction at any given time, with strict entry regulations.
Capacity management
As one of our customers put it bluntly – we're really just living in a giant if-then statement. Venues are developing contingency plans for contingency plans, mostly revolving around a soft re-opening with a focus on safety, cleanliness and social distancing for a limited number of guests.
No matter what, when we reopen, we're not coming back to the world we once knew. So now we're looking to countries that have reopened (or stayed open) to find the contingency plans that are sticking.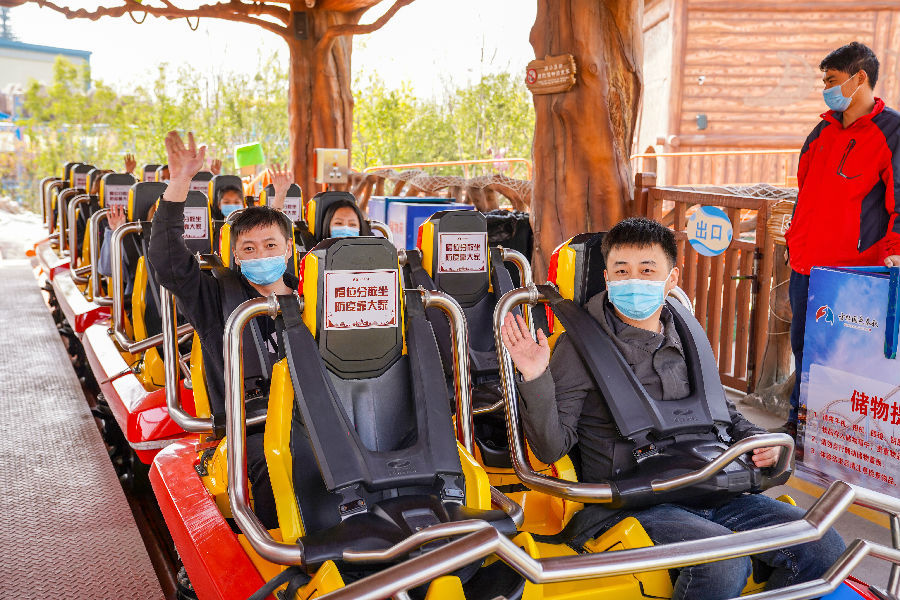 Attractions in Asia are checking temperatures at the gate, and even at checkpoints within the park. They're instituting daily limits for their venue, capacity limits for particular attractions or particular floors, and limiting the amount of time guests can spend in-park (dwell time).
These capacity managed attractions are also selling timed tickets. They're social spacing in entrance queues and attraction queues. And they're limiting the use of indoor facilities and developing new facilities outdoors.
Capacity management across an entire attraction
If your attraction offers a full-day experience, you need to determine how many guests you can admit in a day and still maintain social distancing best practices or regulations.
If your guests follow a pattern of arriving in the morning and leaving in the afternoon, or coming around noon and leaving in the evening, then consider just splitting your day into morning admission and afternoon admission. Or, if your dwell time hovers around two hours, you probably want to sell a timed ticket and have guests arrive at that time.
As an example, some attractions may sell timed tickets in certain intervals and cap the number of guests allowed in during any given hour to just a portion of their maximum capacity. If someone shows up early, they can make the ticket valid for a period of time prior to their reserved time and admit them, as long as the venue isn't at capacity.
If a guest arrives late, their ticket can still be valid, as long capacity isn't reached (this would avoid having to consistently refund people).
Discovery Cube
Luis Almonte from Discovery Cube was a panellist on our webinar whose attraction has members that typically arrive when they want, without a ticket, and just show their pass and enter. Their attraction is considering making members purchase a free timed ticket online.
If your ticketing system facilitates it, you could also upsell on that purchase to earn revenue (think parking, or even branded hand sanitizer), and then link the ticket/s to the membership or pass so that members still only need to arrive with their pass.
The Discovery Cube is also considering wristbanding their members and general admission guests – to indicate the time they entered. Staff can be trained to gently move guests along and out of the attraction based on the colour of their band. Once guests are inside, Discovery Cube is working on a suggested flow, almost like an IKEA store.
Other attractions are considering offering a more VIP experience at a higher cost to compensate for lower attendance. But how much is a loyal member willing to pay for such an experience? That's a topic for a future webinar.
How to decide the magic number
So when implementing capacity management, what should your visitor cap actually be? Everyone is asking the same question. And in some situations, the answer may come easy, and from your local or regional government.
In other cases, it may be a complete guess. In others, it may be a complete educated guess. Focus on key congestion areas and work up from there. What percentage of your guests are in that area at any given time? Now, what is the number of guests that should be there at any given time with new social distancing and cleanliness rules in place? Then do the math from there.
Additionally, what is your traditional dwell time, or the amount of time guests spend in your park? Some attractions have already determined this number through surveys at their exit points or research through geolocation and GPS. But regardless if you know your dwell time or your new limited capacity numbers, you need to start measuring both of them now.
Counting visitors for capacity management
Most attractions count entries through scanning tickets. Just count the scans and the number of people associated with that ticket. Make sure you consider outliers. For example, do you let in children under three without a scan? Then figure out a way to manually count them, or identify another way to get them into your system.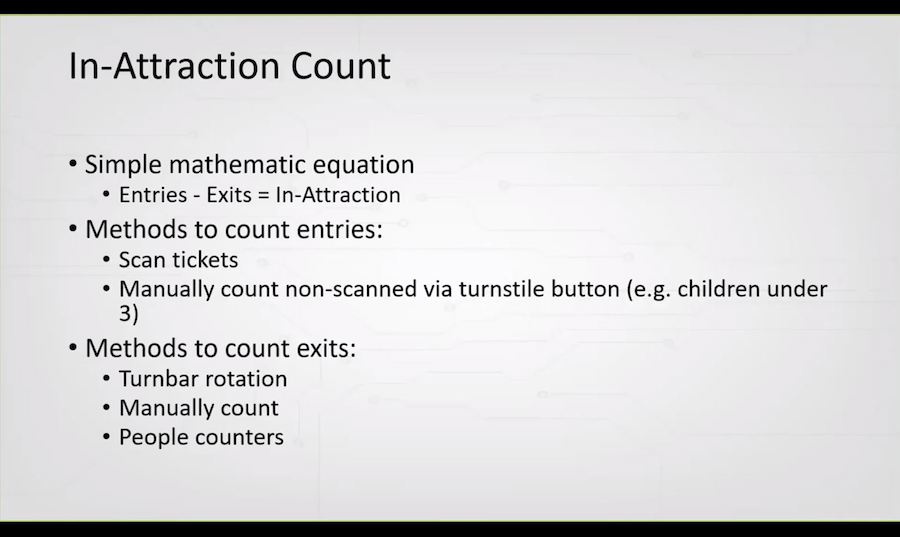 Upon exits, counts are usually done with a turnstile or an attendant with a clicker counter. More advanced venues may already have infrared cameras that measure when people are entering and exiting. Once you've captured both counts at the end of a certain period, it's simple subtraction to determine the number of guests currently in your park.
Traditionally, a lot of us do use turnbars. But many venues are eliminating these because so many people will touch it. You may need to start looking at optical counters or thermal sensors. Many of these devices can be programmed to work with your ticketing system, or you can develop your own reporting.
Or, just make sure you have a good old fashioned human monitoring exit scans in some way and sharing that data with your team.
Some other Webinar Wednesdays wonderings on capacity management
If you sell timed tickets, where will your guests go when they're waiting? The best advice is to strongly discourage pre-arrivals in your pre-arrival communications. You can even start this at the parking gate. Attractions will be turning cars around if they're too early.
You may need to start limiting group size.
Traditionally attractions will combine a party of two with a party of three on a ride or exhibit, but there's no way people will accept being sat next to or near-strangers, on a tram for example.
Watch the whole webinar
We recorded the entire webinar which has much more information on capacity management. If you want to watch it, you can access it right here.
We are also running weekly webinars on Wednesdays addressing how attractions can deliver their best guest experience now and when they reopen, despite coronavirus. Our next webinar is Wednesday 29 April at 2:00 PM EST: Re-creating Trust with your Guests and Re-training your Staff. You can register here.