What makes an inspired space?  However we define 'inspiration', such a space will reflect an optimal synergy of space, architecture and technology.
Such spaces are designed with the end user experience in mind. They inspire their users, whether they are clients, students, visitors, or employees. The inspired space increases learning, facilitates engagement and interaction or encourages creative thinking.
Electrosonic has been creating inspiring spaces for over half a century. It has a portfolio of global projects in different sectors and environments. The projects highlighted below demonstrate how technology, architecture and design can fuse to create a unique inspired space.
500 years in 47 seconds
The One World Observatory at the One World Trade Centre is an example of a project where a cohesive approach enabled the realisation of a spectacular vision.
Working with legendary experience designer The Hettema Group, Electrosonic engineered and installed the audio, video and show control systems that make the Observatory a phenomenon.
Projector edge-blended video, immersive Sky Pod Elevators, programmed video panels which rise to reveal the skyline, a floor mounted video wall that gives the illusion of walking over Manhattan, and immersive interactive theatres are all featured.
A time-lapse video on floor-to-ceiling 'windows' in the elevators shows Manhattan rising from the ancient wetlands;  500 years of history in a 47-second journey.
Working to a tight schedule with rigorous site requirements meant it was vital the multiple tech solutions worked harmoniously.
Dynamic, reactive and personalised content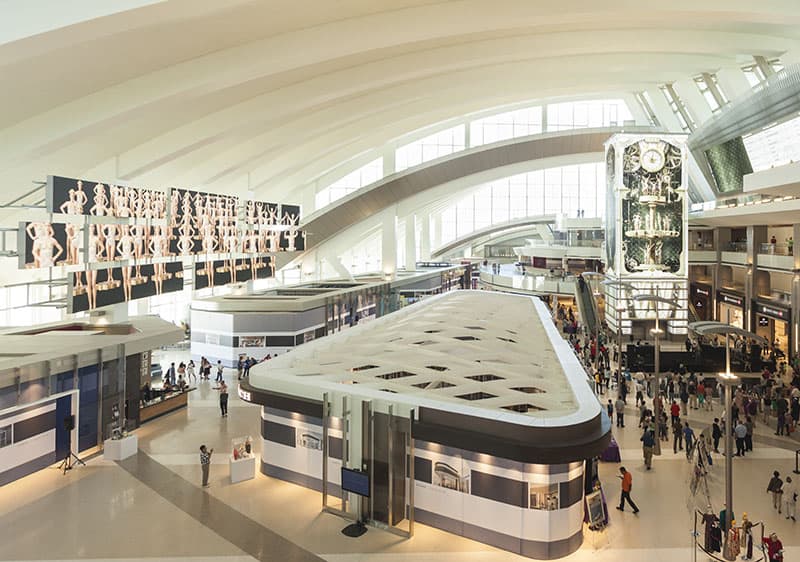 A synergy between space and technology is also evident at the Tom Bradley International Terminal at LAX. Breathtaking AV technology greets passengers.
Seven huge – yet sustainable – media installations entertain and inform as people await their flights.
The 72-foot tall Time Tower, a four-sided LED display, constantly changes from an artistic piece to an architectural feature.  Furthermore, as the clock strikes each hour, a multimedia tribute to Hollywood musicals plays on the other features.
Images of Los Angeles show on the 120-foot Storyboard, while the Destination Board, mounted above the centre of the terminal, shows departure times of outbound flights, and abstract visualizations constructed from real-time data from LAX destinations.
The Interactive Portals at LAX are a showpiece of dynamic, reactive content immersing visitors to create personalised experiences.
The Olympic Museum
Forward thinking designers and architects are starting to engage with AV consultants right at the start of the project, so that AV design and technology master planning can be incorporated seamlessly, building an inspired space that offers the best possible visual, auditory and sensory experience.
When The Olympic Museum in Lausanne reopened its doors after a two-year renovation, it was with Electrosonic's AV System Design, Engineering and Integration.
A unique four-level venue on the shores of Lake Geneva, the Olympic Museum offers visitors an immersive experience that has been referred to as a 'multidimensional journey across the Olympic Universe'. Visitors tailor their own tours. As a result, they engage on a range of levels, through interactive and audiovisual techniques. These were put in place by Electrosonic, under subcontract with media producer Centre Screen Productions.
The museum rebuild was a team concern, with London-based Metaphor as creative advisor. Mather and Company were appointed by Paragon Creative as exhibition designers, and Sutton Vane handled lighting design. Peter Kay was named as audio consultant by Centre Screen.
The project demonstrates one of Electrosonic's key principals:  inspiring spaces are achieved through a fusion of architecture, storytelling and technology.
Creating sensory-rich environments
The Electrosonic technology master planning process mirrors the architectural one, seamlessly overlaying an integrated technology framework into the design.
With the Sheikh Abdullah Al Salem Cultural Centre in Kuwait, Electrosonic designed all the AV exhibits across the 23 galleries of four museums: the Natural History Museum, Science Centre, Space Museum, and the Arabic Islamic Science Museum.
Working with Cultural Innovations to turn design concepts into audiovisual solutions, Electrosonic used large-scale models, immersive environments and compelling interactivity.
The museum's in-house technical teams continue to be locally supported by Electrosonic's Middle East office in Dubai.
A major project, the Sheikh Abdullah Al Salem Cultural Centre highlights how technology can be used to create sensory-rich environments that tap into the subconscious of the visitor, engaging and immersing.
Bringing a battle to life
All of these projects demonstrate the capacity of technology, one of the key life systems of an inspired space – bringing attractions to life; facilitating engagement, connection and communication, and creating a magical 'WOW' factor.
At the Battle of Bannockburn Visitor Centre in Scotland, life-sized 3D projection systems transport visitors into the past, re-creating an iconic battle from 700 years ago.
Immersive technology engages the senses and emotions, creating connections. The Battle of Bannockburn Visitor Centre was the first in the world to use life-size choreography and motion capture techniques in this way, so visitors can stand shoulder-to-shoulder, ducking longbow arrows alongside the forgotten warriors of the distant past.
Electrosonic was responsible for designing, engineering and installing the complex projection system, under sub-contract to design consultancy Bright White Ltd.
Technology can be fundamental in redefining a space.
Creating a living work of art
When the Empire State Realty Trust set out to update the building and its lobby with unconventional technology, Electrosonic was called in. Working alongside Gensler, Tactical Manoeuvre and Megapixel VR, the lobby was transformed into a unique, attention-grabbing art installation.
Designing and integrating a complete audiovisual and control system that created a living canvas was key in engaging guests.
In partnership with Emmy nominee lighting artist Marc Brickman, and digital artist Lindsay Scoggins, Electrosonic installed a 76' x 8' long LED screen. This creates generative and customizable images which evolve over a 24-hour cycle. It is a blend of abstract art, live news feeds, depictions of the galaxy, and extreme weather.
The same image will never reveal itself more than once. The result is a compelling and unique living work of art.
Immersive interaction
The National World War I Museum and Memorial in Kansas City, Missouri, tells the story of The Great War from 1914 through the 1918 Armistice and 1919 Paris Peace Conference.
The museum was designated by Congress as America's official museum and memorial dedicated to World War I. Electrosonic has been the facility's audiovisual (AV) partner since it opened.
Electrosonic brings the conflict to life for visitors by leveraging the latest technology solutions.  These create immersive interaction in a series of displays enabling visitors to experience the conflict.
Working with Ralph Applebaum Associates and Donna Lawrence Productions, Electrosonic's long track record of success in this field meant any vision of the curators and historians could be enabled through technology.
AV in the design process
The Eaton Experience Centre is in Cleveland, Ohio. It demonstrates the importance of bringing in an AV consultant in the design process.
Eaton, a power management company that provides energy-efficient solutions, wanted to communicate its key strengths through its Ohio campus.
The centrepiece of the Eaton atrium is a 53-foot, five-storey LED chandelier. This is both a giant art installation and an illumination source.
A 140-foot-horizontal LED Curtain, alive with media, is a companion-piece to the chandelier; both are designed by Ralph Applebaum Associates (RAA).
Electrosonic served as a consultant to RAA in the design phase. It was then contracted to Eaton to design the AV systems. It used twelve 3D animated illustrations, and four 65-inch interactive multi-touch tables, as well as the LED curtain and chandelier.
The Parliamentarium is the visitors' centre at the European Parliament in Brussels. It also uses interactive multimedia exhibits to take visitors on a journey into the heart of European Politics.
Electrosonic won the bid for the project in a Europe-wide competitive tender. It then engineered and installed the main exhibition audiovisual hardware for Stuttgart-based designer ATELIER BRÜCKNER.
Then there is the ground-breaking Being Brunel project. This takes visitors into the mind of the celebrated engineer of the industrial revolution. They can experience his creativity, doubts and aspirations through an immersive show inside a giant recreation of his head. Working with Centrescreen Productions, Workhaus Projects and Easy Tiger Creative, Electrosonic put together the AV elements of the installation for The SS Great Britain Trust.
The corporate inspired space
Corporate installations can also use technology to include an inspired space. At the head office reception at Barclay's Bank there are LED walls. These entertain and communicate messages and brand values to visitors and employees. In the Eversheds Auditorium, ceiling LED lighting changes the mood of the flexible multi-purpose space. The Amore Pacific Story Garden is an interactive multisensory and multimedia experience. It uses technology to engage all the senses, sight, sound, touch and scent.
Countless further projects demonstrate Electrosonic's ability to enable the realisation of any vision, while adhering to timescales and budgets.
In short, any space, museums, airports, atria, athenaeums or offices can be designed to become an inspired space, using technology to create something impressive bringing to life the building,  objects and people within it.