by ACME
For most institutions, ticket sales make up a majority of a museum's revenue. And, if museums want to accomplish their mission statements as cultural pillars to their communities, it's incumbent on them to ensure that their ticketing software is up-to-date and efficient enough to keep up with a changing digital era and most importantly, the latest protocols put in place by the pandemic.
However, with all of the new and emerging technology available to museums, how do you even start to assess which ticketing software is best for you?
Here is an overview of some of the most important ticketing demands that the industry is seeing today and the criteria from which you can evaluate the quality of potential ticketing software.
Why is it important?
As in most industries, a large percentage of ticket sales in museums are shifting to online platforms. So, it's important to have competent and technologically efficient online ticketing software. If your servers go down for even a week, it could lead to huge losses in your monthly ticket-sales quota.
Additionally, data-retention technologies linked to your ticketing software can lead you to valuable insights into the trends of your visitors. If you have outdated ticketing software, it's going to be difficult to integrate third-party technologies that are most functional when they're collecting data from places like your ticket sales history.
When it comes to marketing and online sales, there's so much that advanced ticketing software can do for you. You can promote exhibitions, advertising campaigns, and even make it easier for guests to become members.
Serverless museum ticketing software
One of the main things to look at when assessing a ticketing software is whether the server is maintained in-house or if your software relies on advanced cloud-based technology.
Cloud-based technology will give you the flexibility and range to sell tickets 24/7 with less hassle
Cloud-based server platforms allow for easy, automatic server updates that you can access anytime, anywhere. With outdated on-premise servers, you have to worry about managing the hardware and maintaining the servers manually. Cloud-based technology will give you the flexibility and range to sell tickets 24/7 with less hassle.
Additionally, cloudless technology can sync seamlessly with other third-party systems, such as Amazon Web Services. You gain unlimited access and the kind of flexibility with open APIs that you simply couldn't with in-house servers.
Flexible POS museum ticketing software
Another benefit of up-to-date museum ticketing software is the flexibility you gain from your POS system. With a typical POS system, you're limiting yourself to basic online transactions and ticket-booth sales. With a flexible POS, however, you can move your sales from the ticket booth to the lobby, patio, or anywhere you'd like really.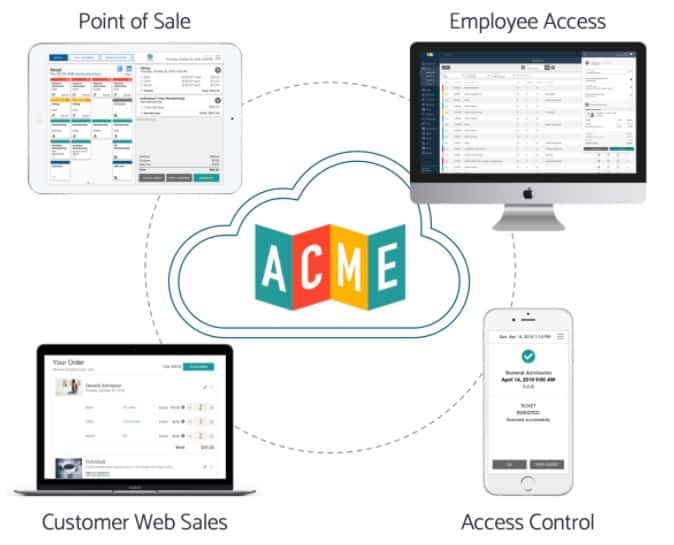 A flexible POS means you can sell tickets from your mobile phone, tablet, or a nearby kiosk. It also enables you to offer contactless and touch-free services. For instance, contactless payment and touch-free check-in. This is functionality that is essential to safely operate your institution.
More than that, however, you can utilize an advanced POS to introduce membership benefits. You can even use it to sign people up as members.
A key issue with memberships is a lack of knowledge, on the visitor side, regarding what membership benefits entail. By empowering your team to educate your guests on the number of membership benefits you provide, you're increasing the chance of retaining perennial members.
Advanced CRM museum ticketing software
Finally, your ticketing software needs to sync with or work in conjunction with a CRM. A CRM is your number one tool to gather data and to contact guests and visitors. It helps you to learn about who your visitors are and what they want out of a museum.
Your ticketing software should be able to integrate third-party CRM applications. This will ensure your staff, marketing team, and tech people will have the most up-to-date information on ticketing trends and general visitor information.
Without being able to integrate a CRM, it's going to make it difficult to develop long-term strategies that the future of your museum will rely on.
ACME's ticketing technology provides you with all of the ticketing features mentioned in this article and more. This advanced software is also easy to use, with no complicated interfaces. There is no need for technical jargon to utilize your CRM, POS, and other valuable features that you want out of your ticketing technology. Request a free demo here.