Founded by Holocaust survivor, hotelier and philanthropist Henri Landwirth, Give Kids the World is run by his wife, President and CEO Pam Landwirth.
Blooloop caught up with her to hear about the Village, its inspirational founder, and the work it does on a global scale for children with critical illnesses.
Pam Landwirth is a Disney veteran, bringing industry expertise to her role.
She says: "I did my undergraduate degree at the University of Georgia, then came down to work for a few months at Walt Disney World. I ended up falling in love with it, and stayed for over 15 years."
A passion for Disney and people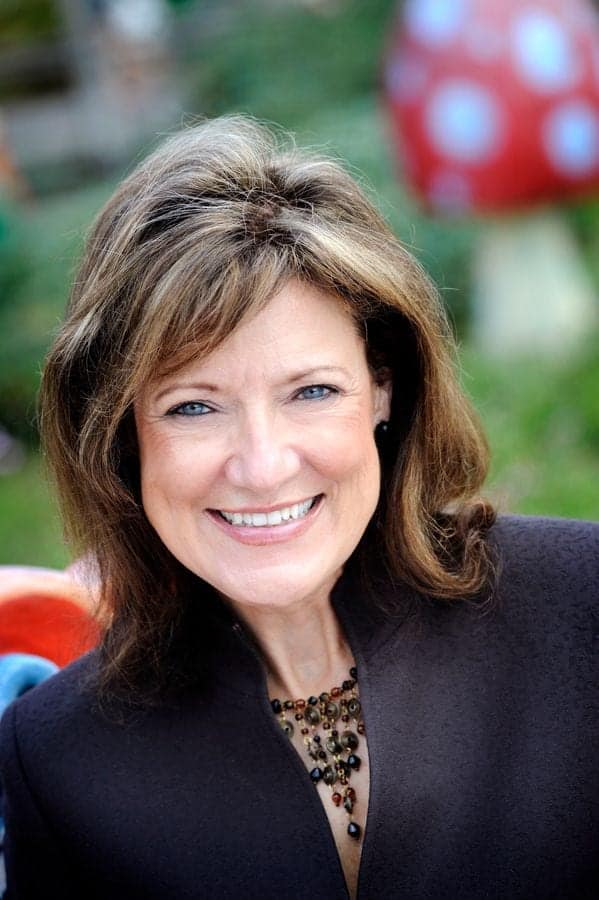 Landwirth, who was named as one of the 50 most influential people in the theme park business, began her career in resort operations. She then progressed into casting, where she was an interviewer, before moving into human resource development. She remained there for the bulk of her career, part of a team responsible for the training and development of the 18,000+ cast members in resorts and attractions:
"We did all of the pre-opening activities for the resorts. And then I was glad to be able to go to EuroDisney, and help with the pre-opening activities there.
"I was able to teach the Disney approach to people management, and the Disney approach to quality service while I was at Walt Disney World." 
Disney, because of its size and predilection for giving staff different areas of exposure and responsibility, facilitated Landwirth's accumulation of a unique blend of experiences.
She says: "The international experience, the training and development, the public speaking, the resort operations – because Give Kids the World is a resort – all of those helped me prepare for the role I have now.
"I absolutely loved every minute I was at Disney. It's a great organisation. Really, the only thing that could have pulled me away was Give Kids the World."
Give Kids The World (GKTW) – the best kept secret
Landwirth first heard about Give Kids the World when she met Henri playing tennis.
She says: "We say now that Give Kids the World is the best kept secret. Even at Disney, and Disney was a founding partner of Give Kids the World, I had never heard about it.
"So it was when I first met Henri that I learned about Give Kids the World. It is an amazing mission, and his passion for it was unparalleled. As our personal relationship was growing, my interest and affinity for Give Kids the World was growing, and so I left Disney to become a part of it."
Henri Landwirth, who died in April last year aged 91, was Jewish. Born in Belgium just before the outbreak of World War II, he moved with his family to Poland. There, his father was killed, and Henri, with his twin sister Margot, was taken into a concentration camp.
Henri spent the years between the ages of 13 and 18 in camps, including Auschwitz and Mauthausen. By the end of the war his mother, too, was dead, but Henri and his sister survived and were reunited.
Henri Landwirth's blessing in disguise
He worked his passage to America on a freight ship.
Landwirth says: "Through a series of crazy events he was inducted into the U.S. Army. He was supposed to be sent over to Korea. However at the last minute, when they found that he had been a diamond cutter so he could cut radio crystals, they pulled him from going over to Korea, which was a blessing.
"After he got out of the army, he studied hotel operations with a hotel school based with the G.I. Bill. [The G.I. Bill, officially the Servicemen's Readjustment Act of 1944, was created to help veterans of World War II, establishing hospitals and granting stipends covering tuition and expenses for veterans attending college or trade schools].
"He got married, and he and his first wife moved down to Miami Beach. He started working in the hotel industry down there."
Beginnings in the hospitality industry
She says: "One day, when Henri was behind the front desk, a gentleman came in, on his way to a business meeting, and in a panic because he had forgotten his tie.
"Henri took his tie off, gave it to him, and said, 'Here: use mine.'
"The gentleman was so blown away by that level of service that he came back later and said, 'I'm getting ready to open a hotel in Cocoa Beach. If you work on your English skills and your accent, I would love to have you. I'm going to come back and see you in six months, to see how you are doing.'
"He came back in six months. And although Henri's English had not improved drastically, he was so enthralled by Henri's level of service and hospitality that he offered him the job."
So, in 1954, Henri Landwirth moved to Florida to manage the 100-room Starlite Motel in Cocoa Beach, near Cape Canaveral:
"That was where all the original Mercury 7 astronauts and the newsmen covering the story stayed in the early days of space exploration."
He forged lasting friendships with the astronauts and newsmen, including Senator John Glenn and Walter Cronkite.
Landwirth says: "It was just an amazing opportunity. That is why, when Give Kids the World was founded, all those original astronauts were on our executive advisory board."
Impressing the right people
Henri moved on from the Starlite Motel to a Holiday Inn.
Landwirth says: "On the day John Glenn went up into space, he got Walter Cronkite to do his 6 o'clock news from in front of the Holiday Inn sign. This back then, was just unheard-of. That kind of advertising was absolutely incredible.
It caught the eye of Kemmons Wilson, who was the founder of Holiday Inn, and he said, 'Who is this guy? I need to meet the guy that did this.'"
Later on, therefore, it was with the encouragement and support of Kemmons Wilson that Henri Landwirth became a Holiday Inn franchise owner; opening the Holiday Inn Main Gate East soon after Disney World Resort opened.
The beginnings of Give Kids The World
Pam Landwirth says: "The first Make-A-Wish organisation was founded in around 1981. They would often call Henri, and say, we've had this child who wants to come to Disney; if we make all the other arrangements, would you please put this child up for free? And Henri would always say yes.
"One day a reservation was cancelled. It was a little girl named Amy, who had lost her battle with leukaemia, and she passed away before her wish came true.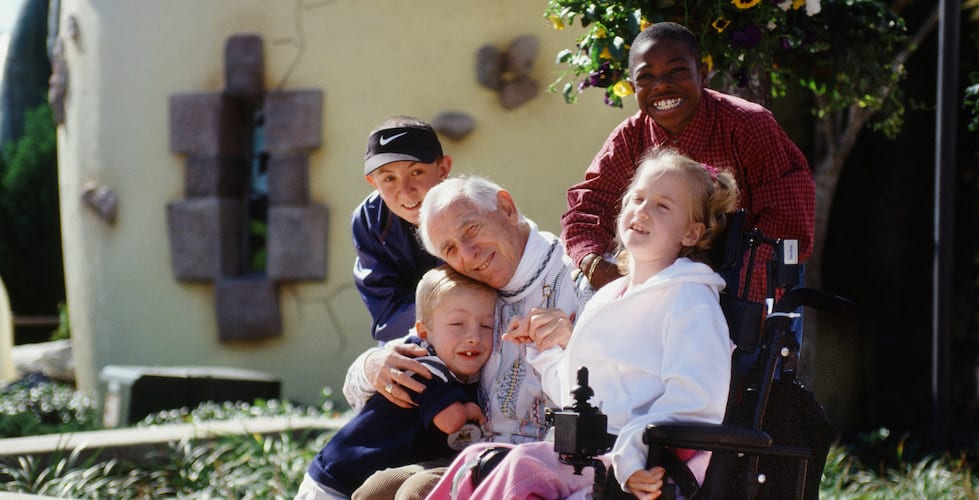 "Henri started investigating, and found out that it was taking as much as 2 to 3 months before the wish granting organisations could make all the necessary arrangements. And he said, 'That can't be allowed to happen. I can't see another child lose their life before they get their wish.'
"He got in his car, and visited Disney. And in the same day he went and visited friends at SeaWorld, and said, 'This is my idea. Will you come on board? And of course, they both agreed. So that is how Give Kids the World got started."
That was 32 years ago.
Landwirth says: "It really is an amazing story about what one person can do to make a difference, and how it is never too late to make a difference. He started Give Kids the World right before he turned 60 years old. Henri couldn't have done it on his own, but he had the inspiration and the passion to make it happen."
A joint effort to make a difference
For the first three years, Give Kids the World was operated from that Holiday Inn. Henri Landwirth drew on his circle of friends, and got different hotels in the area to pledge 10 hotel rooms a month to be able to host his families.
In the first year, there were just over 300 families. By the third year, Give Kids the World had helped a thousand.
"He went back to the Make-A-Wish organisation, and said, 'What else can I do? What do you need?' And they said, 'We need a place where we know our kids are always going to be able to come.'
"And that is how the Village got started. It opened in 1989, with eight villas. Fast forward to now, and we have 166. It just continues to grow to meet the need."
Providing a sense of normalcy for the children and their families
One of the Village's key assets is the fact that the seriously ill children and their families can feel normal there.
Landwirth says: "When these families are in the outside world, they are used to people staring or asking questions, because the child may show outward manifestations of illness. Here, everyone's child has a critical illness.
"And we have never turned down a child in 32 years. That is our ongoing commitment."
The Village continues to grow, but demand is such that at the busiest times some families have to be accommodated in hotels.
Landwirth says: "We will never be able to have a Village large enough to accommodate every single family. So we continue to use our friends on the outside to host these families when we are not able to."
Give Kids The World Village and its volunteers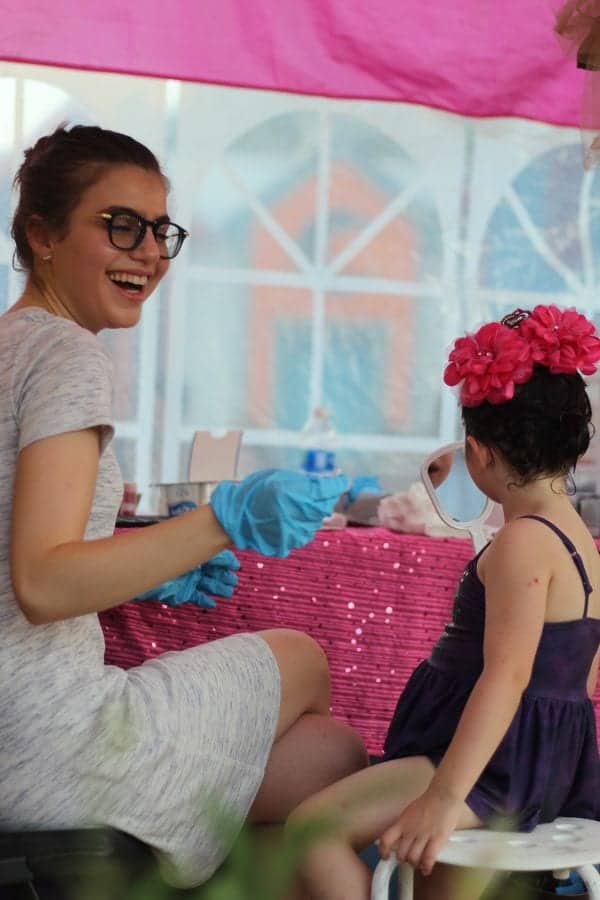 Another way the Village has grown is the sheer number of volunteers and staff.
When Give Kids the World Village began, there were three employees. There are now 180.
Pam Landwirth says: "The biggest impact has really been on our volunteer base. We started out with a handful of volunteers helping us to fulfil this mission. Right now we have between 1600 and 1800 volunteers; who may be retired, who may be high school or college students, doing 1800 shifts a week. The vast majority of those are jobs for which we would have to provide paid labour if we didn't have these volunteers helping us, serving the meals, assisting on the attractions.
"I read every family letter and every survey. And what they all say is that the families are just overwhelmed by this unconditional love from total strangers."
Something for all members of the family
Give Kids the World Village is themed as a fairytale world.
Landwirth says that while most people can sympathise and relate to a child with a critical illness and to the parents of that child, there are others whose lives are affected:
"The siblings' childhood is impacted as well. They are often the babysitters. All the focus is on the 'wish child'; the brothers and sisters don't get the vacations, the big birthdays. They suffer, in many ways, right alongside the child with a critical illness.
"So imagine: they are so excited they are finally going to get a vacation.
"We are so blessed that when the families come – and it is the whole family. The parents, brothers and sisters, grandparents – they get to go to all four Disney parks, both Universal parks, SeaWorld, Aquatica.
"But trying to deal that within a week would be challenging for a healthy family. Often, when the family gets here, the wish child doesn't feel like going out to one of the parks."
A magical destination
The answer has been to make the Village itself a magical destination.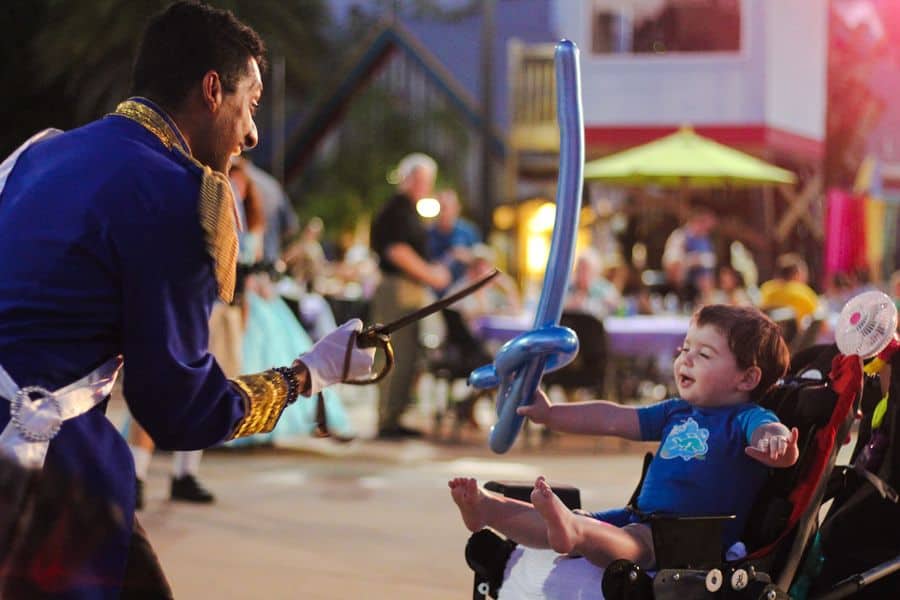 She says: "They can either be stuck in a hotel room, or they can be at the Village, where we have attractions, we have theming and a huge swimming pool. We also have a miniature golf course and attractions courtesy of Zamperla that are wheelchair accessible.
"An ice cream Palace is open from 7:30 in the morning until 9:30 at night, so that kids can have ice cream for breakfast, lunch and dinner, if they want."
There is an enchanted forest, a wishing well that burps and moos, a magic tree, a wheelchair accessible magic carousel, and stables for horse-riding.
Halloween is celebrated every Monday night of the year, and every Thursday night is Christmas.
PamLandwirth says: "Every night, there is a party at the village. We have pool parties. We have a Village Idol programme, based on American Idol.
"The characters come in the morning, so the kids don't have to wait in a long line in a park to get those one-on-one meet-and-greet with Mickey Mouse, et cetera."
Supporting families through strength and hope
"Every wish child gets to put their name on a gold star. Then that star is hung from the ceiling of our Castle of Miracles. And we get families that come back wanting to see that star; wanting to relive that happiest time of their child's life.
"Or children who have made it, children who are now in remission, they come back to see their star.
"It's just amazing, the impact that this has on these families. 
"We pack anything we can into that week to give that family strength and hope. We feel the happiness we create will inspire the families to go back and renew their battle against the illness."
If the child doesn't get better, the family has a wonderful memory of a really happy holiday: "We get so many families that come back after they have lost their child, and they want to come back and just relive the memories."
A non-profit business strategy
Although Give Kids the World Village is a non-profit organisation, Pam Landwirth is rigorous about running it as a business.
She says: "You have to have a strategic plan. You have to have a business plan. You need good solid business practices in order to make this work. And among those quality practices is transparency; making sure you are stewards of the resources that are entrenched into you, whether that is cash or in kind.
"We have a success formula. It is a quality guest experience, plus a quality staff experience, plus a quality stakeholder experience; those stakeholders being our volunteers, our partners, et cetera, plus quality business practices. We adhere to all those quality business practices, and they are reflected in our business plan and in our strategic plan."
Continued and sustained growth part of future plan
Landwirth says: "We have land, and opened our first multi-unit family experience, a building with 24 2-bed, 2 bath, wheelchair accessible villas, two years ago. We have space to build two more, so 48 further villas.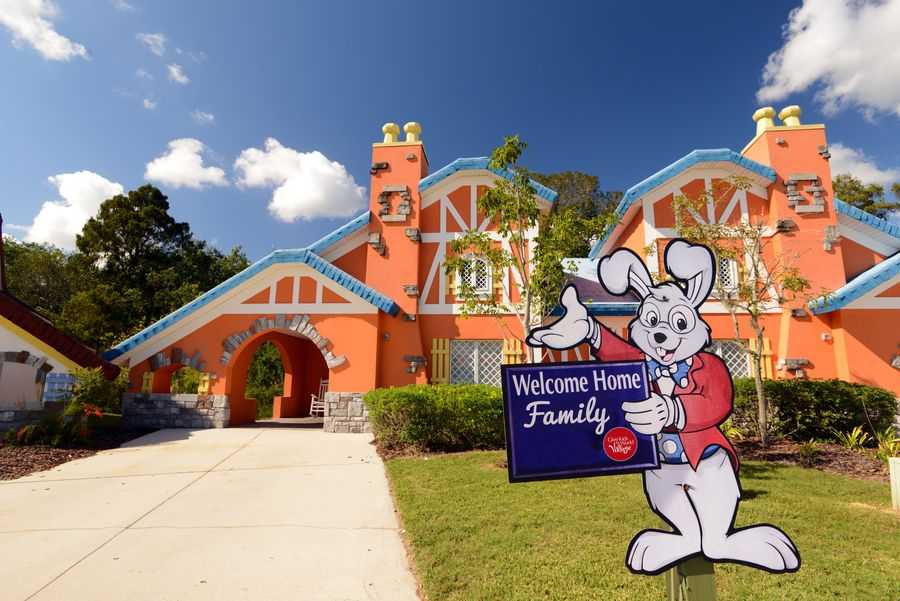 "We keep close watch on our occupancy, and the number of wishes every year. And we have a certain level at which we know we need to start looking at building this next building.
"We will probably need the next building of 24 units in 2020. And then, two or three years after that, the next."
Give Kids the World is in the middle of a 20-year land usage proposal.
Pam Landwirth says: "We are quickly becoming landlocked: land is at a premium, and we don't have much more around us that we can purchase, so we really have to look at how we best utilise the land we have."
Working in tandem with the theme park industry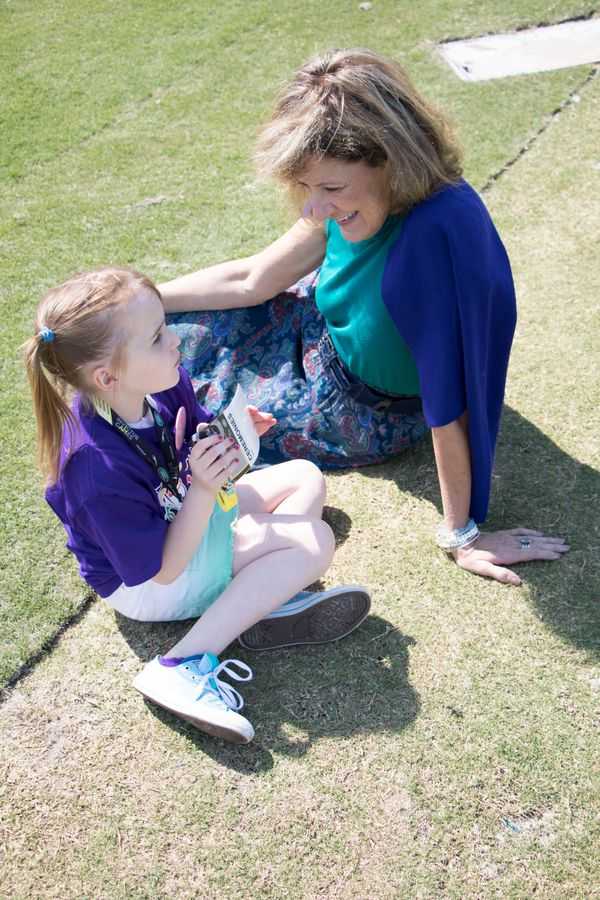 The Village raises around $17 million a year towards its operation, and an additional $24m in time, tickets and so forth.
Pam Landwirth says: "It is critical to understand the close connection that we have with the theme park industry. We are so blessed to have the support and love of IAAPA and all its members. We are part of the Expo here in Orlando; in 2019 we will have a booth at the IAAPA Expo Europe show and at the IAAPA Expo Asia show. And that booth is donated by IAAPA, so we can get the message out.
"While we are based in Orlando, we are an international organisation. We serve families from every single state, plus 76 countries around the world. Half of all children, given a wish, want to come to central Florida. This is a testament to the magic of the attractions industry, and the reason we are based here.
"And through this incredible relationship with IAAPA, we can reach families in other countries, and that is really key."
GKTW and IAAPA
As well as having designed, constructed and donated wheelchair accessible rides to Give Kids the World Village, as part of the annual IAAPA Expo (previously International Attractions Expo), industry professionals raise money and resources through a variety of activities, running, riding, golfing and volunteering.
IAAPA members also offer families leaving the Village a 'World Passport for Kids Program'. This is a free, year-long pass to amusement parks across the country.
Pam Landwirth says: "The relationship we have with theme parks is so critical, when it comes to helping these children and their families. Think about it. That first year, we served 300 families. In 2018, we will have served 8000: in total, 165,000 families."
All images kind courtesy of Pam Landwirth, Give Kids The World, GKTW.