Family-owned FEC brand Scene75 opened its largest and newest location in October 2019 at the Mall at Tuttle Crossing in Columbus, Ohio. The 224,000 square foot indoor facility expects to welcome more than 400,000 visitors per year.
Jonah Sandler is the founder and CEO of Scene75. He spoke to Blooloop about how it has grown from small beginnings into one of the largest FEC chains in the US.
The latest venue features 19 varied attractions. This includes an indoor roller coaster, go-karts, a two-storey laser tag arena and a drop-tower. There are also batting cages and more than 200 arcade games. Plus, guests can enjoy a magic-themed full-service restaurant, as well as two other bars, nine private party rooms and a banquet venue.
Jonah Sandler's early career
Jonah Sandler graduated from Washington University in St. Louis in 2004. He then worked for Deloitte Consulting as a strategy and operations consultant for about three years.
"I then went to graduate school, earning my MBA at the University of Chicago Booth School of Business," he says. "At that point, I decided to move to Ohio to begin the planning work for Scene75.
"One interesting point is that during my MBA, my summer internship was with an investment bank in Chicago. On the final day of my internship, around half of my office lost their jobs during the recession. It was at that point that I really reflected and decided that I'd like to try to take my career into my own hands. It was a rough time, for sure."
The origins of Scene75
Scene75 is now one of the largest and most successful FEC chains in the US. However, it started off with an idea and an empty building.
View this post on Instagram
"My father was a real estate developer in Ohio," says Sandler. "He and his partnership owned a building in Dayton that sat vacant for many years. The recession was impacting the investment banks. But it was also impacting the local economy here in the Midwest. My father had tried to lease the building and he had tried to sell it. It just sat vacant.
"I looked at the opportunity. I wondered if we could develop a plan for the building, as a way to not only build a career for myself but also as a way to try to help my family. And at the same time, we could do something very special for the community. Those were the leading factors for me, in trying to come home and build an entertainment centre."
He opened the doors in Dayton, Ohio in 2012.
The first Scene75
"We were idea-heavy and capital-short," says Jonah Sandler. "We worked through many different negotiated scenarios where we had revenue shares and internal partnerships throughout the building.
"When we opened, we were 124,000 square feet with about 50 to 60 arcade games. We had fewer attractions than we needed to fill the building. But the community felt that we were filling a void."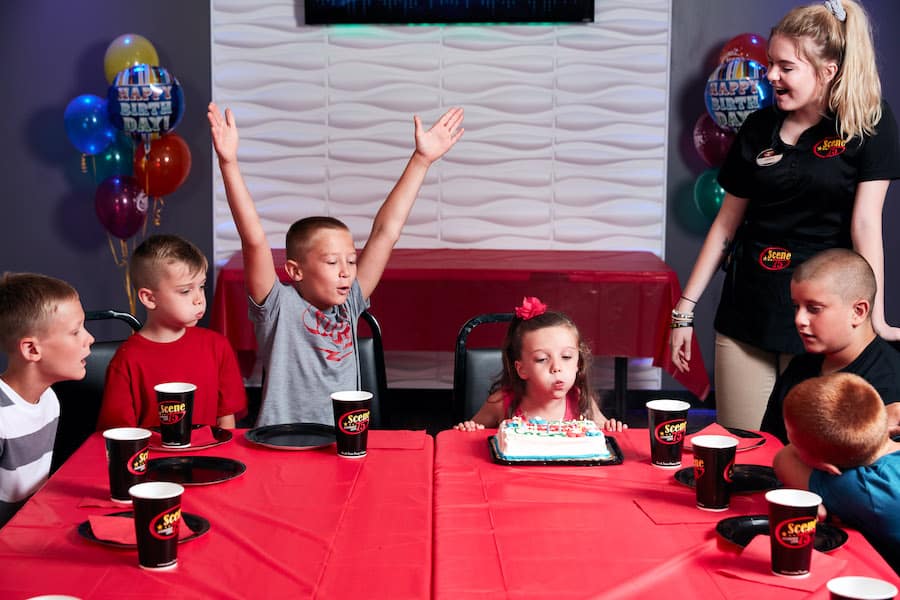 "They loved the story. We shared on social media why we were doing this and how we were doing this. And we requested patience and support because we were committed to further developing the building. We knew we could turn it into a premier entertainment centre."
This community engagement paid off. "Things began to take hold; people came in, and loved us, thankfully, from the first day we opened."
Growing the business
It took around three years before the second Scene75 venue opened in Cincinnati. Sandler credits the community with the enterprise's initial success:
"Dayton was a community with an entertainment void. The community saw attractions going either to Columbus or Cincinnati. We did our best to bring fun and a true community centre to the heart of the Dayton community."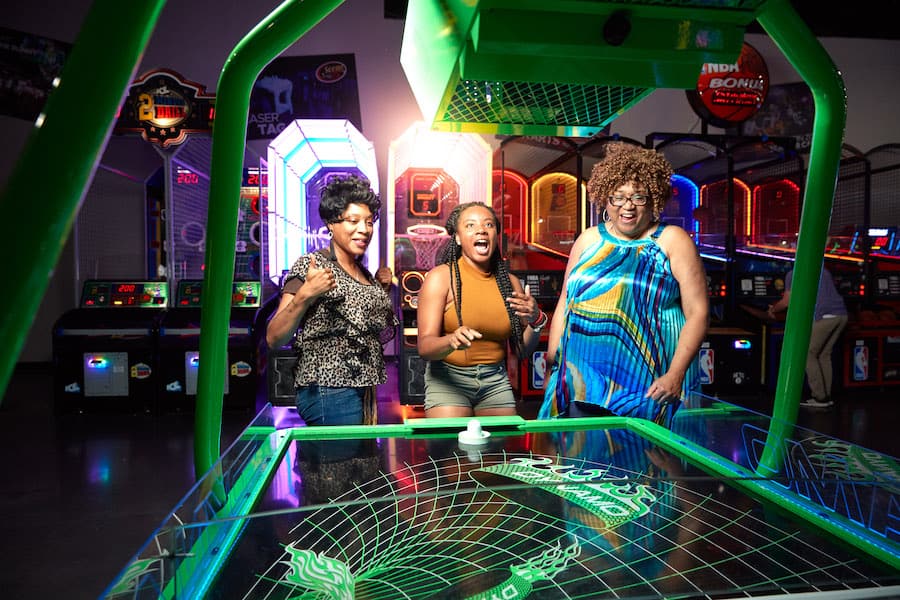 "It has been a fun journey that we shared with the community. We were transparent about the challenges and honest and vulnerable about putting our hopes out for the public to see. So, they became a part of it all."
"Since then we have grown to five locations, the latest of which is in  Columbus, at 224,000 square feet."
A changing sector
The family entertainment centre sector is growing rapidly. Retailers are diversifying and the experience economy is also continuing to thrive.
"About ten years ago, when we were putting together the plan for Scene75, one of the catalysts for development was that we had a big box to fill," says Sandler.
"We were looking at businesses that could potentially sustain the Amazon effect. People are shopping online. So, what type of businesses are not going to be at the mercy of Amazon? Entertainment was a space where we saw an opportunity."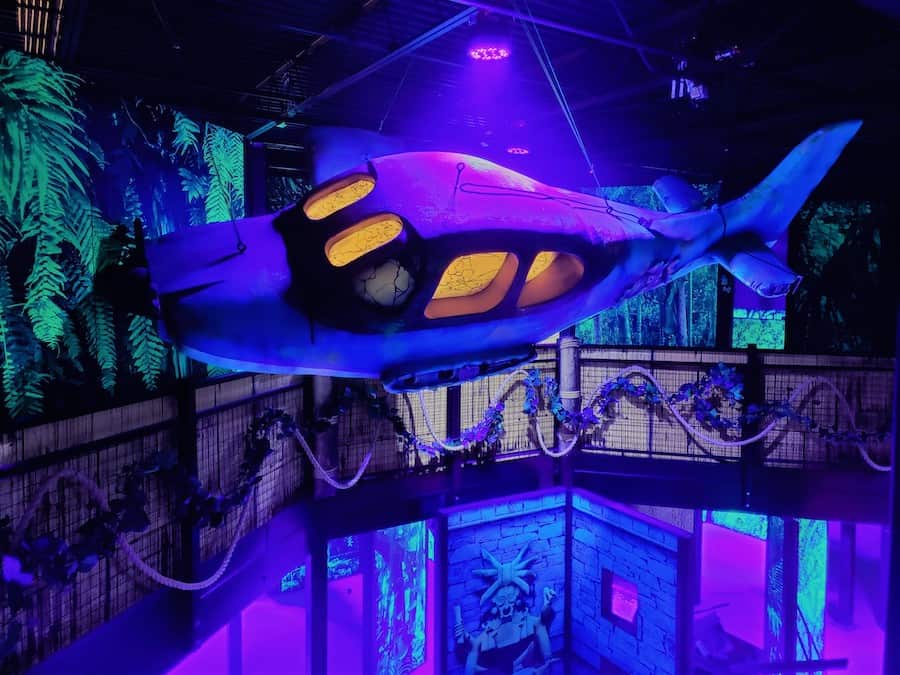 "I would say in today's world, that thesis has only intensified. There are many retailers, in particular in the big box industry, trying to find solutions to the question of how to combat the loss of this revenue. Some are having to evolve their models.
"What I see from the entertainment space is that there are opportunities in many markets where retail is challenged. Entertainment presents a very viable use. We bring a lot of traffic, we give people a reason to come to the centre. But at the same time, we typically have rather large footprints. And we need to carefully balance the cost of space with the use of the space.
"There is a lot to evaluate. In this business, in terms of the capital required, if you make a mistake it can be very costly."
An evolving offer
"When we first started Scene75, the industry consultants told us that it simply wouldn't work. They said that we had too big a footprint, that we weren't maximising revenue per square foot. And then as we did succeed, the thought became: 'Well, you're going to have to have bowling as an entertainment centre component.'
"Bowling quickly became, 'Now you need to have trampolines.' Trampolines became axe-throwing. This evolution has led to changes and opportunities for all sorts of entertainment businesses along the way. But what we have done is stay true to our core. And that is to provide entertainment that appeals to all ages and audiences.
"It's not always easy to do, but it's the sweet spot in which we like to play."
Over the last few years, Sandler contends, growth has led to a surplus of entertainment centres that are trying to fill a certain niche. He says:
"The other aspect that I've learned over the last 10 years is that those niches tend to change. So we try to create a holistic centre that can not only survive but thrive in a changing world."
Jonah Sandler on VR
Using the example of virtual reality to illustrate the transience of trends, he says:
"Virtual reality has now become a very hot component. In some cases, it is even a standalone entertainment model. We introduced VR in our Dayton centre about four years ago, and have already seen a shift over that time. In many ways, VR, at least in our centres, is played out. It is leading towards the next evolution that will take its place."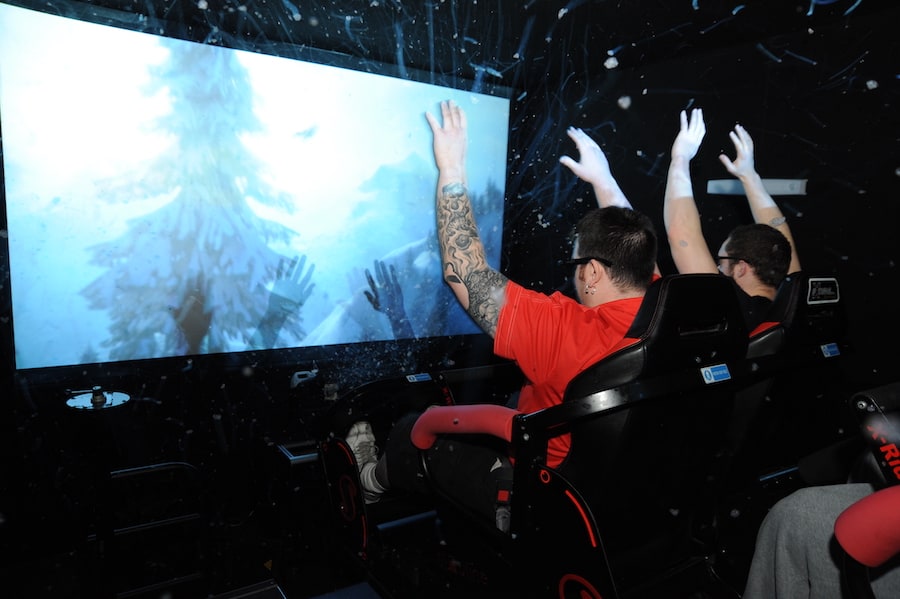 Predicting what that evolution will look like, he says, "We are looking at attractions that are interactive. Attractions that people enjoy watching.
"At our Scene75 Columbus location, we have recently added the Home Run Zone. This is a next-generation batting cage real-life simulator. We have a pitcher on the screen who throws the ball, and the batters not only hit the ball, but the people who are watching and engaging can shift the defence or choose what type of pitch to play. So, it becomes a very interactive experience with a relatively small footprint.
Active entertainment at Scene75
Attractions featuring physical activity are becoming increasingly popular.
"When we opened our first location we had an inflatable bouncing component," says Sandler. "It's something that remains in every one of our locations. I do believe that people are always going to have an innate desire to socialise, to experience with friends and family. And that's what the entertainment centre can provide."
"It's very rare that individuals come into our facilities. It's usually a date, or a family going out together, or friends, sports teams, corporations. No matter how powerful the technology they carry in their pocket, they all need a place to socialise. They need to find an activity they can experience together, and that they can't find at home."
"I believe that entertainment will continue to evolve. The next evolution of the hottest product may not even be out there, yet. At the same time, the basic tried and true principles of entertainment remain key ingredients to what we do. The arcade games, the laser tag. It's about people engaged in playing together."
Starting an FEC
Jonah Sandler's success with Scene 75 might lead people to imagine that starting a successful FEC chain is simple.
However, they would, Sandler says, be mistaken. Success is a matter of being aware of and flexible to industry trends without being at their mercy.
"It is not easy. I would encourage anyone who thinks it is to spend a week in the industry to experience some of the challenges. The pitfalls include being undercapitalised, and limited leadership skills. You need to know how to build, develop and nurture a team so that there is a passion throughout the entire organisation.
"There are many moving parts; each week is different, new challenges arise. It is a hands-on business. One must be actively involved in order to identify solutions for the new challenges that arise."
Jonah Sandler on the future of Scene75
Listing the ways in which Scene 75 is looking towards the future, he says:
"In recent projects, we have added more amusement rides. In addition to this, we are continuing to look at the evolution of how theme parks can integrate into the indoor FEC market. We are continually looking at new ways to bring new and innovative products to our facilities. For example, such as the batting cages I mentioned."
"We are also continuing to look at new ways to serve large groups, such as companies. We've added banquet space to our models to ensure we can accommodate great events for local companies. Meanwhile, we continue to strengthen our business and our model. We maintain an awareness that what works today may not work tomorrow."