BoldMove Nation, the new vendor-independent service for the entertainment market, will be attending the new LeisurUp event at this years MAPIC exhibition, taking place in Cannes, France, from 30 November to 1 December.
The team can be found on booth #R7.D2, where the company will be showcasing the latest expansion to its Houba Wolrd & City FEC concepts: the Houba Discovery Store+.
New retailtainment concept
This new retailtainment concept, developed in partnership with Celebrating Life, a total destination building company, has been designed to complement BoldMove's FEC Houba solutions, which it successfully launched earlier this year. The IP owner, Mediatoon Licensing, continues as a partner of the Marsupilami themed entertainment solutions.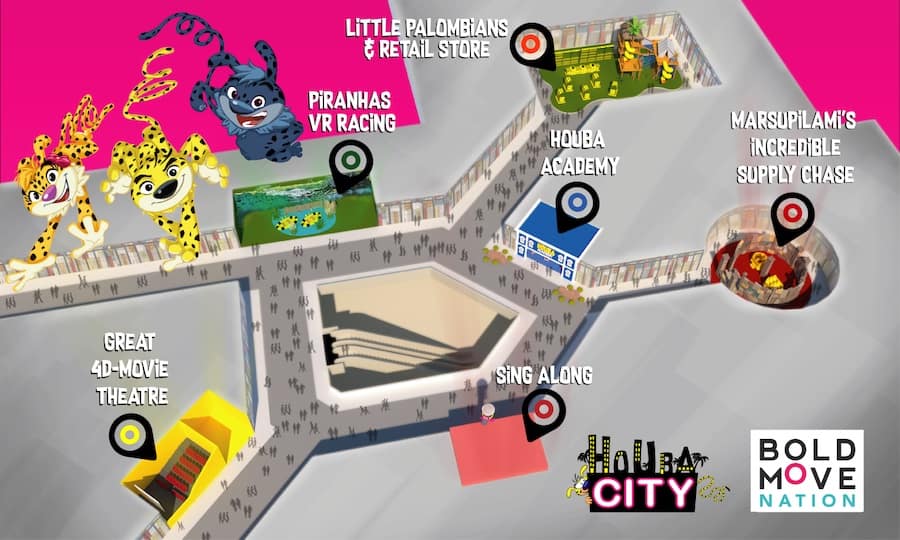 The Houba Discovery Store+ combines a traditional retail offer with a new 'Immersive Bubble' fun zone and has been designed to fit footprints of 600 square metres and over. The offer includes a large comic strip store where visitors can discover a range of Marsupilami merchandising, alongside an area of compact and mainly media-based attractions and a workshop zone.
These attractions provide shareable photo opportunities and engage guests by extending the shopping experience with fun new activities. The Houba Discovery Store+ uses a Marsupilami themed metaverse with BoldMove's AR Hybrid Quest technology. Visitors use their own smartphones to complete a number of AR-enabled activities across the venue, earning bonus points, vouchers and more along the way.
This also gives them access to the Immersive Bubble, offering an interactive experience that is fun for kids of all ages, as well as their families. Throughout the venue and in available spaces, other temporary or permanent Marsupilami attractions can be added, such as VR Rafting in a real boat, a 4D Cinema, VR Escape room, Karaoke Sing & AR Dance attraction, AR running track and more.
An immersive all-family experience
Benoit Cornet, BoldMove Nation's CEO, has more than 2 decades of experience in building interactive dark rides, theatres and walkthrough installations for venues around the world. He says:
"Our Houba concepts are not just another playground or FEC concept, they bring together innovative yet also appropriate technologies in an immersive all-family experience. We develop compelling stories around each attraction and across the entire premises, fuelled with dynamic media content, interactive, AR & VR technologies."
"The intention is for everyone to simply have fun and enjoy their time together, bolstering family and sustainability values. Therefore we develop our media content and gameplay in a very user-friendly way so young and old can bond and develop their personal skills."
Thibault Paquin, the founder of Celebrating Life, brings a huge amount of retail market and experience expertise to the partnership. He adds:
"We have excellent experiences with the Marsupilami IP and its publishing house, and strongly believe the retail market needs more dynamic visitor experiences to revive their spaces. And who else than our colleagues from the entertainment market are better placed to bring this into retail environments?
"We share BoldMove's vision to develop holistic and immersive experiences with a fun theme and compelling story rather than a solitary VR attraction. We therefore see great applications and opportunities for Houba Discovery Store+ at shopping malls and leisure venues to re-attract visitors to their premises, entertaining and retaining them with exciting and innovative experiences."
BoldMove also recently announced that its Smash & Reload family attraction has been in demand following recent visits to IAAPA trade shows in Barcelona and Orlando.