Arcade game manufacturer, LAI Games recently shipped its 500th unit of Virtual Rabbids: The Big Ride to a family entertainment centre in the US.
The virtual reality attraction at Pizza Ranch's Fun Zone Arcade in Casper, Wyoming, is the second to be installed for the regional restaurant chain.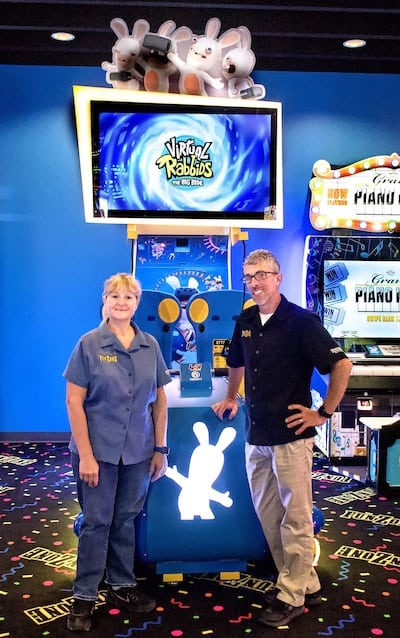 Tim Mazzafero, director of operations for multiple Pizza Ranch franchises across the US, says bringing the game to Casper was a "no-brainer" after the first installation at its outlet in Billings, Montana, earned over $50,000 in 10 weeks.
"It's a great experience for our guests and really sets us apart. The Big Ride will definitely be a part of our future expansion plans."
Developed by LAI Games with Ubisoft, Virtual Rabbids makes VR possible for all entertainment venues. Three new ride experiences will be available for purchase later this year. In addition to its revenue-generating potential, the attraction is also easy to operate.
Rabbids – a brand for everyone
LAI Games marketing director Tabor Carlton says Rabbids is an IP with wide appeal. "Ubisoft's Rabbids have a universal appeal and humour that everyone can enjoy. We're fortunate to have partnered with a premier game developer and an iconic brand to bring this wildly successful attraction to our industry."
HTC, the manufacturer of the Vive virtual reality headset, recently featured Virtual Rabbids: The Big Ride on the Vive Blog. The post highlighted its achievement as the industry's first unattended VR attraction, opening up the technology to operators of all sizes.
Each Big Rides comes complete with Vive headsets, together with D-Box motion seats and top-quality wind and sound effects. Read the full blog post here.
LAI Games is currently exhibiting at International Bowl Expo in Las Vegas, which continues until Thursday, June 27. See Virtual Rabbids in action on booth 133.