Hyde Park Winter Wonderland has partnered with Backyard Cinema and Penguin Ventures to create an immersive adventure based on the beloved The Snowman book.
Backyard Cinema Presents: The Snowman™ Experience will run from 22 November – 6 January at the annual Winter Wonderland event in Hyde Park, London organised by IMG. The experience will be a multi-roomed, multi-sensory, cinematic adventure.
The Backyard Cinema screening will be spread out over 5,000 sq ft and take audiences through replica sets representing parts of the movie. One of the rooms will feature a 10-metre-wide curved, LED screen.
Stephen Flint Wood, SVP & Managing Director of Arts & Entertainment Events at IMG said: "We are delighted to be collaborating with Backyard Cinema to bring this immersive production of The Snowman to Winter Wonderland for the first time. The Snowman is a perennial favourite for families and one of many exciting new, exclusive and returning favourite attractions to the country's most popular Christmas event, Hyde Park Winter Wonderland. Due to its popularity don't forget to book in advance".
Dominic Davies, Founder & Creative Director, Backyard Cinema said: "It makes perfect sense to team up with Winter Wonderland for our biggest ever show. Where else could be more Christmassy for such a magical and festive creation? We want to give people the chance to enjoy this Christmas classic in a way they could never imagine and have challenged the perception of what it means to watch The Snowman™. In doing so, we have created a little bit of magic that everyone can believe in during the show".
Backyard Cinema creates alternative cinema experiences. Previous experiences include the four year sell out show, Romeo+Juliet – which was put on in a church with a choir and Christmas Festival Winterville.
New cinema experiences
In Dubai, Reel Cinemas is redefining the cinema experience for luxury seeking movie-goers.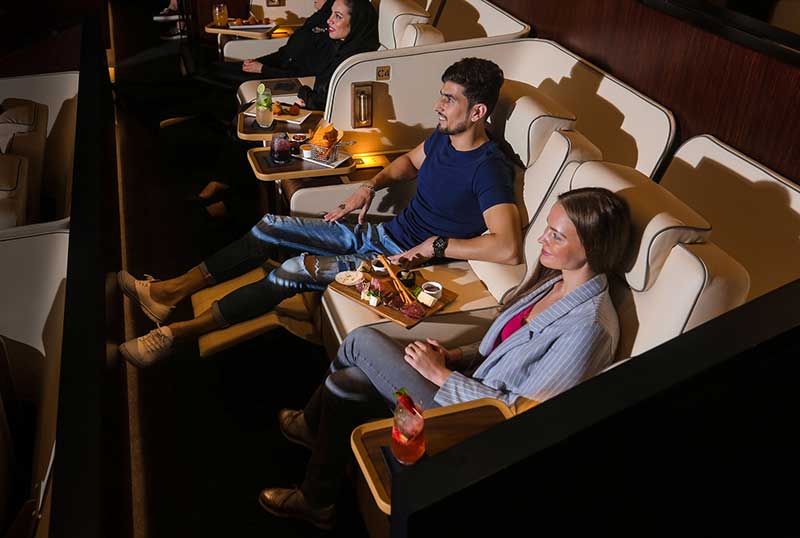 The company is introducing Platinum Suites, Dine-In-Cinema experience and the first ScreenX in the Middle East.
The Platinum Suites will offer a VIP experience where visitors can be pampered with upscale amenities, personalized butler services, never seen before luxurious seats with a private lounge and five-star gourmet choices.
The Dine-In-Cinema offers Guy Fieri's signature dishes along with International cuisines.  Visitors can enjoy an extravagant meal with choices from six starters, six main courses and two desserts.