Anthony Palermo is Co-Founder & CEO at Connect&GO. He talked to Blooloop about the company, its evolution, and the lessons to be learned from a brush with the doomed Fyre Festival in the Bahamas.
At 26, Palermo, who had been running a theatre company for seven years, decided to start a new career – in technology. He says:
"I loved the technology I had come across in theatre and storytelling. And I said: what is the coolest technology going on?"
Consulting the Gartner Hype Cycle for Emerging Technologies, he discovered that at that point in 2006, RFID was flagged as a technology that would revolutionise all industries: "I plucked it from the top of the cycle, and said, I'm going to start a consulting and engineering firm in this technology."
His first step was to approach the university to find PHD students using RFID as part of their thesis. There were three.
He says: "I approached them, and said, if I start this firm, and start selling consulting and engineering services, will you do the consulting work? And they agreed.
"So I started approaching every large company that I saw. I live in Montréal and I was driving on the highway and I would see the name of Bombardier, the aerospace company, or the logos of large corporations, and I would reach out to their directors of innovation or technology, and say, do you have an RFID strategy?"
RFID, a revolutionary technology and an eye-opening journey
For the next six years, Palermo travelled the world. He was selling RFID software and system engineering services to some of the biggest companies in the world. Mostly in military, pharma, aerospace, and global supply chains.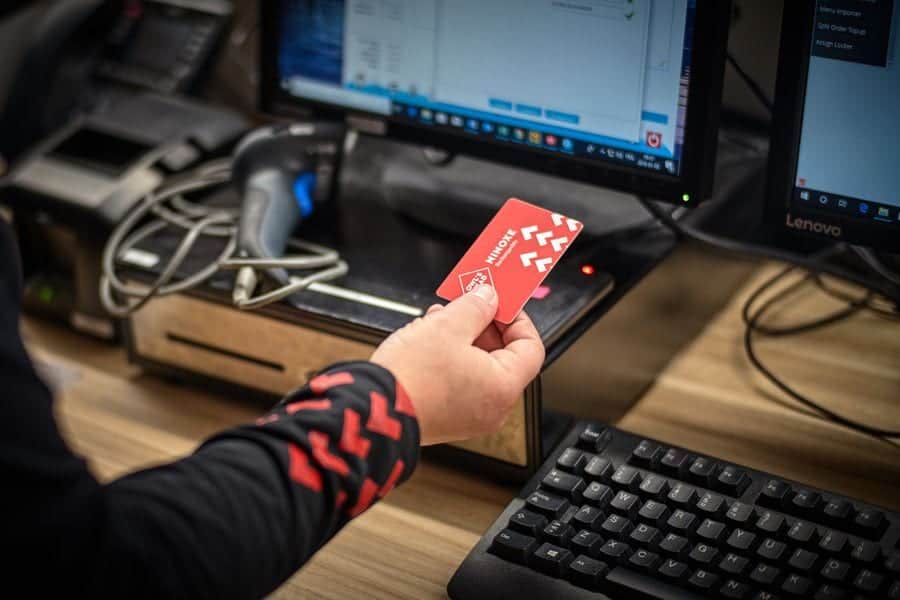 He says: "One day I would be at a smelting factory in a big astronaut suit, and the next day I would be at a pharmaceutical manufacturing facility, watching pills being put into bottles. I learned so much about the challenges of most companies."
After six years, Palermo met Dominic Gagnon [co-founder of Connect&Go]. "Dominic had his own marketing company, Piranha, selling mobile applications, websites and marketing activations."
Their first joint venture was the Saputo Stadium, home of the Montréal soccer team.
A different kind of loyalty program
Anticipating a Montréal entry into Major League Soccer, plans were made to expand the stadium to a capacity of 21,000 to cope with the anticipated boost in attendance.
Palermo and Gagnon were tasked with the development of a loyalty program that would enhance the fan experience at Montréal Impact games. Palermo says: "They really wanted to create an innovative membership program; a sort of super fan club.
"Everything that I had learned in retail supply chain and from these businesses was what the stadium wanted to do, except that it was a consumer application."
The campaign was going to be called 'Welcome Home: This is Your Key to the Stadium'.
Fear Of Missing Out

So Palermo created the 'Key to the Stadium'. It is a red key embedded with an RFID chip. This would allow fans to interact with experiential activations at the stadium:
"Fans were able to scan the key at the door, and their photo and name would appear on the giant screen in the entrance, welcoming them to the stadium.
"They could then scan the key to play games that would earn them points they could use for prizes and discounts. They were also able to take branded photos at kiosks. These photos would be posted automatically to Facebook, giving the stadium as their location, and listing the two teams that were playing. Thus, creating FOMO outside of the stadium walls."
At the close of the project, Gagnon made a suggestion: "He looked at me, and he said, look: this is a product, and we could sell it to everyone around the world, and call it Connect&Go. Let's do it."
The beginnings of Connect&GO
Palermo was initially cautious. "I put an objective in place. I said, when we've hit $1 million, we'll incorporate Connect&Go and then start another business. We made over $1 million in our first year."
The team signed Canada's largest festival, Osheaga, and this was followed by a number of large projects.
Palermo says: "All of a sudden, it just took off."
Over the next few years, the Connect&GO platform became feature-heavy. "We were managing volunteer management, artist management, catering, and everything from the security of a site's capacity for fire marshals to our full point of sale system and cashless payment system.
"We took it to the next step. All the experiential activation stuff were brought in, with brands that could activate on-site. So the Visas of this world; telecom companies, car companies who had started to say, look, we want to be able to engage with these fans on site, let's make it easy.
"We aimed for everything big. If it was a big event, if it was a big team, if it was a big or high-profile project, then we wanted it."
Revenue and cash flow impacts
On that principle, Connect&GO did the media sponsor activations at the Super Bowl, activations in the Olympic village in Pyeongchang, and a pilot for Winter Wonderland in Hyde Park.
Then, about two years ago, Palermo and Gagnon began to see that some clients were not providing the company with quality revenue. Palermo says: "We were always wondering whether we were going to get paid at all. When we were, it would take several months.
"We started to realise the impact that was having on our cash flow."
Two years ago, the Pemberton music festival on the West Coast declared bankruptcy, having sold $14 million in tickets. Connect&GO, still owed $150,000 from the previous year, were left unpaid.
Before this, however: "We got a call from partners of ours in the industry, saying: hey, someone wants to reach out, can we make an intro? It's a festival called Fyre Festival."
Since the documentary came out, everyone is familiar with the details of the impossibly aspirational festival that never happened. Palermo, from the start, had reservations.
Fyre Festival – too good to be true?
"We got the intro, and my vice president of sales came into the office after the call, saying: look, I've just sold this project. I'm telling you right now, I'm going to it.
"I said, but why are you so excited? He said, just go and take a look at the website.
"On the website, all they had was a video of models and blue water. And they had a map, saying it was a deserted island, so on so forth. My instinct was – it just sounds too good to be true.
This did not look like a festival
"If you've been to festivals, they are no vacation. A festival is a commitment. If you love music, you don't think about it, you get caught up in it. But if you are, like me, an attendee who has been to hundreds of festivals, and doesn't care anymore, it is a tedious experience. You've got to wait in line all over the place, it's dirty, it's loud, and it goes on for ever.
"This did not look like a festival. So I said, let's wait and see if they sign the proposal before we get too excited. They signed the proposal very quickly."
Yellow flags from the start
Palermo says: "With a first year festival, you have to have the yellow light on the whole time. You just don't know whether they have the cash, for one thing.
"Most festivals that go RFID understand their festival so well that they decide to introduce the technology to make what they have created, better. So when someone reaches out, demanding the best of the best on year one, either a) they are bankrolled by someone to whom money is no object; or b) they are too ambitious."
The Fyre organisers agreed instantly to the price quoted:
"They didn't ask for a discount. It was just, we need this technology. Everyone is telling us that you guys are the best, and we want the best. Again, yellow flag. Not red flag yet, but definitely yellow. I said, guys, it's not a real project until they pay us."
Not just a contractually binding agreement
The team had been contacted eight weeks before the festival. It later transpired that all providers were contacted at around the same time, when the organisers realised they were going to have to put on this festival. Palermo says:
"At six weeks out, we started putting pressure on them. It was a two weekend festival. So I said, I need a hundred percent of weekend one paid upfront, or we are not even starting the project."
In fact, his team had, by this time, started preparing, configuring and documenting.
He says: "They wired the money for weekend one a few days later. So I said to the team: I guess you guys are going to the Bahamas to do a festival."
If someone pays, Palermo points out, it is not just a contractually binding agreement:
"They then seem legitimate. You gave them the bill, they paid it, so you take them seriously. And so our team got all excited; everyone wanted to go."
How NOT to run a festival
However: "Week after week, the operations team kept coming back to me, saying: they don't know what they are doing. They have zero clue how to run a festival.
"I suggested, okay, can we help them? Can we give them a list of things they need to think about? And they said, they are unreachable. And when we do reach them with a list of questions, we can barely get through three of them before the whole conversation derails. No one knows how to have a conversation like this. They've never done it.
"And a week after that, the team came back to me saying, not only is this going to be a shit-show, it's probably not even going to open."
Data flow essential for a successful event
Connect&GO are normally integrated with 30 or 40 different ticketing platforms:
"But the company the Fyre Festival was using – I won't name it – was a restaurant reservation platform.
"Then my team contacted me to say that they weren't being given any data. We need data. We were there to manage access control, cashless payments, and experiential activations.
"I pull from ticketing companies every day, because the logic for my system comes from the packages that they have sold. The team was not being given any information. We should have been given an API to call, or, more simply, a file.
"So we kept asking. It was just so difficult to get a straight answer."
Complete disorganisation
At this point, the Fyre management still hadn't paid for the Connect&Go team's flights. Palermo says: "They were completely disorganised, but they had paid. And they wanted us to do this festival.
"I turned to my team, and said, do you feel unsafe? Are you worried that something violent or dangerous is going to happen?
"No, it's not that, they said. It is just not going to happen.
"The next day, our team was at the airport; literally standing in line at customs when they finally got their tickets to their phones. They called me, and I said, well, I guess you are going."
He adds: "Up until this time, you have to remember, I would trust anyone by default who said they planned to do something, and who paid us.
"The Pemberton festival didn't go bankrupt until a month later, so this was our first experience of this kind."
Disappearing acts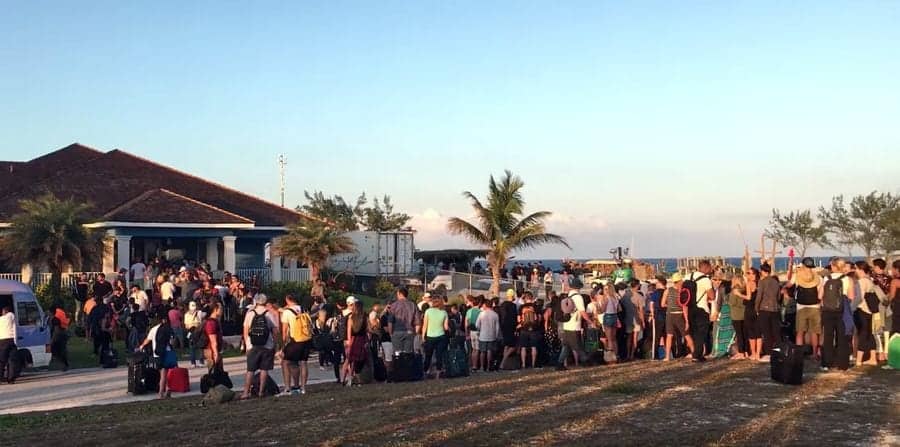 When the 11-strong team reached the island, despite arrangements that they would be met by vehicles and taken to their accommodation, there was nothing in place:
"They found someone who agreed to taxi them to the site, where they found Billy McFarland [fraudulent co-founder of the Festival], and the players whom you see in the documentary, who told them to set up.
"My team explained that while they could set up technologically, there was nothing in our system. None of the ticketing data, or the credit card information; no menus for the point-of-sale system that we brought. There was nothing to be able to transact with.
"The Festival organisers would say, okay, we are going to get back to you. And then they would disappear for half a day. And then they would come back, and say don't worry, we are on it – and disappear for the night."
https://www.youtube.com/watch?v=ljkaq_he-BU
A bunch of nothings
The C&G team grew increasingly anxious, feeling they were running out of time for setting up their systems, synching, validating, and checking, a process that would normally take several days.
Palermo says: "In hindsight, they should have put their feet up, and said, this is going to be a breeze, because nothing is going to happen.
Are you guys in danger?
"But at the time they thought it might happen. They were calling me and saying there is nothing here, Tony; there are no tents set up, there is nothing. Even those [hurricane] tents that were shown in the documentary were only set up in the last couple of days.
"I said, okay, are you guys in danger? They said no. My team are diehards. They are warriors who live and breathe the festival space, so they are used to shitty conditions.
They said, at least the weather is good. We are just hanging out."
Quick thinking by Connect&GO
The team were given accommodation by a kind islander who ran a bar on the beach. She is featured in the documentary, having lost all her savings through the Fyre Festival.
At three a.m. on the day of the Festival, the C&G systems architect made a final appeal to McFarland:
"He said, Billy, you have people arriving in one hour in Miami to get flights to the Bahamas. Once they show I need to give them a wristband. To give them a wristband, I need to associate it to something. I have nothing from you.
"And Billy said, don't worry, we are on it, and he disappeared.
"My guy literally stayed up all night expecting to get a file at some point, and never getting it. And then, at six in the morning, my team in Miami, just started handing out wristbands to people. So that visually, at least, it could be seen that they were supposed to come onto the Fyre Festival site.
"And then people were flying in, landing at around six thirty in the morning. Because nothing was even close to being ready on site, they just shipped everyone to another beach, to the bar owned by the woman who provided my team's accommodation. And they told her to open the bar, that she would be paid later. [She wasn't.]"
Mayhem in paradise
"So this first 800 or a thousand people started drinking, and they drank all day with virtually nothing to eat. There was no real infrastructure. There were no bathrooms.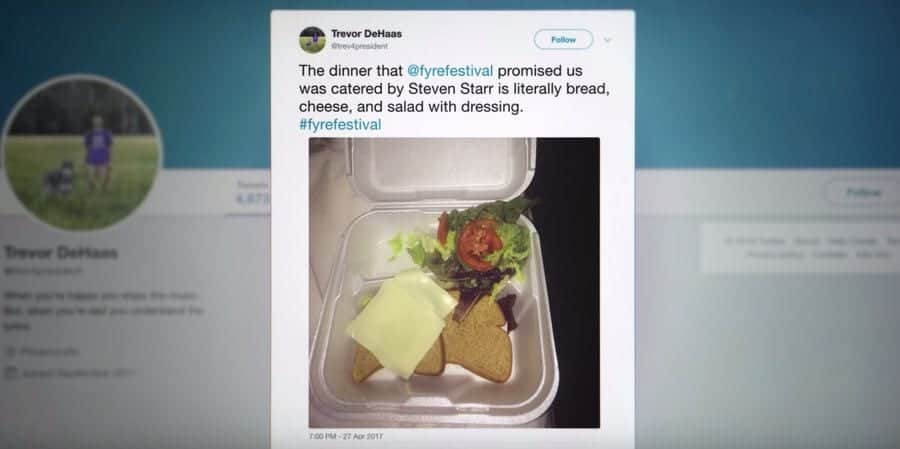 "At some point someone from the Fyre Festival suggested, go to those villas, they are booked for us. The villas were so fragile that you could literally push the door and, even if it was locked, it would open. People started lining up into my employees' rooms, to use the bathroom.
"One of my employees found out about this. He came back from the site, and there was a guy passed out on his bed, and a line of people waiting to use the bathroom. It was just mayhem.
"The team would call me and tell me about this, laughing because there was no other reaction to have. It was absurd. And I said, you guys are going to have such an awesome story to tell."
Palermo's team continued to try to support the client as far as was possible.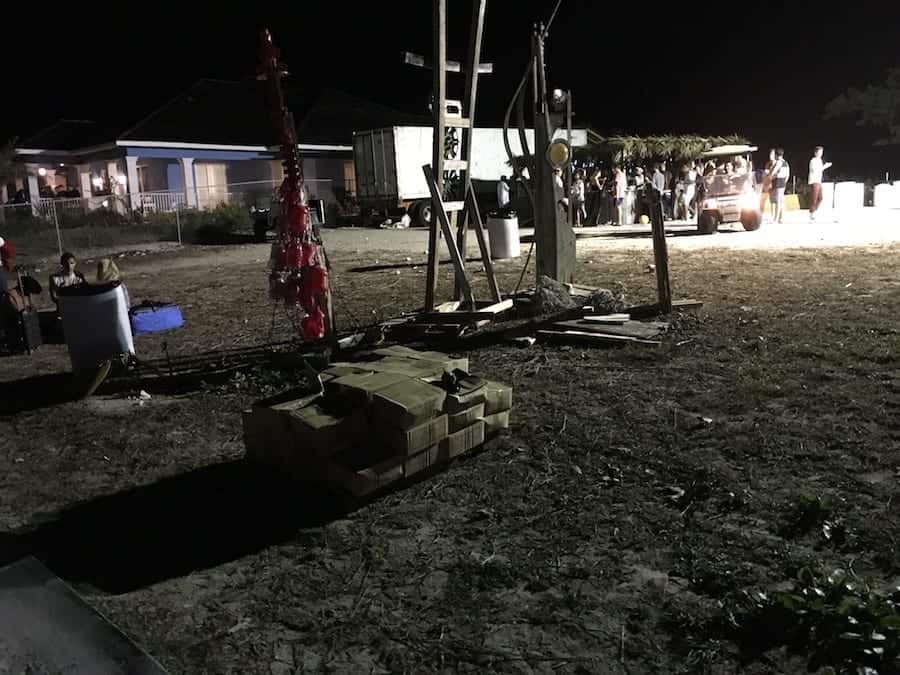 Doing their best regardless of the situation
He says: "There were people coming up to my staff saying, hey, where is this? Where is that? My staff had zero answers. They were just trying to keep things calm, telling people not to worry.
"By about 10 p.m., they gave up, and said, look, this is a free for all. People have found their own tent, and are starting to survive, to make do with what they have. There is nothing else to do.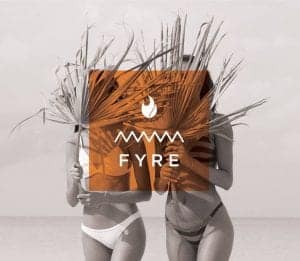 "But they stayed anyway. They hung out for another couple of hours, then they went to bed. And the next morning they returned to the site, which looked as if it had been raided."
The house used as a HQ by the Fyre organisers was empty, except for some ripped-open boxes of merchandise that had clearly been abandoned.
"Our team picked up a T-shirt each, so everyone here that went has a T-shirt and hat. And they called me, and said, what should we do?
"The flights out sounded like a disaster. So I said, just wait, and we will book you guys flights on a real airline on Monday.
"There was a Sandals resort close by. I told them to get a place at the resort and we would pay for it. I wanted them to stay away from the site, and to enjoy the rest of the weekend. This was on Thursday. By Friday, the site was deserted. They then got back on Monday, and had stories to tell for months."
A shift away from the temporary to permanent
The Fyre Festival debacle solidified Palermo's decision to pivot the company towards permanent installations, rather than events.
He says: "In our first year we signed 11 amusement parks, and today we are delivering one a month, sometimes more, all over the world. And if a client doesn't pay, I can just shut the system off."
Although: "In this space, it doesn't really happen. You can't sustain a corporation by not paying your suppliers. It has just never been an issue. So that is also a big reason why, from a business standpoint, we decided to make the change."
There are some major events with which C&G still has a relationship:
"If it's a high-profile event, we are still interested. We secure events differently from the way we do permanent installations, concerning payment terms and so on. However, we still maybe have only 20% of our activity events, and 80% is in leisure.
"It's because the leisure side of the business has grown so much for us."
Patterns and trends to understand consumer behaviour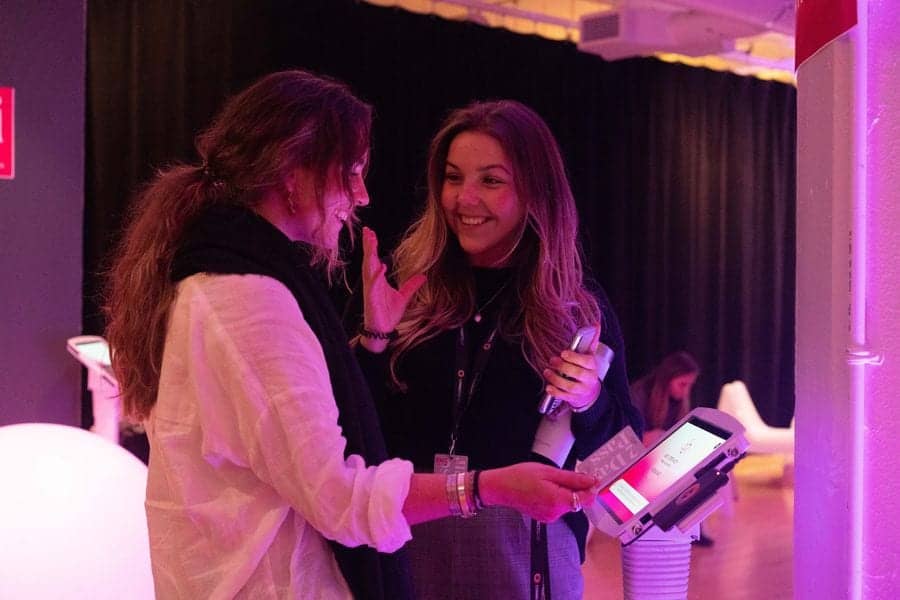 C&G's technology enables the identification of emerging trends.
Palermo says: "What we do is to take that data, cross-reference it with the weather, the postal code, multiple other factors. Then we pull out predictions and trends that we see on consumer behaviour.
"We know that demographically, as an example, a woman of a certain age bought this product, and this product. Based on patterns, we know she would probably also like this third product. So we find the right time to offer it to her.
"Or the family that comes with two kids; these are the patterns that we are seeing. Let's offer this product to them at the beginning of their experience. Because we know that by the end they will want it anyway. Those are the things that we are pulling from all this. Because that is what we didn't have before we used RFID, which is a unique identifier.
"Bluetooth is a unique identifier; so is the MAC address on your cell phone, so is a barcode. The difference is that with RFID we have made it easy for people to scan, and to want to scan. This is because they don't have to download an app; they don't have to open their phone; it is literarily on their wrist.
"In fact, it is easier to swipe an RFID wristband that it is to align a barcoded wristband. It is the easiest way for us to understand consumer behaviour."
Anthony Palermo on creating perfect and easy experiences
C&G's aim is to eliminate all the points of friction that are part of an experience. He says: "As an example, I want to make entering, paying and playing on-site so simple it is almost invisible.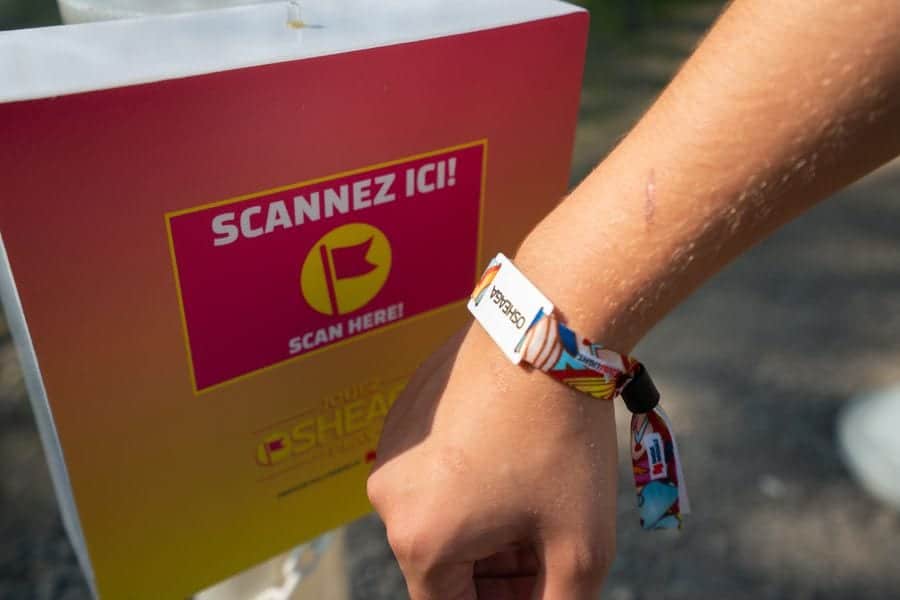 "When you show up having bought your ticket online, I want to make the entering process the most seamless and frictionless process possible. When you have been waiting in line with two kids, and everyone is tired, how do I make the payment process seamless?
"It's like when you go to a restaurant, and they seem to offer the right thing to you at the right time, and you are like, Yep: that's perfect. Everything you just said. Everything. That's the feeling we want to create, so the people just go, wow, that was so easy."
Something for every age and generation
Palermo says: "I want older people to get the most out of the experience, so there isn't one demographic that gets the best experience. I also want kids that are thee years old to get the most out of their ticket purchase.
"It costs $40, $50 to go to a leisure activity. I want the parents to say, we all got the most out of that. My child also got the most out of it; I got the most.
"For the parent, I want to provide them with child-parent pairing. With this, I can scan the wristband of the child, then scan it to the parent. So if the child gets lost, its wristband can be scanned, and the parent contacted immediately.
"I want to add the kid's allergies to that wristband. Then, when they come to pay for something, the parent can scan their wristband and any allergies their kids have will be listed on the point-of-sale system. So the seller can say, 'I want to let you know this product might have this allergen'. We can also give alerts that help make the whole experience better.
"If people feel they have a personalised experience, as a result they feel like it's a better experience. And that's what we're trying to do with this technology. The future is where we're taking it."
Images kind courtesy of Connect&GO and Anthony Palermo.