The award-winning technology is causing a stir in the animation production sector.
Traditional animation — hand-drawn or digital — can take years. However, the Geppetto system facilitates the creation of hundreds of new shows every week. Super 78's Geppetto attractions invite guests to become an integral part of the show, having one-on-one, unscripted conversations with animated characters.
Controlled by state-of-the-art technology, with stereoscopic 3D media, these interactive character experiences create moments of spontaneous, organic magic that delight guests of all ages and cultures.
Blooloop speaks with Dina Benadon and Brent Young, co-founders of Super 78, the global attractions design and production studio. They discuss the product that is powering a range of experiences around the globe, including Donkey Live! at Universal Studios Singapore, The Smurfs Village Playhouse at Motiongate Dubai, and the SpongeBob SubPants Adventure attraction at Moody Gardens in Texas.
"As soon as people engage with an animated character, they suspend disbelief. It's just magical," says Benadon.
But before getting into Geppetto, Dina and Brent share some of their personal backgrounds and how Super 78 first began.
Dina Benadon
After graduating with a degree in Theater from USC, Dina Benadon, Co-Founder & CEO of Super 78, began her career in the world of live-action commercials and music videos.
Ultimately landing at a visual effects animation studio in the early 90s, she segued into computer animation when it was just emerging and location-based experiences were about to explode. The studio's theme park division was busy producing films for media-based theme park attractions.
"I loved the idea of creating four-minute films for rides that mimicked the standard filmmaking process," says Benadon. "Producing these mini-movies added the complexity of incorporating 3D stereoscopic projection, interactive lighting, seat motion and 4D effects like water spray and wind. Plus these attractions would stay open for decades, rather than just weeks or days, which is still exciting.
"I met Brent there; he was an editor at the time. And we eventually left to start Super 78, which launched as a media production and post-production studio over 20 years ago."
Brent Young
Brent Young, Co-Founder & Creative Director of Super 78, adds his perspective on the company's beginnings:
"I think it is relevant that I was born in a small town in the US. It was at the time when theme parks were new. Six Flags was going up; Disney World, built in 1971, was pretty fresh.
"On our summer vacations, we would drive to theme parks all over the country. I made many fond memories around visits to Walt Disney World. When I was in middle school, I went to Epcot and some other amazing, inspirational theme parks in the midwest.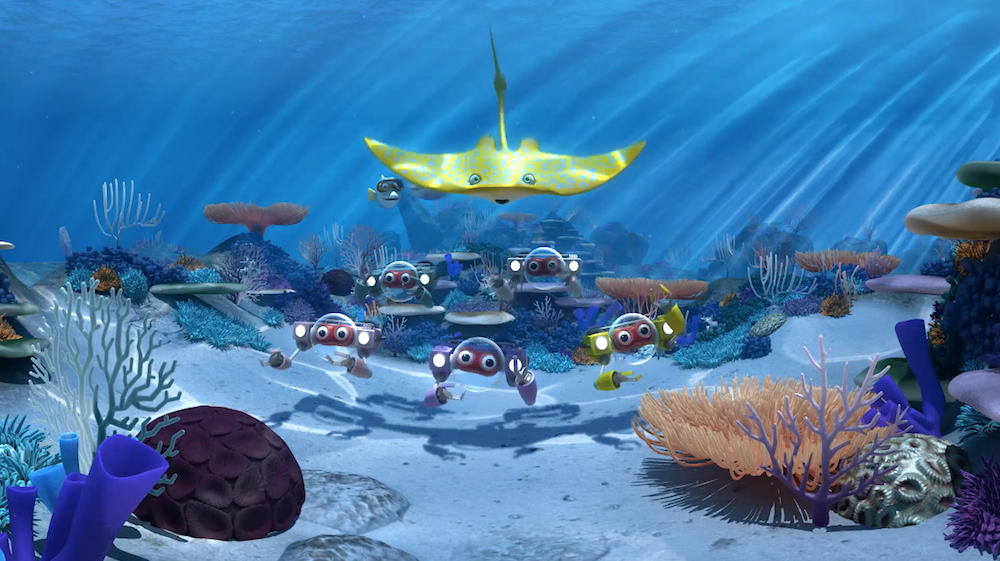 "I was also a musician, and a bit of a computer nerd, learning basic programming and basic computing. Those three things led me to where I am today."
He came to Hollywood to be a musician. "I got a job in an amazing visual effects company where I met Dina. That company was using some of the most state-of-the-art computing technology in the world and they were working on amazing media-based theme park attractions."
Young dismisses his time at university as a side-track, having studied political science. "I went down that road for a little bit," he says. "But it was more like an exit ramp; not what I was really interested in and passionate about."
The Evolution of Super 78
When Young and Benadon started their company, it was just the two of them creating media-based experiences.
"We got into producing animation right away since that's where we came from — our roots are in storytelling from a media perspective," explains Benadon.
"About 12 years ago, we pivoted and expanded into designing and developing bigger-picture concepts for attractions. We love the idea of telling stories through media, through experiences, through the physical senses, however we can."
"It is our belief that if media is the main show, all the supporting thematic elements in the attraction should be consistent with what that main show is," says Young.
"For a long time, this wasn't the case: the media element was invariably an afterthought. We changed that thought process around. And we said, from the concept end, you should have your media team involved from the beginning. So that's why we began offering a full set of creative services, beyond just the media production
"And along the way, we have developed some really good tools and creative technology. Like Geppetto."
Geppetto
"Geppetto really came out of a challenge that we were given: to develop a show inspired by Turtle Talk, using Donkey from the Shrek universe. It was for Universal Studios in Singapore. That was eleven years ago and it's still playing today," says Benadon
"That prototype system required multiple operators and two full rooms of computer racks and monitors," adds Young. "Even with that complexity, though, we have managed 99.9% uptime. We service all of these, so we have to make them bullet-proof."
Since then, the company has continued to upgrade Geppetto's software and hardware, in addition to minimizing the footprint. After Donkey Live!, the company developed the SpongeBob SubPants Adventure for Moody Gardens.
SpongeBob SubPants
In this attraction, guests take a whimsical submarine voyage to Bikini Bottom where they get to have live, unscripted conversations with Patrick Star. As the adventure continues, guests also help navigate the voyage, choosing between multiple destinations.
"That attraction was a big leap forward for Geppetto. We bolstered the system to incorporate the ability to deliver 3D stereoscopic media on the main screen, synchronized media on four side screens, branching 'choose your own adventure' style narratives, and even more show control capabilities. And, one performer controlled everything," says Benadon.
The Smurfs Village Playhouse saw yet more enhancement to the system. "Geppetto's user-friendly interface allows anyone to learn and operate it very quickly. It's also streamlined for portability. Specifically, the system's level of reliability is pretty amazing," says Young.
"The quality of the animation is what is really important to us and pushing that quality bar constantly towards feature-film level is the ultimate goal," says Benadon.
"It is part of what we strive for, and it is part of what our clients demand," agrees Young. "Even when our clients aren't demanding it, we are pushing it."
The newest version of Geppetto
The company is releasing the newest version of Geppetto — "Geppetto 2020" — at IAAPA Expo in Orlando this November.
"It will have an all-new rendering engine," says Young. "This brings the realism up significantly over any other system that we have seen in the marketplace.
"Our live-animated, interactive characters are indistinguishable from the highly detailed pre-rendered background material. That allows us to create very high-fidelity, very realistic experiences. And for our clients with IP, or for clients who have very high-end theme parks or are looking for the highest quality attraction, that is what they are going to see with Geppetto 2020.
"We've also improved the UI by adding a more emoji-based set of controls, making the system even easier and faster to learn. And we've made it customizable, so performers can make their own adjustments if they'd like."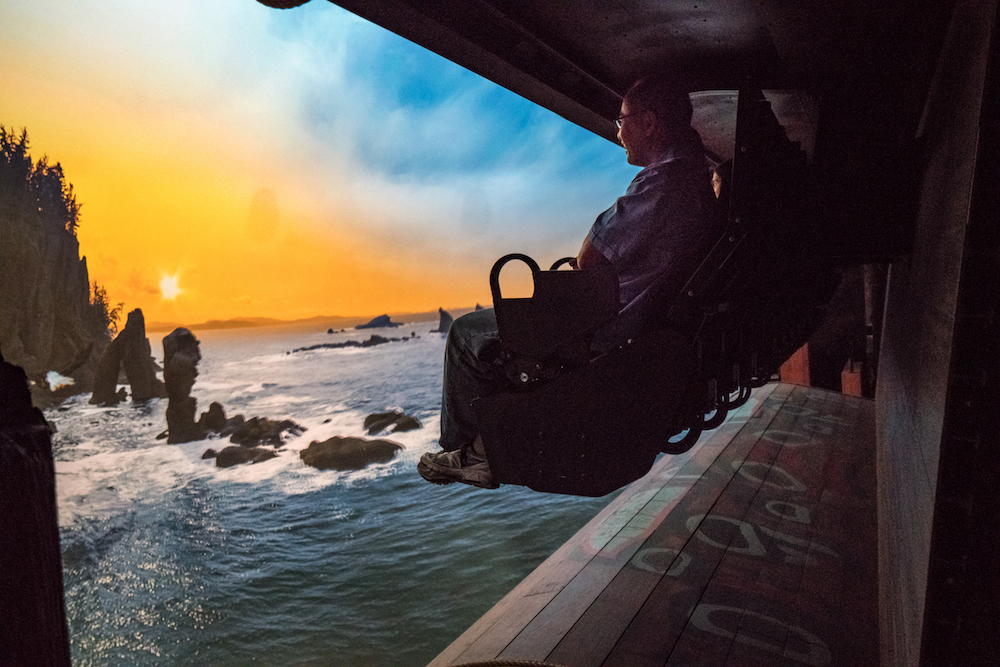 "With this latest version, it literally takes you about 10 minutes to figure it out," says Benadon.
And this particular upgrade includes a major hardware advancement. "Geppetto is now entirely packaged into the Microsoft Surface Studio Pro, which has an amazing interactive touchscreen and incredible processing power. It's also extremely portable, with a very small footprint. So what used to require two rooms loaded with gear now fits into this one sleek, efficient device," says Young.
20000 Leagues Under the Sea
The first new attraction to benefit from "Geppetto 2020" is 20,000 Leagues Under The Sea: An Interactive Adventure. This is replacing the SpongeBob SubPants experience at Moody Gardens. (The Nickelodeon licensing agreement was always planned to end this year.)
"We are really proud of this new 'sequel' to the classic Jules Verne story," says Young. "We're adding theatrical elements with more live actors in the attraction, so it is a bit of a hybrid experience."
"We'll be joining Captain Nemo on a new 'western Steampunk' adventure. The characters, the scenic elements, the graphics, the music, every detail will transport you into this fanciful turn-of-the-century world."
Young and Benadon have designed the attraction to take the immersive elements up a notch. "We have combined our interactive character, live performers, and the practical effects to make this the most intricate Geppetto attraction we've ever created," says Young. "It also has an amazing educational message about the importance of preserving our oceans and our reefs, on top of the huge entertainment value."
Edutainment
"That is the blend that Super 78 always strives for. Entertainment that people will love, that also brings in elements with educational value. So, at the end of each experience, you are going to feel like you didn't just eat popcorn and candy; you also had some real nutrition," says Benadon.
We want guests to come out the other side of the attraction having learned something. On top of having a great ride experience. It's education by stealth," agrees Young.
"In addition to 20,000 Leagues…, we're also working on a new Geppetto attraction for Chimelong in China, another example of the global appeal of Geppetto shows. Kids love them; people are amazed. You almost have to experience it to believe it."
The Many Applications of Geppetto
Benadon says that Super 78 has been at the forefront of VR since 2012, in terms of immersive technology. This is when the Oculus was first released and the company began developing what would become Mushroom VR, Super 78's proprietary virtual reality "pre-experience" design and review tool.
"We used it really as a tool to help us pre-visualise our attractions. With Mushroom, we could start experiencing the attraction virtually long before it was physically built," says Young.
"What we are doing now, though, is figuring out how to push the envelope with Geppetto and VR, to combine them and see where that takes us. We are always looking ahead, looking to the future, and how to push things to the next level. That's exciting," says Benadon.
Young adds, "Imagine having a character in either a fully virtual world or an augmented world. One that can recognise you and be able to have a real conversation with you. It takes immersion to a completely new level.
"There is a vast difference between an AI or a pre-programmed set of interactions with a game character, and having a character like that with a human behind it. Someone who, in a virtual world, could be playing an ogre, a dragon, a puppet. We think that's unique."
Immersive experiences
"The themed entertainment industry has always been driven by deep guest immersion; it's something that destination owners everywhere know is key to driving guest attendance," says Benadon.
"This is really why technology and storytelling have always been in our DNA at Super 78. It was 'key' to creating Geppetto. A guest being able to speak directly to one of their favourite animated characters is a magical experience. It really doesn't get much more immersive than that."
They have also been harnessing Geppetto within the "traditional" animation production process. "As veterans of the animation industry, we've seen how the process has changed since those early days. Now, we can take Geppetto into the animation production pipeline and use it to expedite that process, animating in real-time."
"Real-time animation is going to change the paradigm of how quickly we can tell animated stories."
Geppetto 2020 was recently field-tested with two live animation performances for the Television Academy, including the 2019 Interactive Emmy Awards presentation this past September.
Other Super 78 attractions
The company develops an eclectic range of attractions that all aim to immerse guests into fantastical worlds, real and imagined.
"We create all kinds of experiences, from dark rides to museum exhibits. That said, our core portfolio of attractions includes Flying Films, 3D immersion tunnels, and Geppetto shows," says Young. "We are a specialised company and can do those very well. They are highly complex rides to execute, especially when incorporating live-action for the flying films."
The company has produced many Flying Films, including Flight of the Dragon, Flying Over America and Wings Over Washington. More recently, it produced Alpha Flight, its first all-CG flying film (and the first such attraction to take guests into deep space).
Currently, Super 78 is in production on two more: Flying Over Indonesia, and Flying Over New York.
"People love to fly. And I think we've nailed the secret sauce on how to put these experiences together so that they continue to amaze people. We've learned how to innovate with new production technologies and how to make guests more active 'protagonists' in the attraction stories."
Immersion tunnels
Immersion Tunnels are state-of-the-art media-based attractions that wrap guests 180 degrees in a seamless 3D stereoscopic projected display. Guests ride in tram-like vehicles on a motion base platform that is coordinated to the on-screen action. Because of this "full field of vision" immersion, they are becoming very popular.
"They are huge, almost VR without the VR glasses. We installed the first one for Movie Park Germany, called The Lost Temple," says Young.
That experience was also the first attraction to be developed with Super 78's Mushroom VR pre-viz system.
"Soon after, we produced another Immersion Tunnel for Bobbejaanland in Belgium, called The Forbidden Caves. And most recently, we also developed Dino Tour, a massive new attraction at China Dinosaur Land Theme Park. In addition to the wild 3D media finale, the experience includes a major outdoor section filled with animatronic dinosaurs, jungle foliage, and special effects. It's a pretty awesome experience."
The Future of Geppetto
"We have just scratched the surface with what we can do with this storytelling technology, using it in a theme park environment," says Young
"We always say that theme parks are the Petri dish of entertainment. A lot of technology developed for theme park attractions — like 3D and large-format projection — has ended up in mainstream movie theatres."
"There are so many groundbreaking attractions that paved the way to where we are today," says Benadon. "For example, Star Trek: The Experience, Back To The Future: The Ride and Terminator 2-3D: Battle Across Time.
"Each one of those attractions pushed immersive guest experiences to new levels and helped to innovate the themed entertainment industry. With Geppetto's live, real-time animation, we're hoping to innovate in those same ways."