Brogent Technologies is targeting a diverse range of venues with its new Q-Ride system. The high end simulator is the Taiwanese firm's first motion platform to incorporate virtual reality.
In designing the 12-seat ride, Brogent set out to address many of the issues that make other VR attractions problematic. These include low throughput, dizziness of passengers due to uncoordinated VR devices and motion platforms, and insufficient immersion.
"With most VR systems you get tired from moving your head around," says Brogent's Director of Innovation, Andy Kiang. "The Q-Ride is supplied with our patented simulation software and is much more manageable for both operators and guests. Putting on the headset is just as easy as putting on a hat."
According to Kiang, Q is a reference to the Chinese word for "squashiness", describing the ride's movement. Each unit is easy to set up and has a small footprint. The Q-Ride is available initially with a choice of three media content options. These are a balloon ride, alien shooting game and ocean experience. The latter allows passengers to experience an ultra-realistic underwater journey, swarming among various fish and dancing with whales and dolphins.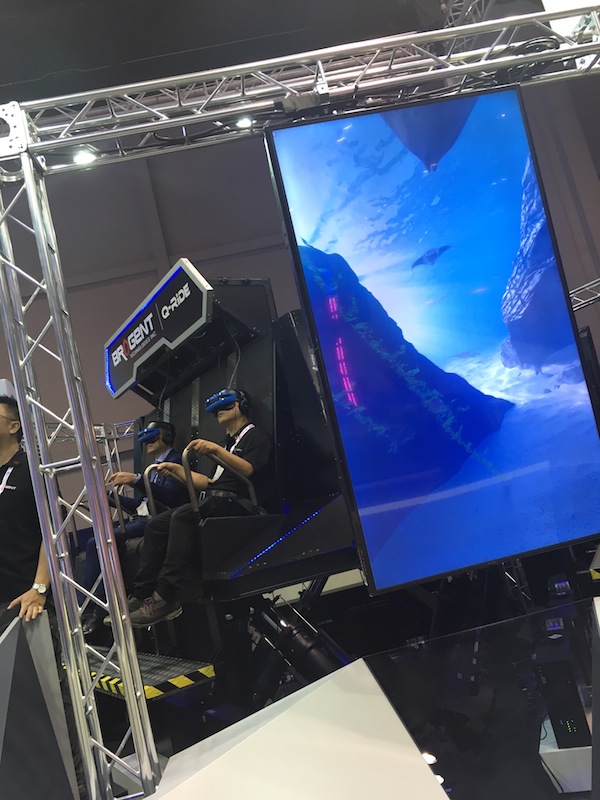 Following the product's launch at IAAPA Attractions Expo, Brogent has received enquiries from resort hotels, shopping malls, theme parks, zoos and aquaria. The Q-Ride joins a catalogue of media-based attractions that also includes the d-Ride (dark ride), v-Ride (circular motion base with 360° screen), t-Ride (immersive tunnel) and i-Ride (flying theatre).
Since Brogent's double i-Ride installation at Europa-Park debuted in June, it has already ridden over 2 million passengers. Other venues around the world have taken note. A contract was signed at IAAPA for the late 2018 delivery of an i-Ride to a park in Cancun, Mexico.