A competition organized by the municipality, the Helsinki Energy Challenge, asked for proposals to propel its transition into carbon-neutral heating. The winning concept, called Hot Heart, calls for a manufactured archipelago serving dual purposes.
CRA-Carlo Ratti Associati coordinated the trans-disciplinary winning project team, which included Danfoss Leanheat, OP Financial Group, Ramboll, schlaich bergermann partners, Schneider Electric, Squint/Opera, and Transsolar. The project hypothetically provides the city with a new educational attraction and recreational hub, home to tropical forest ecosystems.
Sustainability on a large scale
Working with a global consortium of consultants and experts, CRA explored the idea of an artificial-intelligence-driven, carbon-emission-free system. The group of 10 cylindrical 225-meter-diameter basins—truly singular in scale—would be located off-coast.
Functioning like an enormous thermal battery, heat produced by renewable energy sits until needed to heat the city. The anticipated heating needs of Helsinki, an estimated 6,000 GWh, could be met by Hot Heart at a lower cost.
Floating forests fuse the built with the biological
Of the 10 island thermal reservoirs, 4 will also serve as recreational areas, enclosed by domes. Heated by the water below, tropical rainforest ecosystems will additionally feature LED lights that mimic sunlight. The unique attraction will draw local and international visitors, especially during the dark winter months.
"Production of renewable energy is getting cheaper, but storage is still extremely expensive. Our idea is to use the giant 'thermal batteries' to store energy when prices are at low or even negative levels and extract it when required by the district heating system when demand is high.This model would also be applicable to many coastal cities with similar climates," says founding partner of CRA, Carlo Ratti.
"In addition, Hot Heart offers a unique experience, bringing the natural and artificial worlds together. It is inspired by the Finnish concept of Jokamiehen Oikeudet, which could be translated as 'every person's right': the right to reflect and unwind while peacefully enjoying nature."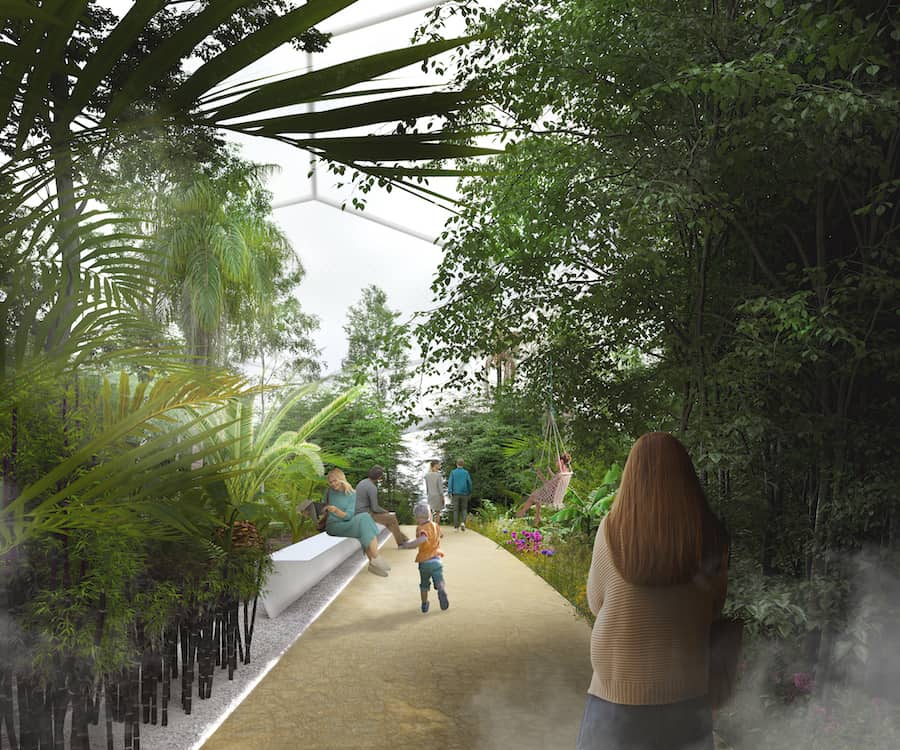 CRA's ongoing commitment to climate remediation
CRA is working on research-driven projects of all scales across the globe. The organization champions a vision of urban progress through strategies for climate change reduction.
Planned to be functional by 2028, Hot Heart enters the master planning phase in 2021. Squint/Opera, a creative digital studio and consultancy, created a video explaining the Hot Heart design. Squint/Opera is also working as a Communications Partner on the project.
Squint/Opera's Creative Director, Tom Law explained that "the film acts as a 'how to' guide, an instruction manual of sorts. It outlines the key steps to creating the Hot Heart. This is because the project is bold and adventurous and by framing it in something as ordinary as an instruction manual, we're making the concept less daunting. The instruction manual also acts as a metaphor for how this concept can be taken and applied to other cities around the world."
Recently, Westminster City Council released initial details for the new Oxford Street District (OSD) framework, developed with key strategic partners, including Squint/Opera. The company created a film to showcased the vision of the project.
Learn more about sustainability at greenloop, the new conference on sustainability in visitor attractions from blooloop, takes place on April 20 and April 21.
Renderings courtesy CRA, Video courtesy Squint/Opera