Could Universal's ride reservation system be the shape of things to come in the theme park industry? Guests at Universal Studios Florida got their first taste earlier this month. Soon other attractions – from Orlando to Oman – will offer their own take on the technology. But how will visitors respond?
Opened April 6th, Race Through New York Starring Jimmy Fallon offers an action and humour-packed journey through the Big Apple. Like any new attraction, guests were keen to ride. However, there were no visible wait lines for the simulator experience at Universal Studios Florida.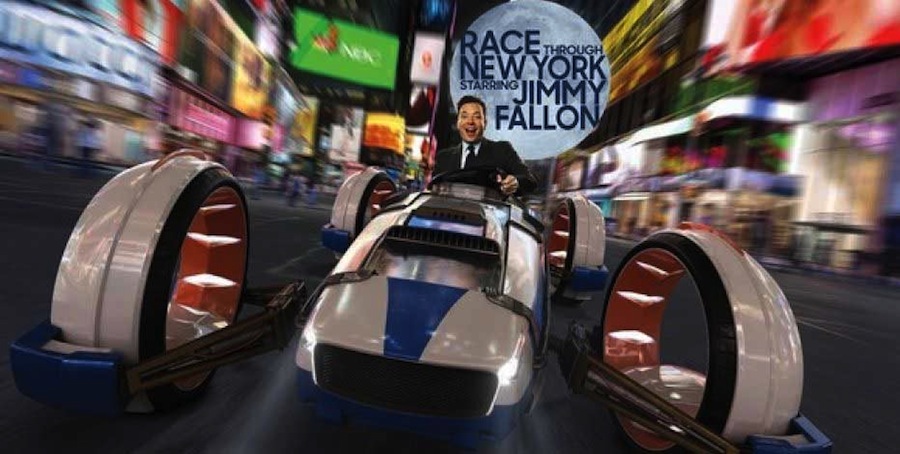 That's because visitors to the park at Universal Orlando resort must have an appointment to ride. Guests can choose times on their phones or at kiosks and have an hour-long window in which to arrive. At the entrance to the attraction they are issued a colour-coded card. Once inside they can play interactive games or watch videos starring Fallon, host of the Tonight Show. Lights matching the colour on guests' cards tell when it's their time to board. The entire experience is supposed to take about 20 minutes, although the Orlando Sentinel reports it took longer during opening week.
Unlike other ride reservation systems, Universal guests do not jump the queue, because there is no queue. No reservation, no ride. The new "virtual line" system is "kind of the opening salvo in our war on boredom and hassles," says Universal Creative Director Jason Surrell.
Ride reservation 'genie out of the bottle'
Next month, Universal Orlando will roll out a ride, or should that be slide, reservation system to an entire park. The sheer level of theming will set Volcano Bay apart from other waterparks. Attention to detail is expected to be everything. And that extends to how guests access the attractions.
On arrival, all visitors to Volcano Bay will be issued with a TapuTapu wristband – at no extra charge. The wearable devices by accesso allow guests to enter virtual lines and "tap-to-play" as they trigger special effects throughout the park.
"One of the main goals for Universal's Volcano Bay was to eliminate long lines and hassles so you can focus more on having fun," says a Universal Orlando spokesperson.
According to Surrell, Universal will look at whether to retrofit older rides with a similar ride reservation system to that used on the Jimmy Fallon attraction on a case by case basis, but future installations seems likely.
"This is kind of the opening act for us," says Surrell. "Once this particular genie is out of the bottle, it's going to be hard to put it back inside."
No more apartheid in the park
Over in Oman, visitors to the upcoming Snow Park Palm Mall will also be obliged to pre-book attraction experiences. The reservation system will be provided by Dutch firm The Experience Ticket. It will allows guests to secure spots on snow mobiles, snow slides, snow diggers and even a snow carousel. It's envisaged the typical visit with four pre-reserved rides will last around two hours. Guests can they pay for additional rides outside that time.
Snow Park Palm Mall, developed by Unlimited Snow, will open in October in the city of Muscat. Other attractions will include a 3D theatre, ice climbing wall and ice bar.
So does having your entire park visit mapped out before you get there spoil the spontaneity of a family out? In a word, yes. But if it means they get to do more stuff, guests might will wear it (and indeed the accompanying wristband). The fact that ride reservation systems like that at Volcano Bay and Snow Park Palm Mall are included in the cost of admission, rather than an expensive add-on, will also appeal. No more apartheid in the park. And for park operators, less lines means there's no danger of your guests being stuck in a queue when they could be spending money in shops, restaurants or on midway games. They'll also leave the park much happier at the end of the day. And that's good for everyone.
http://www.orlandosentinel.com/travel/attractions/os-theme-park-lines-universal-fallon-volcano-bay-20170407-story.html