Scruffy Dog Group, a leading creative design company, has reopened its London design studios, following a major refurbishment and upgrade project.
Scruffy Dog Creative Group is pleased to announce the completion of its refurbishment and technology upgrade project at its London studios. The building is now open again after a number of key changes.
The project included a complete renovation of the studio's downstairs space, which is home to a couple of state-of-the-art conference suites and meeting rooms. These are fitted with the latest conferencing and VR apparatus, meaning that staff are able to connect easily with both clients and other team members around the world.
Essential changes
"Making these changes was essential for our staff and, of course, their working environment," says CEO Joe Bright. "But also create an interactive workspace for our clients, which will improve the processes and final results."
In addition to the project at the company's London design studios, Scruffy Dog has also bought a penthouse nearby. This new meeting space includes a terrace with panoramic views of the city.
"The design team has grown along with the operational staff and we needed to accommodate this in our studios in London and Barcelona, we also decided to invest into our machines and software ensuring we are at the forefront of creative design," says Bright.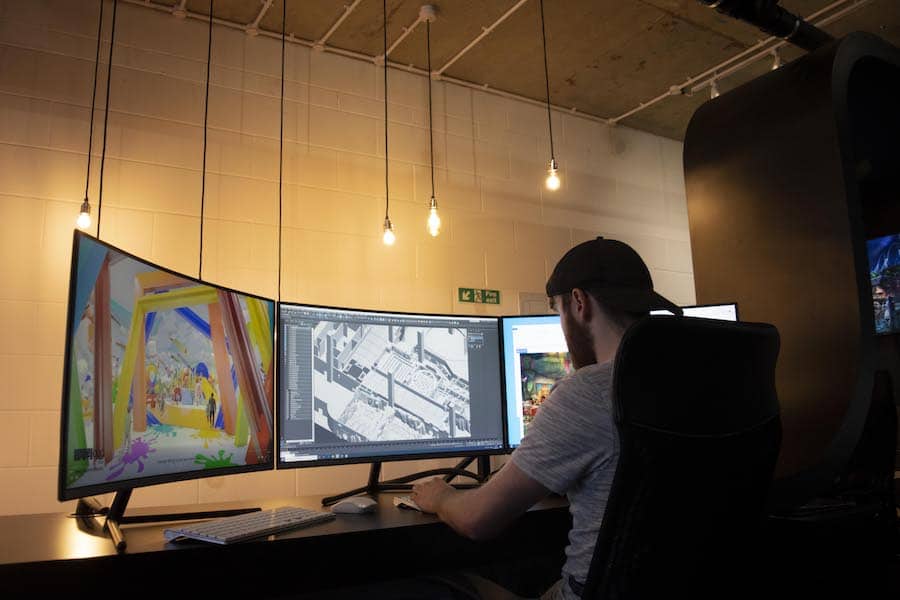 The company has also invested in its 3D suites. These now feature three high-spec curved screens and duel high powered PCs per station. This means that rendering is faster than ever and there is no downtime in production. The project has resulted in more space for extra creatives to join the Scruffy Dog team, as the company continues to grow.
Quirky space
The design includes several interesting and quirky features, which is fitting for the creative company. For example, there is a hidden meetings room behind the door of a colourful red fridge, as well as bespoke sculptures and street art. There is also a living wall, created by Newcastle company Treelocate.
The project cost in the region of £250k, with most of this budget going towards machines and software. It was designed and managed in-house and took approximately five weeks to complete.
"The company was founded in East London like me! and it was important to me to stay true to its origins and my roots and make the studio space work," says Bright.  "Our unique location, which is close to London City and the airport, is superb for our international client visits".
Scruffy Dog Creative Group recently announced the appointment of Christian Angenvoort to the role of Global Business Development Director for Themed Production.