How can you create a successful augmented reality experience in your attraction? Start with this AR experience checklist. Whether your institution is a zoo, museum, science center or aquarium, use it as a guide to execute successful AR experiences that will excite, educate, and engage visitors.
How do you get the most out of AR in an attraction? Here is a guide to help cultural institutions understand how to execute an impactful augmented reality experience.
By Lexie Sharabianlou, Guru
An AR experience checklist
In order to ensure that every AR experience has a powerful impact, here is an AR experience checklist. This can help zoos, museums, science centers, aquariums, and other institutions design a successful AR experience that excite, educate, and engage their visitors.
1. Is the content relevant?
A potential pitfall for creating an AR experience is having something look cool just for the sake of it. Having Superman burst out of an Impressionist painting would look amazing, but wouldn't impart anything meaningful to the museum visitor. When coming up with AR ideas, the director of content at Guru, Dana Duran uses what she calls the "dancing hot dog" test. Does the content reveal or emphasise information that AR can uniquely address or illuminate? Or is it there to get people's attention before they move on to the next distraction (like a dancing hot dog in a commercial)? A great AR experience should enhance, highlight, or bring new relevant information to an exhibit or work. Therefore, make your AR experience count – keep the content relevant.
One of my favourite examples of using AR to highlight relevant concepts is one of our own works with the San Diego Museum of Art.
https://www.youtube.com/watch?v=qK_sWR_JxgU
Through the museum's app, visitors can watch as a scene of haystacks in a pasture transforms in colour and detail. This transformation occurs as the direction and source of light changes within the painting. The subtle changes of colour in the AR experience showcases Monet's dedication to the study of light and how it can transform a single subject over and over again. By combining the wow-factor of AR with a core concept of arts education, this experience makes an impact that visitors can learn from and enjoy.
2. Does the experience inspire visitors to engage with the museum as a whole (and not just their device?)
The ultimate goal of an AR experience is to excite the visitor about an exhibition. In other words, to put down the tech and engage with the museum, zoo, or aquarium. A successful AR experience gives visitors the tools to more deeply appreciate everything from individual artefacts to the layers of a painting. In the case of the Smithsonian National Museum of Natural History, visitors can use AR to look more closely at the skeletons found in the Bone Hall.
In 2015, the Smithsonian National Museum of Natural History launched "Skin and Bones", an augmented reality app that helps visitors better understand how skeletal structures affect an animal's movement, behaviour, and appearance.
In augmented reality, visitors can observe the way the skeleton of a bat helps it move. They can also see a baboon skeleton transform into its flesh-and-blood self. Likewise, visitors are able to learn how bones can tell the story of an animal's ancient evolutionary past. The effect is astounding and mesmerising. By pointing out the why's and how's of different animal's skeletal structures, the app teaches visitors to be amateur osteologists and archaeologists. It also provides them the tools to analyse bones for themselves.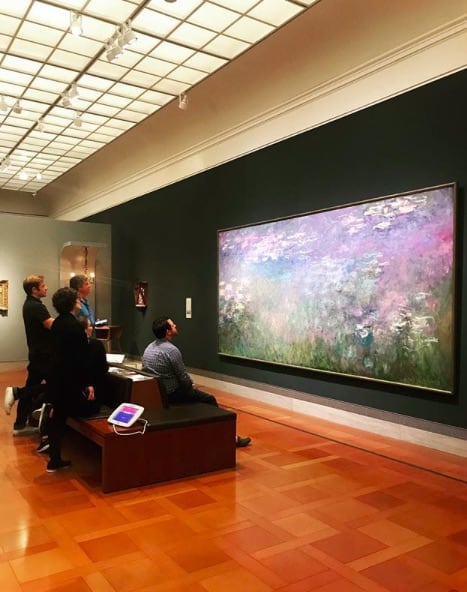 The brilliance of the app is its ability to give visitors the tools and incentive to look away from the screen. This in turn would allow them to look much more closely at skeletons than ever before. At the end of the day, that's what a great augmented reality museum experience should do. It should jumpstart curiosity and education to help visitors engage with actual reality.
3. Does the experience further the goals of the exhibition?
If this point isn't checked off your list, your project risks flopping. Just like every artwork in a gallery is a part of a museum's voice, an AR experience should be a part of a cultural institution's story and align with its goals.
Take for instance, the Belvedere Museum's approach to commemorating the 100 year anniversary of artist Ego Schiele's death. To celebrate the artist, his entire works underwent extensive and detailed documentation. The results of that work? With a tap of a button, visitors to the museum can view the paintings in several ways. They include under UV light, infrared reflectography, microscopic and macroscopic analysis, and even through x-rays.
This was accomplished through Artivive, a digital platform for artists to create augmented reality artworks as well as a tool for museums to add a new layer of interactivity for their visitors. Looking at these works through many lenses highlights consistent characteristics in the composition of each piece. This is regardless of how different they seem from each other. Augmented reality united the exhibition of Schiele's work. It also revealed the vital underlying elements that tied his works together.
4. Can the content be updated?
Rather than being a one-hit AR wonder, find ways to keep the content fresh and up-to-date. You can do so by adding new information as time goes on. Being able to update the experience with new content will therefore keep visitors coming back for more.
5. Can the experience be shared?
Let your AR experience do some marketing for you! Social media sharing can help get the word out about your exhibit's AR experience through a visitor's online community. In fact, selfie filters are a great example of how AR and social media get along like a house on fire. Take for example, the Space Center Houston app. It has exclusive astronaut selfie-filters linked to certain exhibits, giving visitors the chance to see themselves as astronauts after learning about what it takes to make it at NASA.
In conclusion, designed thoughtfully and used strategically, augmented reality experiences can make an incredible impact on your visitors and your institution.
Header image courtesy Diana Marquez.