TIDE Europe 2018 was AVIXA

's

one day event where technology meets story and attendees get to hear from the creatives using technology to bring attractions and experiences to life.
By Martin Howe, CEO, TEQ4 Ltd .
I had one of those pivotal days, on the 5th February 2018 in Amsterdam, at the first European TIDE conference by AVIXA, the type of day you look back on and know that things are different now because of that day. Thanks largely to the closing keynote presenter of the day, Monika Bielskyte, founding partner of ALLFUTUREEVERYTHING.
Monika is a futurist, a person who designs futures for a living, and more specifically sci-fi futures; credible possible futures based upon known and emerging technologies.
What Monika illuminated throughout her presentation, is the general lack of original thought that is being applied today, about how our lives in the future might be affected by technology. How often do we see anything other than vast cityscapes full of lonely people, bombarded by advertising of the same type of advertising that we see today, or barren landscapes laid to waste by a lack of water, or war between human, or of course, robots?
Scope for imagination
And when we do see alternative examples, Star-Trek being a notable exception with its post-scarcity society, life on Earth has become anodyne; very samey with no obvious sense of community or tribe, and the only way to get a buzz is to go toe-to-toe with a Klingon. Or Romulan.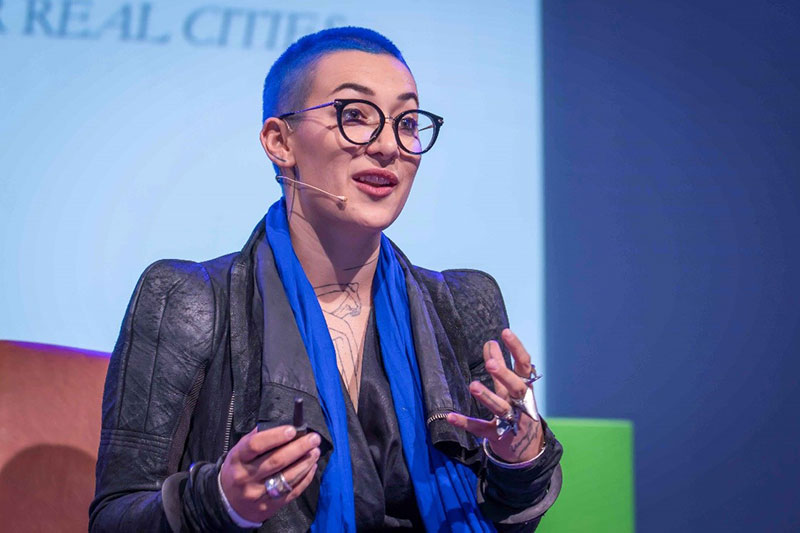 Monika (above) is encouraging us, yes us, you and me, and our friends and colleagues, our industry, to go out and be a bit imaginative. For a change. Not a-little-bit imaginative, like we often are, but like, r e a l l y imaginative, like wow, where-did-that-idea-come-from, kind of imaginative. "The World needs new perspectives of the future", Monika asserts. Of course it does, when you think about it.
There must be a million different alternatives to the wastelands and robotic wars and endless giant screen advertising. Yet between all of humanity thus far, we've probably come up with about 10. So there's scope for more.
Designing tomorrow
This sounds like a heady goal, doesn't it. Well not if you're anything like the first presenter of the day, Daan Roosegaarde (below). Daan is creative, that's very apparent. What's also very apparent is that's he's an optimist, an experimentalist and a get-things-done-ist. Monika argues that the creatives' and artists' key goal should be to design tomorrow.
And that's what Daan and his team are getting on with. For example his team at Studio Roosegaarde have designed and built a smog vacuum cleaner which provides localised clean air in public places, and a bicycle that cleans the air in front of the rider. He's used retro-reflective coatings to use the lights from cars to illuminate a 32km long Dyke, Tron-style, rather than flood the bridge with conventional power-consuming lighting.
His team even created a giant virtual flood using smoke, lighting and lasers to show the effect of rising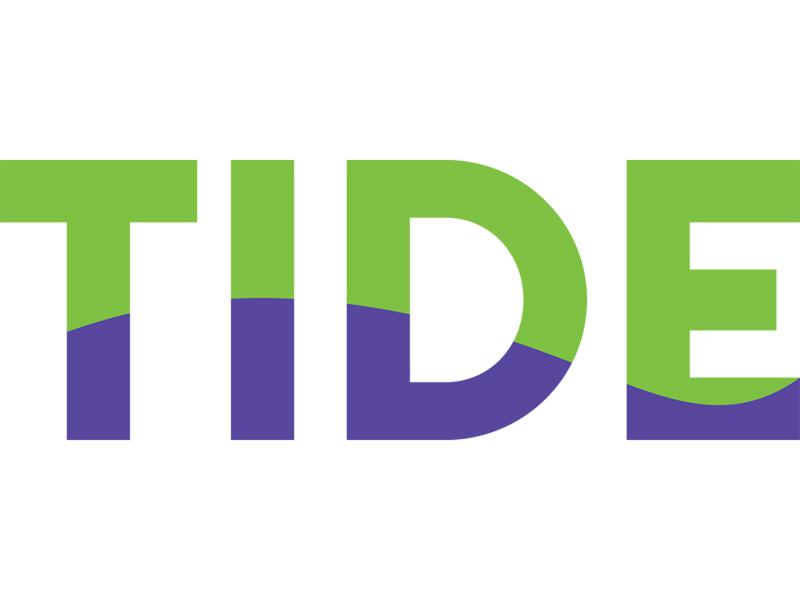 water levels and the impact on city centres. All these projects have been created with a beautiful sensitivity using the latest technology in creative ways hidden behind artistic and aesthetic renderings. These are bright beacons of what we should be striving for. Well done Daan and his team, and thank you for sharing.
Brand is everything
Our knowledgeable host for the day, Kevin Jackson, helped with perspective; the total sum of human knowledge doubles every two years – so there's no excuse not to know the answer to everything, right?; by 2025 there will be 65bn (yes billion) devices connected to the internet ' that's pretty much everything; AI will be everywhere ' because it'll be on our phones and the other 65bn devices; there's no such thing as sales anymore ' I agree, it's all about marketing, which is becoming all about brand; Brand is becoming all about relationships and brand engagement is becoming all about experiences.
And that's what we do. So it's up to us. Again. Geez, so not only do we have to invent a bright future we've also got to create brand experiences for consumers to sate their every desire in the meantime; from their curiosity about the life and times of David Lloyd George, to buying a toothbrush. What great responsibility rests on our shoulders.
As a closing remark Kevin shared some helpful wisdom in the form of an acronym; SOFO ' Stand Out or F-Off! Good advice Kevin, thanks.
Throughout the day we were treated to many thoughtful insights and examples of creative innovation and how to SOFO. Pedro Gadanho is director at the Museum of Art, Architecture and Technology in Lisbon. He argued convincingly that corporations should consider having artists in residence to help develop innovative ways to portray their brand.
Art and neuroscaping
Jan-Erik Baars (below) heads the Design Management program at the University of Applied Science in Lucerne, Switzerland. He led a fun and informative workshop on the process of Design Thinking which places a structural foundation to support the innovation process.
Ben Moorsom (below), President and Creator of Neuroscaping – Debut Group, led a thought provoking insight into Neuroscaping – the art of integrating neuro-design techniques to event design; combining science with insight to reimagine how live experiences are produced. Depending upon your perspective, neuroscaping is either a way to optimise your time with your audience and pre-condition them to your message through subliminal sensory input, or a insight into a sinister future of mind-control and manipulation.
I particularly enjoyed the panel session on the Interplay of Creativity and Commerce. This was chaired by SOFO Kevin, with Deborah Armstrong (bottom image), Founder of Strong and Co, Julien Le Bas, Executive Co-Director of Jack Morton Worldwide and Pedro Gadanho once more.
The discussion centered around the role of the artist in the creative process of the project, and to what extent should the brand/client lead the project and how much should the artist be left to, erm, art. Unsurprisingly, due to the make-up of the panel, there were three quite different perspectives. There was also a little healthy creative tension over what was likely to be right answer.
Inspiration at TIDE Europe 2018
I hope that most of the audience came away with the same conclusion that I did. They're all right. Of course. Some clients will want to give carte blanche to the artist to create something daring and exciting and most of all, new. Others will want to ensure that all of their carefully curated brand values are preciously maintained and strictly adhered to; somewhat more limiting perhaps but that doesn't mean that the audience experience will be any-the-less for it. Take Julien's recent project for the BMW 7-series press launch, surely one of the most curated brands and sub-brands on the planet.
It was very "on-message'. However, it was far more subtle than a typical automotive press event. Delivery was via an elaborate immersive audio visual production featuring a live orchestra. The audience had been neuroscaped and probably didn't even know it (see video above).
So in all, a fun and thought provoking day, with inspirational examples of innovative creativity at play. Thank you everyone. Now I'm off to raise my game, and so should you. We have a huge responsibility to the future of humankind. SOFO everyone!
Martin
All images kind courtesy Wildwood PR and TIDE Europe 2018 / AVIXA.