Its famous theme park brands are among the most popular tourist destinations in the country. Blooloop speaks to Daisy Shang to explore the story behind Fantawild's success.
Fantawild's core competitiveness is combining innovation and technology to create a complete industrial chain. This includes innovation and design, research and development, production, construction and operation. The company has more than 60 subsidiaries. Its scope encompasses SFX films, digital animation, TV, live performance – and theme parks. Its unique approach is one of the reasons behind Fantawild's success, explains Daisy Shang, Executive President of Fantawild Holdings.
Fantawild has exported to over 40 countries and territories worldwide. It offers a range of services, including concept design, master planning, customizing attractions and SFX film production.
A new industrial model
Daisy Shang joined the company seventeen years ago. She began as Assistant to the General Manager, eighteen months after graduating with a master's degree in economics. She then took charge of Human Resources, International Marketing and Marketing of Animation. After this, she became General Manager of Fantawild Animation. Here she was in charge of Fantawild International Company, and responsible for the other businesses of Fantawild Holdings.
Shang spoke to Blooloop about the elements that come together to make Fantawild's success story. She says: "Fantawild is in two parts. One is cultural products and services, including films, special effects and animation. The other is theme parks.
"In terms of theme parks, we are one of the few companies in the world that can cover the whole range. From the concept design, master planning, research and development in all types of attractions, to manufacture, construction and operation. From beginning to end. I think this makes Fantawild unique."
Fantawild's success story
Fantawild's manner of operating is to create parks featuring their own IP. These are characters from TV, cartoons and movies produced by Fantawild Animation Company, as well as from traditional Chinese culture, local legends and stories. This includes the domestically famous and phenomenally successful Boonie Bears.
"We design our own theme parks and develop the full range of attractions ourselves – we own hundreds of patents and trademarks, and operate our own parks," says Shang. "We have our own animation studio and two subsidiaries. One specialises in animation, and the other focuses on special effects films. So, the theme park content is all developed internally; we can make our own concepts become reality, giving us a strong advantage.
"According to the TEA Global Attraction Attendance Report 2016, 2017 and 2018, we are number 5 of the top theme park groups worldwide."
The different faces of Fantawild
Currently, there are 25 Fantawild parks, divided into many themes. "The first theme, which speaks for itself, is Fantawild Adventure," says Daisy Shang. "The second is Fantawild Dreamland, which centres on animation cartoons. Then there are Fantawild Waterparks. We are also developing Oriental Heritage – theme parks rooted in Chinese culture. These combine China's culture with high-tech equipment."
Oriental Heritage
Xiamen Fantawild Oriental Heritage is the 22nd park owned and operated by Fantawild Holdings. It has just won the Themed Entertainment Association (TEA)'s Thea Award for "Outstanding Achievement". It is the first theme park to have done so.
Many of the attractions at Oriental Heritage were developed in-house. They include Bridge to Love, a domed theatre showcasing the story of China's star-crossed lovers. The theatre system is the first in the world to combine a 360° rotating, elevating platform and a dome screen. The attraction gives audiences a thrilling experience of flying into the sky while they watch a touching love story unfold before them.
The show, Eternal Love, is a holographic AR stage performance with the world's first four-sided diamond-shaped stage. It is the largest attraction of this type in the world. It can accommodate around 1000 people in one performance, and no matter where they sit, the view is the same. Visitors can also enjoy Dragon's Palace, a dark ride featuring 3D animation and The Legend of Nüwa, a new type of 4D dark ride.
Modern technology meets ancient culture
The technology-based immersive attractions combine compelling performances with and theatrical experiences. Through these, the parks explore China's rich history and culture.
Fantawild's Oriental Heritage is the first comprehensive theme park in the world to combine modern technology and ancient Chinese culture. This ranges from storytelling, characters and IP through design, events, even food.
"We are now working on developing another theme park based on China's history," says Shang. "In total, we have three theme parks planned which are rooted in Chinese culture. The first, based on the distant past, is already open to business; we are working on the second and third. The second is based on China's recent history and the third will revolve around what is essentially science fiction, imagining what the future of China might be."
Exploring local Chinese culture
Fantawild is working on creating more parks themed on local culture. China has many provinces, with a huge variety of different traditions and histories. The idea is to create theme parks designed to fit the local area, based on different local cultures.
Daisy Shang explains, "The one we made for Jiayuguan is based on the Silk Road. And then there is Anyang, which was the capital of the Shang Dynasty. So we built a special park based on China's ancient culture. In Nanning, we built a theme park with a focus on Eastern Asian culture and countries. This is because the Forum for East Asian Countries is located there. Each Asian country has a themed zone in the park. We are also developing some original IP."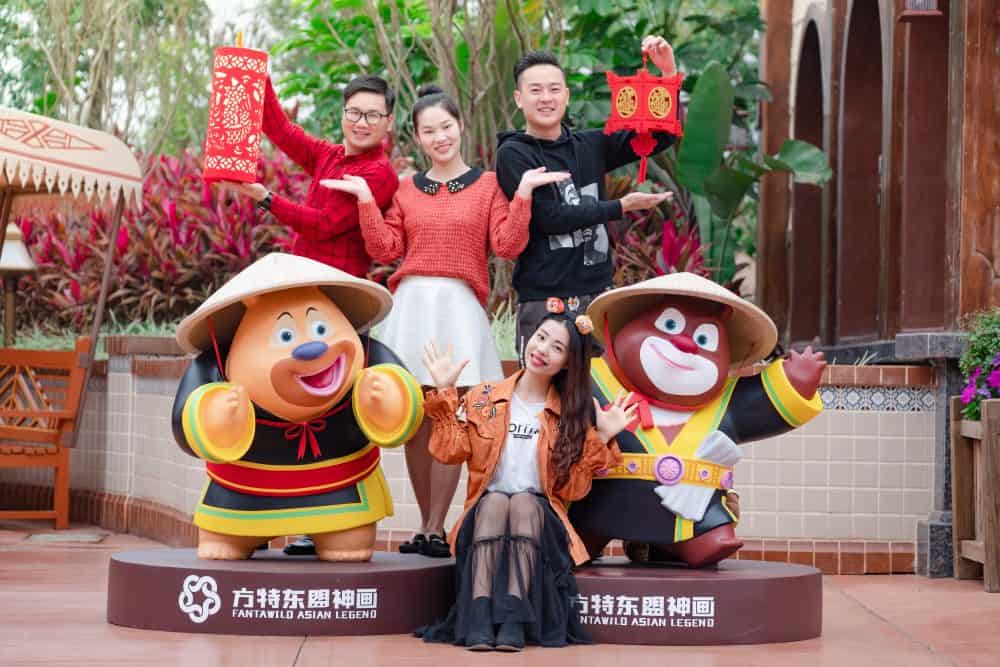 Boonie Bears
Fantawild's best-known IP is the hit Boonie Bears franchise, which began as a TV series in 2012. The sixth theatrical instalment is called Boonie Bears: Blast into the Past. It was released in China in February and earned 107 million US dollars for its box office in China alone. The much-loved characters are one part of Fantawild's success story.
"Boonie Bears is our number one animation brand, the most famous and popular. So, we have developed Boonie Bears theme parks, "says Daisy Shang. "We are also working on some other animation IP. In the future, we also plan to develop animation parks based on our original IP."
The development process
The development process is an in-depth one. "For every theme that is developed, we begin by selecting themes. It's a matter of selecting the most effective elements to represent the cultural theme. We then develop our own story to bring those elements together in a way suitable for a theme park. After the content design, we then turn our attention to selecting appropriate attractions we can use for the particular park."
"Some will be one-of-a-kind, developed especially for the park, and for the content," continues Shang. "This is the case with several attractions in our first Oriental Heritage park. It's the first of its kind in the world, so we have developed some unique attractions. When it comes to content design and technology design, we have our own studio and R&D institute. So, we have developed our own culturally-based content and equipment."
State-of-the-art technology
Fantawild's R&D institute works with state-of-the-art technology to create attractions. As Daisy Shang explains, "The technology can then drive research and innovations in new types of equipment. This then itself drives technical innovation, and so on. We have hundreds of patents for our own-brand technology. Because of many years' accumulation of cooperation and experience, we have developed a lot of key technology and unique attractions. This can help us show the theme we have chosen in the most immersive and engaging ways."
The structure of Fantawild and its many subsidiary companies allows for this type of development. The company has the capability for creative design, R&D, production, so they can continually develop new equipment and theming. All this can be done in house.
Engineering Design
Fantawild's engineering design institute produces all types of construction design, engineering design, decoration and landscape. For example, buildings, environments and water pipelines. These are the things which underpin a new park. Part of Fantawild's success comes from having different experts in different areas, who work together to create a whole.
"The technical people understand the work the artists want. The artists understand what the technology can support. So, they work together very well. The system is interconnected and self-sufficient." says Shang.
Insight into theme park trends
Daisy Shang's position and her ability to reflect on Fantawild's success gives her a unique insight into Chinese theme park trends. "The theme park industry in China is really booming; a lot of parks are under construction. A lot of international companies come to China looking for opportunities. However, unfortunately, not so many of them are really successful. Many find it difficult to attract an audience, and only last for a short time."
The industry is expanding in China, with many genuine opportunities. There is an increasing demand for good quality theme parks.
"What Fantawild can offer is really good, well-thought-through parks with attractive theming that draw a substantial audience over a sustained period, and are constantly renewed and upgraded, so people will visit again and again. I think that is the point. China needs excellent parks, not ordinary ones."
Daisy Shang on the Future of Fantawild
Is Fantawild's success story set to continue? Plans include continuing to supply parks featuring different cultures and stories. It is also working on developing more of its own IP to support its theme parks.
"We develop IP based on the TV series – Boonie Bears, for example – and on the feature films. So, when an IP from our TV or film work is popular in the market, we develop a theme park or attractions based on it. In addition, we have developed all kinds of technology. Our R&D institute is also working on a lot of different technologies to support our range of theming."
"And, while we are continuing to create parks in China, we are also looking for opportunities worldwide for Fantawild," says Daisy Shang "We have such a lot to offer. We are open to exchanging views with international counterparts and cooperating with them."
All images kind courtesy of Fantawild Holdings Inc.