FlyOver America is the latest eagle-eye-view flight experience from Soaring Attractions LP, the team behind Vancouver's FlyOver Canada.
It is billed as 'a ride like no other'. Cutting-edge special effects create the sensation of swooping and soaring in the open air, as riders "flyover" high above some of the country's most spectacular landscapes.
The ride opened in Minnesota's Mall of America in June, using the combined expertise of Soaring Attractions, Taiwan-based Brogent Technologies Inc. and Vekoma.
Blooloop spoke with Stephen Geddes, President of Soaring Attractions and co-founder and owner of the FlyOver brand about this latest incarnation of the ground-breaking, immersive ride.
Geddes is a lawyer who ran a successful business in the late 90s with a lawyer friend, Andrew Strang. The company helped tourists claim tax refunds, to which they were entitled when visiting Canada.
The Creation of FlyOver Canada
When Geddes and Strang sold the business to a European company, they began to 'toss around various ideas' within the tourism sector.
"We thought that an attraction in Vancouver of some sort would work, " says Geddes.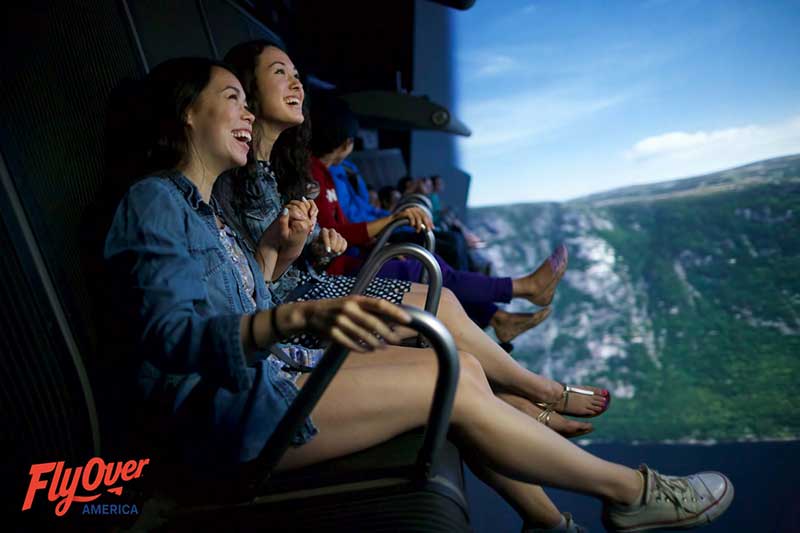 In 2010 they came up with the idea of creating a stand-alone attraction inspired by Disney's 2001 Soarin' over California concept. They found a location – an old Imax theatre in Vancouver – and began the creation of FlyOver Canada.
"We launched it in 2013, and it was very successful, so then we started looking for other locations around the world."
Mall of America
Mall of America is shopping on steroids and cost over $650 million to build. It is home to over 520 retail outlets, plus leisure attractions and restaurants. It attracts over 40 million visitors a year – more than the entire population of Canada.
"It's a location that we identified early on as fitting our model of having an existing significant amount of foot traffic including locals and tourists, " says Geddes.
"We made enquiries with the Mall owners and they loved the idea and had a location that worked for us, so eventually we moved forward with that."
Tripping the Flight Fantastic
Geddes divides FlyOver America into three distinct elements:
"There's the building itself, the ride mechanism and manufacturing installation of the ride, and then the film.
"We had been brainstorming ideas on the film for a while before we greenlit the project. That was a whole project itself. Dave Mossop was the film director we used for FlyOver Canada. We used him again for FlyOver America. We also worked closely with Rick Rothschild.
Between the four of us (Geddes, Strang, Mossop and Rothschild), we worked on where we would actually shoot. We had a big map of the US on the wall in our office. It had 100 pins in different places, and narrowing that down was a difficult process."
Building FlyOver America
"We started actually shooting in April 2015, and completed in December; it took three months in post-production, and was completed in March 2016."
The building itself was another major project. Unlike FlyOver Canada which used an existing building, the venue for FlyOver America needed to be constructed from scratch. The design process lasted for three or four months, and the construction process, which began in March 2015, went on for a year.
However, says Geddes, building the attraction from the ground up was a definite advantage in terms of the final guest experience:
"It gave us a little more flexibility. As there was better flow going in and out of the attraction, we were able to really put our mark on the exterior of the attraction. It's an improved look and feel."
I-Ride System by Brogent
Brogent Technologies manufactured and installed the ride system.
"They did FlyOver Canada as well, and we worked very closely with them on modifications to the ride system."
Brogent's I-Ride [Infinity Ride] system, a panoramic flight simulator, comprises a spherical screen, projection system and motion platform with 'six degrees of freedom': heave, sway, surge, pitch, roll and yaw.
While FlyOver America is only marginally larger than Flyover Canada, 62 seats to FlyOver Canada's 61 and a screen three feet bigger in diameter than the first, it is, nevertheless, an evolution.
Three Levels, Three Ride Units
"There are some modifications that we've made to the ride system that make things a little better; the wind system's a little better, the mist system's a little better, we've built on our experience of FlyOver Canada and tweaked things and improved them.
"We produced FlyOver Canada ourselves. This meant we were able to build on that experience and through the improvement in technology that occurred in the intervening time. Our team's experience in having done the first one, were able to create what is ultimately a better experience."
The fly theatre itself features three levels, each with three ride units. As the ride begins, the gate drops and the ride units move forward into the dome. The theatre features a single digital DLP projector with a fisheye lens.
An Excellent Job from Brogent
"There are three levels to the ride with about 15 feet between each, " explains Geddes. "You're about 10 feet off the ground on Level 1, 40 feet off the ground on Level 3. On each level, there are three ride vehicles or pods seating 6-8 people, depending where they are in ride system.
"So, it's a little bit like sitting in a ski chair lift but each seat is individual with arm rests. It's an electrical actuator system rather than a hydraulic system. You sit down with a floor under your feet. Then the vehicle launches out on a rail that runs above the carrier into the dome. Your feet are dangling and the vehicle is free to move up, down and sideways. The action on the screen gives you the feeling of flight.
"There's a canopy over each vehicle that moves down as you move into the dome. It delivers wind, mist and scents at various points in the film.
"All in all it's a great ride system. Brogent has done an excellent job. It has a really good partner for us in both developing the system itself and making improvements to it."
"From the moment you look at the structure architecturally, it has a certain level of substance, and is distinct from the rest of the park. Because it looks sodifferent, we have a screen outside that gives people a taste of what they'll experience.
"When they enter the building, there are a couple of rooms to go through that assist in bringing the guests down to a level more consistent with what they're going to experience; there are beautiful images on the walls, the light is dimmer, you don't really hear the park.
"Then there's a photo op and, in the line-up itself, we have some mood music consistent with the American theme, and finally, we have various moving images of iconic and beautiful American places and people.
"I think our designers did a really effective job of creating the right mood before people enter the ride."
FlyOver's Universal Appeal
"It's certainly not a thrill ride like a roller coaster. It is gently thrilling meaning we get very few people who get uncomfortable on the ride. Between the two locations we've had over 1.6 million riders and very few, a handful, have actually felt nauseous.
"It's a ride that virtually everybody loves, from kids as young as five. I don't know what our age record is for FlyOver America, but for FlyOver Canada we've had a 101-year-old ride on it and love it."
A Universal Desire
Since Disney opened its Soarin' Over California in 2001, flight rides and flying theatres have become an increasingly popular phenomenon. This trend shows no sign of passing. Soaring Attractions intends to incorporate a seasonal theme into the FlyOver America experience at Christmas. It is already planning to roll out the brand to further locations.
"I think it's really as simple as the fact that the concept of flight is almost a universal desire, " says Geddes. "People are enthralled by the experience of getting up in the air and experiencing the freedom, finding out what it looks like to be up there. Therefore, it's not surprising that the concept is becoming more popular. It's a very rare person that gets on our ride and doesn't come off going at least 'wow, that was cool'."
"I don't think the idea of trying to mimic flight is going to become less popular. I think it will evolve through technology, and it probably won't be some mammoth great shift, but incremental improvements in rides like ours: the next generation of projector with a little better resolution, or a better sound system, or small improvements to the ride system that for whatever reason allow people to get even more lost in the sensation."
FlyOver Theatre versus Virtual Reality
Finally, does he feel the concept is threatened by the booming VR and AR sector?
"I get asked a lot about virtual reality, and how that plays into all this. The difference with VR is it's such an individual experience. Part of what our customers love is being able to share the experience with a community. I think VR headsets are great in themselves. However, they won't take over from the more community based rides like ours."
Burgeoning ticket sales certainly appear to support this theory.
"It's been a tremendous success, " he confirms. "Our audience continues to grow each year, we have probably 20% more guests this year than last."
The team behind FlyOver America may have their heads in the clouds but there's no doubting that their feet are firmly on the ground.