It's been just a few months since the launch of Hagrid's coaster but now the queues have calmed down, Universal Orlando Resort is gearing up for its biggest event of the year: Halloween Horror Nights 29 (HHN). The event is back with a vengeance for its longest ever run of 41 nights, from the 6th September through to 6th November 2019.
Blooloop spoke to Patrick Braillard, Creative Development Show Director and Writer at Universal Orlando Resort, to see what's in store for Halloween Horror Nights 29.
After completing his Bachelors and Masters in Theatre, Braillard started as a performer at the Universal Parks in Orlando in 2005. Two and a half years later, he started doing performance coordinating for the Halloween event, after which he was invited back as a seasonal show director.
A LOT of houses
"I started on the concept team who are responsible for what the houses are going to be in 2008. Its been a long time, a LOT of houses" says Braillard.
He collaborates in the creation of marquee events and year-round projects for Universal Orlando Resort. Since 2007 he has played a major role in HHN. He spends his time writing and directing several shows as well as co-creating haunted experiences with some of the most well-known horror titles in cinematic history. Notable examples include The Texas Chainsaw Massacre, Friday the 13th, The Exorcist, and the SAW franchise.
During this time, Braillard was also responsible for helping to launch the live application of The Walking Dead in each of its incarnations. Joining the concept team for Halloween Horror Nights in 2008, he has been a part of the development of well over half of the houses in the history of the event.
He is responsible for 5 of the 10 houses for Halloween Horror Nights 29, which also includes 5 scare zones and live entertainment.
Who ya gonna call?
The slate of mazes each year include a mix of Universal's own stories and branded mazes from the top IPs in horror. Ghostbusters is coming this year, one of Braillard's 'white whales'. Much like Mike Aiello's 'Poltergeist', mentioned in his interview with Blooloop, it's a house that they have been wanting to do for decades.
Whilst Ghostbusters will be far from family-friendly with horror elements at its core, Braillard says it is more experiential and more entertaining. There will be the Librarian, the terror dogs and Stay Puft.
"We get to be geeks and obsess what the shape of Slimer's head is like. It is an unusual and fun position to be in to play with the different pieces of the IP," says Braillard. It is also the most technically advanced maze they have ever built.
The Universal Monsters maze will bring Universal's historic characters Frankenstein, Dracula, Wolf Man, Mummy, and more, back in a re-imagined way. "The Frankenstein sculpt is probably my favourite sculpt we have ever done," says Braillard. In addition, the monster-like Killer Klowns from Outer Space are back this year for Halloween Horror Nights 29 with their own house after their debut in 2018.
Academy Award-winning filmmaker Jordan Peele's film 'Us' will also be imagined as a maze at HHN 29.  Guests will be in the heart of an unnerving labyrinth of tunnels hidden coast-to-coast underneath America amongst the 'The Tethered'- doppelgängers of every man, woman and child in the country.
Stranger Things: Season 3
The Stranger Things maze at Halloween Horror Nights 29 will focus on Season 3 of the show with new locations such as the Starcourt Mall and including the largest figure they have ever created, needing three people to puppet it.
No 'Stranger' to LBE, Netflix recently partnered with Baskin Robbins in LA to create the 'Scoops Ahoy' ice cream parlour. This is themed like the restaurant in the show. They even partnered with Fortnite to leave a virtual version of the restaurant as an easter egg within the gameplay.
Netflix recently announced 40.7 million accounts have watched season 3 in the four days after its' premier. With so much hype around the show, the maze at HHN has to faithfully create the story by planning months in advance under much secrecy. "We were on the set in Atlanta with Netflix before filming had finished, to see the scale of the sets," says Braillard.
"We had to make sure we didn't ruin it for anybody. Not just the fans of Halloween who are ravenous for information, but also the Netflix fans. Our sound stages were under lock and key with a 24-hour patrol. Our documents were encrypted, our production meetings had the door locked. You couldn't be late for one of those meetings!".
Netflix are fantastic partners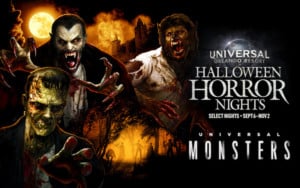 For branded mazes, the designers have to adhere strictly to the intellectual property. But with Netflix, Braillard says the relationship is very good. "They are fantastic partners. Netflix couldn't have been more helpful in terms of allowing us to have the story and interpret it. They shared all the visual assets from monsters to costumes" says Braillard.
This authenticity to the real characters is also reflected in the background props. Many antiques are bought from that time period.
"We were desperately contacting this guy on eBay in the UK to buy his VHS tape of An American Werewolf in London last year. We got it in the end," says Braillard.
Attention to detail
For Universal's non-branded houses, the team plays around with different time periods and incredible detail to the backstories. Last year's Slaughter Sinema house celebrated B-Movies and in the final room were terrifying Yetis.
"It was so popular and we loved the characters so much. We decided to bring it to the forefront and give them their own maze this year." In the original maze, Yeti-Terror of the Yukon, guests walk through a 19th Century Yukon Camp in a blizzard where the Yetis are chasing you. By having the event year-on-year, and having such a dedicated fan base, they can create cross-event stories and draw inspiration from past houses to create future ones.
Gruesome creatures
One original maze for Halloween Horror Nights 29 is Nightingales: Blood Pit. This is the second iteration to include the gruesome Nightingales. "They are eternal creatures that have been around forever but have been out of sight. They are opportunistic killers" says Braillard. Their first maze in 2011 took place during WW1 in the trenches.
"This one takes place in ancient Rome underneath the Colosseum. After 150 days of the gladiatorial games, they have gathered as blood has soaked into the ground. They can't resist and all sorts of mayhem breaks out" says Braillard.
The timing of the games is set after 117 AD when in real-life an Eagle of the 9th Roman legion went missing. In the maze, the Nightingales have taken over the legion and are wearing their cloaks throughout the maze. "We are super nerdy! Its the kind of detail that you might not know is missing, but it really elevates the experience" says Braillard.
Another original maze at Halloween Horror Nights 29 is Descend into Terror Depths of Fear. "It is what would happen if a mining company excavated too far at the bottom of the ocean. There are creatures called mouth-brooders. They spew their poisonous acid-filled eggs all over and take over all the crew" says Braillard. There will be screens, lighting and running water to simulate the underwater effects.
This attention to detail extends to themed food and beverage – last year guests could eat Eggo waffles from Stranger Things and drink themed cocktails.
The 80s- the perfect scare decade
Both Braillard and Aiello are children of the 80s. This is a theme that is prevalent throughout the announced mazes again this year for Halloween Horror Nights 29.
"I think we all have a fondness for the 80s. There was so much horror that came out during that decade to lean into," says Braillard. "I like to think that the event this year is inspired by, if not drawn from, the 80s. Stranger Things is based in that decade. I think that some of the rest of the event is also inspired by that nostalgic feeling".
"Watching as much horror as we do its interesting to see what scares each generation as you go through the decades," says Braillard.
"You have the 30s 40s and 50s with the classic Monster movies. Then in the 60s and 70s, it becomes all about exploitation and true life. The 80s was the slasher decade with the sci-fi horrors like Alien, and The Thing. The 90s and 00s began a trend of found footage like Blair Witch Project and Saw".
Braillard says it is an opportunity to look at horror's past and where it is going in the future. "Its always a treat to us whether we pull something from different periods. We are constantly reinventing the event, every year-on-year it is different".
Interpreting the story
HHN takes place in the Universal parks in Orlando, Hollywood, Japan and Singapore. We don't know yet if the Beijing project will have an HHN event or what that could look like. It would be interesting to know if a Chinese audience would be as receptive to being scared. We learnt last year the Japanese scare very differently in large groups across the park. Their event gets vast numbers compared to the western counterparts.
The different parks often team up on brands or houses however each house created is unique. "We interpret the houses differently, each team is attracted to different elements of the story. I met guests last year who had been to all the Stranger Things houses in Singapore, Hollywood and Orlando. Just to see the different takes on the same maze" says Braillard.
Interactive mazes and design
Interactivity is creeping into various forms of entertainment. In theme parks, we are seeing real-time interactive rides. Here, choices on the ride affect the rides path and ultimately the outcome. One such example is Cavu and Framestore's interactive Twilight-themed motorbike ride at the new Lionsgate Entertainment World in China. In TV, Netflix's interactive Bandersnatch episode of Black Mirror allowed viewers to make decisions which affected the story. Could this come to HHN?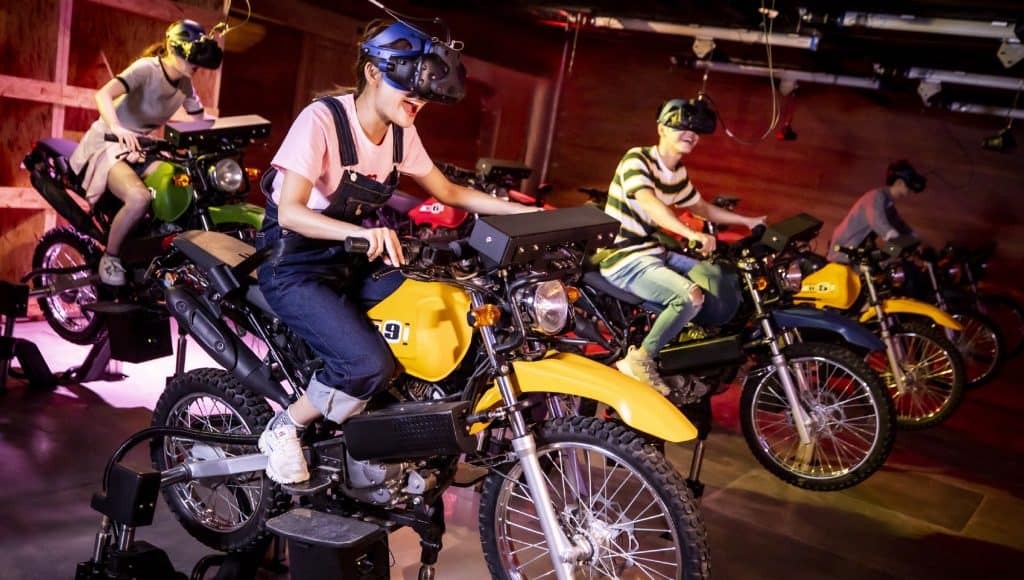 "We have done mazes with two routes in the past and we certainly don't rule it out. It is operationally a lot harder, as there are two routes of everything" says Braillard.
The mazes are designed for a congo line – Aiello coined it as a 'people Omnimover'. It includes blind corners that wind back around, to hide the upcoming scares and maximise the space. "Even when the houses are busy, they are designed so you can scare and experience different things at various points in this line. So, there is something for everyone," says Braillard.
All sorts of materials are used in the mazes but Universal is starting to think maize brings them bad luck. "The last time we planted corn, Hurricane Irma caused a lot of damage to other houses. The maize was the only thing not affected! It was all bent, realistic and rugged though!" says Braillard.
1,400 scarers for Halloween Horror Nights 29
The scale of the event is vast, creating 1400 roles for scarers who come from all walks of life. It is the largest Halloween event in the world. According to the team, it has been known for doctors and lawyers to take a vacation to work at HHN and let off some steam scaring others. "Even nice grammar school teachers come in to us and leave covered in blood, it's great!" says Braillard.
According to Braillard, it starts as a small team of five people "screaming over a table at each other". However, the staff expands to department heads and creatives until the team grows closer to the event. Overall, all 26,000 employees at Universal Orlando Resort will be impacted in some way by the event.
30th Anniversary
With ten mazes already, could future mazes spill into Islands of Adventure to expand the event? Since 2003 when this was last done, the Hogwarts Express has connected both parks. This means that nearly all guests opt for park-hopper tickets. While excitement is growing for Halloween Horror Nights 29, the team are already looking ahead to the 30th Anniversary in 2020. It is promised to be bigger and better (and scarier) than ever.