Jeson Zheng's fledgling Novaex Group plans to develop multiple themed entertainment projects across China. Marketed under the Magic Castle brand, they will fuse immersive technology with theatrical illusion and storytelling.
After finding his earlier theme park projects used by Chinese real estate developers to secure cheap land, but never actually get built, Zheng hit upon a magical idea: do it yourself.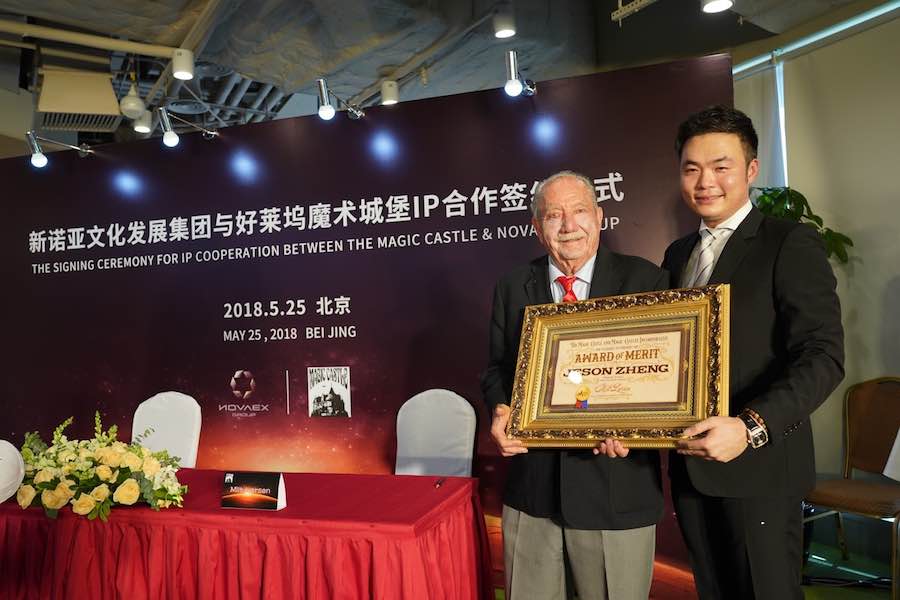 Partnering with The Magic Castle in Hollywood, Novaex has obtained an exclusive whole-category license to use the Magic Castle IP throughout China, Hong Kong, Macau and Taiwan. This includes outdoor theme parks, indoor entertainment centres, touring shows and consumer products.
The first project has been earmarked for Guangdong and is set to open in 2021. Set in a scenic location, the luxury hotel resort will offer recreation, dining and immersive entertainment. Working alongside Zheng on the project is magician Andrew Goldenhersh. They will combine sophisticated stagecraft and illusion with virtual reality, augmented reality and mixed reality to create what they promise will be a unique magical experience.
"In China the magic market is really big," says Zheng, who serves as Novaex's CEO. "But everybody hates magicians, seeing them as like a teacher, trying to show off something they don't really know. So I decided to remove the magician role, and create a purely special effects theme park. We will show the audience something floating in the air, or disappearing. Just like a computer does in Harry Potter and the Hollywood movies."
California learnin'
Jeson Zheng studied magic design, theatre design management and stage design in Los Angeles. It was here that he first came into contact Milt Larsen. The son of Academy of Magical Arts founder William Larsen, he co-founded The Magic Castle in 1963. The renovated Hollywood mansion, which dates back to 1908, has served as the Academy's home ever since.
When Zheng returned from California to China, he set up a company to design theme parks and invested in several other companies. These included several show producers and a cartoon company that had a contract with major TV channels in China and Hong Kong.
Soon after, Novaex was founded in May 2017 and aims to build bonds between online technology and offline emotion via various activities. The group boasts a comprehensive catalogue of intellectual properties (IP), including Hidden World and The Circle.
The deal between Novaex and The Magic Castle was signed on May 25 this year. Their adventure is only just beginning, but Zheng is adamant that this is one trick he has to pull off.
Real estate and fake theme parks
The Novaex CEO had previously talked to others about developing various park projects. Yet he soon realised their plans were all smoke and mirrors. "It transpired my customers in China who wished to invest in those giant theme parks were not pure investors, but real estate developers," he says. "Six years ago, Chinese real estate was in a good situation. Everybody wanted land from the government. But they needed a good design as an excuse: 'I'm going to build an extravagant theme park like Disney, and you will give me very cheap land'."
Zheng's experience was distinctly disillusioning. "The developers hired us to design the concept design phases for different theme parks. After they got the land, they started building and selling houses and apartments. Having made their money, they would move on to another city. They never actually built the theme parks. So I started to think about ways to build our own theme park. I realised I should become the developer."
The Novaex Group was created with direct bank and government support and other "pure investment".
Jeson Zheng's
first encounter with The Magic Castle
Previously back in 1992, at the age of six, Zheng had enjoyed his first encounter with The Magic Castle. He was hooked.
"The moment I arrived I thought, 'Oh my God, this is so magical, and so cool. I am going to bring this to China'."
What began as a child's dream became something more serious a few years ago. "I then decided it was time to really bring something good from Hollywood to China. I had the the power, the money and the right people to support me and make my dream come true."
Zheng got in touch with The Magic Castle's Milt Larsen to share his concept for a theme park centred on magic and illusion. Initially, Larsen was beguiled by Zheng's idea of removing the magician from the piece. However he had been looking for some time for a way to put magic on a new level using technology. However he asked a lot of questions of Zheng.
"How could this be done? What sort of techniques would make a rollercoaster disappear, or a Ferris wheel levitate? I showed him my designs. There was a lot of back and forth between LA and China, but he liked the idea."
The first Magic Castle theme park
The first Magic Castle theme park will combine cutting-edge technology and trends to create what Zheng believes is something completely new. There will be elements of themed entertainment, e-sports, gaming and live action role playing.
"It will work, basically, by using a lot of special technology: a blend of AR, VR, MR, 3D and hologram projection," promises Zheng. "However, those computer-based technologies never actually make audiences feel this is real, that you can touch it with your hands. So we are going to combine them with stage technology and special effects."
That might include water fountains, fire effects or explosions, and effects creating the illusion of levitation, disappearance and teleportation. Meanwhile gaming systems will allow people in the theme park to interact with online communities.
"The online audience will be able to watch what is happening; people battling, running around to complete the mission," says Zheng. "It will be just like a live Hunger Games!"
Novaex plans to partner with a major Chinese website to take participatory gaming to a different level, says Zheng. "Using VR glasses or headsets, people everywhere in the world will be able teleport to the park, participate with real visitors and finish the mission at the same time."
Theme parks, cultural shows and IP
In addition, Jeson Zheng's other business interests are already thriving. Two theme parks based on designs from his first company are now complete. His show company has produced numerous scenic cultural light shows. Staged in purpose-built arenas in 22 cities on a daily basis, each boasts around 300 performers.
"In one, the first outdoor musical magical show in China, two performers levitate for 200 metres and disappear," says Zheng. And each show, true to Novaex tradition, is performed without a professional magician on stage.
In entering the theme park business, Zheng is reticent about using a traditional Chinese movie, story or other IP. "Chinese movie IPs are not as strong as Hollywood IPs," he says. "The strongest thing in China with the greatest audience are internet products, games and social apps. Everyone is using WeChat and AliBaba, and they are changing people's lives. As a result I plan to create different parks using IP from internet gaming, social or broadcasting apps."
Novaex's online to offline vision
Underpinning Zheng's plans for Novaex is an ethos based on bringing people together, to bring them from the online to the offline world. "Family relationships have been central to Chinese culture for 5,000 years," he says. "Right now, what I'm seeing is that new technologies, including cell phones, WeChat and so on, are isolating people, and making them independent from each other, even family members. Kids are also playing on their phones and not talking to older people."
Over the next three years, a number of education, gaming and app projects will be launching aligned to that vision. The company has already staged several real life events. At one of these gatherings, as many as 500,000 people attended over three days.
"The focus with my online and offline theme parks, apps and internet games will be on strengthening the family relationship," says Zheng. "Missions will be linked with real value. They will be based on how many times you communicate in a day with your family, with the people you love."
As a Magic Castle brand extension, Novaex also plans to develop Magic School creative educational experiences. Here magic will be the vehicle to teach children and teens about science, engineering and technology. However, telling your teacher you made your homework disappear probably won't cut it as an excuse.