We discover what its founders learned from the first two seasons, as well as what's new for 2020.
Parc Spirou is France's newest theme park, as well as being one of its smallest. The family-friendly facility is both compact and colourful, covering just 4.5 hectares It takes its name from the magazine Journal Spirou and its iconic comic characters. These are licensed from the publisher Média-Participations, which has since become the park's major shareholder.
Located in the small town of Monteux, Parc Spirou park took less than a year to construct. It opened in June 2018. Shortly after, management added new attractions as well as dropping the admission price. This led to a rise in attendance.
Part of the wider Provence-Alpes-Côte d'Azur region, Parc Spirou sits close to the city of Avignon. It is also near a key highway that takes holidaymakers to the coast.
"This park located in a very special geographical location," says General Manager Daniel Bulliard. "It is close to a lot of touristic areas such as the Côte d'Azur, Mont Ventoux, Avignon etc. There are 14 million inhabitants. And millions more tourists visit the region every year."
Designing Parc Spirou
Parc Spirou was designed in-house and occupies a site that is completely flat, with bright comic book props.
In the beginning, theming was produced mainly by KaGo & Hammerschmidt, in co-operation with animators at Dupuis, the division of Média Participations that handles IP including Spirou, Boule et Bill, Gaston Lagaffe, Lucky Luke, Zorglub and many more. Spirou, a young adventurer, greets park guests in costume character form alongside Marsupilami, a fictional animal.
Phase I of the park cost €40 million, not including land acquisition. A further €10m was invested in 2019, and €2.1m has been committed for the coming season.
"With quite modest investments we managed to build a competitive and well-themed park," says Bulliard.
Parc Spirou's rides and attractions
Parc Spirou opened with 11 attractions from just two suppliers. This included three Zierer roller coasters, two of them with beautiful custom-themed trains. In order of size, they are Spirou Racing, Wanted Dalton and En avant Seccotine. The German manufacturer also supplied the following attractions; Aéro Champignac (Wave Swinger), Marsu Palombia (Flying Fish), Fantasia Rodéo (Kontiki) and Houbi & Houba, a pair of Family Freefall Towers. One of the towers is equipped with VR goggles.
On top of this, the park also offers three media-based attractions from Simworx. Mesozoïk Island is an Immersive Tunnel with a Dinosaur Island film and theme. More content, in keeping with the park's comic roots, is planned.
Gaffe à Gaston, featuring the accident-prone character Gaston Lagaffe, is a simulator experience with four Stargazer motion bases themed as vintage cars. In addition to this, an AGV Dark Ride has since been replaced by a 60-seat 4D cinema from Simworx.
"When we built Parc Spirou in such a short time, the most important thing was to avoid risk," says Bulliard. "It would have been impossible with 10 different providers. So we concentrated on the mechanical attractions from Zierer and the media from Simworx. They are very serious companies, and we knew they would do the job properly."
Adding new attractions
The list of vendors at Parc Spirou was expanded in 2019 with the addition of the Lucky River log flume from Hafema, Le Nid des Marsupilamis (a Roller Ball vertical coaster by Ride Engineers Switzerland), Eviv Bulgroz (Zierer Star Shape), Spip Jumper (Metallbau Emmeln galloping horse ride) and a playground.
"We are in the south of France, but we did not have a water ride," says Bulliard. "So the flume was an emergency. We decided to go for a vertical lift to win some space, and there's also a backwards fall on the first drop. It's a nice effect; people don't expect it."
As for the Roller Ball: "I sent my team to Germany to try the first one [at Schwaben Park]. It was very good but over too fast. So we went 10 metres higher [28.5m]. People enjoy this ride a lot and it's become one of the flagships of the park together with the Immersive Tunnel."
In addition, an 80m Funtime freefall tower with a rotating gondola was loaned last season from a Dutch showman. As a transportable construction, it could be erected without expensive foundations and doubled as an advertising beacon for the park alongside the highway.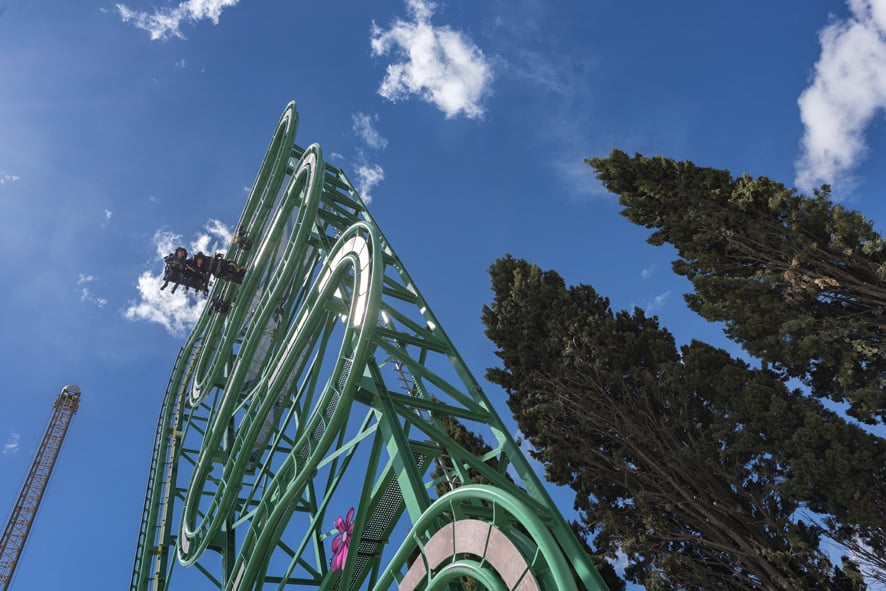 Fine-tuning the operation
Bulliard says that the AGV Dark Ride was replaced last season since it was "not very well adapted to our park". Instead, guests can enjoy an exclusive 3D film, Marsu Aventures, in the 4D theatre. This is a prequel to an animation series under development by Dupuis.
Média Participations decided to take a direct stake in Parc Spirou after delays to the project, which was originally due to open in 2016. Additional investment came from the bank BPI France and smaller shareholders.
"It's quite interesting because the IP owner is now the operator," says Bulliard.
Industry experience
Now 74 years old, Bulliard made his name in the attractions industry when he served as Futuroscope's founding President in 1987. He stayed with the science and technology park in Poitiers for a further 14 years. "We started from scratch, and when I left we had 2.9 million visitors," he says.
He went on to work as a consultant on various tourism projects in France and Russia. On first sight, the small family theme park in Provence may seem a world away from Futuroscope. Yet there's some overlap, says Bulliard.
"In some parks, like Futuroscope, you have a lot of media attractions. In others, there are just rides. We are a hybrid park. Because we have cartoon characters, you can have roller coasters and rides. But you can also have media attractions. It is something a little different than you can expect from other leisure parks."
Bulliard says guests enjoyed Parc Spirou's offer when it debuted in 2018, but dwell time was low; just two to three hours. "That's why I pushed for new rides. Most parks would add a new attraction every one or two years. Last season we added six."
Happy guests
Not only was visitation up last year, but guest satisfaction was too. Parc Spirou's average rating shot up from 2.4 to 4 on TripAdvisor, from 3.2 to 4 on Google and 3.6 to 4.6 on Facebook.
Such performance has given management the confidence to increase admission to €31 for 2020. Those between 1 and 1.4m in height will pay €25. One of the priorities for the coming season will be reaching out to the park's smallest guests.
"People less than 1m do not pay to enter the park," says Bulliard. "But even it is free, the message we see from social media is that they did not have enough entertainment. So we are working on that segment and will add a big playground with lots of theming and some water features."
A theatre show will be added within the coming years, in addition to two big attractions (€4 to 5 million each) in 2021/22. Here, water could be part of the mix. Another roller coaster or a dark ride is also a possibility. Furthermore, Bulliard is keen for a big show at the end of the day to keep the people in the local area.
Parc Spirou and the tourist potential of Monteux
The park already has a neighbouring attraction in Monteux in the shape of Wave Island. Launched as SplashWorld in 2015, the water park has separate owners to Parc Spirou. So far the two parties have resisted much cross-promotion, mindful that there's no overnight accommodation for visiting tourists.
"I think we can become a big touristic destination because of our location," says Bulliard. "There are some hotels, apartments and restaurants that will be built in the coming years. There is also a lake next to the park."
Bulliard is already in discussions with the local authority about allocating more land to the park. At present, it cannot expand beyond 8 hectares. He hopes one day to attract a million annual guests at Parc Spirou, with a midterm goal of 500,000. "I think this year we will cross 300,000," he says.
At present, 85% of Parc Spirou's visitors come from less than 75km away. Yet thanks to its IP, guests from other countries, such as Belgium, are anticipated. Promotion will also be stepped up this season at nearby hotels and campsites to encourage more tourists.
Although there is talk of an animation-focused theme park in Angoulême from one of Parc Spirou's shareholders, Parexi, Bulliard says he's quite happy focusing on the existing operation in Provence.
"We will sustain Parc Spirou with a particular focus on restaurants, theming and new attractions. By building on the link between comic books and the park, we can ensure differentiation."