Owen Ralph visits the Dutch theme park to experience Port Laguna and Avalon, and discover why magic and family are at the heart of everything it does.
Located outside the small town of Sevenum in the southeast Netherlands, Toverland started life in 2001 as a single hall of rides and attractions. Three years later, a second hall was added together with the world's first Vekoma motorbike launch coaster, Booster Bike. In fact, 2004 was a significant year as it was the first time the park offered any outdoor attractions. In addition to Booster Bike, these included the Backstroke log flume, which begins indoors but features a second outside drop.
And then, in 2007, came Troy. Over 1km in length, this wooden wonder by Great Coasters International, accompanied by a giant trojan horse, transformed the park's skyline. Attendance that season hit half a million.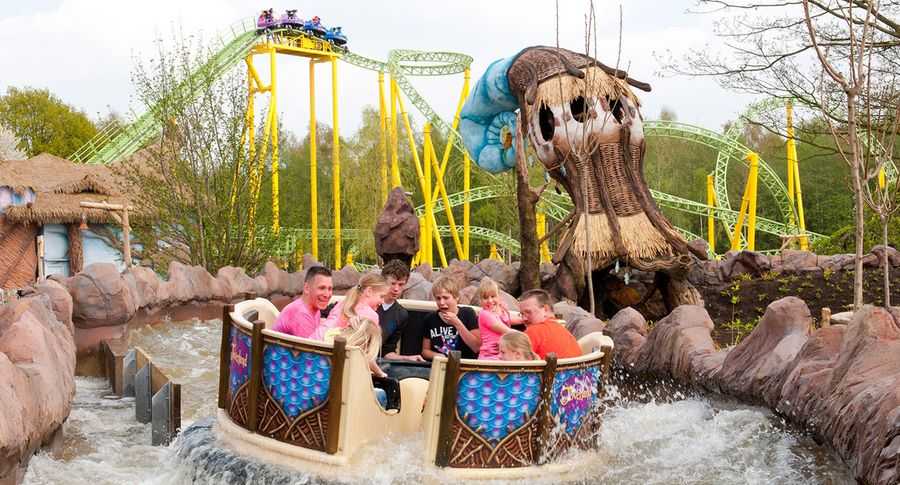 In 2012, Toverland launched a major expansion called the Magische Vallei, featuring the spinning coaster Dwervelwind and Djengu River raft ride. Now well over half the park was outdoors.
Port Laguna – an exotic ambience awaits
For 2018, Toverland has launched a 7 hectare expansion. Built at a cost of €35 million ($41m), it takes the total area of the park to 24 hectares – one and a half times bigger than before.
The first thing regular guests will notice is that that they no longer enter via the Lands van Toos building. Instead they are directed towards a new entrance portal, through which they pass into Port Laguna. A warm welcome awaits inside this exotic-looking welcome plaza.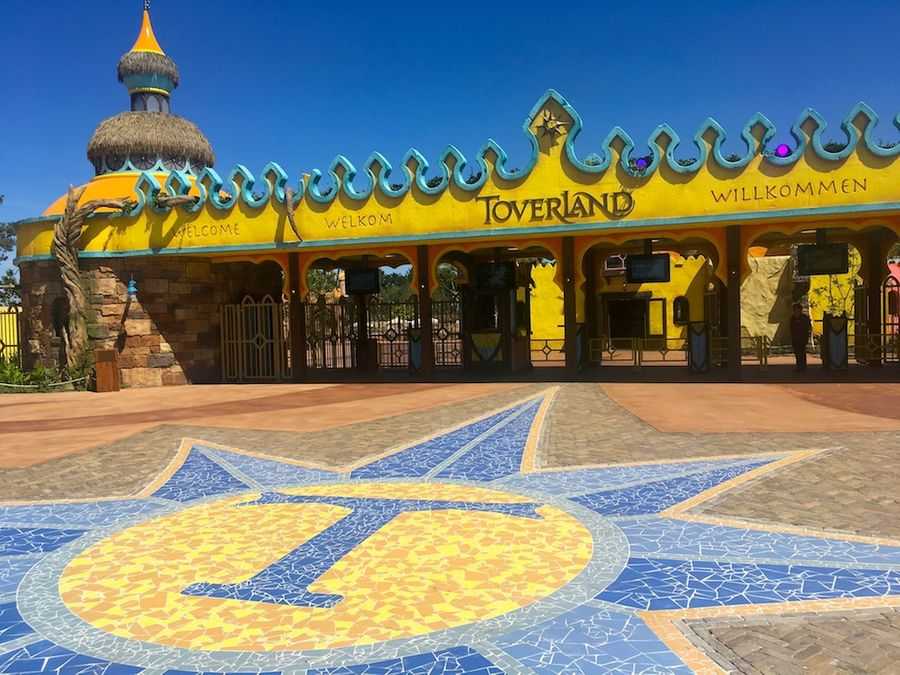 Complete with a beach and the landmark Solaris lighthouse, the look and ambience is somewhat reminiscent of Universal Orlando's Islands of Adventure. As atmospheric music plays, it's easy to forget you're in the Netherlands.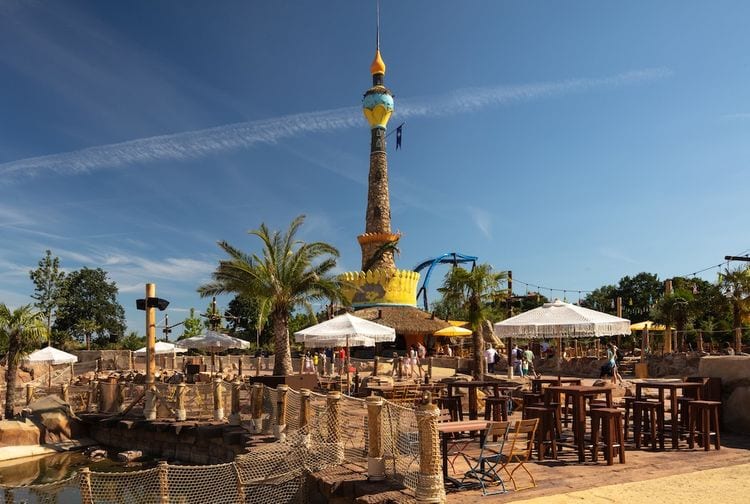 Amid the themed shops, food & beverage outlets and midway games, visitors can watch magic come alive in the Magiezijn show. Furthermore, they can buy a magic wand from Magistralis' Magic Store and trigger hidden special effects in the windows and alcoves of Via Magia. Sure, it evokes elements of Diagon Alley. Yet Toverland isn't jumping on the Potter band wagon.
The park's name means 'Magic Land' and it has always added a magical touch to everything it does. For example, it has featured a more primitive magic wand in its Toverhuis fun house since 2004 – six years before Universal debuted The Wizarding World of Harry Potter in Orlando.
Avalon – where King Arthur and Merlin are waiting to meet you
Opened along with Port Laguna in July, and just a short stroll away, is the new themed area Avalon. This mysterious world takes as its cues various Celtic legends.
Towering up to 40 metres high over the area its Fénix, the park's largest ever single investment. The €17 million Bolliger & Mabillard (B&M) Wing Coaster swoops majestically over the new land and its large body of water. Its 813m of track features three inversions including a wing over drop, Immelmann and zero-G roll. The ride reaches a top speed of 95km/h.
To reach the loading area, guests must make their way through a dark labyrinth of tunnels beneath an imposing castle-like building, before selecting separate paths to board each side of the train. A dramatic soundtrack by IMAscore adds to the experience. Two 24-seater trains are in use, accommodating up to 1,000 riders passengers hour based on a 2-minute ride time.
A more sedate experience is offered on Merlin's Quest. Mack Rides was responsible for the attraction's rope-guided conveyance system. In total there are 14 16-seater boats, including two suitable for guests with wheelchairs, providing hourly capacity for 950 passengers. During the 12-minute, 430m-long voyage, guests also experience a dark ride section. Mack previously supplied the Toverland attractions Dwervelwind and Backstroke.
In addition to Avalon's two headline rides, the new area also includes a play area called Arthur's Tournament Training. An eye-catching place to eat is the grass-roofed Flaming Feather tavern – as pictured above. This indoor/outdoor á la carte restaurant has been added as a venue to the park's corporate events programme.
More than one kind of magic
Today, Toverland celebrates magic in several different ways, says communications manager Tessa Maessen. Daughter of park director Caroline Kortooms, she is also the niece of its founder, Jean Gelissen.
"We have traditional magic, which you can see in the first area, Land van Toos. We have mythical magic with Troy, the trojan horse and the Greeks in Ithaka. In the Magische Vallei we chose the theme of metaphorical magic; we want people to feel love and happiness. And now we deal with real magic in Port Laguna, where you can take a magic wand and see all these special things appear."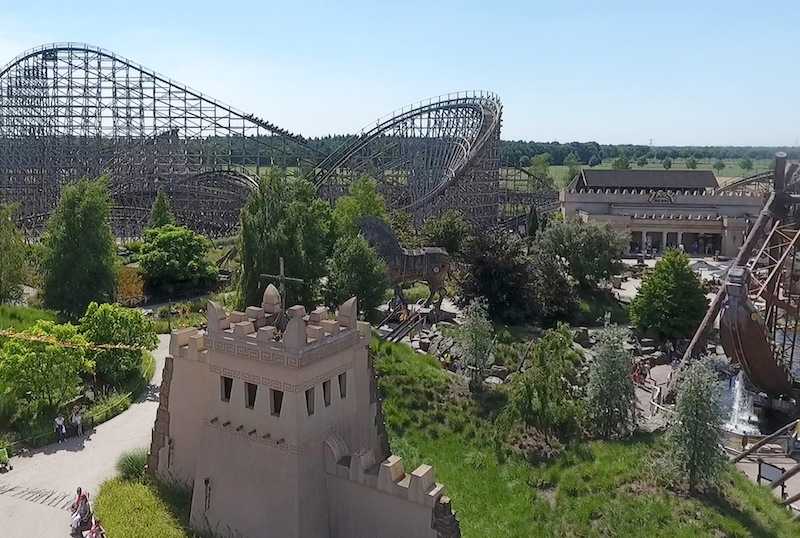 Maessen explains the reason for the new entrance: "Previously the main entrance was in Land van Toos. We didn't like it any more that you enter Toverland through this indoor area, which is for the smaller children. We have grown up, so we thought we deserved a more spectacular entrance area. And for us it was important to have not only a place where you buy a ticket, but also somewhere you can stay for a longer time. With Port Laguna we think we have created a very relaxing area."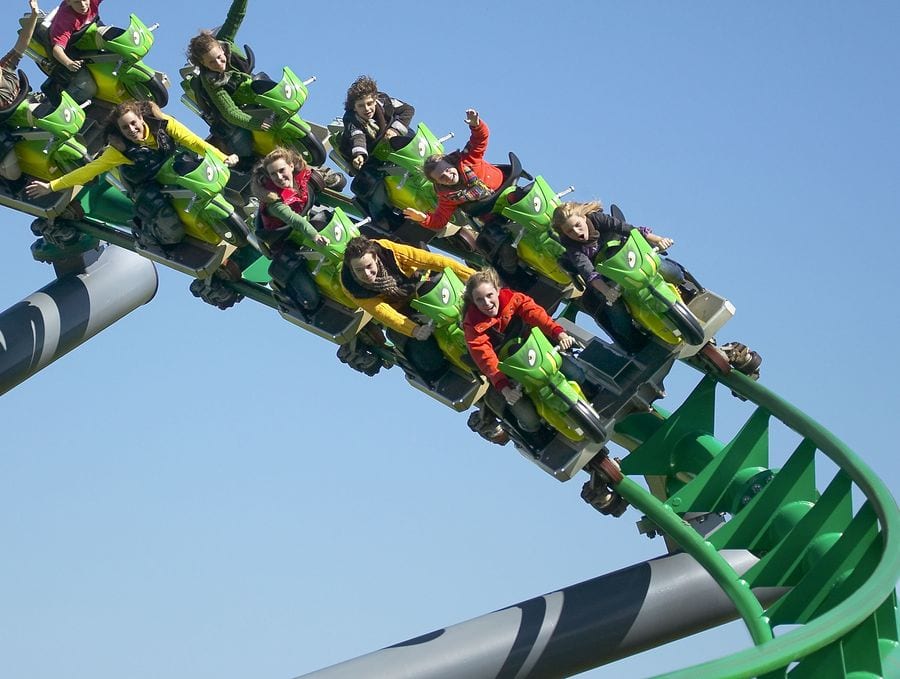 The magic of flight
To accompany the new entrance, which sits just beyond Troy and the far end of Booster Bike, the park has created a new parking area. As guests enjoy the manmade beach and its whimsical play things at Port Laguna, browse the bazaars and eateries, or perhaps roll a ball or two on the derby race game in Mercado Lúdico, they may just hear distant screams from riders on Fénix. The park's new coaster is positioned strategically on the horizon.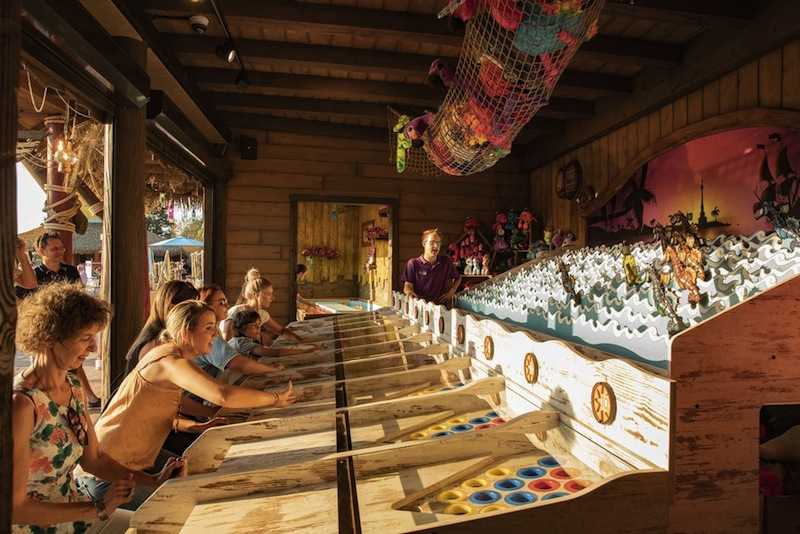 "We really wanted to build a new roller coaster which gave people the experience of flying," says Maessen. "Flying is very magical of course. It was also the wish of our guests to have a coaster with inversions. We decided it should be a B&M Wing Coaster. This is the fourth in Europe, and the first in the Benelux."
"With Merlin's Quest, we wanted to tell a story," says Maessen. "There are also some indoor scenes for people to discover during the ride. Guests are challenged to find Tir na nÓg, the sword of eternal life, which is a centrepiece of Avalon."
Legends, fairytales and creative license
As Toverland has expanded outdoors, and integrated more fantastical theming, is it not in danger of becoming more like Efteling? The Netherlands' no.1 theme park is located just an hour away, and competes essentially for the same family market.
"I would say we are very different from one another," is Maessen's diplomatic response. "I guess we have developed our own style over the years. For Efteling, the main theme is fairytales and nostalgic legends from Holland, like Via Volta and the Flying Dutchman. Our theme is magic. Although Avalon is based on the legend of King Arthur, Port Laguna and the Magische Vallei are completely made up. We can really do what we want; there is no style guide!"
Nevertheless, Toverland is projecting a more assertive image this season. Along with the new lands comes a new logo and staff uniforms. "Everything is new," says Maessen. "It's a more mature look that reflects the growth of the park."
And of course with the new image comes news merchandise. At Merlin's Treasures in Avalon and Mundo Magica in Port Avalon, guests are encouraged to "take the magic home".
Keeping it in the family
Whilst vendors including the TAA Group and Universal Rocks were involved in theming the new lands, the entire expansion was project managed by the Gelissen Group and its subsidiary Gepla BV. The construction company is owned by Jean Gelissen, who is Caroline Kortooms' brother.
Many children have surely dreamed of building a theme park. Yet when your uncle and mother announce they are actually going to do it, it's time to get excited. Very excited. That's why Gelissen and Kortooms (then Caroline Maessen) were reticent in revealing their plans to a young Tessa Maessen.
"When they came up with the idea for the park in 1996, I was only six years old," she says. "They waited until I was a little bit older to tell me about Toverland."
Once the cat was out of the bag, the family travelled together on several memorable research missions. "We went everywhere, to all the attractions in the Netherlands, Belgium and Germany," says Maessen. "We saw the best of everything."
For Tessa and her sister Ankie, the finished theme park proved to be just as magical as they had imagined. "We were always here at the weekend," she says. "For us it was a really special time when it closed each evening. Everyone else was cleaning and the park was just for my sister and I. We would climb and play, it was so much fun."
Choosing a career in parks and attractions
However, it wouldn't be all play and no work forever. "Two years later," says Maessen, "we started helping out in the restaurant; clearing the tables, doing the dishes and stuff. When I was a little older, I worked in reception and did entertainment. Many times I played the part of the witch character Toos Toverhoed!"
Though they were never forced to pursue a career in the industry, this introduction was enough to convince Tessa and Ankie that they would dedicate their working life to a business that had so lit up their childhood. Both now work at the park full time, together with Jean Gelissen's son and daughter, Jean Jr and Janou.
"My mother always said to my sister and I that we should do a job which we are happy with. We must enjoy what we do. In 2007, when I went to high school, I combined my studies with working in Toverland. So four days a week I was here, one day a week I went to school. I started in the marketing department, then I did entertainments for a long time, and now I'm back in the marketing department doing the communications."
As a child, Maessen grew up just five minutes from the then fledgling park. Now she prefers to live in a big city, and makes the 40-minute commute each day from Eindhoven. Presumably she's hung up the witch costume too.
A park for all seasons?
When it burst onto the scene in 2001, there was nothing else in the Netherlands like Toverland. Sure, there were and still are many play centres. But an undercover theme park – with rides – was new. Yet whereas as its indoor status used to give it an advantage over other parks on rainy days, depending on your outlook it's now either suitable or unsuitable for all seasons.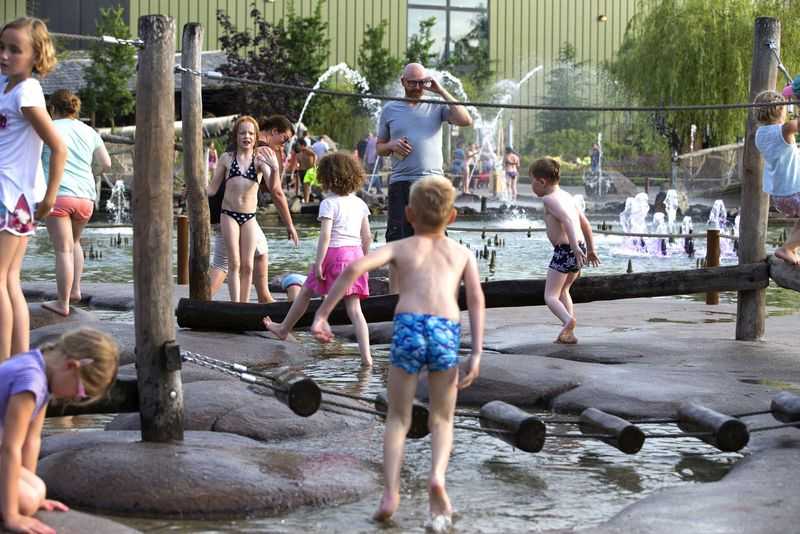 Maessen is in no doubt that al fresco was the right way to go. "After opening the Magical Forest [now Wunder Wald] in 2004, we noticed that in our high season, when it's hot and people are on vacation, they don't think indoor parks are the place to go. To reach more people, it was a very logical choice to go outdoors. And of course something big like Troy you just cannot build indoors."
It is in winter that Toverland's indoor facilities come into their own. Both Land van Toos and Wunder Wald continue to operate after the main season finishes on November 4. They also provide the setting for the Saint Nicholas Celebration in late November/early December. In addition, these two lands will open together with Ithaka as part of the Magical Winter Weeks mini season from December 22 until January 6.
The magical million milestone
As Toverland has grown up, so too have its guests. "When we started in 2001, the park was suitable for children up to 12 years and their families," says Maessen. "When the second hall opened it was 14, then with Troy it became more like 16 years."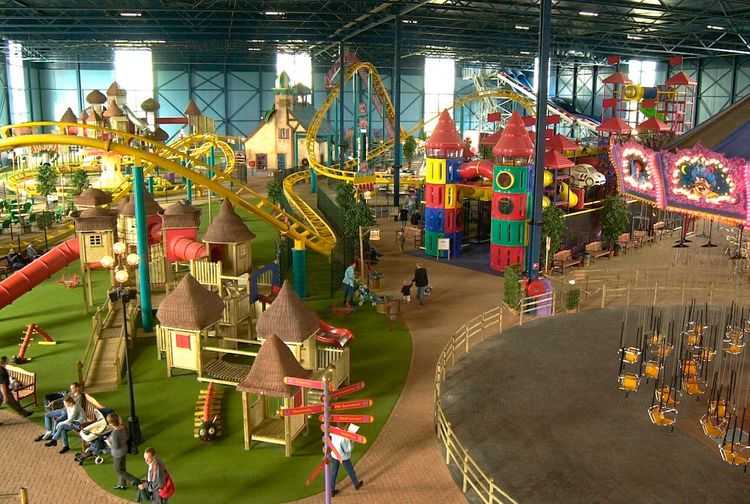 As much as 30 to 40 per cent of visitors come from outside the Netherlands. This includes neighbouring Germany (the park is located about 25km from the border) and Belgium.
Currently there are around 700,000 guests a year in total. The park experienced some good business in the months leading up to the launch of Port Laguna and Avalon on July 7.
When this writer visited in early August, on what you would expect to be a busy weekend, guests were thin on the ground. Yet that may have been down to weather fatigue. The Netherlands, like much of Europe, experienced a remarkable summer and the mid-30s (°C) temperatures that weekend came after almost two months of sustained hot and dry conditions.
Just a few weeks later, on August 23, Toverland experienced its busiest day ever. On that day, the park had the pleasure of welcoming around 14,000 guests – 3,000 more than the previous record. With its new expanded area, it's more than capable of hosting such numbers.
"We are planning to grow to 1 million a year, but we don't expect to get there this year," says Maessen.
To further drive/accommodate growth, a themed hotel will be built beyond Avalon in the coming years.
Toverland's potential (and a Grand plan that was not to be)
Totally new to the industry when they started, Jean Gelissen and his sister Caroline have achieved a lot in the last two decades at Toverland. Yet Gelissen's plans to build a second park/resort were abandoned last year due to insufficient financial support from local government.
The Grand Canyon inspired Nature Wonder World was earmarked for a site near Brunssum, about an hour south of Sevenum. Gelissen spent seven years working on plans for the ambitious project. During that time, the budget lept from €500 million to over €700 million. As well as a theme park, he hoped to build an indoor waterpark, casino and hotels. Yet it was not to be.
"It was very unfortunate," says Maessen. "But it's good for us because now Jean has more time to focus on growing Toverland. We have the land available, and there is a lot of potential here in Sevenum. We can become the size that Efteling is now."
Images courtesy of Toverland and Owen Ralph, unless stated otherwise.