The "Chinese Disneyland" planned for Warnervale, NSW will not now go ahead.
The aim was to provide a spectacular theme park for the New South Wales Central Coast, something to rival Dream World on the Gold Coast.  However the $500 million theme park has courted controversy since it was first mooted five years ago.
Now the Central Coast Council has announced that it has called a halt to the project.  It said the Australia China Theme Park Party Ltd (ACTP) had failed to meet its deadline for a $3 million land payment.
The council is retaining a $600,000 deposit that ACTP paid for 15.7 hectares of land at Sparks Road near Wyong.
A list of proposed attractions for the park included a full-size replica of Beijing's Forbidden City, a thanksgiving temple, arts and crafts workshops and a virtual panda grove, Panda Paradise.  There was no indication that the park would include any rides or rollercoasters.  Local opposition to the park was high.  There is even a Facebook page called "Stop the Chinese Theme Park at Warnervale" in which local residents claim the park would have few benefits for the area and its inhabitants.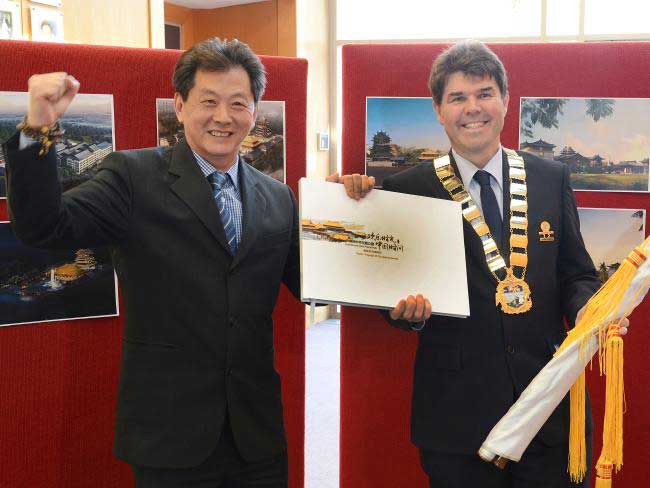 Former mayor Doug Eaton has said he is "disappointed but not surprised" that there will be no Chappypie China Time for the region. "(The end) was clearly coming for the last few months," said Eaton.  However, he pointed out that, "Council and the community still benefit from the deal to the tune of nearly a million dollars."
Former Wyong councillor Bob Graham is not so sanguine. "This was a Mickey Mouse deal and farce from day one," he said. "Hundreds of jobs could have been created at this site over the past five years."
Labor MP David Harris was equally vociferous. "Valuable land [was] locked up with a contract that raised considerable concerns because all the power was with a developer that had no money, no credentials and no hope of delivering," he said.
As recently as May, Bruce Zhong, chair of ACTP, was adamant that his company would build the theme park.  "Everything is okay," he said. "ACTP will continue."
Wyong's council issued a brief statement:  "Any other potential sale or uses of the land will be a decision of the future elected council," it said.
http://www.dailytelegraph.com.au/newslocal/central-coast/council-kills-deal-for-500m-chinese-theme-park-at-warnervale/news-story/395f86e2330257c555b72ae1e0135da5