Disney has released new images and design details for Remy's Ratatouille Adventure and the France Pavilion expansion at Walt Disney World's Epcot, opening on October 1.
Remy's Ratatouille Adventure is a spinning, whirling, family-friendly ride that shrinks visitors to the size of Ratatouille's Chef Remy on an exciting chase through Gusteau's restaurant.
The attraction, part of the historic transformation of Epcot, is the centrepiece of the park's France-themed mini-land, which more than doubles the size of the existing pavilion.
Walt Disney Imagineering's Joe Vitale, who served as the project's production designer, helped to "ensure our Imagineering team delivered on the creative vision for this new mini-land, while overseeing design, production and installation".
Epcot's Ratatouille ride opens October 1
The mini-land features the decomposed granite often found in Parisian parks and gardens, Remy motifs in the metalwork, and facades that evoke the French city.
Vitale revealed: "Guests of all ages will enjoy exploring this corner of Paris and discovering details throughout. Like Chef Remy in his toque atop the fountain, or the illuminated Gusteau's sign in the distance."
"Take notice of the manhole cover near the fountain, as you may discover an homage to the scene in the film where Remy is first brought to Paris through the sewers," he added.
The area includes myriad nods to other characters from Ratatouille (2007), including wine bottles featuring food critic Anton Ego at his wine shop La Cave D'Ego, as well as Chef Skinner's scooter and Chef Colette's motorbike.
France Pavilion expansion at Epcot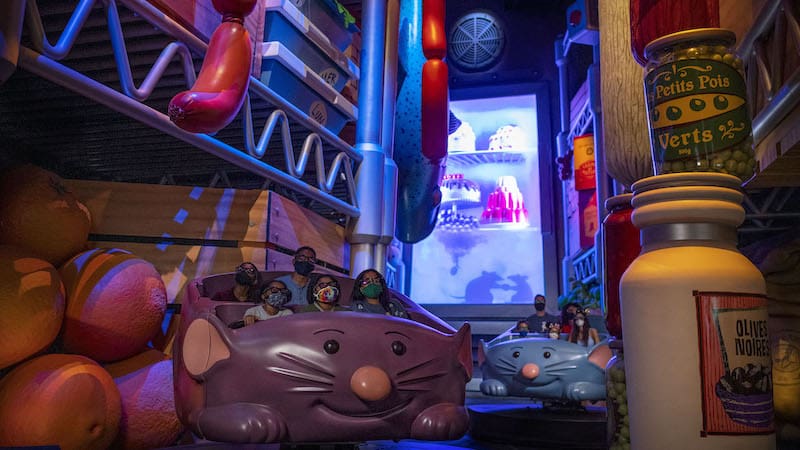 La Crêperie de Paris, a new restaurant serving sweet crepes and savoury buckwheat galettes, can be found at the new Allée des Marchands. It boasts a menu from celebrity chef Jérôme Bocuse.
Epcot's out-of-this-world Space 220 restaurant is opening on September 20. In addition, Guardians of the Galaxy: Cosmic Rewind is in the "final stages" of construction.
Remy's Ratatouille Adventure and the France Pavilion expansion at Epcot open on October 1 to coincide with Walt Disney World's 50th anniversary.
Images: Disney