Disney has published a patent application for a 'spinning amusement park ride with onboard power generation' that would upgrade its Mad Tea Party teacup ride.
In the patent, Disney describes an updated ride experience on the teacup attraction, with guests able to power onboard effects by manually spinning the ride.
The patent details a "spinning ride system adapted to convert kinetic energy to electrical energy onboard each of its vehicles" with a user input mechanism "adapted to receive user input forces to cause the chassis to have movements relative to the support arm".
The system has an electrical component on the chassis and "a kinetic energy conversion assembly with an electrical generator converting kinetic energy of the chassis during the movements… to electrical energy used to power the electrical component."
Mad Tea Party teacup ride upgrade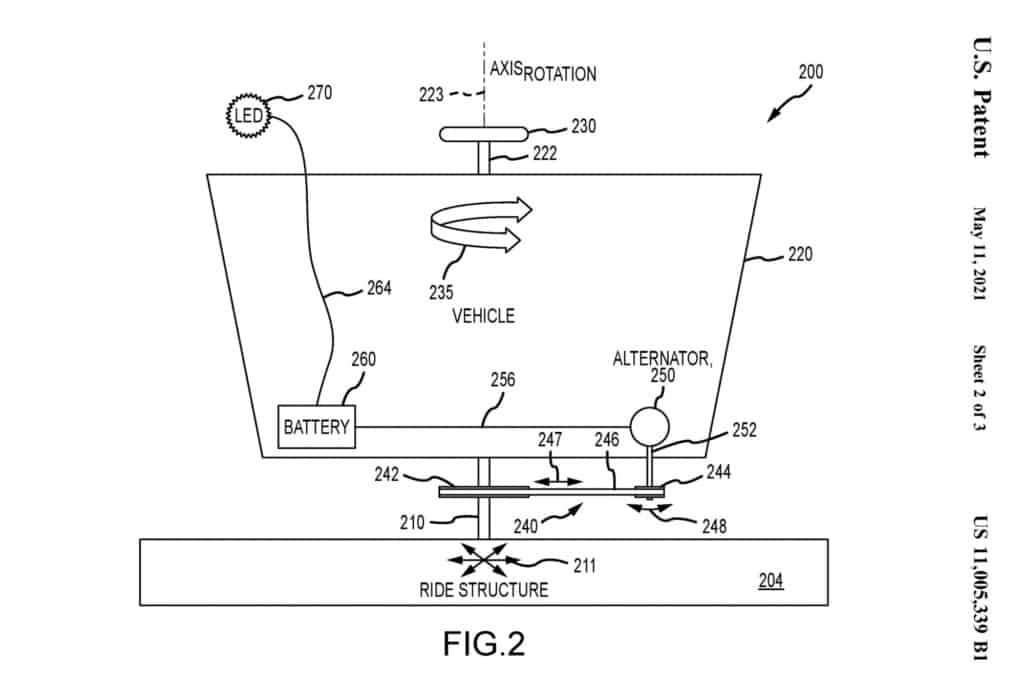 As described, ride vehicles would be modified to include "electronic components that create special effects such as unique lighting, differing sounds, [and] visual displays".
According to the patent, one drawback of the modifications "is the need for onboard power to run the electronic components". The addition of running wires to power each vehicle is complicated and expensive.
"Due to the movements and complexity of the ride structure and the spinning vehicle chassis, it is impractical to run power cables to each vehicle," the patent says.
Disney updating ride experience
"Some rides may utilize electrical slip rings and bus bars to transmit electrical power to such moving and spinning vehicles, but it can be complicated and expensive."
Disney's innovative solution to this is capturing power generated by guests spinning the ride to enable special effects on the ride vehicles.
"There remains a demand for new ways to provide onboard electrical power for vehicles of a spinning ride… these new designs would be less expensive and require less modifications to the ride structure to install on new and retrofitted amusement park rides."
Disney recently published another patent application that details the 'dynamic management of virtual queues' to replace long waits in standby queues.