EuropaCity CEO Benoit Chang has responded after President Emmanuel Macron withdrew support for the project, which he called "outdated and old-fashioned".
In a statement, EuropaCity's Benoit Chang said the "decision is an error that is detrimental to the future of the Val d'Oise".
He said the project is "capable of creating both a positive new dynamic area, and 10,000 jobs in an area that is awaiting economic development".
Previously, the Elysée Palace announced that Macron now considers the project "outdated and old-fashioned" (via GCR).
The Elysée Palace also said he was considering an "alternative project larger than the Gonesse triangle".
A spokesperson told AFP: "The President of the Republic has decided not to pursue the EuropaCity project." They added that it no longer "corresponds to the aspirations of our fellow citizens".
At today's Ecological Defense Council (November 12), the news was confirmed by Élisabeth Borne, Minister of the Ecological and Solidary Transition.
Benoit Chang said the "decision is an error"
In his reply, Chang continued: "This decision has been made in spite of exemplary local consultation, which has taken place for many years, under the authority of the National Commission of Public Debate.
"This decision is incoherent since it was the state who asked us to participate and engage in the operation of organising the Triangle of Gonesse, which it directed from the beginning.
"This decision is all the more incoherent since the state greatly contributed to developing the project towards an ethical ecological position, which brought about some tangible, responsible solutions to achieving a net zero artificialisation," he added.
"This was achieved by an integral compensation of occupied spaces, carbon neutrality as soon as 2027, and the recreation of biodiversity."
Chang went on to say the decision is "inconsistent with the government's desire to attract investors to France".
"Despite the disappointment that this has triggered in the region, we will not abandon the Val d'Oise and will continue to work with elected officials, locals, associations and local economic players towards the future of a department that deserves so much."
EuropaCity would have cultural, leisure, sports facilities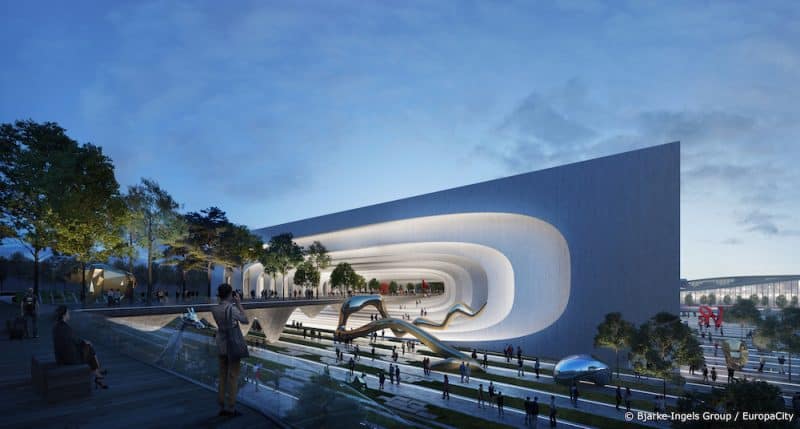 EuropaCity is an ambitious entertainment destination planned for Greater Paris, initiated by global real estate developer Ceetrus. It was set to open in 2027.
The development would comprise cultural, leisure and sports facilities, including hotels, restaurants, retail, a farm growing local products, an urban park, and the largest indoor/outdoor theme park in Europe.
EuropaCity was co-developed with Wanda Group and the total investment is more than €3 billion.
Images: EuropaCity