Liseberg has been given the green light for its hotel project. The upcoming Liseberg Grand Curiosa Hotel is part of a major expansion, which will include a new water park.
Construction will soon begin on the Liseberg Grand Curiosa Hotel, with Liseberg's Board of Directors approving the plans.
Liseberg Grand Curiosa Hotel will have 457 rooms and will feature a slide between floors, as well as a 1923 pony carousel in the restaurant.
Work will start on the new Liseberg hotel this fall
"We intend to sign an agreement with a contractor shortly and are working to open the hotel well in advance of Liseberg's 100th anniversary in 2023," said Thomas Sjöstrand, CEO of Liseberg AB Skår.
The hotel, with a total investment of SEK 1,179 million ($120m, £98m), will take inspiration from the history of Gothenburg and the East India Company.
The water park will be part of the expansion's second stage. The development is expected to be adopted by Liseberg's Board in 2020.
Themed hotel will feature a slide between floors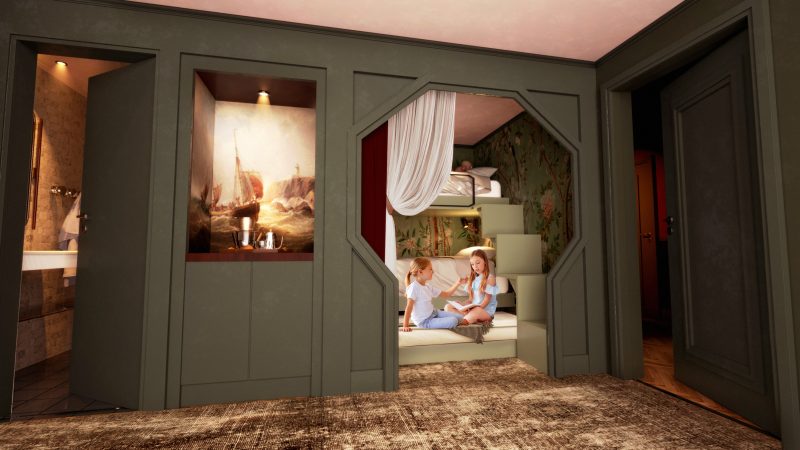 It will be able to accommodate 2,800 guests across 18,000 square metres with space for ten water slides and pools.
Facts and figures for Liserberg Grand Curiosa Hotel
Total area – approximately 29,900 square metres
Total rooms – 457, all with at least five beds
Restaurant – 790 seats and 130 seats
Roof bistro – 220 seats and 180 seats
Smaller meeting and event facilities
After leaving his role as CEO of Liseberg, Andreas Andersen been recruited once again by the amusement park in Gothenburg, Sweden.
In an interview with Blooloop, Andersen said the water park will be mostly indoors, with a small outdoor section.
"The waterpark will be linked to the hotel," he said. "But you don't have to stay at the hotel, there will be a separate ticket for anybody that wants to visit."
Water park will be part of expansion's second stage
"Hotel Liseberg Heden is basically a business hotel, and that is not why we exist. It's also quite an old hotel.
"I believe a new and higher volume, more themed family hotel will be much more within the scope of what we do."
Liseberg is one of the top theme parks in Europe. The attraction welcomes approximately 3 million guests each year, making it the most visited destination in Sweden.
Images: Liseberg