Merlin Entertainments Group, the world's second biggest attractions operator after Disney, has reported preliminary results for 2018, and detailed its strategic drivers and plans for continued growth.
The UK-based company owns and operates over 120 attractions worldwide. Its portfolio includes 18 hotels and six holiday villages together with major theme parks such as Thorpe Park, Alton Towers and Heide Park.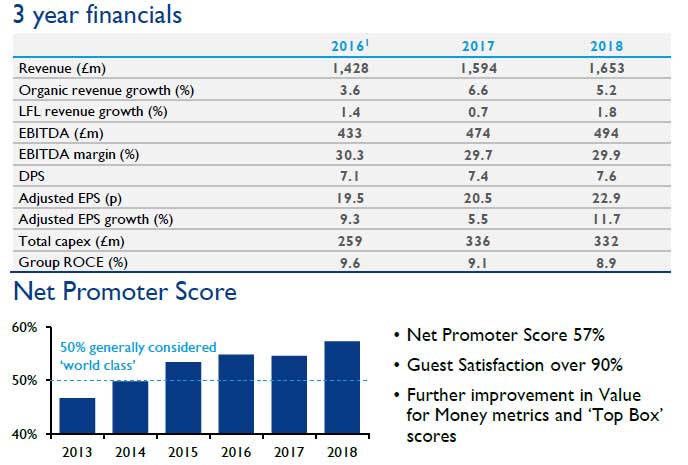 A record 67 million visitors were welcomed to Merlin attractions in 2018, up 1.4 percent on 2017, while organic revenue grew by 5.2%.
Elsewhere, Resort Theme Parks organic revenue grew by 9.1 percent, while LEGOLAND Parks organic revenue increased by 6.4 percent.
Merlin's trademark Midway city attractions encompass Madame Tussauds, Dungeons, SEA LIFE, and newcomer Little BIG City. It also operates LEGOLAND theme parks and LEGOLAND Discovery Centres.
Back in March Merlin hit a record 66 million visitors across its attractions globally.
Nick Varney, Chief Executive Officer, said of the company's latest results: "We have reported further growth in 2018, with underlying EBITDA increasing by 6.2%, as we welcomed a record 67 million visitors and continued to deliver strong levels of guest satisfaction.
"2018 saw improved momentum across most of our businesses reflecting the strength of our diversified portfolio and geographic spread. Resort Theme Parks benefited from successful product investment such as 'Wicker Man' at Alton Towers; LEGOLAND Parks growth was driven by record levels of accommodation openings; and, in addition to the contribution of seven new attractions, Midway saw improving trends in London.
"We continue to seek to mitigate ongoing external cost pressures and expect to deliver up to £35 million of annualised savings by 2022 through a number of initiatives. Not only will this help underpin our financial outlook, it will better enable our people to deliver what matters most to our guests: fantastic memorable experiences.
"Around the world, leisure spend continues to grow as disposable incomes rise and ever greater value is placed on good quality, shared experiences with friends and family. Our continued investment, new market opportunities and our evolving position as a unique, multi-format international operator of strongly branded and IP-led location based entertainment, give us the confidence that we are well placed to deliver long term growth and returns."
Strategic growth drivers
Merlin has made good progress against its six strategic growth drivers in 2018, providing a platform for continued growth.
Delivering on the strategy, the group has further expanded and diversified its portfolio:
Planned investment cycles in the existing estate
New attractions include:
Midway Attractions – New 'Justice League' feature at Madame Tussauds Orlando and Sydney. New innovation included immersive 'build and play' features at LEGOLAND Discovery Centres and Madame Tussauds' first 'intelligent' wax figure in Shanghai.
LEGOLAND Parks – 'LEGO City: Deep Sea Adventure' opened at LEGOLAND California in July.
Resort Theme Parks – 'Wicker Man' at Alton Towers and 'Peppa Pig Land' at both Heide Park and Gardaland.
Major 2019 investments are set to include 'Lego Movie World' at LEGOLAND Florida, the launch of the 'Colossos' roller coaster at Heide Park, and 'Day and Night on the Reef' at SEA LIFE Sydney Aquarium.
Exploiting strategic synergies
Roll out of accesso ticketing platform substantially complete
Launch of new Merlin Annual Pass membership programme in early 2019
Productivity Agenda expected to deliver up to £35 million savings by 2022
Developing theme parks into destination resorts
A total of 644 opened in 2018, including a 252-room hotel at LEGOLAND Japan, a 250-room LEGOLAND California Castle Hotel, and a 142-room Pirate Island Hotel at LEGOLAND Deutschland.
372 rooms are expected to open in 2019, including the Magic Hotel at Gardaland and Stargazing Pods at Alton Towers.
Opening new Midway attractions
Seven new openings in 2018 include LEGOLAND Discovery Centres in Birmingham, UK and Columbus, Ohio, SEA LIFE in Nagoya, Little BIG City in Beijing, Dungeon in Shanghai, and the launch of two new brands – The Bear Grylls Adventure in Birmingham, UK, and Peppa Pig World of Play in Shanghai.
Ten attractions scheduled to open in 2019 including further LEGOLAND Discovery Centres and Peppa Pig World of Play.
Opening new LEGOLAND parks
Full period benefit of LEGOLAND Japan following its opening in April 2017.
LEGOLAND New York construction underway with targeted opening in 2020.
LEGOLAND Korea, set to open by 2022.
Discussions ongoing regarding development agreements in China.
Strategic acquisitions
Merlin says it will continue to consider strategic acquisition opportunities consistent with its long term growth strategy.
Varney says: "I don't think that there are many companies in the world that have the sort of development pipeline that Merlin does … this is an extremely exciting dynamic market which can only grow as leisure consumers around the world get more disposable income and more time, and they're after quality branded and intellectual property led experiences."