Disney has released a teaser video for the Star Wars: Galactic Starcruiser hotel experience, revealing the Halcyon's bridge and bar, and offering a first look at the ship's Twi'lek singer.
Disney's new walkthrough video showcases the latest Star Wars-themed attraction for Walt Disney World Resort, which embarks on its maiden voyage on March 1, 2022.
"We cannot wait to have you aboard because Star Wars: Galactic Starcruiser is a first-of-its-kind vacation experience where you get to spend two days and two nights living out your very own Star Wars story," said Disney Imagineer Ann Morrow Johnson.
Gaia the Twi'lek singer
"This is unreal," said The Goldbergs actor Sean Giambrone. "It's like I'm walking straight into a Star Wars movie."
"Except it's not a movie," Morrow Johnson added. "You get to be in the middle of it all and in the middle of the action."
In the footage, Morrow Johnson showcases the starcruiser's bridge, revealing: "Here on the bridge, we also invite all of our guests to do bridge operations training, and occasionally this is where we can go to hyperspace."
"So we've really focused on making sure we have some of the best entertainment in the galaxy on board," she added. "One of which I'm so excited about is this pop star, who is known throughout the galaxy."
Halcyon entertainment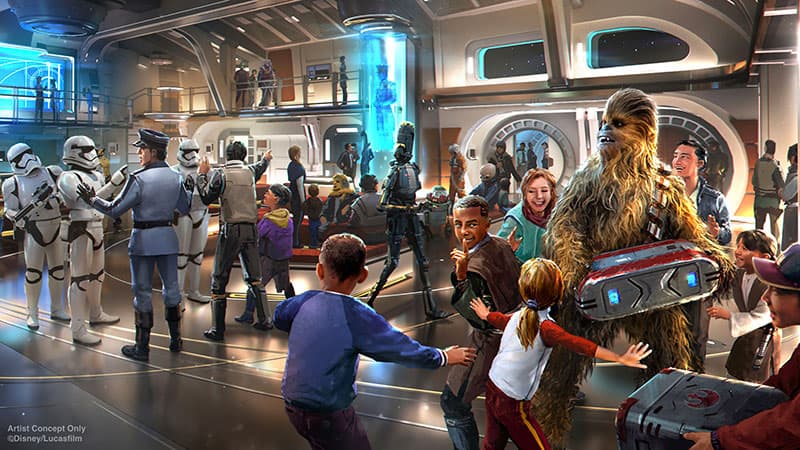 As previously revealed, a live Twi'lek performance takes place on the first night of the hotel experience. The teaser video provides a sneak peek at Gaia the Twi'lek singer.
Galactic Starcruiser will include an outing to Star Wars: Galaxy's Edge, as well as lightsaber training and dining experiences. The Halcyon is also home to a host of characters from a galaxy far, far away.
Famed for its impeccable service, comfortable cabins and thrilling entertainment, the Halcyon combines state-of-the-art technology with captivating storytelling.
Images: Disney