Star Wars: Galactic Starcruiser, an immersive two-night hotel experience, was officially unveiled by Disney two years ago. Since then, details have been drip-fed by Disney, merely teasing extraterrestrial elements.
Star Wars: Galactic Starcruiser will be a stellar space with a cruise-style itinerary where visitors become the hero of their own Star Wars adventure. Described as 'storyliving' rather than storytelling, guests will be taken deeper into the Star Wars universe than ever before.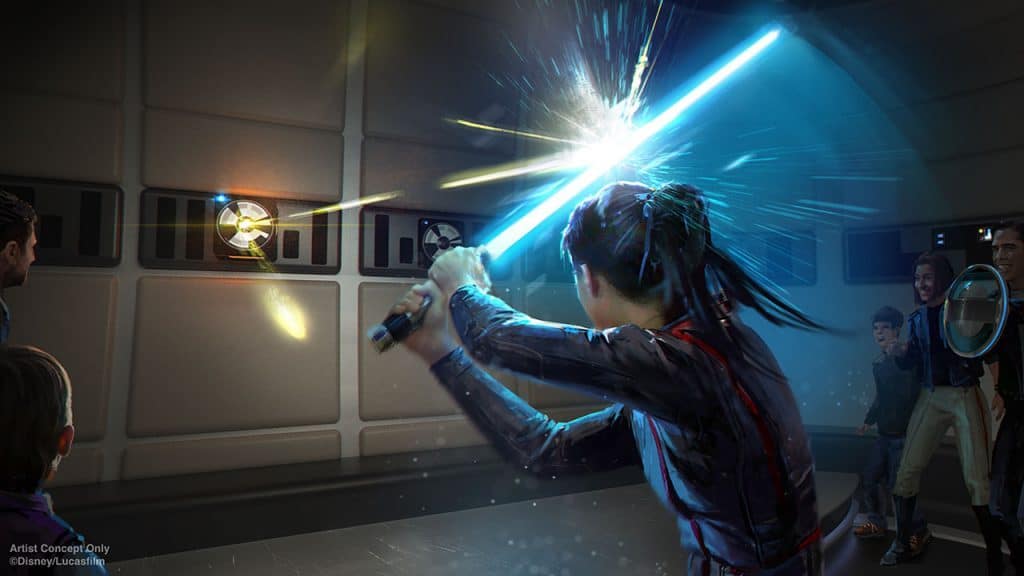 "Star Wars: Galactic Star Cruiser is a first-of-its-kind experience where we're inviting guests to step into a galaxy far, far away, and live out a Star Wars story over two days and two nights," said Ann Morrow Johnson, executive producer and creative director at Walt Disney Imagineering (WDI).
The Halcyon Starcruiser is the setting, famed for its impeccable service, comfortable cabins, thrilling entertainment and delicious F&B. Halcyon passengers will be able to alter their own storyline as they interact with characters, crew and other guests. State-of-the-art technology is merged with captivating storytelling to create an innovative experience.
Launch Pod to the Halcyon ship
Star Wars: Galactic Starcruiser will offer a two-night itinerary, much like Disney Cruise Line. All guests arrive and depart at the same time. They begin their journey at the Galactic Starcruiser Terminal at Walt Disney World. At the Galactic Starcruiser Terminal, visitors will enter a Launch Pod to transport them into space.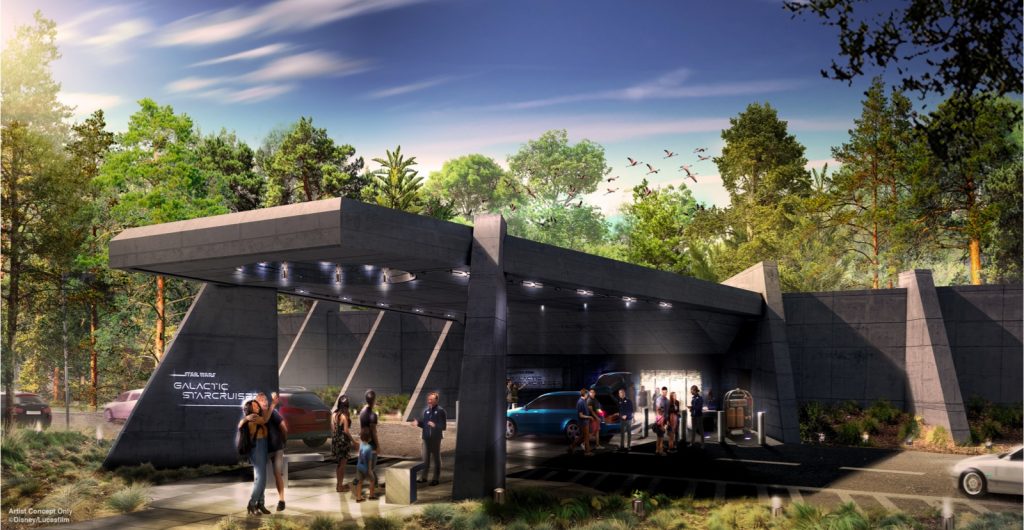 Passengers will watch as they jump to hyperspace through the Launch Pod's viewports. They will feel like they are speeding through space as they approach the luxurious Halcyon ship, their accommodation for the next two nights.
The Halcyon, known for exotic expeditions in a galaxy far, far away, is too large to land on planets. When the Launch Pod docks with the Halcyon, the airlock opens and guests enter the Atrium.
"Star Wars: Galactic Starcruiser is a completely new type of experience," said Morrow Johnson. "You're going to live onboard a starcruiser, and you can get wrapped up in the larger Star Wars story. For the first time, we're going to invite guests to become the hero of their own Star Wars adventure. They will live aboard a starship for two days and two nights."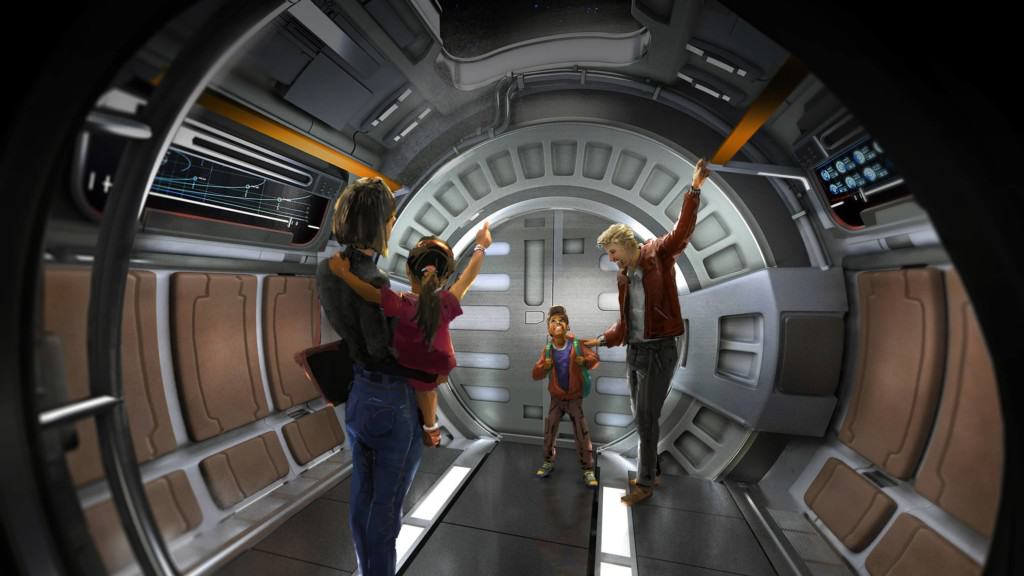 "When guests arrive at Walt Disney World, they will go to this terminal, and you and your family will then be ushered into a Launch Pod. This is a small capsule where you will then simulate the experience of blasting off into space. There will be a window overhead until you eventually see our ship, the Halcyon, in the distance."
Droids, aliens and Star Wars personas
Disney recently released the poster for Galactic Starcruiser, which reveals four characters representing the ship's passengers. The poster shows a child in Jedi robes holding a lightsaber, an adult dressed as a First Order officer, a Twi'lek adult, and a child holding a device. The poster also features an R-series astromech droid, Kylo Ren, First Order stormtroopers, and Chewbacca and his trusty bowcaster.
During their stay on the Halcyon ship, passengers will interact with an eclectic group of characters, new and familiar. They might find themselves chatting to the ship's charismatic captain and plucky mechanic. Or they might spend time with a galactic superstar who can enthral an entire room with the bend of a jewel-encrusted purple Twi'lek finger.
"Each person has a reason to be on board that ship," said Wendy Anderson, executive creative director at Disney Live Entertainment. "Each person has a role to play in the larger fabric of the universe and the larger fabric of the galaxy."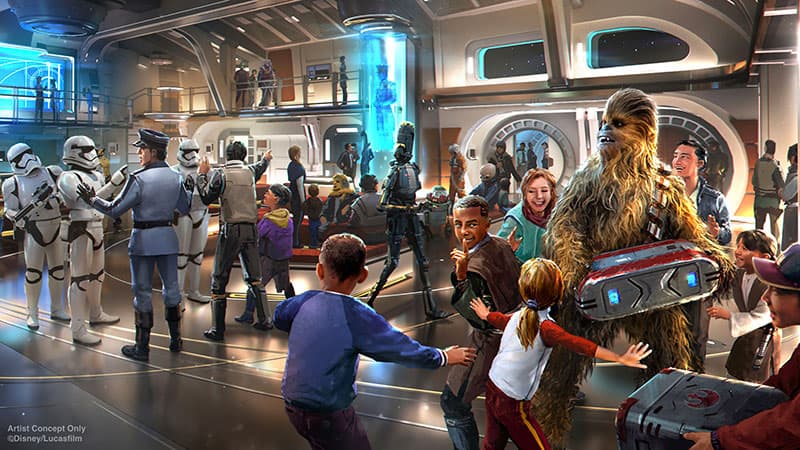 Halcyon passengers will meet other humans, droids and alien species and can opt to become characters themselves. Disney will provide the costumes, which seems fair considering the hotel's hefty price tag. It's likely that customers will be asked to provide their clothing sizes and preferred interplanetary attire before they arrive.
Interaction aboard Star Wars: Galactic Starcruiser
The experience is interactive, according to Imagineers:
"There could be a galactic superstar who entertains you on the first night but then also tasks you with helping to smuggle something," said Sara Thacher, senior R&D Imagineer. "You never know what you're going to wind up around every corner with."
"Your choices really do matter here and how you treat each other is also going to matter," Thacher added. "Guests get to choose who they want to interact with or they get to choose to sit and watch. There are so many different ways to engage – you don't have to participate if you don't want to.
"You can stay in the story and live out the different storylines or just go be a tourist – head back to your cabin, take a nap, have some lunch. You can choose to be as casual about this as you want or dive as deeply as you want."
Halcyon Starcruiser accommodation
The starcruiser's cabins are "unlike any place you will have stayed before", according to Morrow Johnson.
Each cabin features its own 'window into space', offering ever-changing views of spectacular ships and heavenly happenings. Cabins include a double bed, two bunk bed berths and a wall pull-down bed. The sleeping berths are reminiscent of a similar bunk inside the main hold of the Millennium Falcon.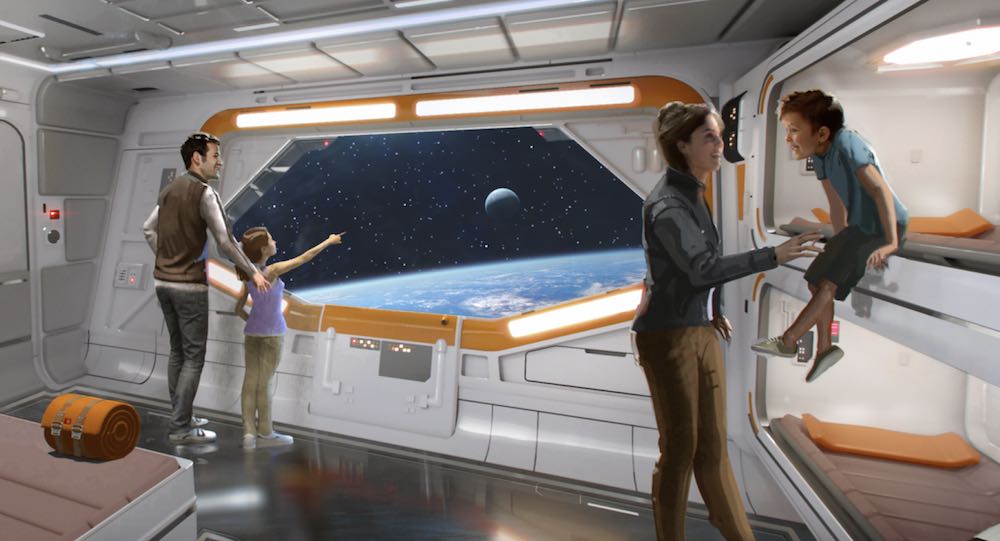 Concept art shows a sleek king-size bed with digital readouts on the bed frame and military-style bedrolls at the foot of the bed. Children sleep in bunk beds built into the wall. A window with a sweeping simulated view of outer space dominates another wall. Disney used similar 'virtual porthole' LED screens on its cruise ship rooms to provide real-time views of the ocean.
Lightsaber training and droid racing
Galactic Starcruiser activities include lightsaber training, learning the ancient ways of the weapon and exploring your own connection to the force. Guests will also get to visit the Halcyon's bridge to learn how to operate ship systems. They can explore the ship and have a reception with the captain.
"For the first time, both adults and kids alike will get to wield a lightsaber and face off against a training remote," Morrow Johnson said. "Every guest will be invited to take a tour of the bridge of the ship, so this is where the navigation systems are, this is where defence systems are."
Additionally, guests can take part in a droid racing competition and model shipbuilding. They will also spend a day at Star Wars: Galaxy's Edge. To get from the Halcyon to Galaxy's Edge and back, passengers will remain in the Star Wars story. They will board transport ships designed for the experience. These connect guests directly to a spaceport at the Black Spire Outpost on Batuu, a 14-acre land at Disney's Hollywood Studios.
Star Wars: Galactic Starcruiser realistic lightsaber
Earlier this year, Disney released new footage of Walt Disney Imagineering's realistic lightsaber, which will make its debut at the Star Wars hotel. The video shows an Imagineer holding the replica weapon as it ignites to make the blue blade appear.
"When people come to visit Disney, they want to enter a world where anything is possible," said Josh Gorin, who leads Imagineering's Blue Sky and creative strategy. "As Imagineers, it is our challenge to apply both creative and technical skills to make that magical world come to life. We have to keep upping our game – that means innovation in storytelling and technology."
F&B at the Crown of Corellia
F&B options on the Halcyon Starcruiser continue the immersive experience. Guests can enjoy breakfast, lunch and dinner at the Crown of Corellia Dining Room, a homage to the planet Corellia. Known for its shipyards, Corellia created the Halcyon and the Millennium Falcon. The Crown of Corellia Dining Room promises "wildly dramatic" dining. A live Twi'lek performance takes place on the first night.
"We're taking really delicious things and presenting them in unexpected ways," Morrow Johnson said. "So even what you eat enforces that feeling that you're going to be in a galaxy far, far away. It's all about world-building. You're living in a galaxy far, far away and you get to see a dinner show. The music is going to be great. It's going to be performed by aliens, folks you would never see on your home planet."
The best entertainment in the galaxy
"Like any fine cruise line, there's going to be entertainment," Thacher added. "We've hired some of the best in the galaxy. So, at your seated dinner on night one, there will be a show and some phenomenal music."
On the second night, the dining room will offer a 'taste around the galaxy', serving food inspired by planets.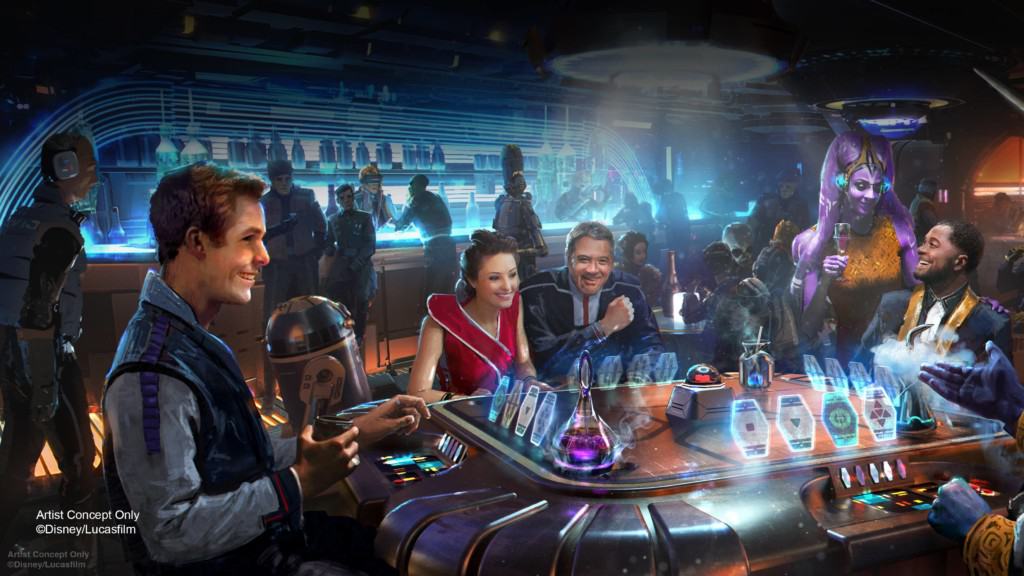 In addition, the ship's Sublight Lounge is a stylish space serving cosmic cocktails and drinks. Guests will also visit Docking Bay 7 Food and Cargo at Galaxy's Edge. Dishes include Smoked Kaadu Ribs, Fried Endorian Tip-Yip and Braised Shaak Roast. Signature drinks at Docking Bay 7 range from a Moof Juice fruit punch to a pear-flavoured Phattro that combines lemonade and iced tea.
All-inclusive astronomical costs
Astronomical pricing was released for the Galactic Starcruiser this year. Cabin rates vary, with a standard cabin for two costing from $1,209 per person per night. This is for stays from 20 August 2022, to 17 September 2022. The price drops to $749 per visitor based on four sharing a standard cabin, and the total for four guests comes to $5,999. This includes all entertainment and F&B, bar alcohol and special drinks.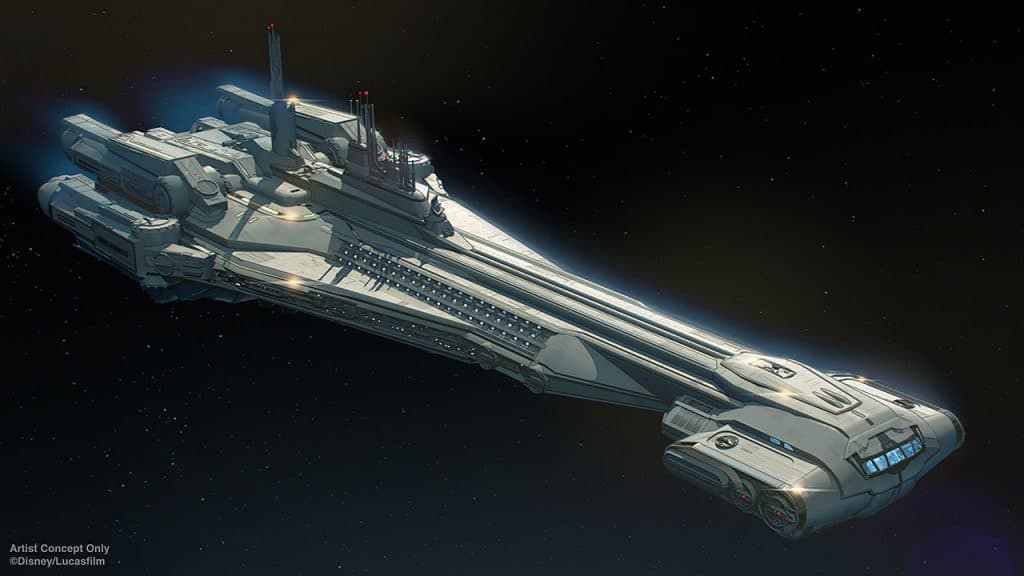 Admission to Disney's Hollywood Studios for a trip to Galaxy's Edge is also included in the price. Moreover, guests will receive an exclusive Galactic Starcruiser MagicBand.
Visiting Star Wars: Galaxy's Edge
Star Wars: Galaxy's Edge is the largest and most technologically advanced single-themed land expansion in Disney history. Galaxy's Edge opened at Walt Disney World and Disneyland back in 2019. The new land and its characters have their own backstory. The food and drink are themed, as is the merchandise on offer at the various retail outlets.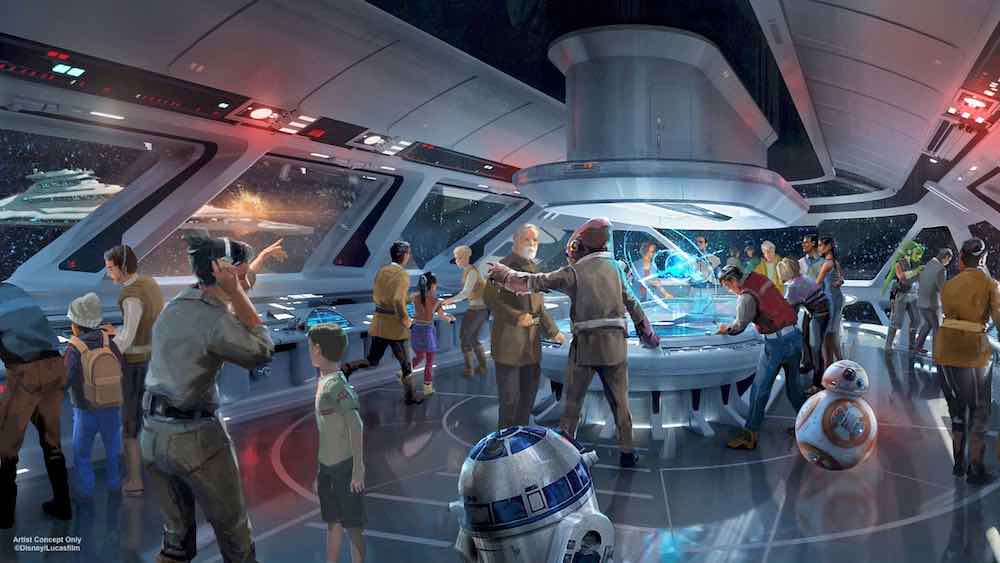 Galaxy's Edge guests enjoy interactive experiences, a variety of starships and two major rides – Millennium Falcon: Smuggler's Run and Rise of the Resistance. Galactic Starcruiser will take the immersion of Galaxy's Edge one step further. "We're giving you ways to see and explore the land," said Morrow Johnson. "But we're also giving you the lens of its continuing story, the story that you're living."
Star Wars: Galactic Starcruiser day trip
The setting for Galaxy's Edge is the Black Spire Outpost, a remote village on the planet Batuu. "It's a remote frontier planet somewhere on the edge of wild space," said Imagineering's portfolio creative executive Scott Trowbridge. "A place that in days of yore was a necessary stopping off point for food and provisions and to refuel as you were exploring the outer reaches of the galaxy."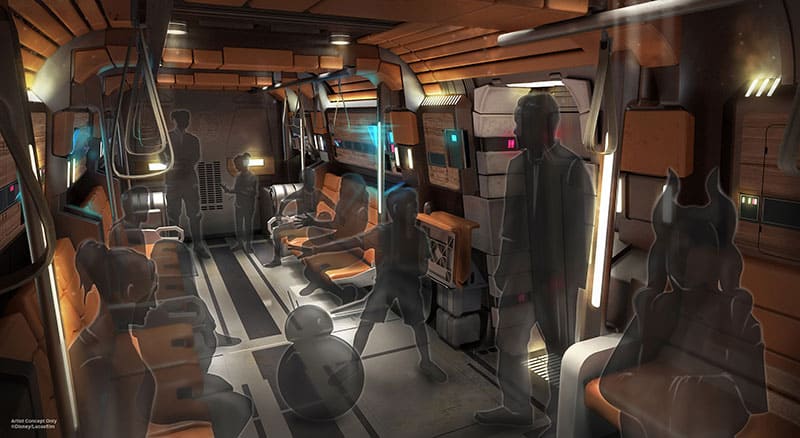 "Black Spire Outpost is an opportunity that's designed from the very get-go to be a place that invites exploration and discovery," Trowbridge added. "A place that invites us to become a character in the world of Star Wars. And to the extent that we want to, to participate in the stories of Star Wars."
Star Wars: Galactic Starcruiser opening date
Star Wars: Galactic Starcruiser was originally due to debut in 2021 at Walt Disney World Resort in Florida. Construction was underway last year. However, COVID-19 caused the hotel to be, alongside a slew of other Disney attractions. Galactic Starcruiser will now open in spring 2022.
Images: Disney