Disney has released a first look at the lightsaber training on offer at Star Wars: Galactic Starcruiser, an immersive vacation experience aboard the Halcyon starcruiser at Walt Disney World Resort.
Activities on the Halcyon ship include lightsaber training, with visitors exploring their connection to the Force. Guests can also take part in a droid racing competition and will visit the starcruiser's bridge to learn how to operate ship systems.
Josh D'Amaro, chairman of Disney parks, experiences and products, teased the activity during Destination D23. Guests will get the chance to wield a lightsaber as they battle miniature droids that are used in combat training.
Galactic Starcruiser activities
D'Amaro showcased the starcruiser's bridge, with Disney Imagineer Sara Thacher teaching him how to defend the ship using blaster cannons, before taking the Halcyon to hyperspace.
"This is one of my favourite places because you actually get to push all the buttons," said Thacher. "You can actually change the settings, control the ship."
Walt Disney Imagineering has been busy developing a realistic, retractable lightsaber – but it isn't for guests to use, IGN reports. The replica weapon will feature during the experience, but only in the hands of performers.
Imagineering's realistic lightsaber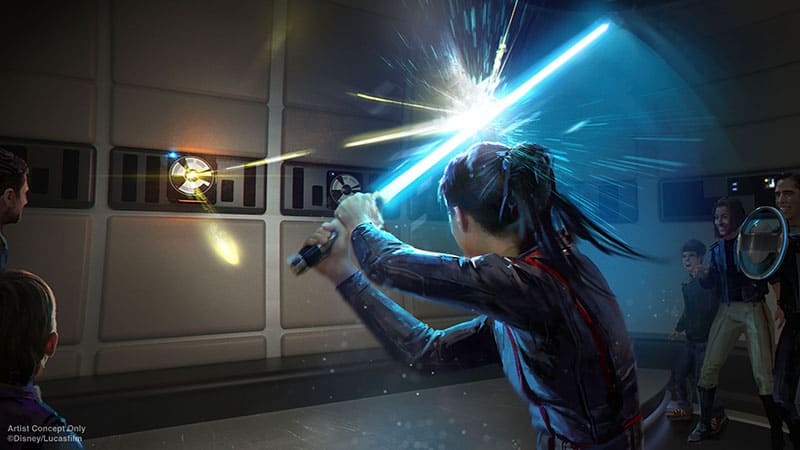 Last week, Disney shared new information about the Star Wars attraction after a preview event at Walt Disney World. "It is unlike anything that anyone has ever done before," said Scott Trowbridge, Walt Disney Imagineering's portfolio creative executive.
"It's easy for me to say it's not a hotel, but it takes a little bit more conversation to describe really what it is and what our guests are going to be able to experience," Trowbridge said.
"This is absolutely a next step in innovation of how immersive we can be."
Star Wars: Galactic Starcruiser embarks on its maiden voyage on March 1, 2022.
Images: Disney