A new aerial view image of Super Nintendo World under construction in Japan has emerged on Instagram. The photo reveals the expansion is almost complete at Universal Studios Japan.
Super Nintendo World was originally set to open this summer, but its launch was delayed due to the outbreak of COVID-19.
The picture, which you can see below, first appeared on the social media platform via user imaiko02. However, it has since been removed from Instagram.
The expansion image unveils Mario's Pipes, as well as Peach's Castle and Bowser's Castle. It also shows pixel-style trees and bricks, as well as pyramids.
New aerial image of Super Nintendo World in Japan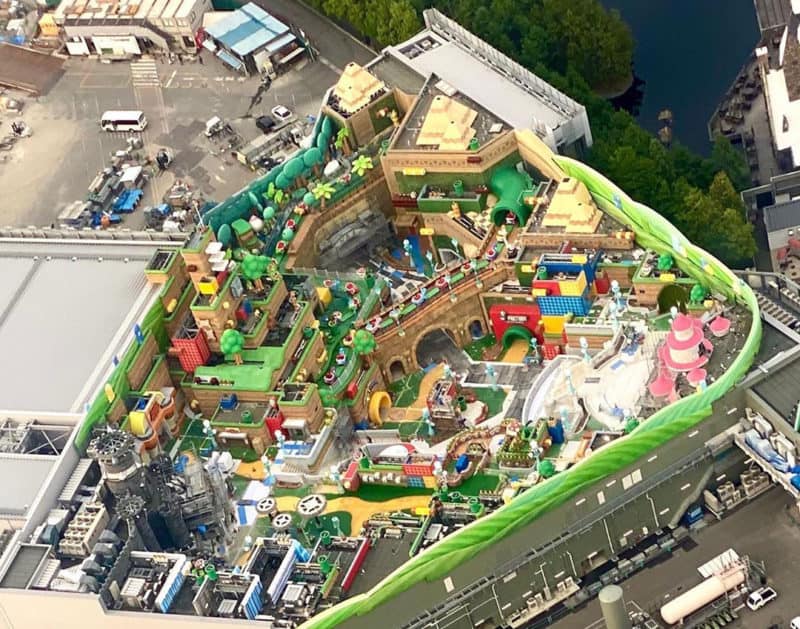 Super Nintendo World will also boast state-of-the-art Super Mario Kart and Yoshi's Adventure rides, and shops and a restaurant.
Earlier this year, Universal Studios Japan unveiled the colourful wearable wristbands, called Power Up Bands, that will feature at Super Nintendo World.
Power Up Bands will offer guests the chance to enjoy interactive experiences, collecting digital coins and competing with other visitors.
Additional interactive features at Super Nintendo World include Question Blocks, which Power Up Band wearers can physically hit to collect coins.
Interactive experiences using Power Up Band
Universal Studios Japan will be the first Universal theme park to feature Super Nintendo World, followed by attractions in Hollywood, Orlando and Singapore.
It was previously confirmed that Universal Orlando Resort's Epic Universe will boast a Super Nintendo World when it opens in 2023.
Nintendo released a music video from Galantis and Charli XCX, which you can check out above, to promote Super Nintendo World at USJ.
Meanwhile, the company recently shared plans to take its intellectual property (IP) to "a variety of settings" beyond video games.
Nintendo game developer Shigeru Miyamoto said: "We want to expand our video game characters to a variety of settings – not just in games, all while keeping their value.
"In other words, we'll be collaborating with various other companies."